These soft and chewy sugar cookies are so easy and so delicious, you may never want to go to the work of rolling and cutting out sugar cookies again!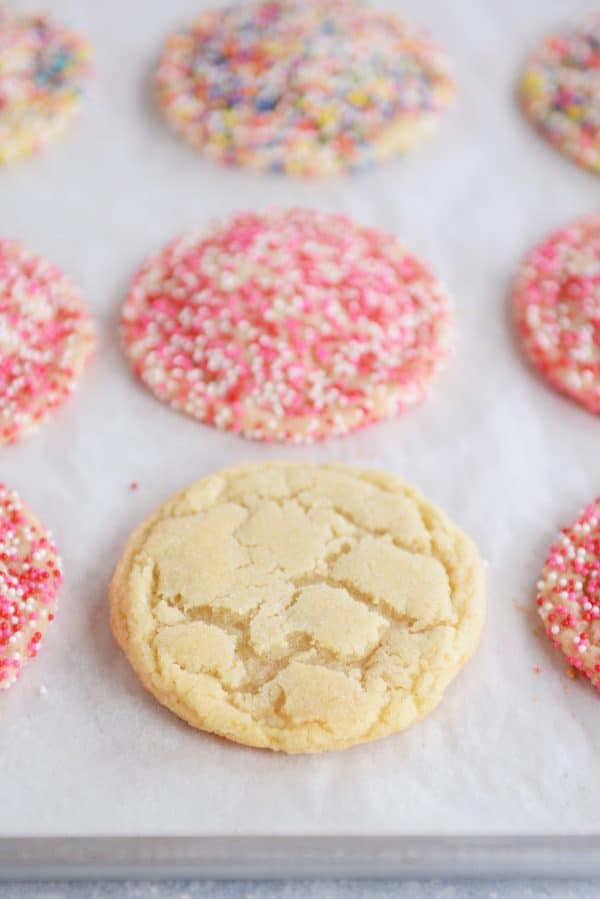 I love a good traditional, cutout sugar cookie. I really do.
And I think there's definitely a time and a place for old-fashioned, use-a-rolling-pin-and-cookie-cutter sugar cookies.
Would you agree?
Just as a quick review, here are a few of my favorite cutout sugar cookie recipes, 
My Favorite Sugar Cookie Recipe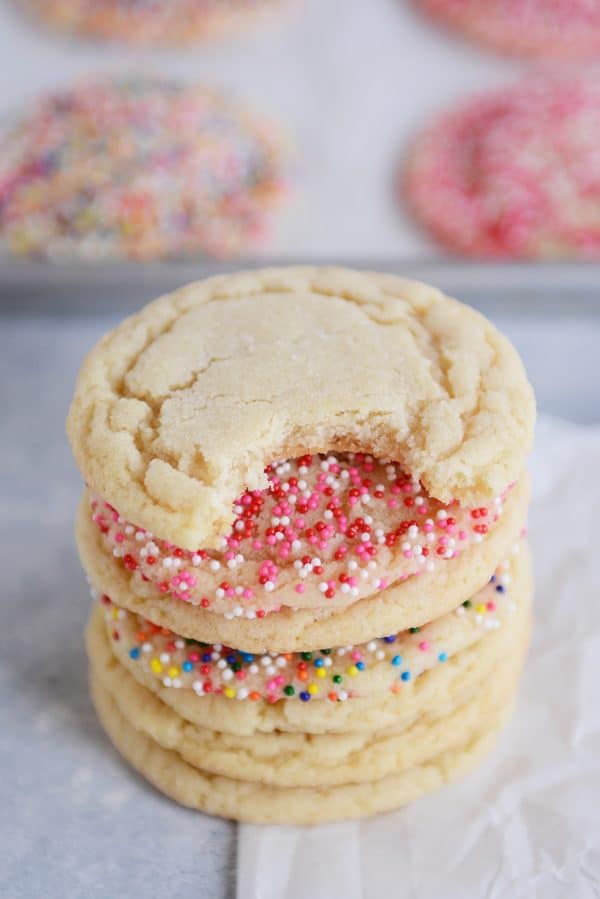 But we're actually not here to talk about traditional sugar cookies today.
No, no. (I know, get to the point already, right??)
Instead, we're talking about the most delicious, EASY, chewy sugar cookies in the whole world.
They are buttery and soft. Sugary and crackly.
They are so, so amazing.
As much as I lean toward chocolate-in-all-things, sugar cookies (a really good sugar cookie) will always be my undoing.
And having a perfectly chewy sugar cookie recipe at my fingertips to make when the sugar cookie craving hits without having to refrigerate dough, pull out the rolling pin, wash the nooks and crannies of cookie cutters…well, it feels amazing.
These soft sugar cookies are wonderful baked up plain and simple.
But you can dress them up for a myriad of holidays by rolling the sugar cookie dough in sprinkles before baking.
These cookies are a testament that festive, fun treats (you know, mother-of-the-year level) don't have to be fussy, hard, or stress-inducing.
It'll take, oh, 15 minutes to whip up the sugar cookie dough and another couple minutes to roll in sprinkles.
Done and done.
And you know how sometimes you decide to go big or go home and make a treat to wow the socks off the whole nation, and then after you've spent four days, earned a minimum of 12 more gray hairs, and now have permanently stained food coloring fingers, you realize the true-to-life Mona Lisa painted cookies actually taste like dog breath (and look like a preschool class went to work)?
Yeah, these soft and chewy sugar cookies will not invoke anything close to the above scenario.
And even better? They taste incredible. Incredible, incredible.
I've had this recipe in my arsenal for a while (thanks to my mom's old recipe binder!) but hesitated posting it because there's not a lot wow-worthy about a humble little sugar cookie that doesn't have frosting and might not even have sprinkles (depending on your mood).
But after making this recipe over and over and over, I figure it's time to get it out there for you to enjoy as well.
And besides, I've never been after exclamation point cookies and dessert recipes as much as I have been about getting you the best of the best recipes.
Even if they aren't necessarily show-stoppers.
So if you still need a Valentine's Day treat (or somehow found yourself promising kids in your life homemade sugar cookies), these babies may do the trick!
I can't tell you the number of times these soft and chewy drop sugar cookies have saved me when a sugar cookie craving hits (that happens more often than I like to admit) or when I've needed a fast, quick, delicious cookie to save the day.
They are reminiscent of the crackly, thin, chewy sugar cookies from Subway…ever had those?
But I can promise this homemade version is about a million times better.
One Year Ago: White Velvet Sugar Cookies
Two Years Ago: Winter Minestrone Soup with Garlic Bruschetta
Three Years Ago: Curried Lentil and Sausage Soup with Toasted Almonds
Four Years Ago: No-Bake Berry Yogurt Cheesecakes
Five Years Ago: Nutella and Strawberry Stuffed French Toast
Yield: 2-3 dozen
Soft and Chewy Drop Sugar Cookies
Ingredients:
1 cup (2 sticks, 16 tablespoons) butter, softened to cool room temperature
1 1/3 cups (10 ounces) granulated sugar
1 large egg
2 teaspoons pure vanilla extract
2 1/2 cups (12 1/2 ounces) all-purpose flour
1/2 teaspoon baking powder
1/2 teaspoon baking soda
1/2 teaspoon salt
Additional granulated sugar or sprinkles, for rolling
Directions:
Preheat the oven to 350 degrees F (see note). Line two large, rimmed baking sheets with parchment paper and lightly grease with cooking spray.
In the bowl of an electric stand mixer fitted with the paddle attachment or in a large bowl with a handheld electric mixer, cream together the butter and granulated sugar until lightly and fluffy, 3-4 minutes. Scrape down the sides of the bowl as needed.
Add the egg and vanilla and mix again for 1-2 minutes until the batter lightens in color. Scrape the sides of the bowl as needed.
In another bowl, whisk together the flour, baking powder, baking soda and salt.
Add the dry ingredients to the wet ingredients and mix until combined.
Scoop the cookie dough into rounded balls (about 2 tablespoons in size; I use my #40 cookie scoop), roll in granulated sugar or sprinkles and place on the prepared baking sheets a couple inches apart (about 12 cookies per baking sheet).
Bake for 11-13 minutes until slightly crackly on top (but not much color around the edges or bottom to keep them soft and chewy).
Let the cookies cool for a few minutes on the baking sheet before removing to a cooling rack to cool completely.
Notes:
If the cookies spread and flatten too much while baking, try increasing the baking temperature to 375 degrees F or use convection bake (if you have that function on your oven – see my Instagram experiment here to come to this conclusion).
All images and text ©Mel's Kitchen Cafe.
Recipe Source: from Mel's Kitchen Cafe
Disclaimer: this post may contain Amazon affiliate links to products I've bought and loved from there. I am a participant in the Amazon Services LLC Associates Program, an affiliate advertising program designed to provide a means for us to earn fees by linking to Amazon.com and affiliated sites.
shop this postFeatured Products
(may include affiliate links)