Crisp-tender veggies mingle with a trio of creamy cheeses, layers of lasagna noodles, and hearty marinara in this perfect recipe for Easy Vegetable Lasagna. Everyone will come back for seconds on this one!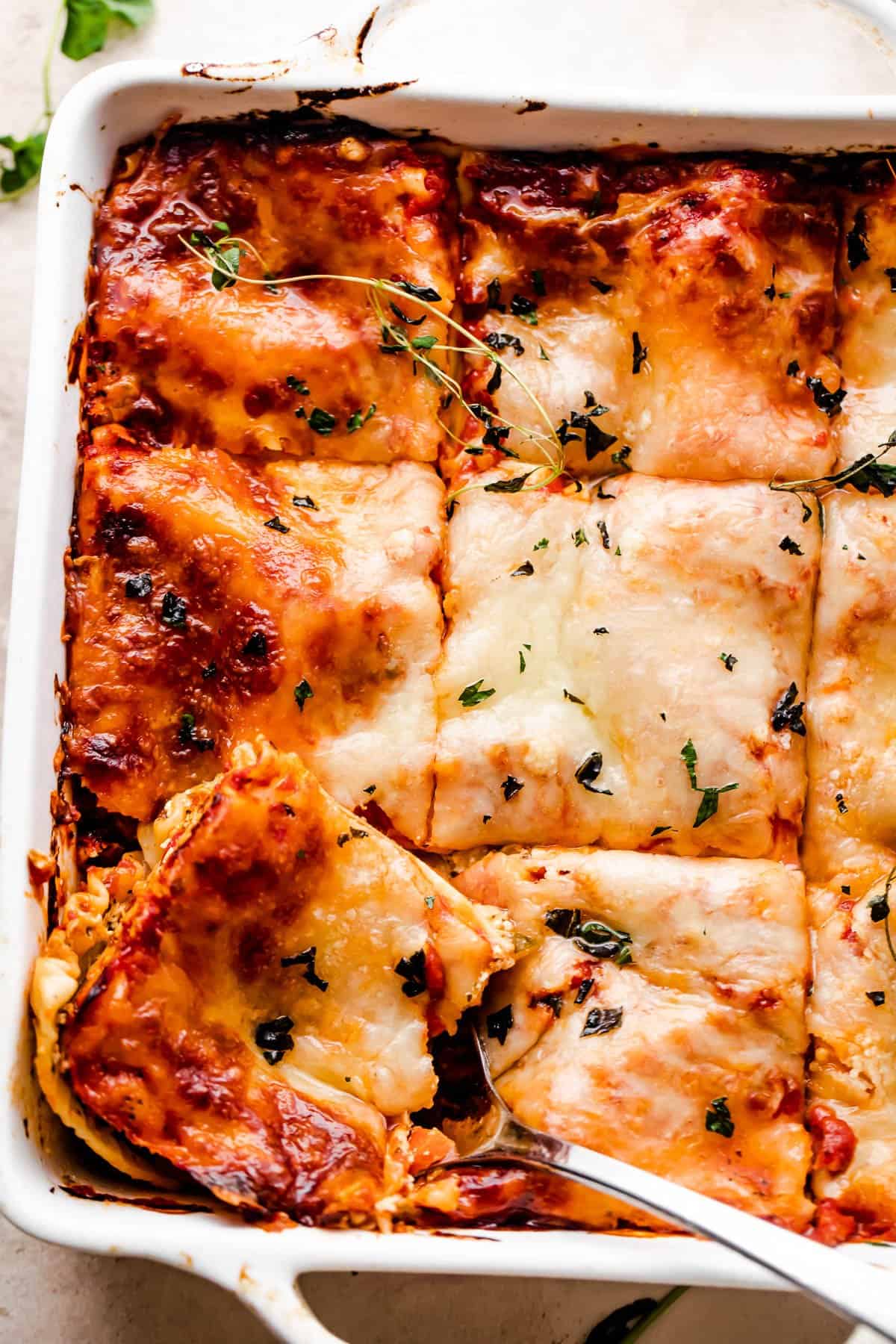 A Hearty and Satisfying Vegetarian Dinner Idea!
There's nothing like a great vegetarian dinner recipe, right? A lot of readers are on the lookout for vegetarian meal options that are not just tasty, but hearty and filling. And, if they pass the picky eater test, which makes dinner time that much easier!
That's exactly what you get with this cheesy, saucy lasagna. It's full of savory, succulent veggies, yes. But, it's also full of tender pasta, melted cheeses, and flavorful marinara. It really is delicious!
This vegetarian lasagna recipe is prepared with carrots, zucchini, and peppers, plus cottage cheese, feta cheese, and mozzarella cheese! It feeds a crowd and will satisfy both vegetarians and meat-lovers!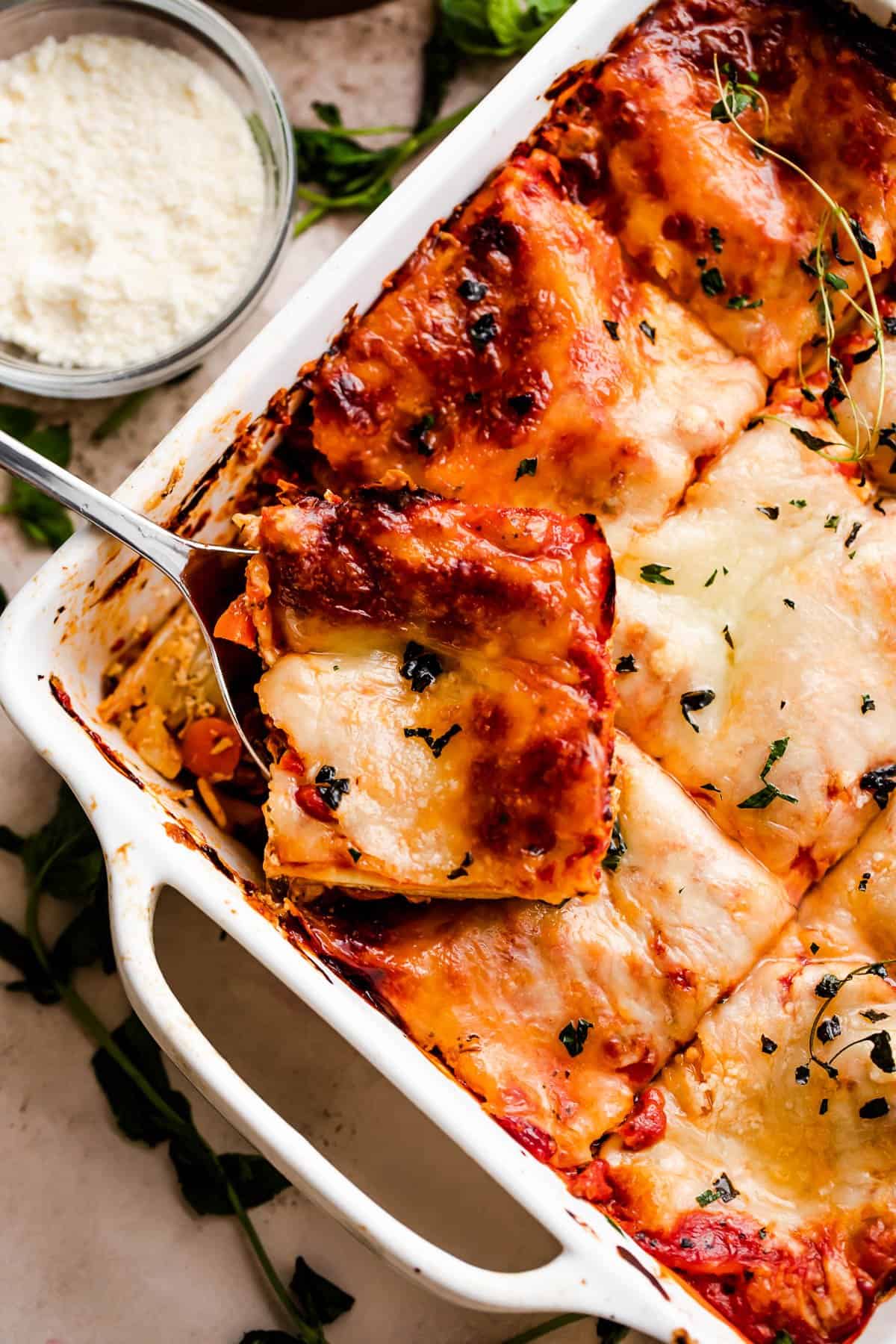 What's in This Vegetable Lasagna?
This recipe is made with four distinctive components: the veggies, the cheese, the sauce, and the topping. Let's take a closer look at each one:
For the Vegetables
Olive Oil: I use a little olive oil to saute the veggies before layering them into the lasagna. You could also do avocado oil, or a mix of olive oil and butter.
Carrots: Wash and peel your carrots, and then slice them into coins. 
Bell Peppers: Red bell peppers are my favorite! You could also use green, yellow, orange… it's up to you. 
Onion: Dice up one whole onion (I use yellow onion, but any kind is fine).
Zucchini: Zucchini is just perfect in easy vegetable lasagna. Its delicate texture and sunny flavor make this dish extra-satisfying.
Salt and Pepper
Garlic: Mince or press the garlic (or just hit the easy button, and use powdered or jarred garlic).
Pesto: My secret ingredient: a dab of pesto! Tons of taste and fragrance in one little spoonful.
For the Cheese Layer
Cottage Cheese: Using cottage cheese instead of ricotta adds a nice tangy depth of flavor, giving this lasagna a satisfying bite.
Feta Cheese: Crumbled feta is beautiful in easy vegetable lasagna. Need a replacement? Crumbled goat cheese also works well!
Basil: Chopped fresh basil really elevates the cheese layer, but you can definitely omit it or use dried basil, if you prefer.
Salt and Pepper
Lasagna Noodles: My favorite pasta is the no-boil lasagna pasta. So easy!
For the Tomato Sauce Layer
Pre-Made Marinara Sauce: Use a jar of your favorite marinara. You could also use any other red pasta sauce you like, homemade or store-bought.
For the Topping
Mozzarella: Mozzarella cheese gives the top of this easy vegetable lasagna a wonderful, melty, stretchy cheesiness.
Parmesan: Parmesan may not add much texture, but it adds a ton of deep cheesy flavor.
Basil: Chopped fresh basil makes a lovely optional garnish.
How to Make It (So Easy!)
Okay, let's talk assembling this easy vegetable lasagna! It's actually kind of fun. Once you have your ingredients ready to go, you can even bring in some little kitchen helpers to help you create the layers!
Cook the Veggie Mixture. Before you get started, make sure your oven is preheating to 425˚F. Next, set a large skillet over medium heat, and add a swirl of olive oil. Add the vegetables (except garlic and pesto) to the skillet. Season with salt and pepper, and cook for 8 to 10 minutes. At this point, the veggies will be tender and some of the liquid will have cooked out of the mixture. Add the garlic and pesto, and cook for one more minute. Set aside.
Make the Cheese Mixture. Combine the cottage cheese, feta, basil, salt, and pepper in a big mixing bowl. Stir together with a wooden spoon until fully incorporated.
Combine the Veggies and Cheese. Scrape the vegetables into the cheese mixture, and stir that all up until well incorporated.
Start Layering. Start off the lasagna layers by adding ½ a cup of marinara sauce to the bottom of your (9×9 inch) baking dish. Layer noodles on top of that, snapping off the ends as needed to make them fit. Then spread half of the veggie-cheese mixture over the noodles.
Add the Next Set of Layers. Now top the previous layers with ¾ cup marinara. Sprinkle with half a cup of mozzarella. Top with more lasagna noodles, and the remaining veggie cheese mixture.
Add the Last Set of Layers. Finally, sprinkle another half-cup of mozzarella, top with more lasagna noodles, and pour another ¾ cup of the marinara sauce on top of the noodles. Sprinkle with the remaining mozzarella, as well as the grated Parmesan.
Bake! Cover your lasagna with foil, and bake in the preheated oven for 30 minutes. Then remove the foil, and bake for 10 minutes more, until the cheese is melted and the top is lightly browned. 
Let Stand. Take the finished lasagna out of the oven, and let it stand for 15 minutes before garnishing with basil and serving.
Simple Lasagna Tips and Hacks
Before you get started making this easy vegetable lasagna, take a second to look over these helpful tips and variations! There's something here for everybody!
Regular Pasta Is Fine: Feel free to sub regular lasagna noodles into this dish! Just give them a quick cook according to package directions, and then layer away.
Gluten-Free Option: You can totally substitute gluten-free lasagna noodles in this recipe! If you do, you may need to increase the baking time a little bit to make sure they are tender. Another great option? Roasted zucchini or eggplant slices.
Veggie Customizing: You can use whatever vegetables you like! To avoid a watery lasagna, I recommend pre-cooking any watery veggies and/or draining them well.
Add Protein: You can sprinkle in some canned, drained cannellini beans for a vegetarian protein bump, or go ahead and use your favorite vegan sausage, regular sausage, ground beef, or even chicken! Anything you love.
What Goes with Vegetable Lasagna?
So what sides do you need to serve up this lasagna? Honestly… none. It's a complete meal in one dish! But, if you would like to have a side or two to go along with it, try one of these:
Focaccia: Everyone loves chewy Whole Wheat Focaccia Bread. It's so wholesome, and it goes with everything—especially easy vegetable lasagna.
Spinach Salad: This super Spinach Blackberry Salad is easy to make, and the fragrant lemon poppyseed dressing provides a nice contrast to the cheesy, tomato-based lasagna.
Pan-Fried Mushrooms: Simple Pan-Fried Oyster Mushrooms are a vegetarian side that tastes meaty, savory, and simply delicious.
Storing and Reheating Leftovers
To store your leftovers, wrap them well or place in airtight storage containers. Refrigerate for up to 4 days. 
Reheat in the microwave, or bake at 350˚F until heated through.
Can I Make This Ahead?
Sure! You can assemble the lasagna, and chill it for up to two days in the fridge before baking. 
Alternatively, assemble your easy vegetable lasagna, wrap it in two thicknesses of plastic wrap, and then freeze for up to three months.
Bake directly from frozen, increasing the bake time to about one hour. 
ENJOY!
Easy Vegetable Lasagna
Crisp tender veggies mingle with creamy cheeses, lasagna noodles, and hearty marinara in this perfect recipe for Easy Vegetable Lasagna.
Ingredients
FOR THE TOMATO SAUCE LAYER
Instructions 
Preheat oven to 425˚F.

Heat olive oil in a large skillet set over medium heat.

To the heated oil, add the carrots, peppers, onions, and zucchini; season with salt and pepper and cook for about 8 to 10 minutes, or until veggies are tender.

Stir in the garlic and basil pesto; continue to cook for 1 more minute.

Remove from heat and set aside.

In a large mixing bowl combine the cottage cheese, feta cheese, basil, salt, and pepper; stir together until completely incorporated.

Add the veggie mixture to the cheese mixture and stir until combined. Taste for seasonings and adjust accordingly. Set aside.

Spread ½ cup of marinara sauce on the bottom of a 9×9 baking dish.

Layer 3 to 4 no-boil lasagna noodles on top of the marinara sauce, snapping off the end pieces so to fit in the baking dish.

Spread half of the cheese and veggie mixture evenly over the noodles.

Then top with ¾ cup marinara sauce; spread it evenly.

Sprinkle with ½ cup shredded mozzarella cheese.

Layer 3 to 4 more lasagna noodles, then top with a layer of the remaining cheese and veggie mixture.

Sprinkle with ½ cup shredded mozzarella cheese.

Top with remaining lasagna noodles.

Spread ¾ cup marinara sauce on top of the noodles.

Sprinkle with remaining shredded mozzarella cheese and grated parmesan cheese.

Cover with foil and bake for 20 minutes.

Remove foil and continue to bake for 10 more minutes, or until the cheese is melted and top is lightly browned.

Remove from oven and let stand for 15 minutes.

Garnish with basil.

Cut and serve.
Nutrition Facts
Easy Vegetable Lasagna
Amount Per Serving
Calories 352
Calories from Fat 126
% Daily Value*
Fat 14g22%
Saturated Fat 6g30%
Polyunsaturated Fat 1g
Monounsaturated Fat 5g
Cholesterol 37mg12%
Sodium 1071mg45%
Potassium 562mg16%
Carbohydrates 36g12%
Fiber 4g16%
Sugar 9g10%
Protein 21g42%
Vitamin A 4110IU82%
Vitamin C 49mg59%
Calcium 365mg37%
Iron 2mg11%
* Percent Daily Values are based on a 2000 calorie diet.
Keywords: meatless lasagna, vegetarian recipes, veggie lasagna
Want To Save This Recipe?
More Vegetarian Recipes