Love falafel? You're going to love these falafel meatballs wrapped up in lettuce (and naan if you want!) and smothered in simple, homemade tzatziki sauce! It's about time falafel became a meatball!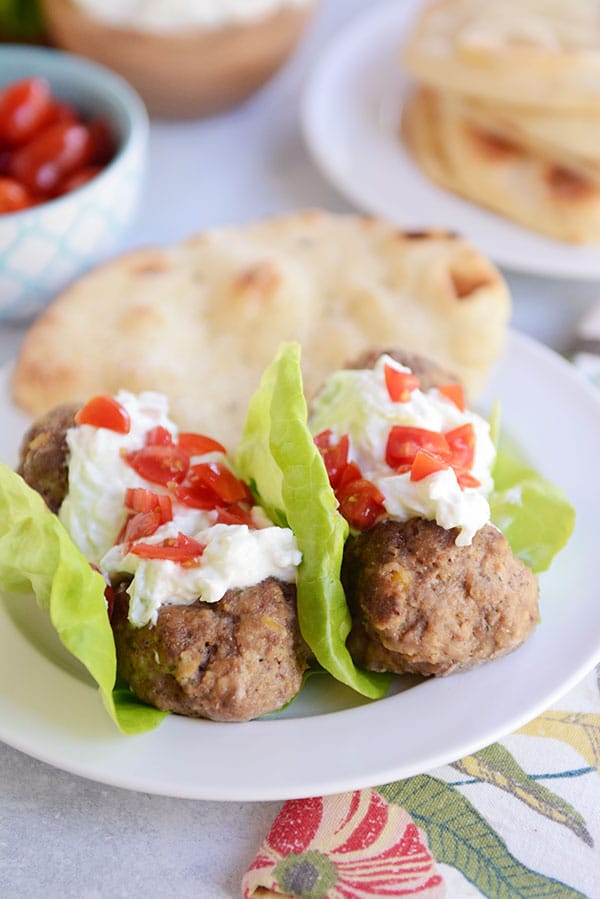 I'm a lover of all food. I try not to play favorites.
But when it comes to Greek-inspired cuisine, I usually end up waxing so poetic that everyone around me feels a bit awkward.
"It's just food" shows in their dazed expressions. Hard to be friends with people who think like that, not going to lie.
I've given a recap of some of my favorite Greek-ish recipes, but here they are again as a reminder, in no particular order:
Weeknight Greek Chicken Burritos
Amazing Greek Feta Dip Appetizer
Homemade Flatbread (Greek Pocketless Pitas)
Slow Cooker Greek Pita Pockets
Casserole-Style Greek Pastitsio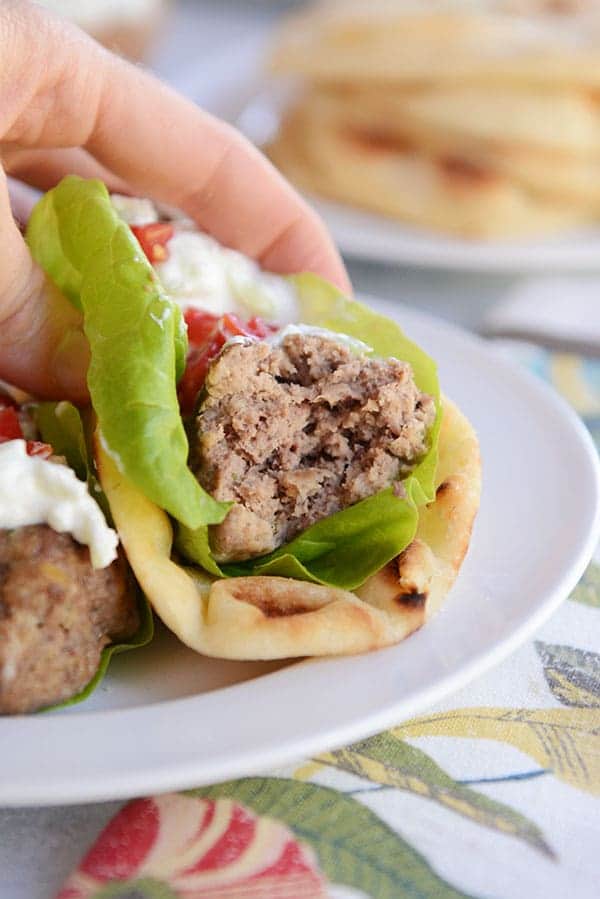 Today's falafel (perhaps one of the more fun words to say in life) meatball recipe has shot straight to the top of the favorite list.
They are so good. So, so good.
Falafel purists are probably saying "what the what??" to today's recipe, but I feel like there is room in this world for all different kinds of falafel.
Even falafel meatballs!
Classic falafel is a chickpea fritter fried in oil and usually stuffed in a pita.
I've had the best falafel of my life at a food truck in Portland, Oregon. But generally I don't make it at home, because I hate deep frying on my kitchen stove (unless it's doughnuts, of course).
So I stick with ordering falafel when I visit my in-laws…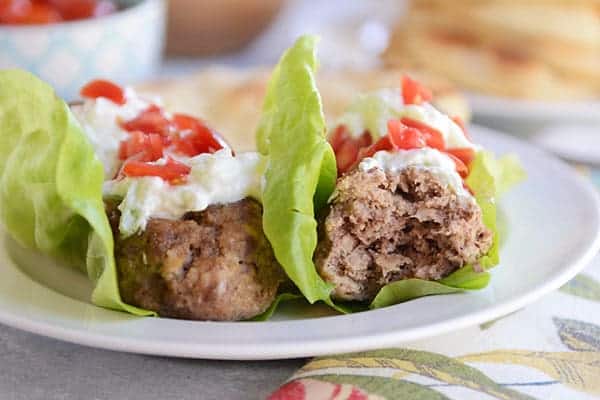 classic naan or Greek flatbread) and nestle the lettuce-filled wraps inside.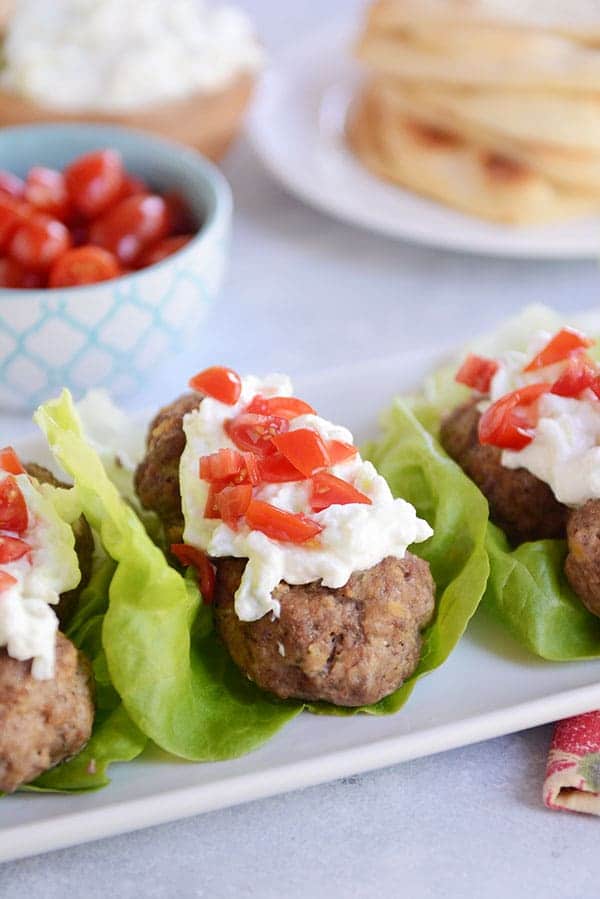 These Greek Meatball Stuffed Pitas (with tzatziki) are close to one of my favorite meals of all time, but I have to say, my newfound falafel meatballs are giving that meal a run for their money.

Greek Pita Salad
Classic Naan or Greek Flatbread (I won't be made if you slather the bread with garlic butter)
Fresh seasonal fruit or vegetables
One Year Ago: Grilled Sesame Herb Chicken
Two Years Ago: Grilled Chili-Lime Chicken with Strawberry Avocado Salsa
Three Years Ago: Creamy Peanut Butter Pie with Chocolate Cookie Crust
Four Years Ago: Gluten-Free Chocolate Quinoa Cake with Whipped Chocolate Frosting
Five Years Ago: Lemon Yogurt Bread
Yield: 6 servings
Falafel Meatball Wraps with Tzatziki Sauce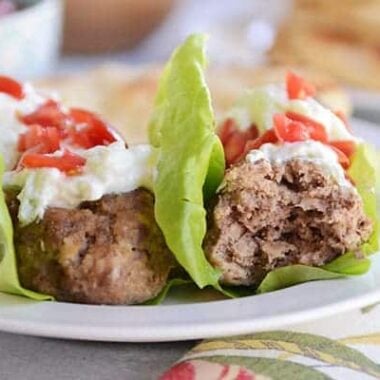 Ingredients:
Meatballs:
1 (15-ounce) can chickpeas, rinsed and drained
1/4 cup chopped fresh parsley
1 large egg
1 tablespoon dried oregano
3 cloves fresh garlic, finely minced or pressed through a garlic press
1 teaspoon coarse, kosher salt
1/4 teaspoon black pepper
1 1/2 pounds lean ground beef or ground turkey (see note)
1/4 cup minced onion (or grated on a box grater)
1/4 cup milk
1/4 cup panko or regular bread crumbs
Squeeze of fresh lemon juice
Tzatziki Sauce:
1 cup plain yogurt
1/2 cup grated cucumber (seedless variety)
1/2 cup crumbled feta cheese
1 clove garlic, finely minced or pressed through a garlic press
2 teaspoons fresh lemon juice
1/4 teaspoon coarse, kosher salt
Pinch of black pepper
Drizzle of olive oil
For the Wraps:
Boston or Bibb lettuce leaves
Diced tomatoes
Naan or flatbread (optional), homemade or storebought
Directions:
Preheat the oven to 400 degrees F. Line a large, rimmed baking sheet with foil and lightly grease with cooking spray.
For the meatballs, combine the chickpeas, parsley, egg, oregano, garlic, salt, and pepper in a blender or food processor and puree. Scrape the mixture into a medium bowl. Add the ground beef or turkey, grated onion, milk, panko or bread crumbs and lemon juice. Mix until combined (I find it's easiest to mix with my hands).
Shape the mixture into about 16-18 meatballs (a little smaller than golf ball size). Place the meatballs on the prepared baking sheet about 1/2-inch apart. Bake for 15-20 minutes until cooked through.
For the tzatziki sauce, in a medium bowl, stir together the yogurt, cucumber, feta cheese, garlic, lemon juice, salt and pepper until combined. Drizzle with a bit of olive oil. Refrigerate until ready to use.
To serve, place 2-3 meatballs on a lettuce leaf, dollop with tzatziki and top with chopped tomatoes. The lettuce wrap can also be served inside naan bread (or serve the naan on the side), if desired.
Notes:
Not all ground turkey is created equal. I've found the kind in the tubes is pretty icky (super mushy – I know, gross), and the meatballs might have a tendency to fall apart. If using ground turkey, mix together all the ingredients EXCEPT milk and only add the milk if the mixture is really thick and stiff. I usually use the butterball brand (at Costco) or Jennie-O, but mostly I use lean ground beef because I like the flavor a bit better.
All images and text ©Mel's Kitchen Cafe.
Recipe Source: adapted from Cuisine at Home June 2017 (increased and changed almost all the quantities)