Fiesta Lime Chicken and Rice Foil Packs are a great way to grill up a whole meal at once! All the flavors of Mexican chicken that you love in one tidy, tasty package. Serve with smoky, tangy, lime rice and tender black beans! 
Looking for more ways to grill foil packs, this spring? Check out my posts for Loaded Baked Potato Foil Packs, Grilled Herbed Chicken and Potato Foil Packs, and Buttery Garlic Steak and Mushroom Foil Packs.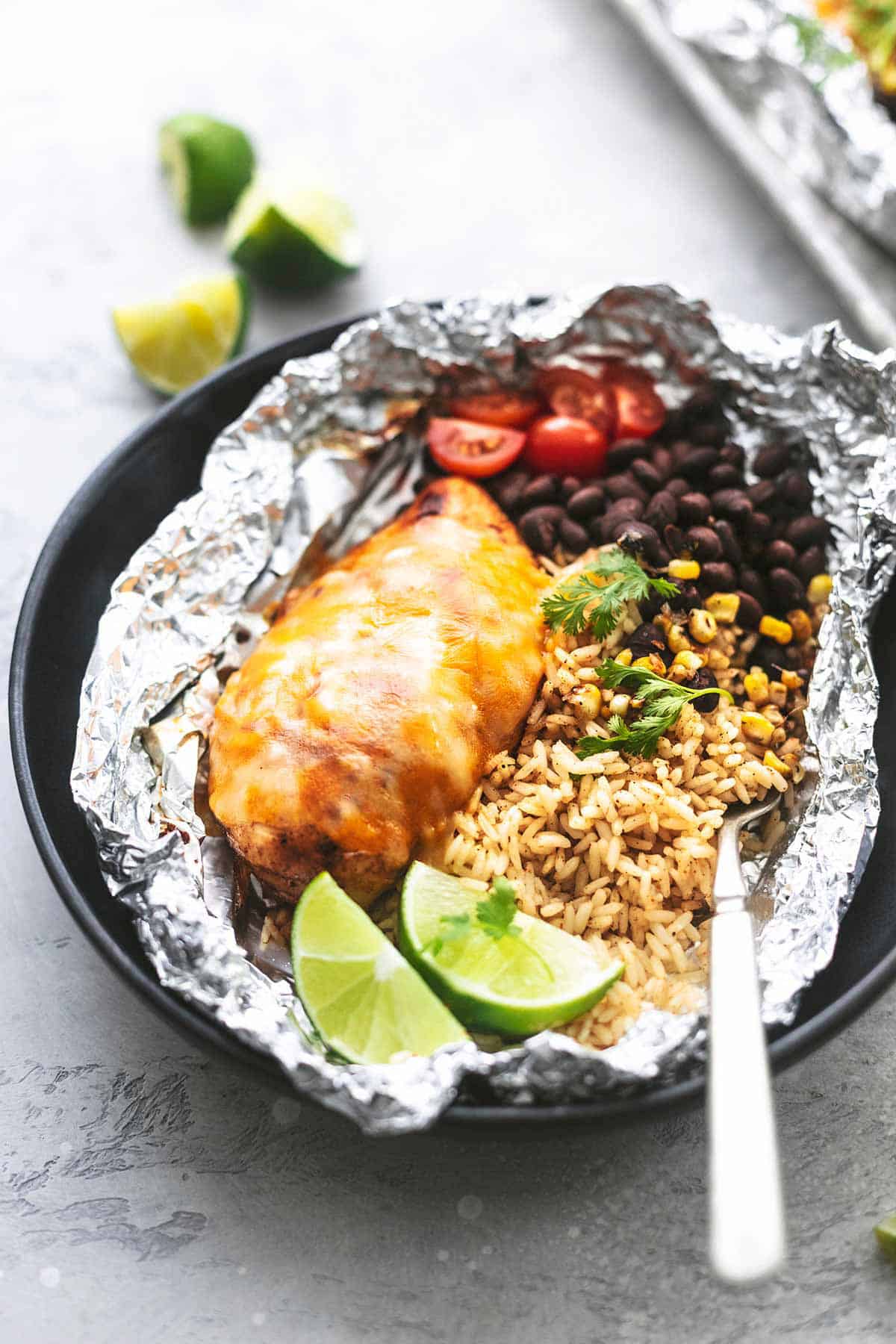 It's finally grilling season! Hallelujah! I mean, sure, any time is a time to grill if you're brave enough to face the elements year-round, like rain, snow, sleet, freezing temperatures, grilling in the dark, etc. Which, I guess we are to some extent, but I'd say nine times out of ten, we'd rather be able to grill without coats and umbrellas. 
One of the best ways to ease into grilling season is to grill using the foil pack method. You can add lots of ingredients to one little square of foil, and the food will cook right up (steaming itself) in the foil pack. Plus, less to clean up, which is, of course the second best part (next to eating, of course). 
It's May and for me May means Cinco de Mayo and Taco Tuesdays and all things Mexican. Maybe it's the allteriation. I'm not sure. What I do know is that these healthy foil pack meals featuring Southwestern marinated chicken, tender black beans, and limey, tangy rice all smothered in cheese is deeee-licious!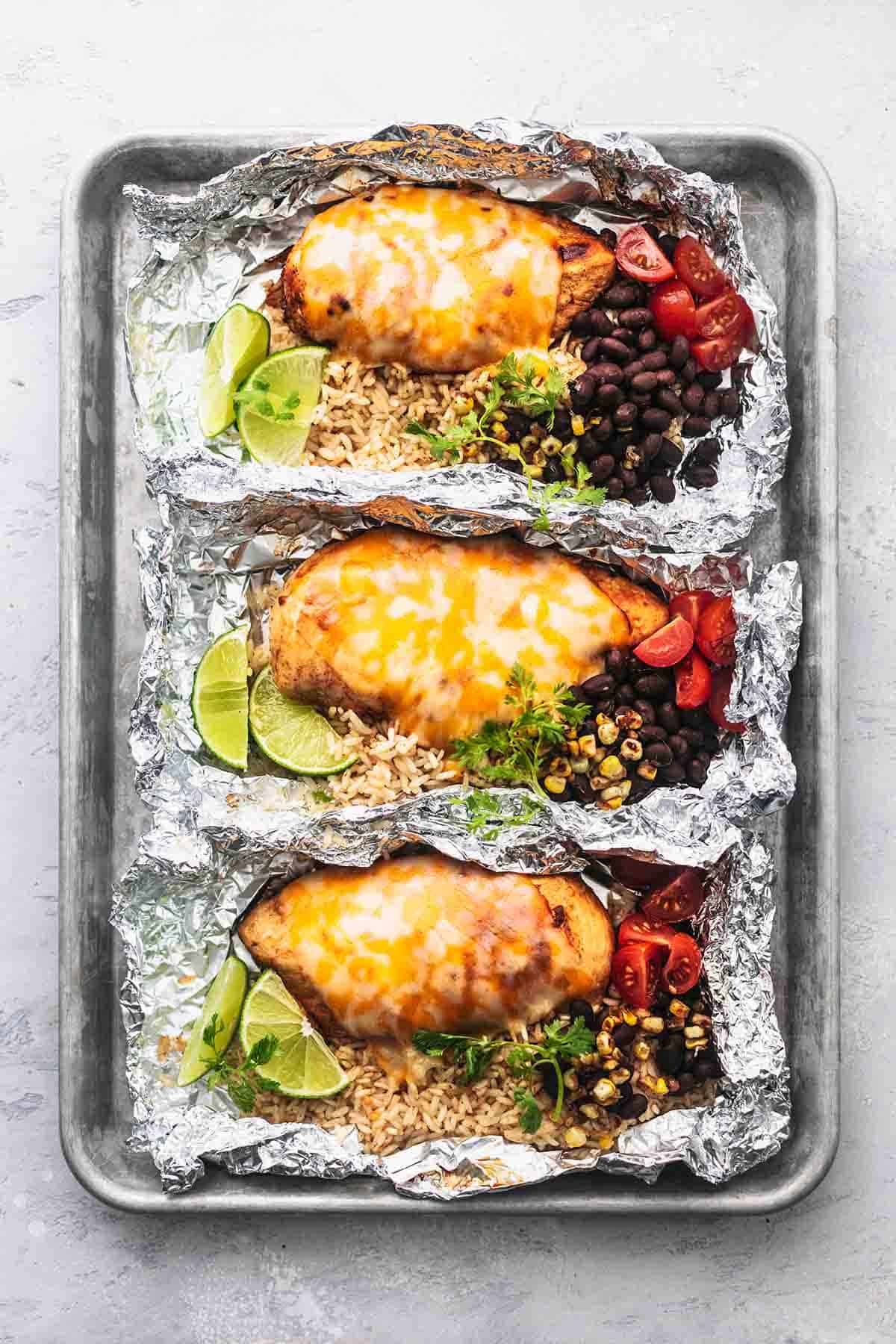 WHAT INGREDIENTS DO YOU NEED TO MAKE FIESTA LIME CHICKEN AND RICE FOIL PACKS? 
Boneless skinless chicken breasts 

Can black beans

Soy sauce

Limes

Water

Oil

Ground cumin

Garlic powder

Chili powder

Long grain white rice

Chili powder

Monterey jack cheese slices or shredded
Optional Toppings:
Sliced avocado 

Cilantro

Sour cream

Tomatoes or salsa, 

Grilled corn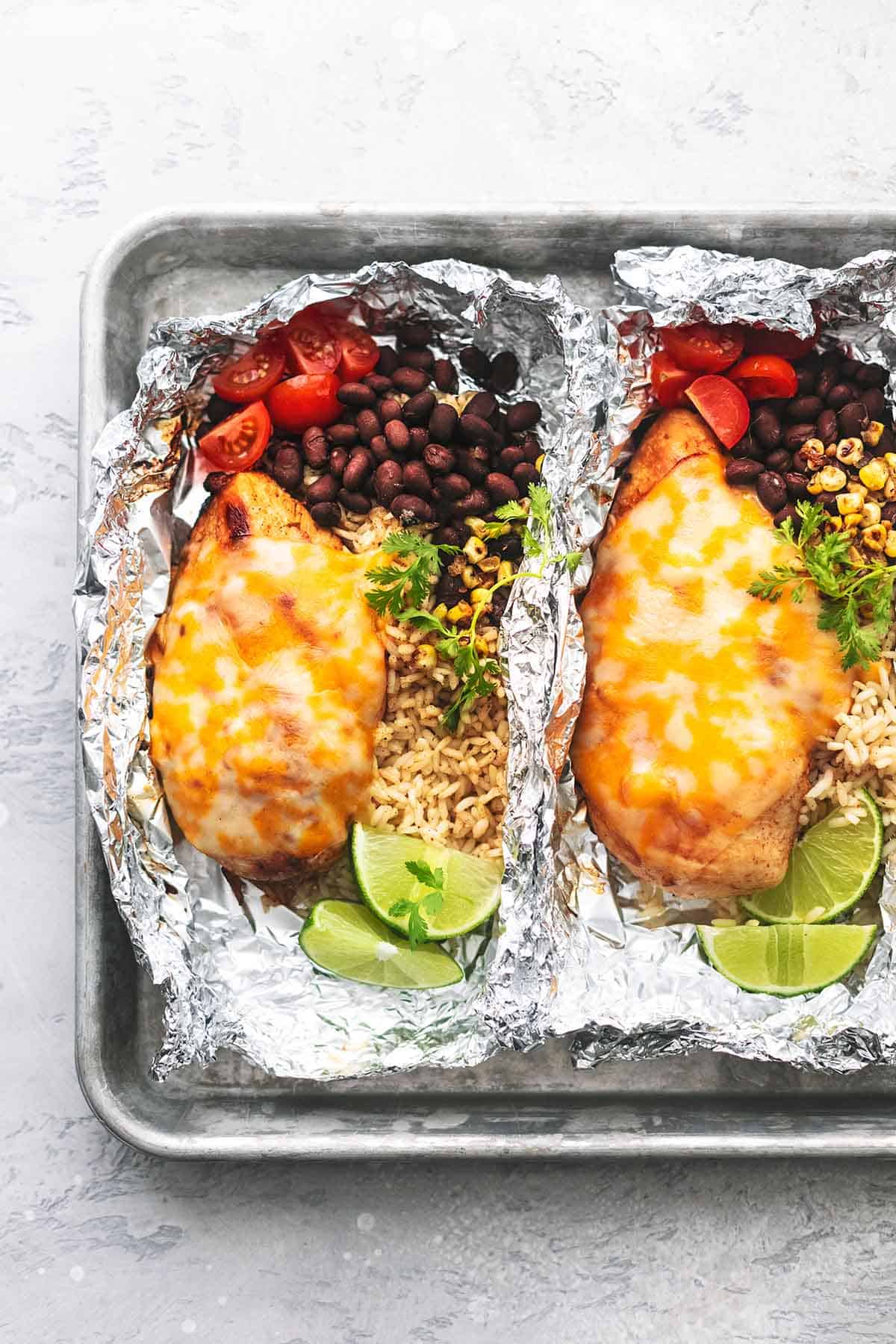 HOW DO YOU MAKE FIESTA LIME CHICKEN AND RICE FOIL PACKS? 
First, let's make the marinade by mixing together the ingredients listed under "chicken marinade:" the soy sauce, lime juice, water, oil, and spices. Add the pounded or thin chicken into the bowl and toss it to coat. Let it sit, covered, for about 15-30 minutes in the fridge. 
Make the rice by adding it to a pot and then covering it with water. Bring it to a boil but only let it cook for about 5 minutes. (It will finish cooking on the grill.) Drain the rice and then stir into it chili powder and lime juice and set it aside. 
Turn your attention back to the chicken. It's time to get the whole thing together in the foil packs. Lay 12-inch squares of foil in front of you on the counter or on a baking tray. Add a ¼ of the rice to each packet, then ¼ of the beans to each foil price. Add a piece of chicken to each, and fold the foil up and around the tops of the fillings. Pinch the seams together tightly so that it can steam. 
Put the packets on the grill over medium heat, being sure to turn halfway through to ensure even cooking on both sides. If you want to cook these in the oven, put the packets in the oven at 400 degrees for 20 minutes (no need to turn). 
Finally, open the packets up and carefully put a slice of cheese or a handful of shredded cheese on top of each piece of chicken and put it back in the oven or on the grill to melt (but keep the foil open). This will take about 3-4 minutes. Serve the packets with the optional toppings.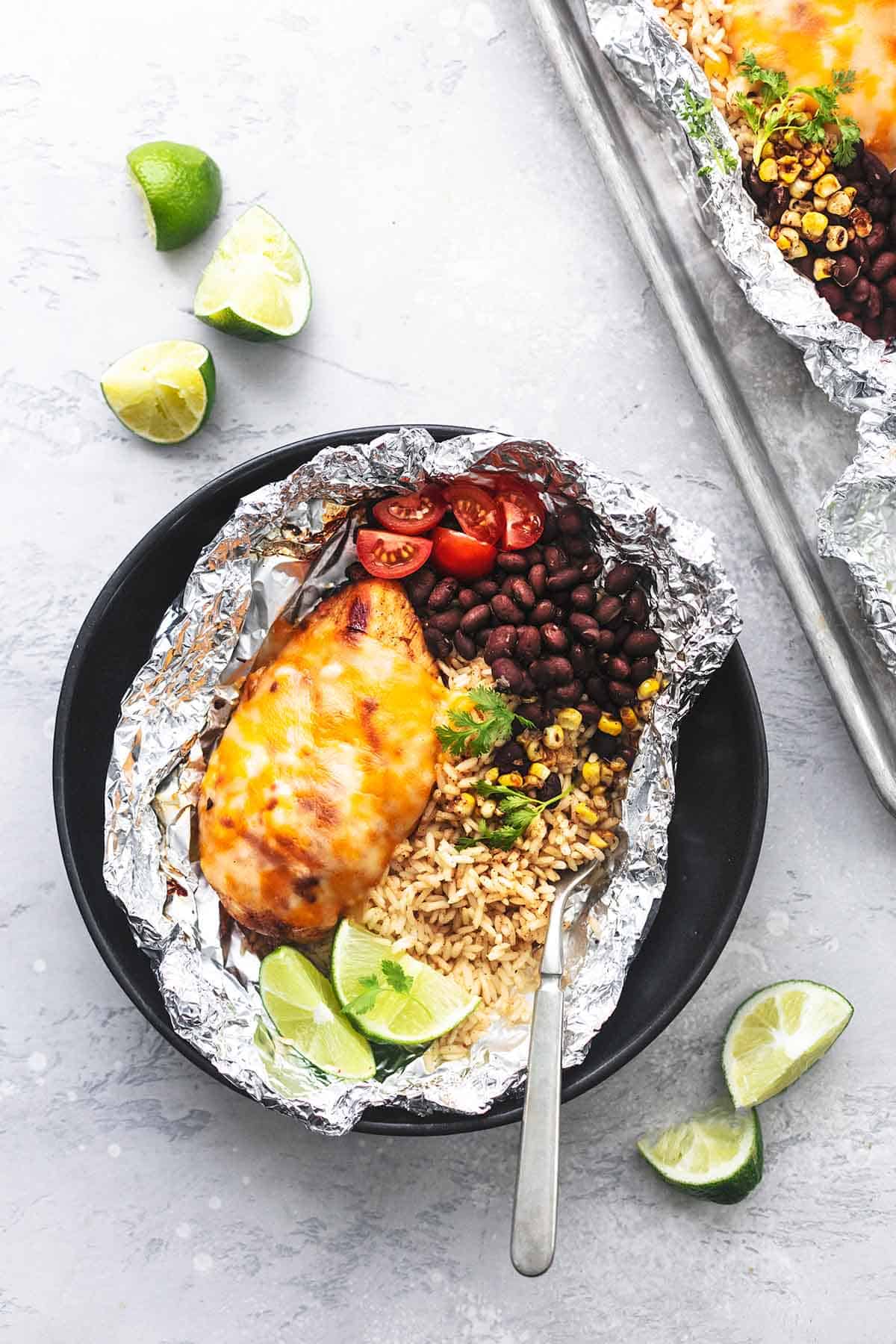 WHAT SIDES GO WITH GRILLED CHICKEN?
These foil packet grill parcels are a kind of meal all in one. But if you want to serve some more sides, here are some that I think would go good with this Mexican chicken recipe: 
WHAT CAN I USE TO POUND CHICKEN? 
I usually put a piece of plastic wrap over the chicken (that's on a cutting board) before pounding it a bit thinner to keep it from splattering all over the place. But if you don't want to use plastic wrap, you could also place your chicken breast in a Ziploc bag, sealing and squeezing out the air before pounding it down. 
To do the actual pounding, I use a meat mallet. But you can also use the back of a skillet or a rolling pin.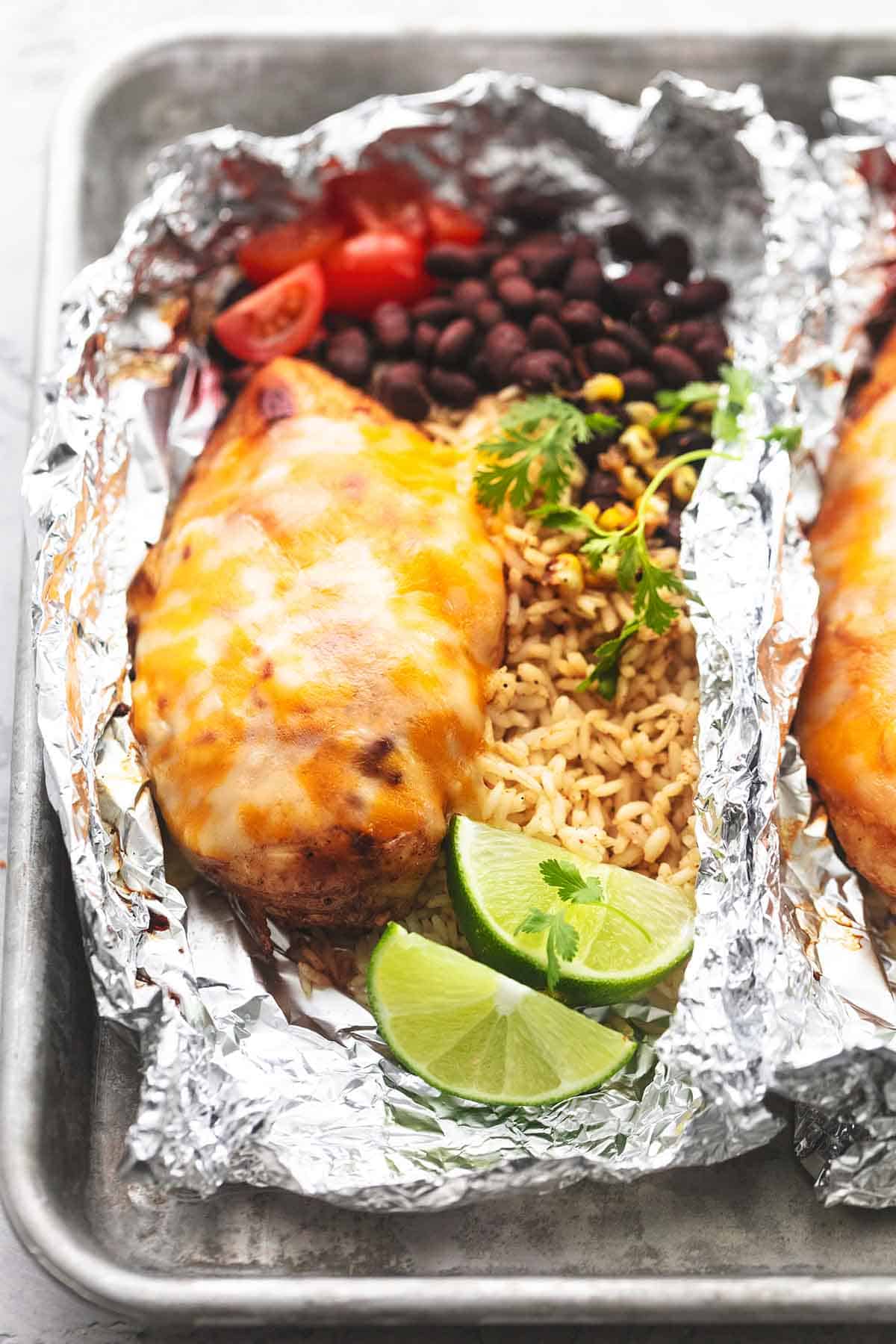 4

small boneless skinless chicken breasts OR two large, sliced in half lengthwise

see note

1

15-ounce

can black beans

sliced avocado, cilantro, sour cream, tomatoes or salsa, grilled corn

optional toppings
chicken marinade
2

tablespoons

soy sauce

juice of 2 limes (2-3 tablespoons fresh lime juice)

1/4

cup

water

1/4

cup

oil

2

teaspoons

ground cumin

2

teaspoons

garlic powder

2

teaspoons

chili powder
for the rice
1

cup

long grain white rice

1/2

teaspoon

chili powder

juice of 1 lime

4

slices monterey jack cheese

or about 1/2 cup shredded
In a medium bowl whisk together all ingredients for the chicken marinade. Add chicken, toss to coat, cover and chill for 15-30 minutes. Prepare the rice while chicken is marinating.

Add rice to a pot. Cover with water, bring to a boil and cook for 5 minutes. Drain, stir in chili powder and lime juice, and side aside.

Cut four 12-inch squares of foil and lay them out on a clean, flat surface. Spoon 1/4th of the rice into each packet. Add 1/4th of the beans. Top with one piece of chicken. Fold two opposite ends of the foil over the top of the fillings and pinch the seams together tightly. Fold or roll up the remaining ends of the foil to close the packet.

Bake at 400 degrees for 20 minutes until chicken is cooked through OR grill over medium heat, being sure to turn over halfway through to ensure even cooking.

Open the packets, top chicken with 1/4 of the cheese (one slice each) and return to oven or grill (do not close the packet) 3-4 minutes til cheese is melted.

Add any desired toppings and serve.
*The goal is to have four pieces of chicken less than 1 inch thick. If you are using whole chicken breasts, be sure to pound them out to an even 3/4 inch thickness. If you have two large chicken breasts, cutting them in half lengthwise works great.