This frozen French Silk Pie cocktail is the most delicious and decadent dessert drink! This frozen cocktail is made with chocolate ice cream, rum and bourbon, and Frangelico. With the added spices and toppings, it tastes just like a slice of French silk pie. It's creamy, chocolatey, and absolutely tasty!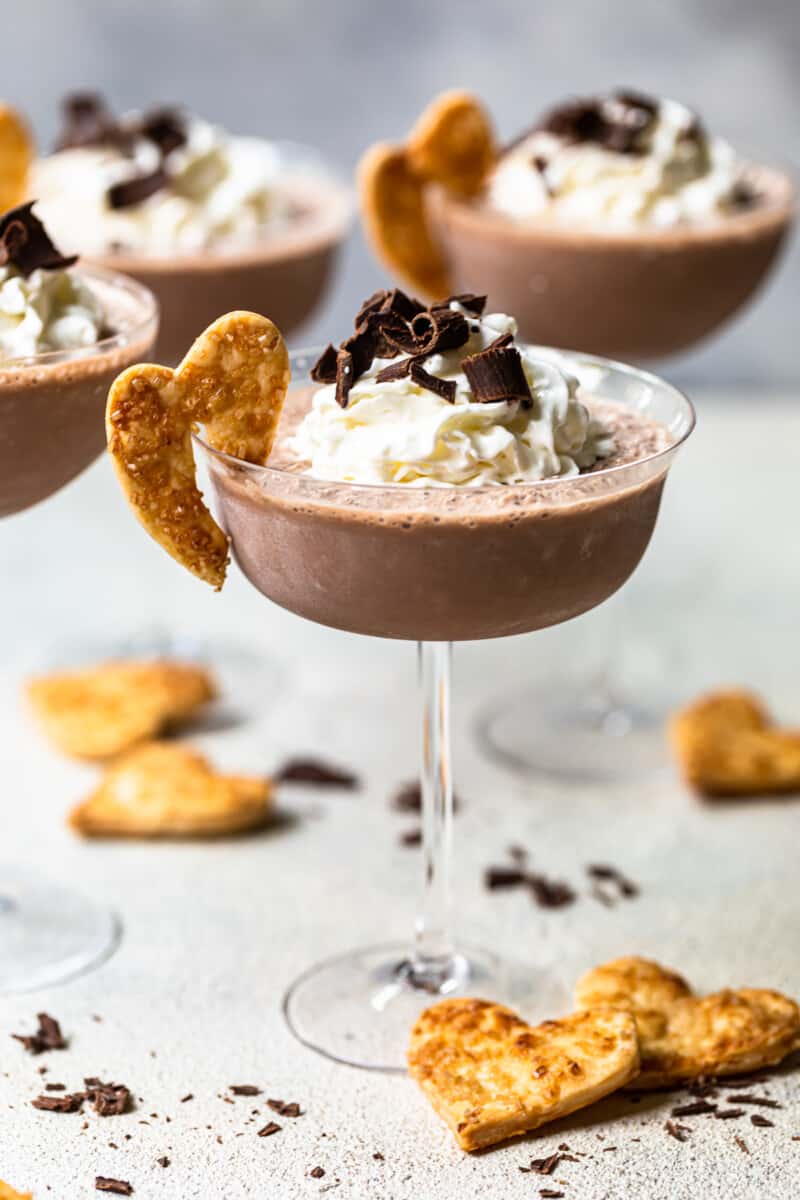 French Silk Pie Cocktail
If you love french silk pie, then you're going to absolutely love this frozen cocktail version! Imagine that creamy, chocolatey, rich flavor in the form of a drink. Yum!
This Frozen French Silk Pie cocktail is a mix of chocolate ice cream, rum and bourbon, and Frangelico. Then it's topped off with chocolate shavings, whipped cream, and even a little pie crust cookie!
Make this dessert cocktail (think boozy milkshake) next time you need a sweet treat with an extra kick!
Why You'll Love this Frozen Cocktail Recipe:
CHOCOLATEY: This drink is a chocolate-lover's dream. It's like a slice of french silk pie in a cup!
DESSERT COCKTAIL: Have your dessert and cocktail in one! These drinks are the perfect thing to serve after dinner.
EASY: This cocktail is really easy to make. It's a little bit of mixing, then freeze, and serve!
This frozen chocolate cocktail is perfect for Valentine's Day, after dinner dessert/drinks, or for a gathering with your friends!
And if you want to turn this into a non-alcoholic drink, check below for notes on how to do that.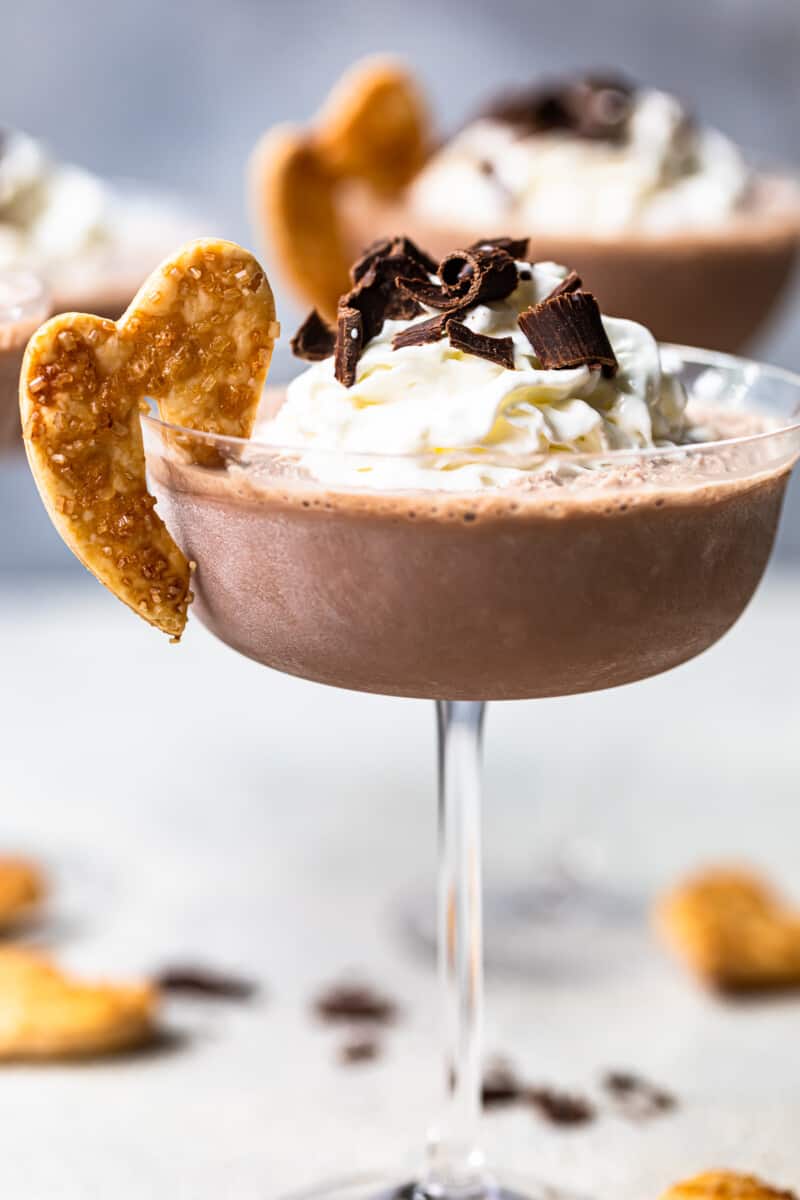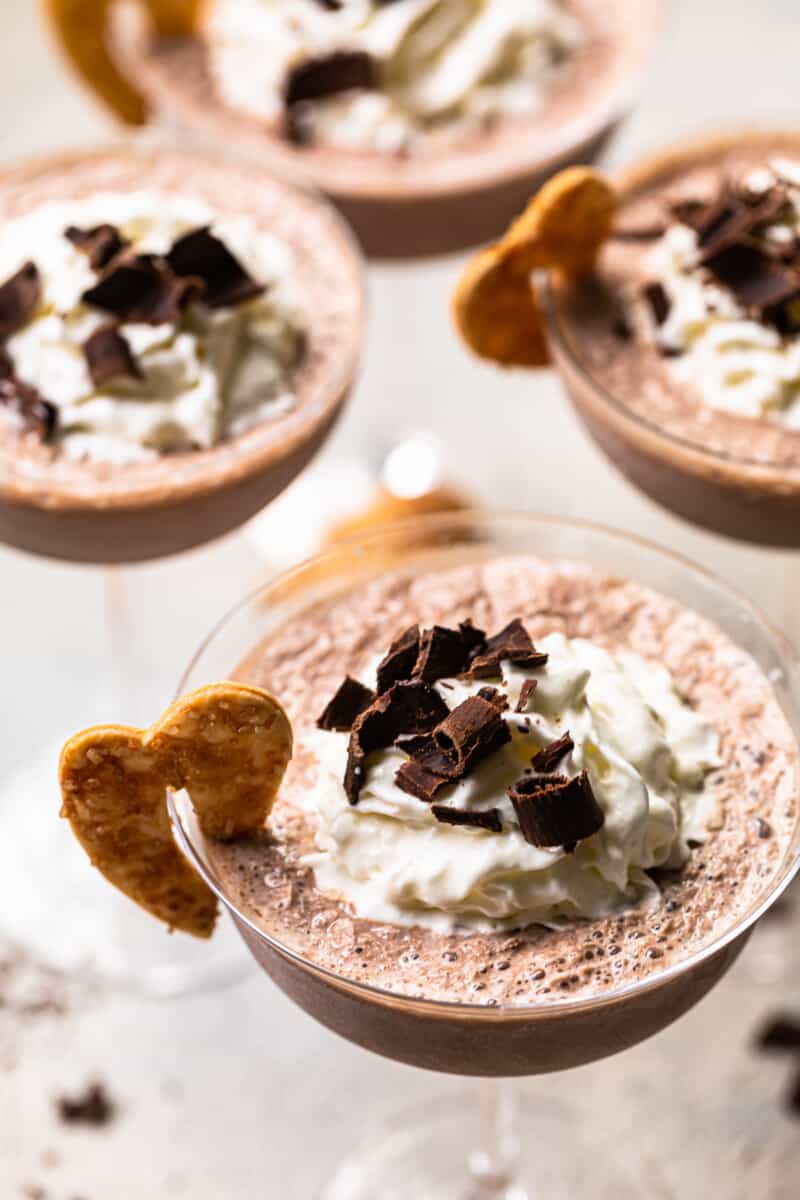 How to Make Frozen French Silk Pie Cocktails
Be sure to see the recipe card below for full ingredients & instructions!
Let the ice cream sit out briefly to soften.
Combine all ingredients in a large mixing bowl.
Pour into a freezer-safe container, and freeze for at least 4 hours.
To serve, stir the mixture and pour into glasses. Then top with whipped cream and chocolate shavings!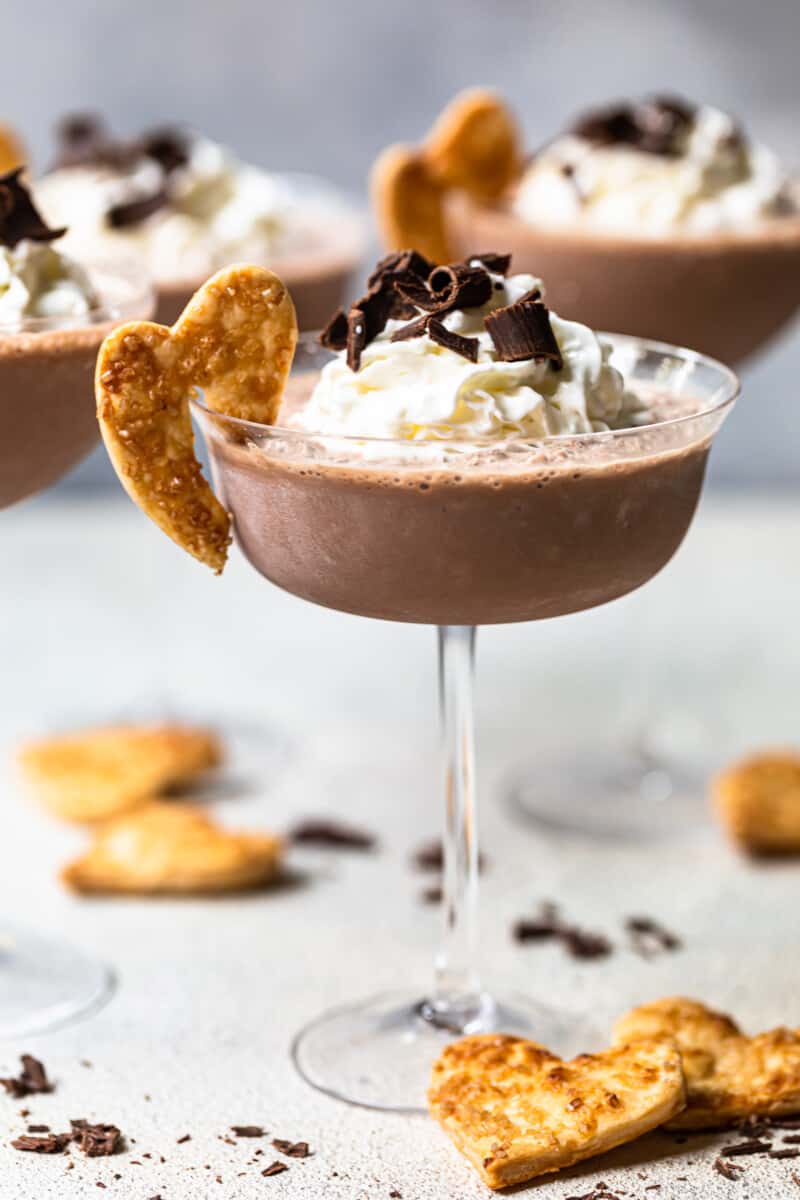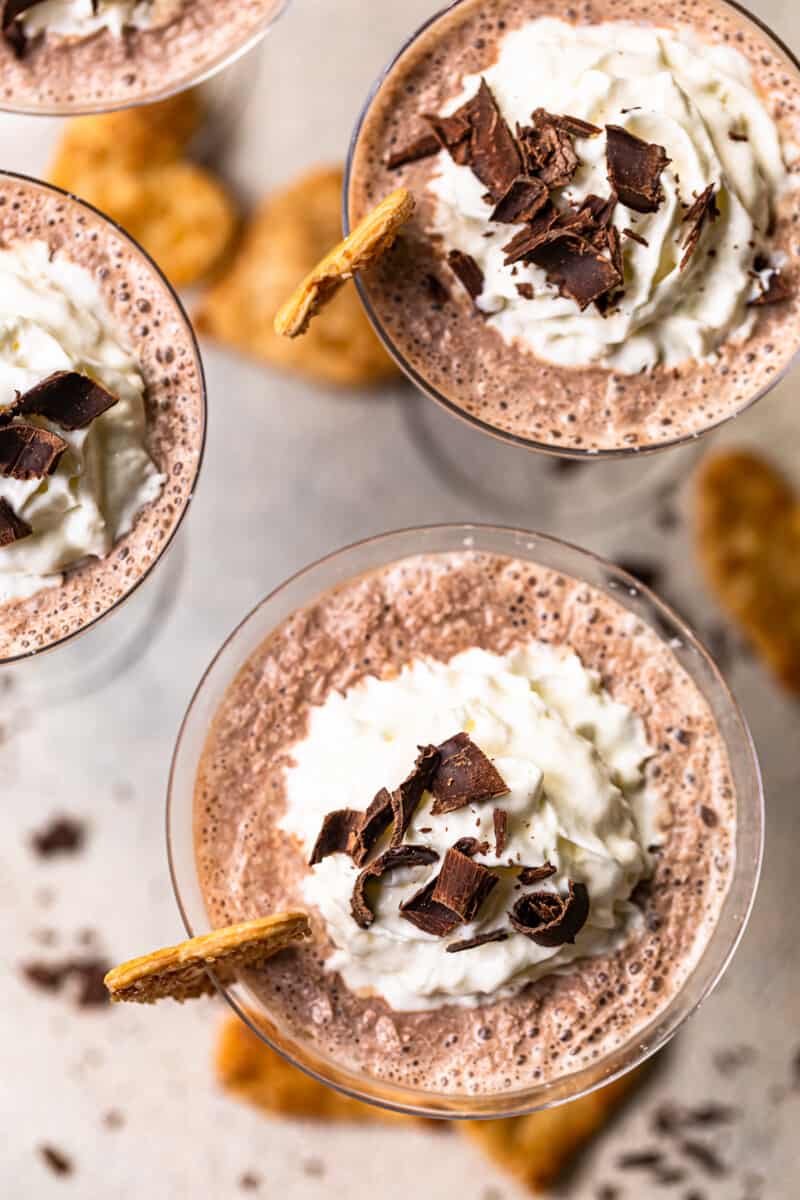 What is a frozen cocktail?
It's an alcoholic drink that's been frozen before serving. They tend to be more of a slushy consistency, so need to be stirred and broken up regularly.
What can I use in place of the Frangelico liqueur?
Amaretto is an almond flavor rather than hazelnut, but it would still work here as a substitution. Hazelnut extract or hazelnut syrup could be used to add the flavor, without the liqueur.
What brands of bourbon and rum should I use?
You can use any brand you prefer! I recommend using something of decent quality (i.e. that you like the taste of), but not your most prized bottle.
What other ice cream flavors can I use?
Chocolate ice cream is best to give you a true french silk pie flavor in this cocktail. But you use another flavor and this would still taste great. Classic vanilla works well, or try a hazelnut ice cream or coffee flavored ice cream!
If you're a big fan of french silk pie, be sure to try this French Silk Pie Fudge!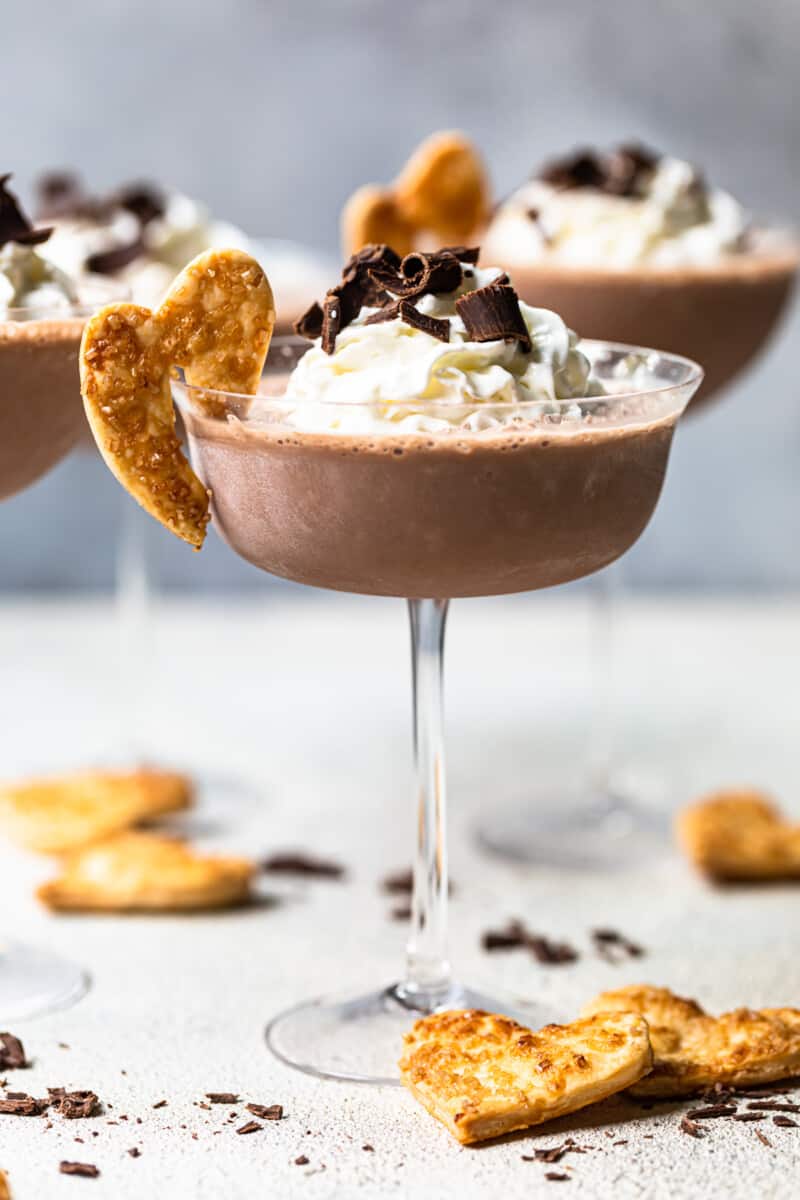 Tips!
You want the ice cream to be cold, but soft enough to mix. I recommend letting it sit out for about 15 minutes, rather than microwaving.
Use a large, freezer-safe container to freeze this cocktail. You can pour it into multiple containers if you need to.
The frozen cocktail will taste super creamy, but will be on the slushy side when you take it out of the freezer.
These can be kept in the freezer as long as needed, but they will be best if served within 2 days.
How can I make this without alcohol?
This frozen cocktail recipe can definitely be turned into a non-alcoholic drink if you prefer.
To do this: leave out the rum and bourbon, then replace the Frangelico with a hazelnut syrup. You might need to add a bit more milk to get the right consistency. Just add a little more at a time as you mix. It'll be more like a french silk pie milkshake that everyone can enjoy!
Can I make these cocktails with dairy free ice cream and milk?
Absolutely! You can make a dairy-free version and it will still be just as delicious. Coconut-based ice creams and milks make a nice replacement, but you can use any substitute you prefer.
How can I make the pie crust cookies?
The pie crust cookies are optional, but they're really easy to make! Plus they look really cute with this frozen french silk pie cocktail, and finish off the drink really nicely.
To make: 
Use a store-bought, pre-baked pie crust, and cut out any shape with a cookie cutter. The heart shape looks nice, and would be perfect if serving this for a Valentine's Day treat. But you can use any cookie shape you want.
You can use them solely as garnish, or you can add a cinnamon sugar coating and bake them in the oven!
This frozen French silk pie cocktail is such a great dessert drink. It's rich and chocolatey, and it feels so decadent. Make it for special occasions, or any time you need a treat!
If you make this recipe be sure to upload a photo in the comment section below or leave a rating. Enjoy!