Ground Beef Stroganoff is a classic comfort food updated to use simple pantry ingredients and too cook up in only one pan! Tender ground beef, onions, garlic, mushrooms, herbs, broth and egg noodles all come together in one fragrant, divine dish! 
For more one-pan meals featuring ground beef, head over to my recipes for Beefy Enchilada Shells, Mexican Beef and Rice Skillet, and Baked Meatballs.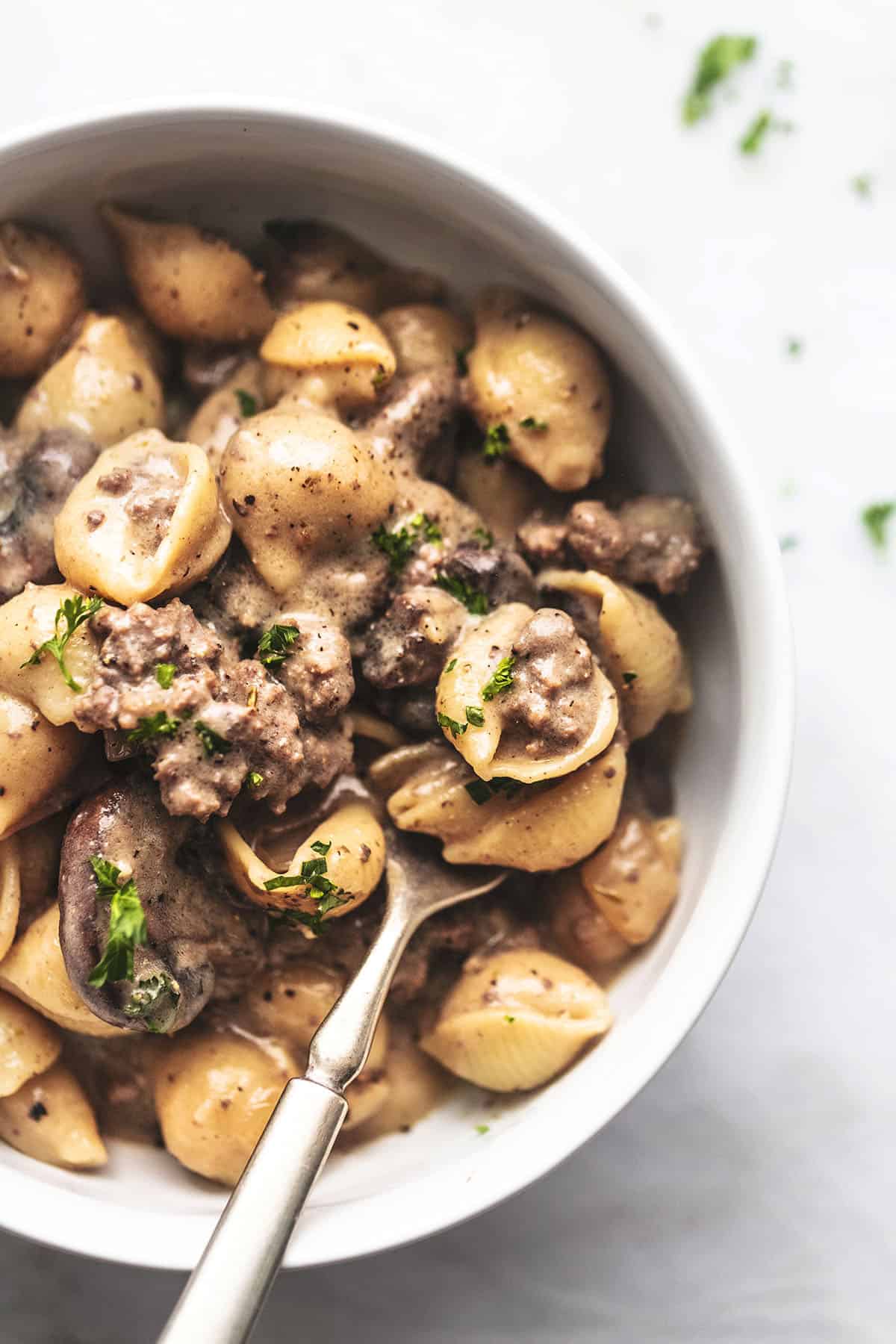 I've been on a comfort-food kick lately. And why not? There's certainly no shortage of recipes that make us feel good: fed, loved, nurtured, perhaps even a bit nostalgic. For me, that recipe is a good, creamy beef stroganoff. 
Although it's kind of an "old-fashioned" meal, I love it so much. My mother used to make the best version of it, and I have to say this is pretty darn close! Plus, you don't have to worry if you don't have stew meat — a package of ground beef will work just fine! 
Combine that with egg noodles, the mushrooms, onions, spices, sour cream, and broth, and well, you'll be hard-pressed to come up with a creamy comfort food that goes together faster, tastes better, or cleans up easier than this ground beef stroganoff recipe.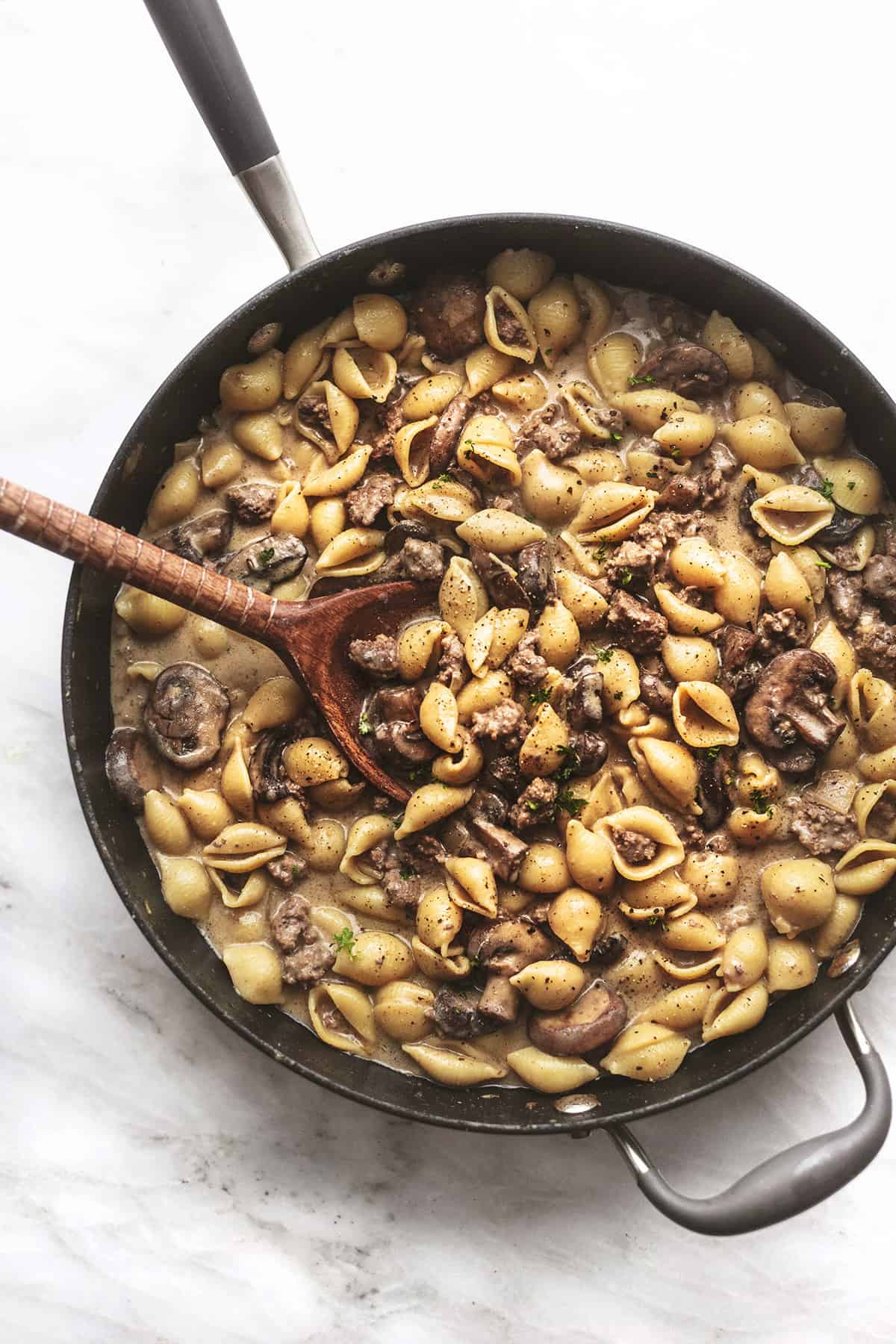 How to make this dish
Get out your favorite large skillet, thaw some ground beef and grab a few pantry/fridge staples — we are going to have one heck of a time making this cozy comfort food! 

Divide the ground beef into large chunks and add them into a large skillet over medium heat. If you should be using a pan that's not nonstick, then make sure you oil it a bunch first so that your beef doesn't stick. Brown the meat for 2-3 minutes, then break it up with a spoon or other kitchen utensil and brown it until there is no pink left. Transfer this to a bowl and cover to keep warm. 

Add butter to the same skillet. When it's melted, add the onions and garlic and stir for 2 minutes or until your kitchen starts to fill with the lovely aroma of onions and garlic (I mean, is there anything better, honestly?). Then, sprinkle the onions with a little bit of flour and stir for one minute until it gets foamy. 

Now, whisk in the beef broth, stirring here and there. Stir in the worcestershire sauce, salt, and pepper. Reduce the heat to a low simmer. When it's stopped bubbling, sir in the sour cream, then return the beef and add in the noodles. (If you're using the egg noodles, cover and simmer for about 3-5 minutes until softened, otherwise, add in the cooked pasta). Taste, add salt and pepper to taste. I like to garnish with a bit of chopped parsley if you like that look and serve.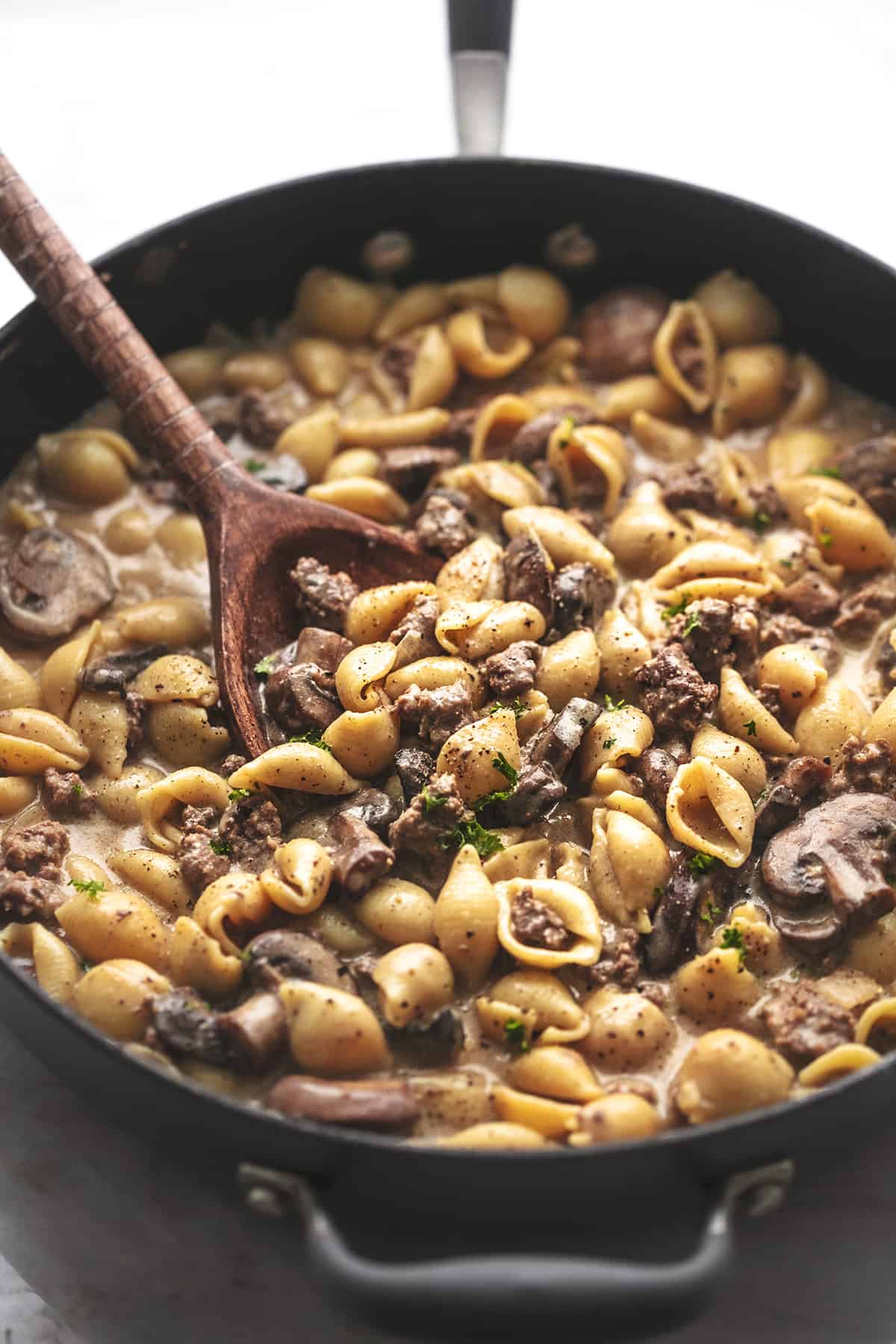 What makes stroganoff stroganoff? 
It's a Russian name for a dish made with sauteed pieces of beef that's served in a sour cream sauce. It's origins are from the 19th century and from there it's moved around the world as a very popular saucey beef dish. 
What does stroganoff taste like?
This dish is hard to explain but let me try. Imagine beefy, creamy, a bit sour from the sour cream, and kind of tangy from the worcestershire sauce. Plus, salty from the pasta, then you have the umami from the mushrooms, the bite of the garlic, just trust me it's a savory, meaty dish you will love!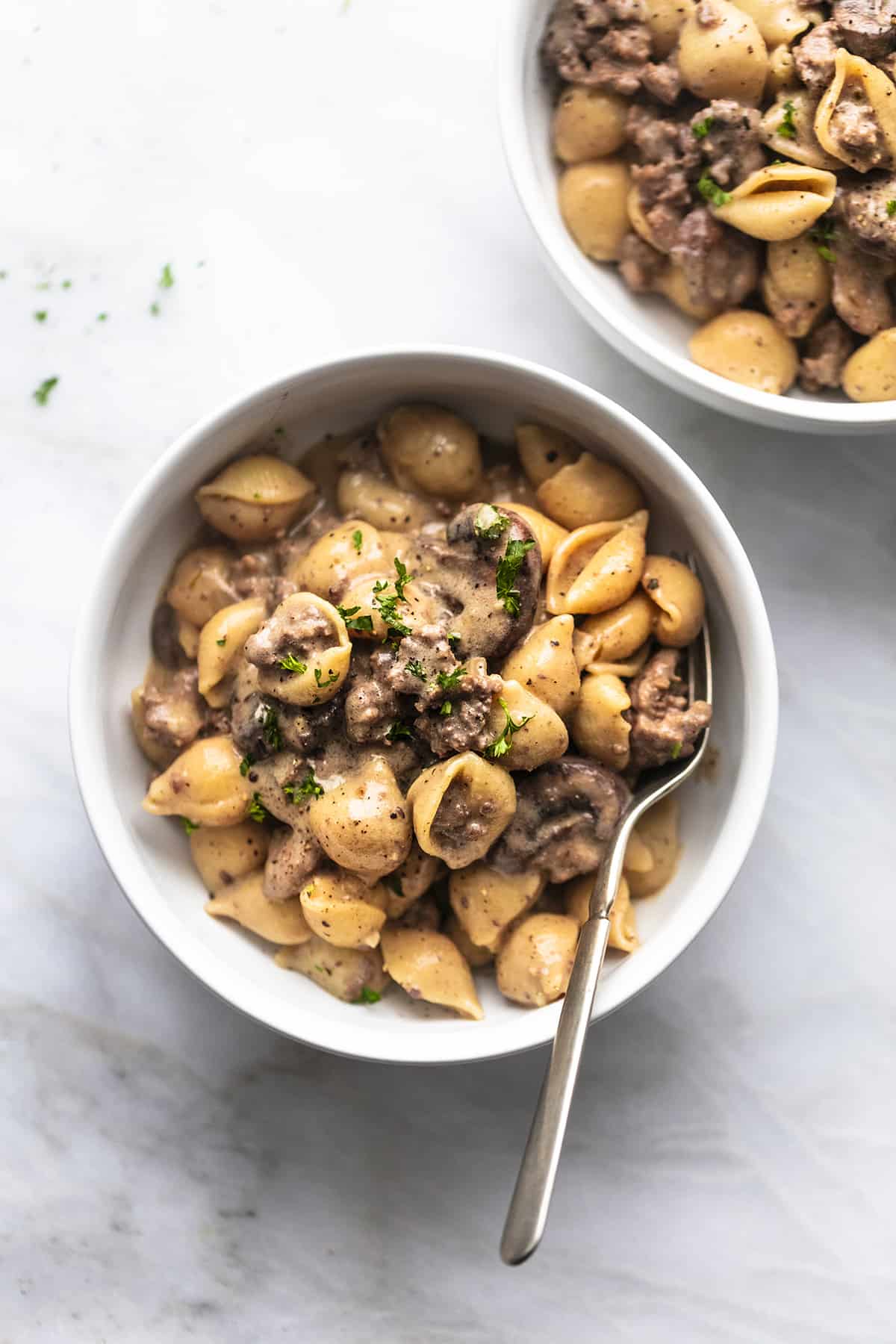 Serving suggestions
Oh I Iove the sides. Even though this dish has mushrooms and onions, I like to add a little more veggies on the side. Here are some of my favorite veggie side dishes that go with this stovetop beef stroganoff. 
How do I thicken beef stroganoff?
Although I suggest you add flour to the onions while they are cooking as a thickening agent, you may find that your sauce is too thin for your liking, in that case, make a cornstarch slurry. 
Add equal amounts of cornstarch and cold water into a little bowl and whisk together to make the slurry. Once whisked, stir the slurry into the sauce. Let it cook a bit and it should thicken right up! For this recipe I would start with one tablespoon corn starch and one tablespoon of cold water. You can repeat this if it is still not thickened quite to your taste!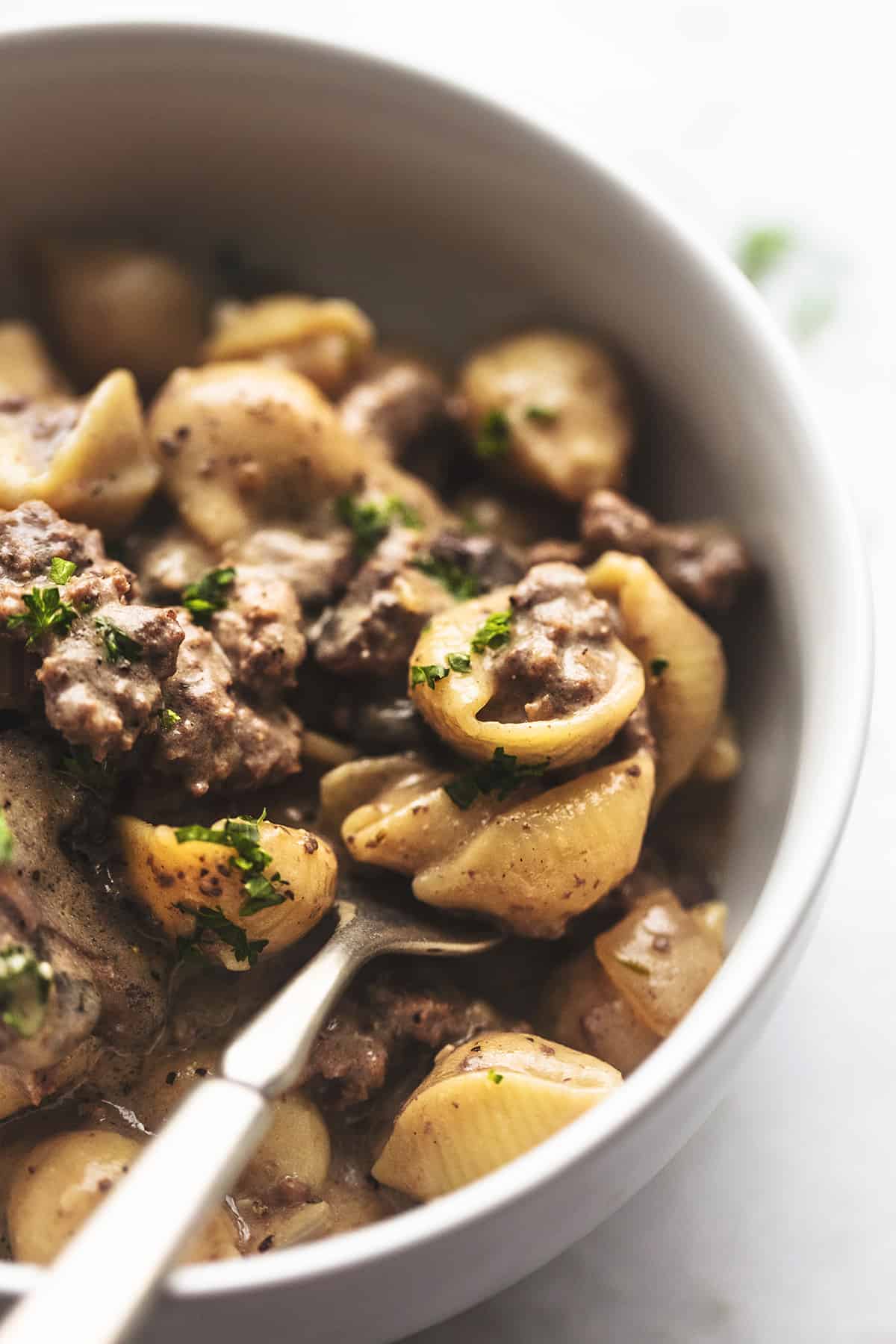 More Tasty Dinner Recipes
Did you try this Ground Beef Stroganoff recipe? YAY! Please rate the recipe below!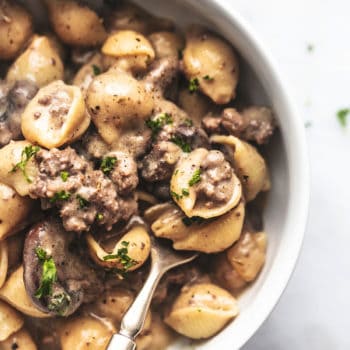 Divide ground beef into large chunks and drop into a large skillet over medium heat (if not using a nonstick pan, drizzle it with a bit of oil first). Brown for 2-3 minutes, then break up with a spoon or spatula and continue to brown until there is no more pink. Transfer to a bowl and cover to keep warm.

Add butter to the pan. Once melted, stir in onions and garlic for 2 minutes til fragrant. Sprinkle with flour and stir for 1 minute until foamy.

Gradually whisk in beef broth, stirring constantly. Stir in worcestershire sauce, salt, and pepper.

Reduce heat to a low simmer. Once no longer bubbling, stir in sour cream.

Stir in ground beef and noodles. (If using egg noodles, cover and simmer 3-5 minutes until softened). Taste, add salt and pepper if needed. Garnish with chopped parsley if desired and serve.
Easily swap out the ground beef for ground chicken, turkey, or my personal favorite – ground Italian sausage. 
The flour acts as a thickening agent in this recipe but if you get to the end and find that it's not quite as thick as you'd like it, go ahead and add a cornstarch slurry by stirring together equal parts corn starch and cold water and then stirring mixture into the sauce while it is boiling, then reduce heat to low as it thickens. Start with 1 tablespoon each water and corn starch and repeat as needed until you're happy with the consistency. 
Stroganoff is typically served with egg noodles which are very soft, but I love to use small shells in this recipe or even another spiral noodle like cellentani.
If you're up for something new, try adding fresh baby spinach leaves (just stir them in at the end for 1-2 minutes til softened) or add 1/2 teaspoon crushed red pepper flakes for a hint of heat!
Calories: 655kcal | Carbohydrates: 54g | Protein: 33g | Fat: 34g | Saturated Fat: 14g | Trans Fat: 1g | Cholesterol: 149mg | Sodium: 1395mg | Potassium: 911mg | Fiber: 3g | Sugar: 6g | Vitamin A: 298IU | Vitamin C: 5mg | Calcium: 125mg | Iron: 5mg