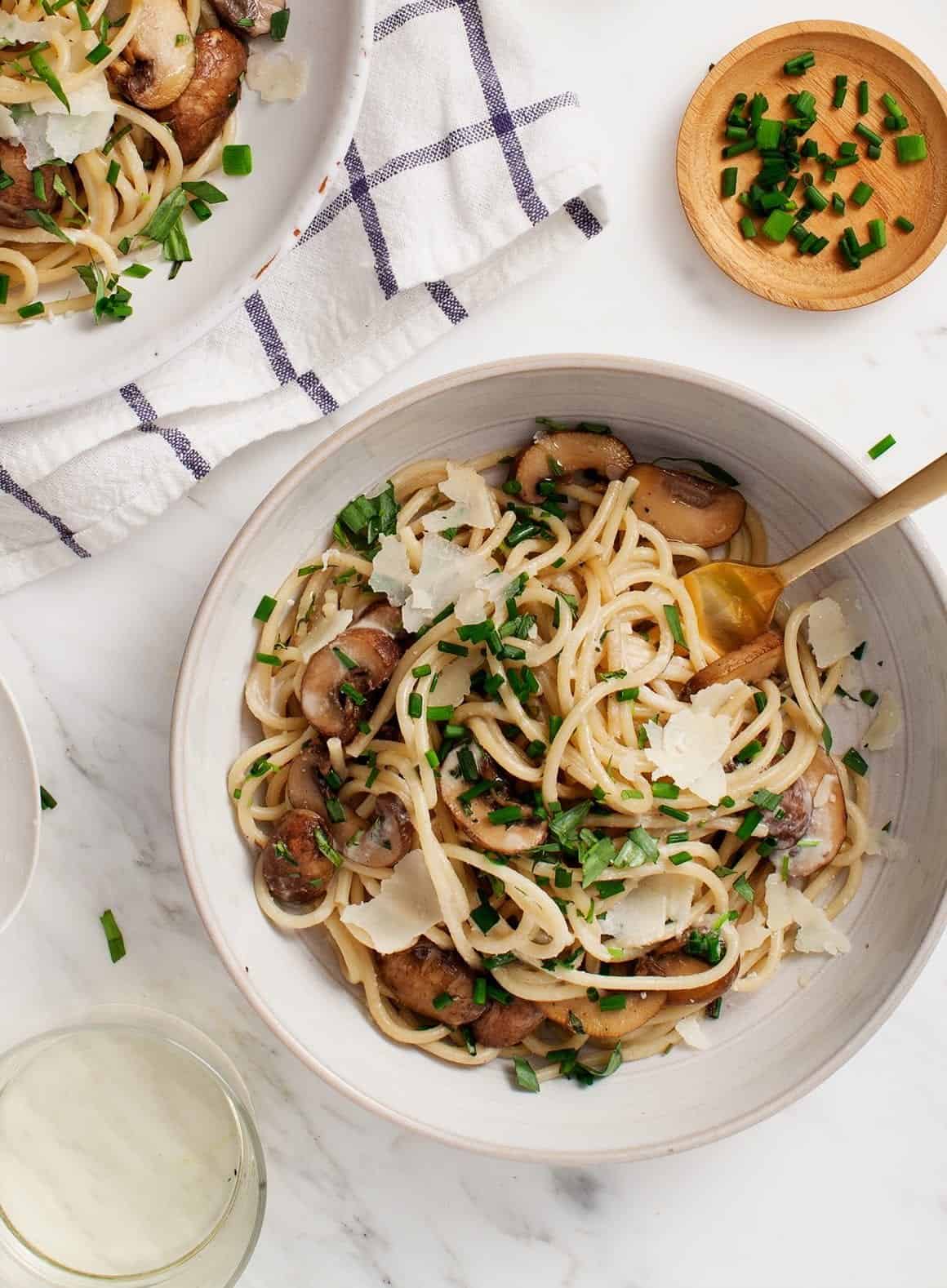 It seems like every day these days is some new National ___ Day… National Dog Day, National Donut Day. But today is extra special, because today is not just a National day, but a World day, and possibly one of the best food World days, as it is… World Pasta Day! So obviously to celebrate, I made pasta!
This mushroom pasta was inspired by our recent trip to Parma, Italy where we traveled last month to attend the Barilla® Pasta World Championship. Mushrooms were in season in the area and every restaurant we went to seemed to have a mushroom special. Mushroom ravioli, mushroom spaghetti, mushroom soup, mushroom everything. Jack and I happen to love mushrooms so I was itching to make this mushroom-lovers spaghetti once we got home.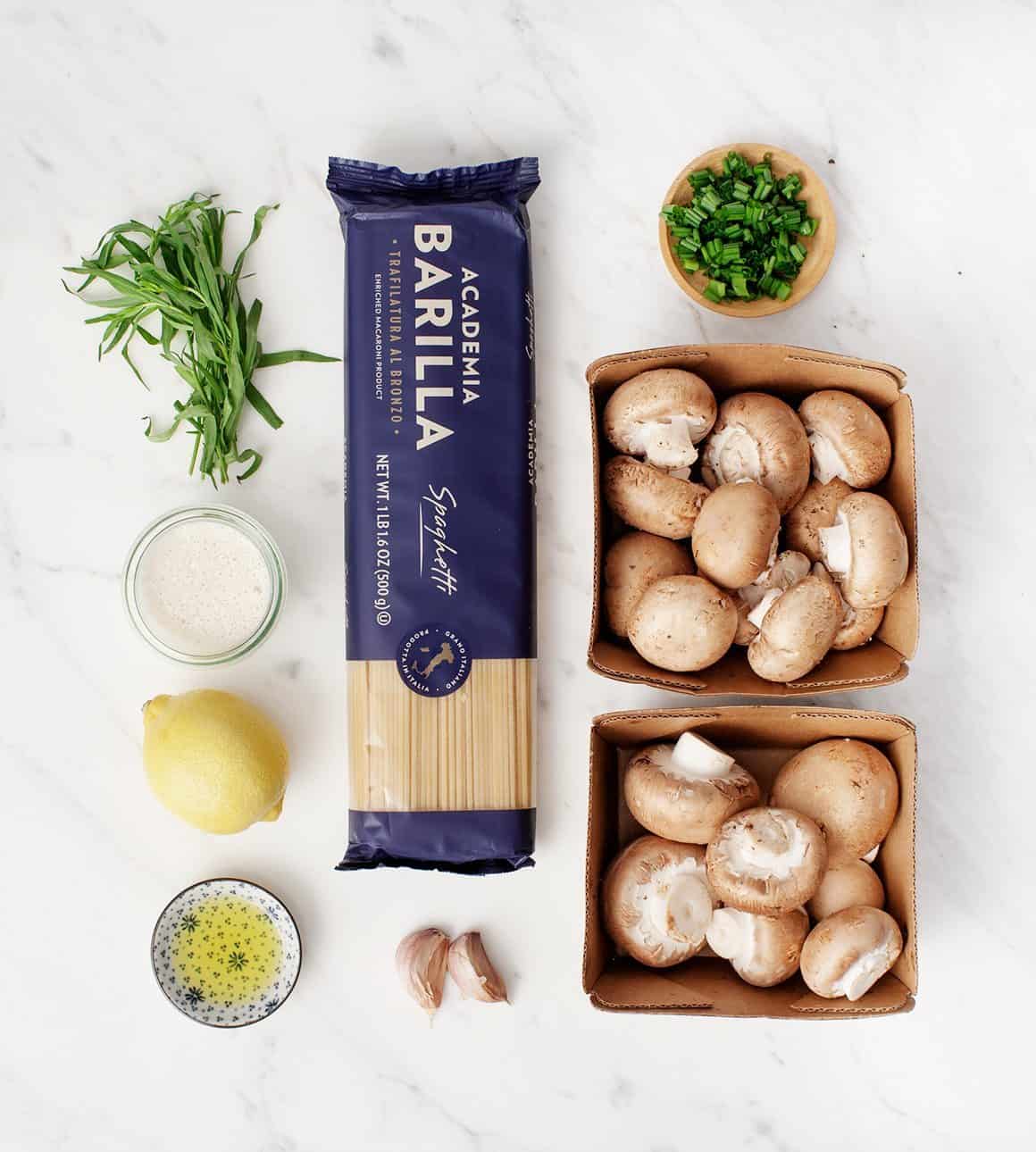 This recipe, obviously, starts with the mushrooms. I used sliced cremini mushrooms, but by all means, mix in other varieties such as chanterelle mushrooms or oyster mushrooms if you want to get crazy with your mushrooms. The rest of these ingredients – olive oil, garlic, herbs, and a touch of cashew cream with Dijon mustard – seem so simple, but they compliment the mushrooms in such a delicious way. Specifically, if you've never tried tarragon before it has an anise/licorice flavor that you might not love at first sniff, but it REALLY makes the deep savory flavor of the mushrooms pop.


Now that the weather is cooling off, this is our kind of weeknight recipe. It's quick to toss together, which is the beauty of pasta, but is also so yummy, satisfying, and very flexible. For example, if you don't have tarragon and chives, rosemary and/or sage would be delicious… sub in gluten-free pasta if you want to, and there's a vegan option (below) to use cashew cream instead of regular cream. Of course if you're not vegan, top this with fresh Parmigiano-Reggiano because this recipe is inspired by Parma after all!
Buon appetito!

Herb & Garlic Mushroom Pasta

2 tablespoons extra-virgin olive oil
16 ounces cremini mushrooms, de-stemmed and sliced
8 ounces Barilla Spaghetti, plus ⅓ cup reserved pasta water
2 garlic cloves, minced
¼ cup dry white wine (such as chardonnay or pinot grigio)
¼ to ⅓ cup cashew cream (below)
⅓ cup chopped fresh tarragon
⅓ cup chopped fresh chives
⅓ cup shaved Parmigiano Reggiano cheese
Sea salt and freshly ground black pepper
savory cashew cream (this makes extra)*
⅓ cup raw cashews + ½ cup water (or skip this mixture and use regular cream)
½ clove garlic (a small one)
½ teaspoon fresh lemon juice
¼ teaspoon dijon mustard
⅛ teaspoon sea salt
Make the cashew cream by blending all ingredients in a high speed blender until smooth. Set aside. (note: it's not going to be very thick, it should be the consistency of half & half or heavy cream).
In a large pan heat the olive oil oil over medium heat. Add the mushrooms, a few generous pinches of salt and pepper, and cook until soft and wilted, stirring occasionally, about 8 to 12 minutes.
Meanwhile, cook the pasta in salted boiling water 1 minute short of the package directions, until al dente. Reserve ⅓ cup of the starchy pasta water before draining.
To the mushrooms, add the wine. Stir and let it reduce for 1 to 2 minutes.
Stir in the garlic, then the cooked pasta and toss. Add a few splashes of the cashew cream and a few splashes of the pasta water and toss to create a light sauce. Add half of the fresh herbs and season to taste. Serve immediately with remaining fresh herbs and Parmigiano Reggiano cheese on top.
To make this vegan, skip the cheese and and serve with a few drizzles of balsamic vinegar.
To make this gluten free, use
gluten free pasta.
Change up the herbs: rosemary and/or sage would be delicious here, but add those heartier herbs to the pan as you add the mushrooms so that they'll cook more than the softer herbs.
3.4.3177
3.4.3177