You're going to love my Homemade Brown Sugar Cinnamon Pop Tarts! They are flaky on the outside, with a thick layer of cinnamon sugar filling on the inside, and topped with a sweet cinnamon icing. The perfect homemade breakfast treat!
Looking for more breakfast sweets? Try my Best Ever Coffeecake or these fluffy Brown Sugar Pancakes!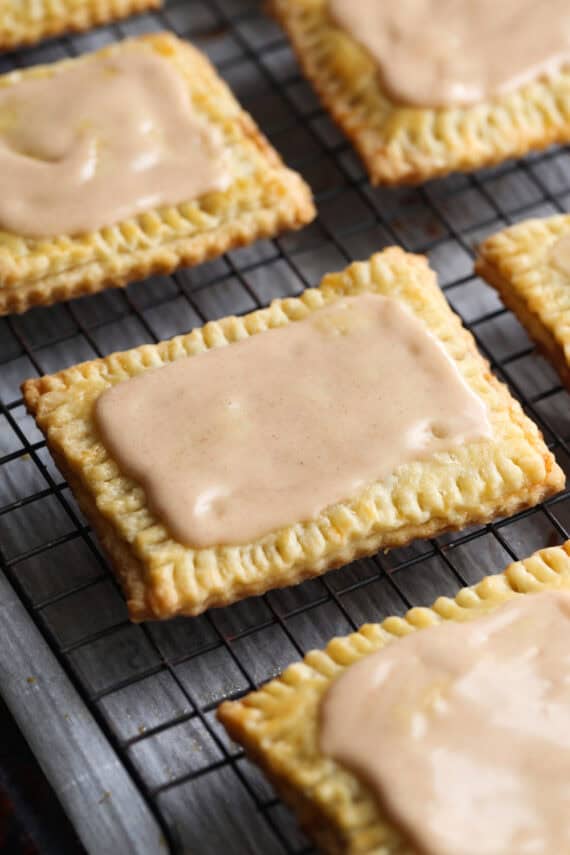 My Favorite Pop Tarts Are…
We have a running argument in our house about the best Pop Tart flavor…is it Strawberry or is it Cinnamon Sugar. In the past I have gone back and forth. My family is divided, and depending on which day you ask, I can swing one way or the other…but ultimately I have come to the conclusion that Brown Sugar Cinnamon is tops.
When I decided to try making these homemade I went back and forth on whether or not I should make Strawberry or Brown Sugar Cinnamon first, but you can see what I settled on…it was the right call.
Making Homemade Pop Tarts is Easier Than You Think
Sure, it's easy to just grab a box of pop tarts. But, I bet you didn't realize how easy it is to make your own at home. I know I didn't! I had it in my head that it would be super difficult and so not worth it. But, I was wrong – and I'm not afraid to admit it. Plus, the pastry is so flaky and buttery, and the filling is the perfect sweetness, once you have the homemade version it's going to be tough to go back to the boxed variety.
Aside from the fact that making your own toaster pastries is super easy, I love that I can control the ingredients. There's no ingredients I can't pronounce in here. 
Recipe Ingredients For Brown Sugar Cinnamon Pop Tarts
This ingredient list is oh so easy! These are all typical baking staples that I'm sure you've got right in your pantry! Here's what you'll need:
For the pastry:
all purpose flour
sugar
kosher salt
cold butter, cut into cubes
egg
milk
For the filling:
light brown sugar
flour
ground cinnamon
butter
egg
For the icing
powdered sugar
milk
vanilla
cinnamon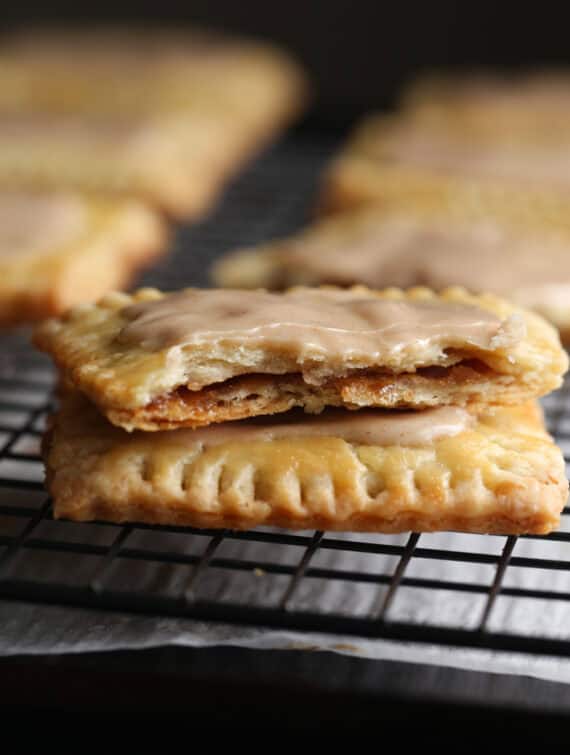 How to Make Homemade Toaster Pastries…
You're going to make these homemade pop tarts in three stages. First we'll put together the pastry dough, then we'll fill and assemble the pop tarts. And, finally, we'll add the frosting on top!
Pastry
In a large bowl, whisk together the flour, sugar, and salt. Using a pastry cutter or fork, cut the butter into the flour mixture until coarsely combined, but peanut-sized pieces of the butter remain. You can also use your hands. Combine until the dough just comes together.
Divide the dough in half, shaping each into a 4×6 inch rectangle, making sure the edges aren't left too jagged. This will help when it's time to roll the dough out. Cover each in plastic wrap and refrigerate for at least 30 minutes.
Line a large baking sheet with parchment paper and set it aside.
Filling
In a medium bowl, combine the brown sugar, flour, and cinnamon. Set this aside. 
Remove one dough from the refrigerator. On a lightly floured surface roll the dough out into a rectangle 1/8-inch thick. It will be roughly 9×12- inches. Using a knife cut the dough into 3×4- inch rectangles. Re-roll the scraps and repeat if necessary. You should get 8 pieces. 
Place the cut out dough pieces onto the prepared baking sheet. Brush each with the melted butter.
Spread a heaping tablespoon of the reserved cinnamon sugar mixture into the center of each rectangle, leaving 1/4- inch space at the edges.
Remove the remaining dough from the refrigerator and repeat the rolling and cutting process just like the first and place them on top of the pastry with the filling. Using a fork, press the edges together and poke a few holes in the tops of each of the tarts.
Place the baking sheet in the refrigerator to chill the tarts for 30 minutes.
Preheat the oven to 350°F. 
In a small bowl whisk together the egg and water. 
Remove the baking sheet from the fridge and brush each tart with the egg mixture.
Bake for 25 – 28 minutes, until golden brown. Transfer to a wire rack to cool.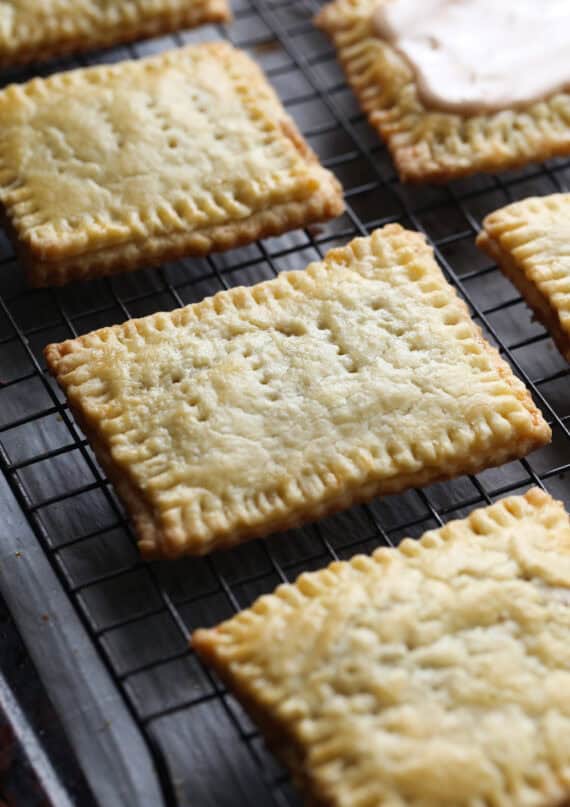 Icing
Whisk together the powdered sugar, milk, vanilla, and cinnamon until smooth.
Spoon the icing onto the cooled tarts and allow it to set.
Tips for the Best Homemade Pop Tarts
These homemade pop tarts are better than store-bought! Follow these tips to make sure they are the best of the best:
Be sure to keep your pastry dough chilled as you are working with it. This will make it easier to form and prevent any unwanted sticking.
Make sure you seal your edges nice and tight. They can easily separate and you'll end up with your filling dripping out. 
Don't forget to brush the tops of the pastries with the egg wash. This is what makes the pop tarts crispy and golden on the outside. 
Variation Ideas
You can make a wide variety of pop tarts following this same method of making the pastry, filling, and icing. Fruit filled pop tarts are even easier because you can use jam as the filling, and simply omit the cinnamon from the icing. Here are some easy versions:
Strawberry
Blueberry
Raspberry
To make them a bit more colorful, you can add sprinkles or colored sugar to the icing after it's been drizzled over the tarts but before it sets. 
How to Store and Reheat These Pastries
You can store your brown sugar pop tarts in an airtight container at room temperature for up to 3 days. There's no need to refrigerate them. 
I like to reheat mine right in the toaster, just like a pop tart. They end up warm and crispy on the outside with a soft and warm center.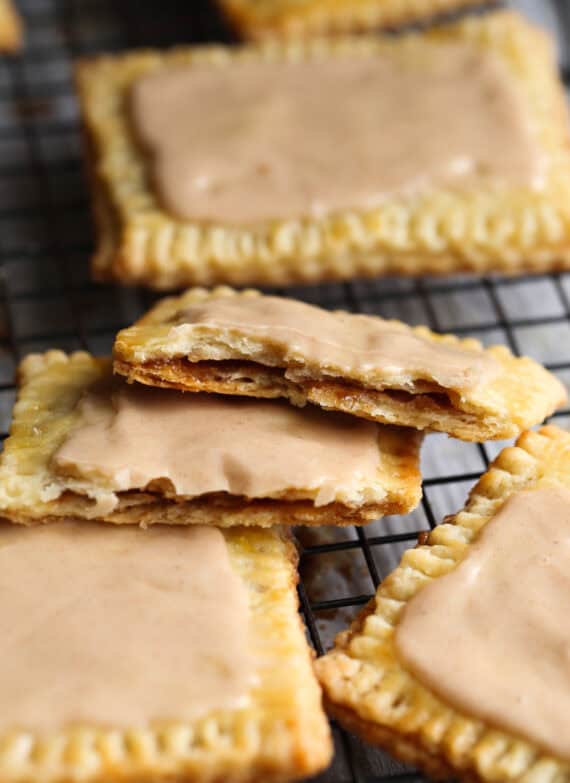 Can I Freeze these Pop Tarts?
Yes! These homemade pop tarts actually freeze really well. Just let them cool completely and then place them in a freezer-safe zip-top storage bag. Place a piece of parchment paper between each Pop Tart so that you can easily grab one when you are ready to reheat. Then, you can reheat them right in your toaster!