This is the BEST way to cook frozen chicken breasts in the Instant Pot! It is so easy and they turn out so well, I almost never take the time to thaw chicken before cooking it. Add seasonings, sauces, broth, or just water, salt and pepper and the result is always amazing.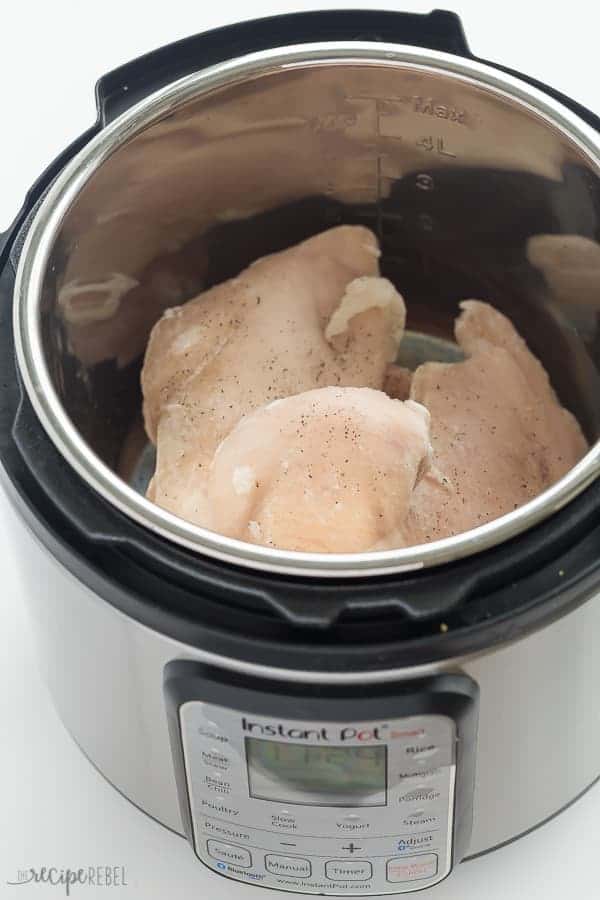 We are back on the Instant Pot bandwagon today with one of my favourites, although, again, I'm not sure this actually qualifies as a "recipe" considering there are two ingredients and one is water or broth. But I promise you, if you learn how to cook frozen chicken breasts in the Instant Pot you may never go back.
I will be totally honest and say that I am not utterly obsessed with the Instant Pot like millions of other people. I haven't moved on to cheesecake and egg bites and other things that make more sense to bake in the oven (though, yes, I will try them yet and see if they're worth all the hype!).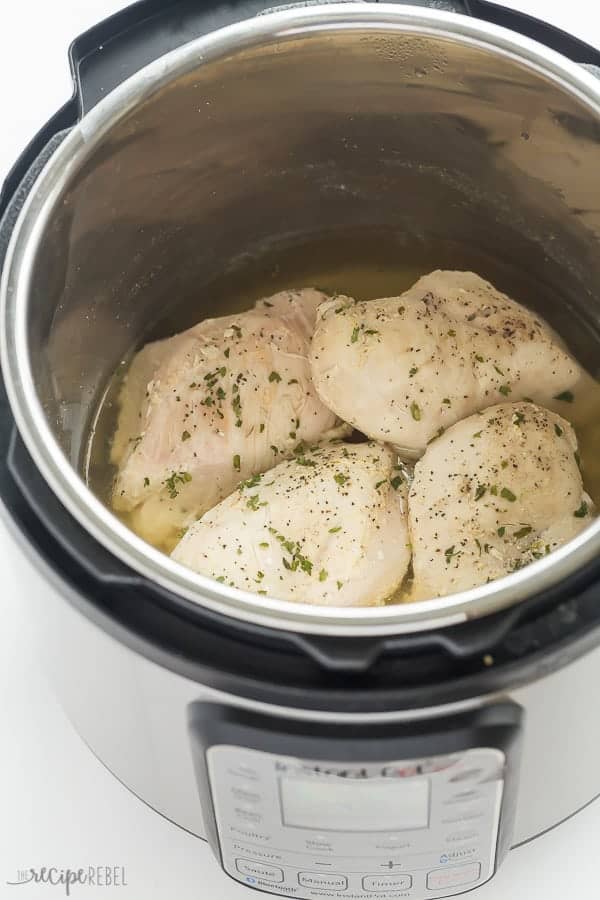 But there are a few things that I actually prefer to do in the Instant Pot, and chicken breasts is one of those things.
There really is no match for how well boneless chicken breasts come out of that magic pot — especially straight from the freezer! I will even confess that I rarely take chicken out of the freezer to thaw before cooking, because why?!?
We cook chicken in the Instant Pot for tacos, sandwiches, salads, quesadillas, or just for dinner with some barbecue or other sauce, or a simple seasoning. Any way you want to do it up it turns out fabulously (you should see how crazy I get when I start dumping in random ingredients from the fridge!).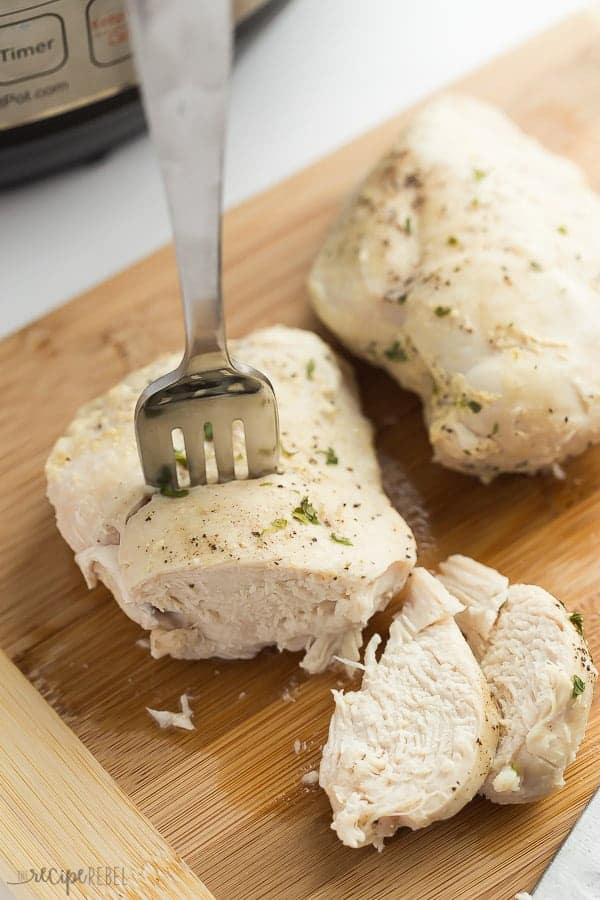 I know they don't look that special, but they are SO moist, and not overcooked and weird like chicken can get in the slow cooker after a long period of time. This is one thing I definitely prefer to cook in the Instant Pot over the crock pot!
Here are some Tips and Tricks for Cooking Frozen Chicken Breasts in the Instant Pot:
The exact cook time will depend on how large the chicken breasts are, although for me 10-12 minutes has always been plenty. This means that when I open up the pot they are well over the safe 165 degrees F. But I'd rather be safe than have to go through the hassle of sealing it back up and letting it build the pressure back up.
If you're in a rush, you can simply add water or chicken broth and season with salt and pepper, but feel free to get a little crazy with your seasonings here. Barbecue sauce, soy sauce, honey, different herbs and spices will all be fantastic (I mean, as long as they taste good together ? )
All of my Instant Pot recipes are tested in the 6 quart Instant Pot with Bluetooth. The bluetooth is an unnecessary but handy tool because I can control the pot from my phone while I'm out of the kitchen.
Ingredients
4 frozen boneless, skinless chicken breasts (mine were about 7-8 ounces or 200g each frozen)
1 cup water or chicken broth
salt and pepper
Directions
Place chicken breasts in the bottom of the Instant Pot (no need to use the trivet!) — it's okay if they're stacked, just make sure none are stuck together.
Pour in the water or chicken broth (or use another liquid like pineapple juice, apple juice, etc.) and season with salt and pepper.
Put the lid on and move the valve to sealing. Press Manual pressure and set the timer to 10 minutes. The Instant Pot will take about 10 minutes to come to pressure and start counting down from 10.
When the cook time is up, let pressure release naturally or do a quick release (I always do a quick release — call me impatient!). Check that the internal temperature of the chicken is 165 degrees F — mine is always at least or higher. 
Serve as is, chop, or add sauces as desired. 
Loading nutrition data…