For the latest installment in my Instant Pot recipe adventures, we're going to explore congee. And, spoiler alert, making congee in your Instant Pot, or other multi-cooker, is literally reason enough to buy one. A complete home run.
You put your rice into the pot, walk away, and start daydreaming about toppings. Return later for a beautiful pot of perfect congee. You can also make this on a stovetop (of course), but it requires more babysitting.
I experimented with different ratios of brown to white rice here. And played around with different amounts of water. I found the congee made with a minority percentage of white rice was texturally superior compared with the 100% brown rice versions. There was just too much separation between grains in the 100% brown rice version, and not enough creaminess. Add some white jasmine rice, and you get that classic congee porridge texture with the added nutritional benefits of whole brown rice.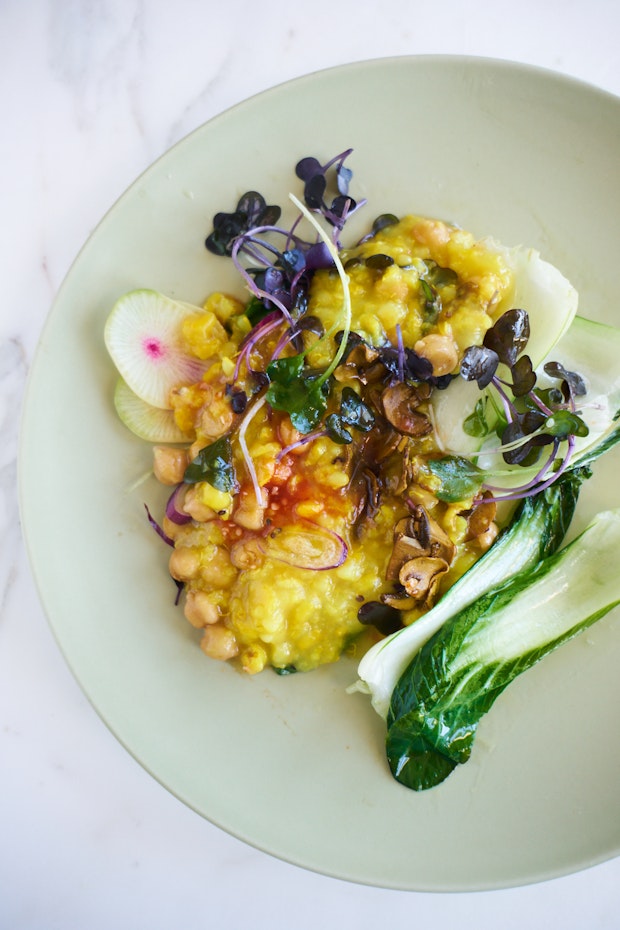 I hope you love this congee. It is spiked with turmeric, and I also can't resist sprinkling a few tablespoons of whatever quick-cooking grains I have on hand – quinoa, Job's tears, millet, etc.
Congee (and other related rice porridges) are popular in many Asian countries. It's a beloved breakfast, and anyone who has traveled with me knows, there are few things that boost my spirits more than discovering a DIY, congee bar breakfast at whatever hotel I'm staying.
Use this recipe and ratio as a jumping off point. Play around with different broths and seasonings. And, have a blast with toppings and be sure to play around with texture, crunch, color, and ingredients! You can also make this in a thick-bottomed pot on the stovetop – no Instant Pot necessary.
Lastly, for anyone looking for more Instant Pot recipe inspiration, I've set up an Instant Pot recipe category – all my favorite successes are featured there. Enjoy!
You can absolutely make this on a stovetop if you don't have an Instant Pot. Combine the ingredients in a thick-bottomed pot bring to a simmer, and then cook over low-medium heat until you have a loose porridge.
1 cup brown jasmine rice
1/2 cup white jasmine rice
9 cups water or mushroom broth
1 teaspoon fine grain sea salt
1 1/4 teaspoons ground turmeric

(optional) 1/4 cup of other quick-cooking grains: quinoa, millet, french lentils, Job's tears, etc.

toppings pictured: salted peanuts, flash sautéed bok choy, pickled shaved mushrooms*, soy sauce, a spicy chile oil or sriracha, sprouts or micro greens, a few rogue chickpeas
Combine the rice, water, salt, and turmeric in the Instant Pot or multi cooker. Secure the lid, set the pressure release valve to SEALING. Press MANUAL and set for 30 minutes at high pressure. Let the pressure NATURAL RELEASE (30-40 minutes). Gently shake or tap the pressure cooker, and then carefully open away from you. If you like the consistency a bit thinner, add more hot water or broth.
Serve the congee topped with whatever toppings you like – peanuts, a spicy chile or oil sriracha, something a bit salty, and something green are favorites. But, you're only limited by your imagination here!
Serves 8-10.
*To make pickled shaved mushrooms, shave 1 pound of mushrooms very thin. Place them in a medium saucepan with 1/3 cup sugar, 1/2 cup soy sauce, 1/2 cup apple cider vinegar, 1 cup water, and 1/2 teaspoon turmeric. Bring to a simmer for just a minute or two. Remove the mushrooms with a slotted spoon. Return them to the brining liquid (in a jar) once it has cooled and refrigerate for up to a week. Serve the mushrooms drizzled with brine.
For reference, this is the Instant Pot I used for this recipe: Instant Pot DUO Plus 6 Qt 9-in-1
Prep time: 2 min – Cook time: 90 min