Fluffiest ever Japanese Souffle Pancakes are easier to make than you'd think! Whip these up for breakfast today and you'll understand just why everyone is raving about these super delicious pancakes!
This post is in partnership with Milk. Love What's Real. All opinions are my own.
I have to admit that historically I have not been a breakfast person, and by that I really mean that breakfast food in general didn't appeal to me, especially not in the morning hours. I remember as a young kid, and even as a teenager, that every once in a great while my family would go out to IHOP and while my eight siblings and parents enjoyed their brioche French toast or Belgian waffles drenched in berry syrup with a side of extra-crispy hash browns and bacon, I opted for chicken tenders and fries with all the dipping sauces. That's a pretty good summary of my relationship with breakfast for my first twenty-five years.
But recently I've become especially fond of breakfast – both the entire genre of food, and the habit of eating anything at all before 11am. I give most of the credit to my kids who love breakfast and really wouldn't even consider getting dressed for the day until they've had something dipped in maple syrup and I can't blame them because the one thing I've always had a soft spot for – even in my pre-breakfast-loving years – is a fluffy anything topped, or rather drenched, in maple syrup.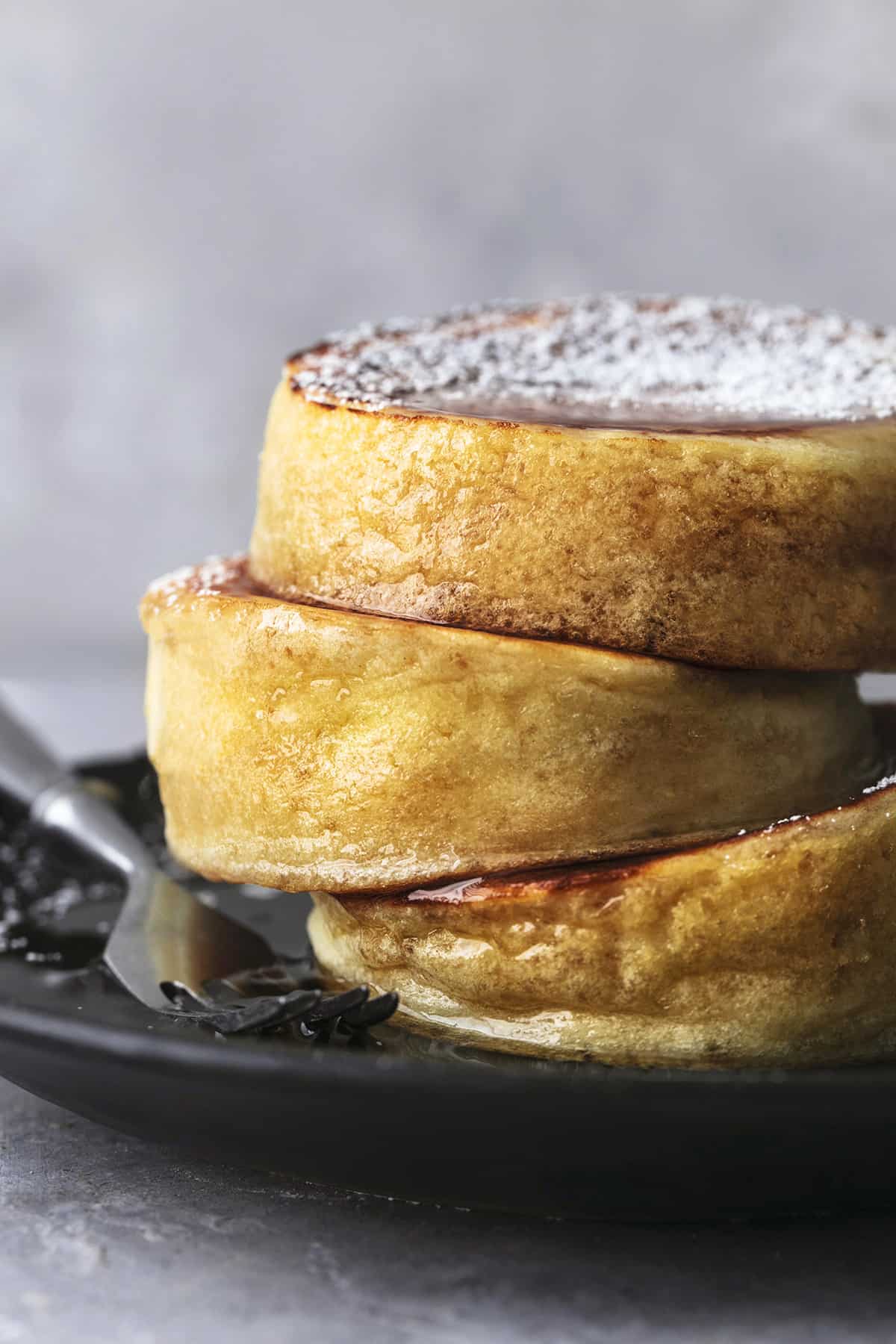 We tend to go through phases in our house, weekly or even daily for a while until something new comes along and we hop on board that train and the current obsession is Japanese Souffle Pancakes. Think pancake…. but extra-super-ridiculously fluffy. 
I am really trying to emphasize the fluffiness here but I promise you it's like biting into a warm cloud. Praise the soul who thought to pour pancake batter into a ring mold because this is breakfast magic. The kind you crave and dream about until you have the chance to eat it again and thankfully, it's easy and quick enough to be a completely acceptable daily breakfast option, particularly when paired with an 8-ounce glass of nutritious dairy milk. Or in the case of my kids, chocolate milk. The nutrients are still there, even when chocolate is involved so I don't mind if they drink it white, brown, or pink. And did I mention there is more than a cup of milk in the pancakes?? So you're getting a more of that nutrient-rich goodness just by serving up these delectable pancakes with a glass of milk. 
How do you make Japanese Souffle Pancakes?
It's easy! I promise. Start by whisking together the dry ingredients (flour, powdered sugar, baking powder, and salt). In a second bowl mix together melted butter, milk, egg yolk, and vanilla or almond extract. I always use real dairy milk in my recipes – it's wholesome, delicious and really helps make the texture and fluffiness perfect! In a third bowl whip the egg whites and cream of tartar until stiff peaks form. Combine the milk mixture and dry ingredients, then fold in the egg whites. Now you've got your batter and you're ready to cook the pancakes!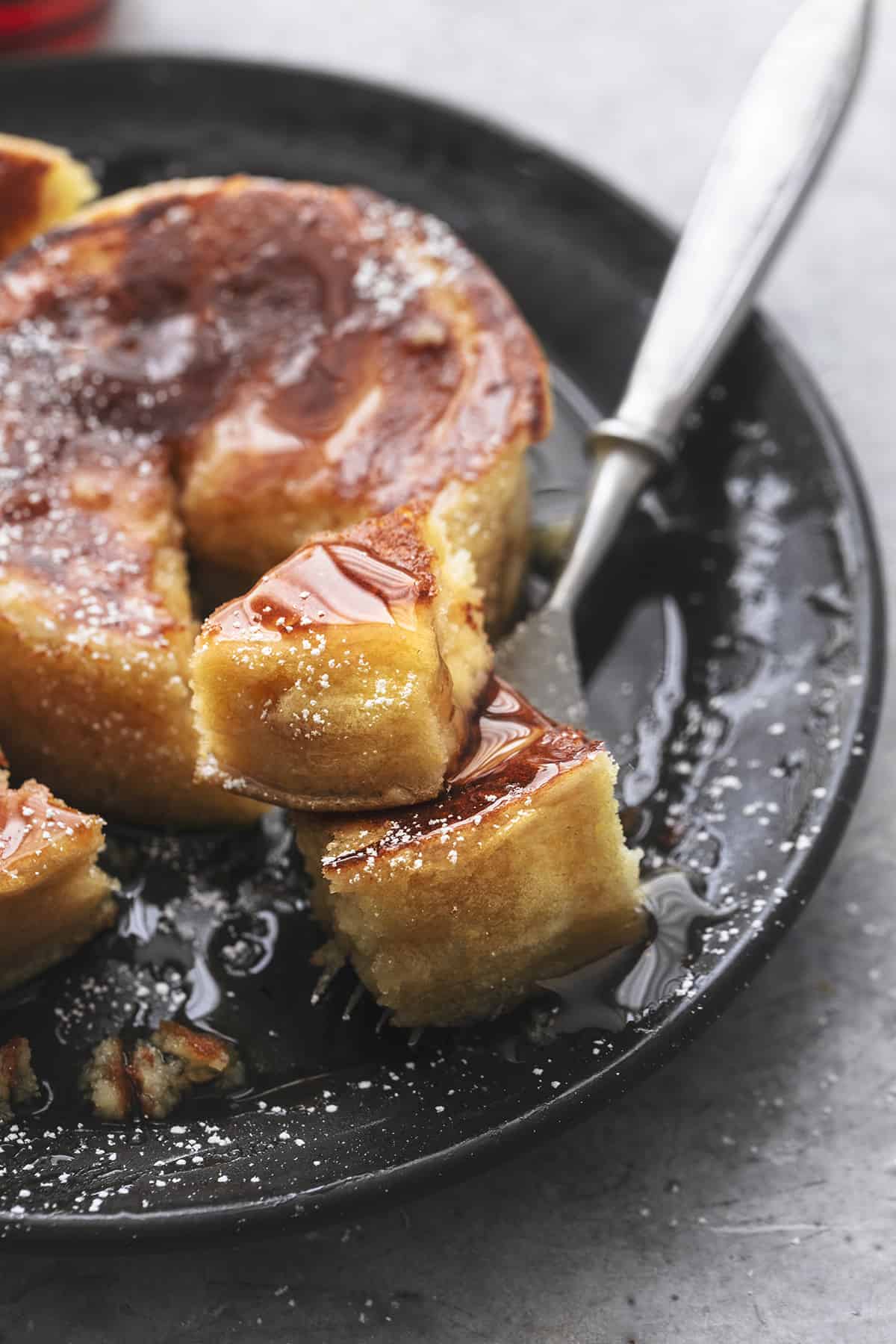 What makes Japanese pancakes so fluffy and tall?
The key to making these extra-fluffy, super-tall pancakes is to use whipped egg whites in the batter and to cook them in a metal ring mold. Just like baking biscuits or rolls, the secret to getting them really tall and fluffy is to have them touching something on all sides – this helps the batter rise so high!
Now I'll be honest, I didn't have any of these on hand until recently so I get it if you are wondering what a metal baking ring even is – but you can pick them up online (I found some great ones on Amazon) or any restaurant supply store. I actually ended up picking up three at Orson Gygi for a few dollars each and they worked perfectly, plus I'm really excited to use them for a lot of other recipes! You can also use English muffin ring molds if you have those on hand or even a three-inch biscuit cutter, just be sure to fill the ring half full and reduce the cooking time slightly as they'll cook more quickly in a shorter ring.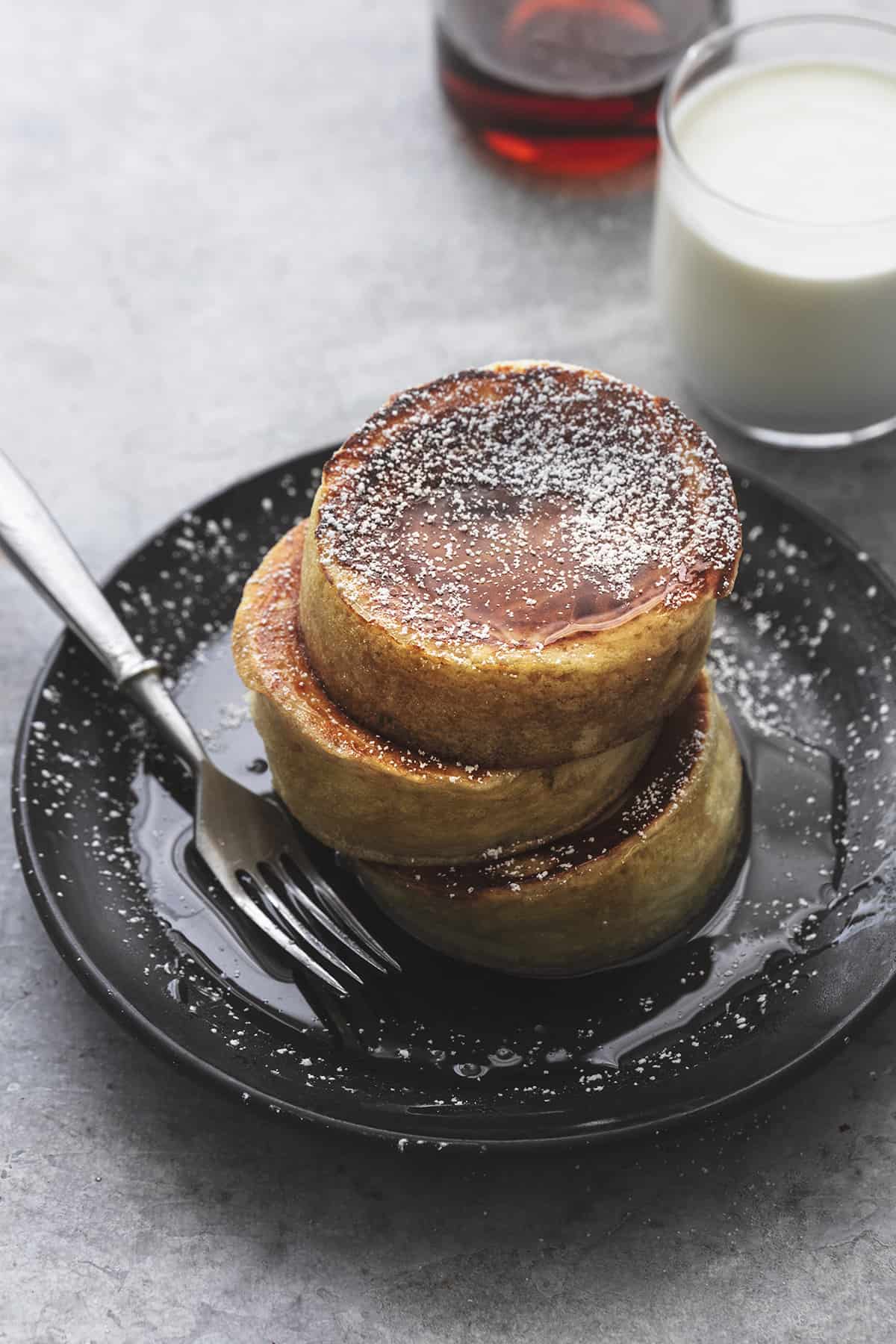 Prep Time: 15 minutes
Cook Time: 15 minutes
1 1/2

cups

flour

spooned and leveled

3

tablespoons

powdered sugar

2

teaspoons

baking powder

1/2

teapsoon

salt

1 1/4

cups

dairy milk

4

tablespoons

butter, melted

1/2

teaspoon

almond extract

1

large egg yolk, plus 3 large egg whites

1/2

teaspoon

cream of tartar

syrup and powdered sugar for serving
In a medium bowl whisk together flour, powdered sugar, baking powder, and salt.

In a second bowl stir together milk, melted butter, vanilla or almond extract, and the egg yolk.

In a third bowl whip the egg whites and cream of tartar 3-4 minutes until stiff peaks form.

Stir milk mixture into dry ingredients until just combined (a few lumps are fine).

Gently fold whipped egg whites into the batter until just incorporated (do not overmix).

Preheat a deep skillet with a lid over low heat and spray the inside of a 3-inch baking ring (I used three rings at a time) with nonstick spray and place in the preheating pan.

Fill each ring halfway full with batter. Place lid on the pan and allow to cook for 5 minutes.

Slide a spatula underneath to life the pancake and ring and use tongs to quickly flip it over. Allow to cook another 2-3 minutes until golden. Repeat with remaining batter.

Serve immediately topped with syrup and powdered sugar.