The JUICIEST Instant Pot Chicken Breast! Made with an all purpose seasoning and one secret ingredient, this is the perfect pressure cooker chicken breast!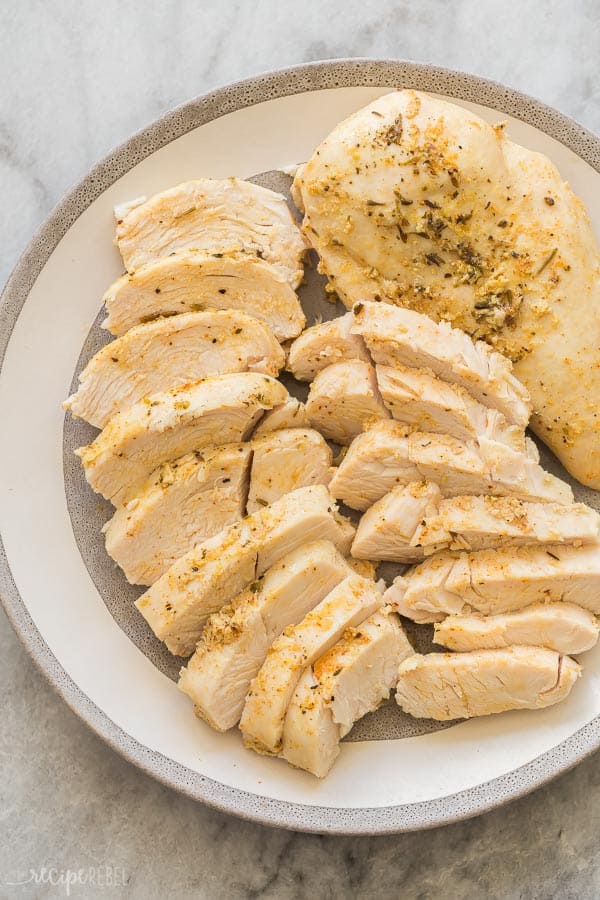 Summer is getting nearer (do I say that in every post these days??), and I'm all about stocking the fridge with the essentials to make meals easy so we can enjoy the sunshine.
Ever since I started experimenting to perfect my Slow Cooker Chicken Breast recipe, I knew there needed to be a pressure cooker version.
And this right here? This is the perfect Instant Pot Chicken Breast.
I'm bringing my one secret ingredient over from my slow cooker chicken recipe, and let me tell you — it makes all the difference!
As much as we love these Creamy Italian Instant Pot Chicken Breasts, I love having a good database of simple, versatile protein recipes that can be made into a variety of different meals.
For that reason, these Instant Pot Chicken breasts are simply seasoned, and even though they are incredibly delicious as is, they can easily take on any flavor you want to add.
Need to cook right from frozen? Check out my tips on How to Cook Frozen Chicken Breasts in the Instant Pot!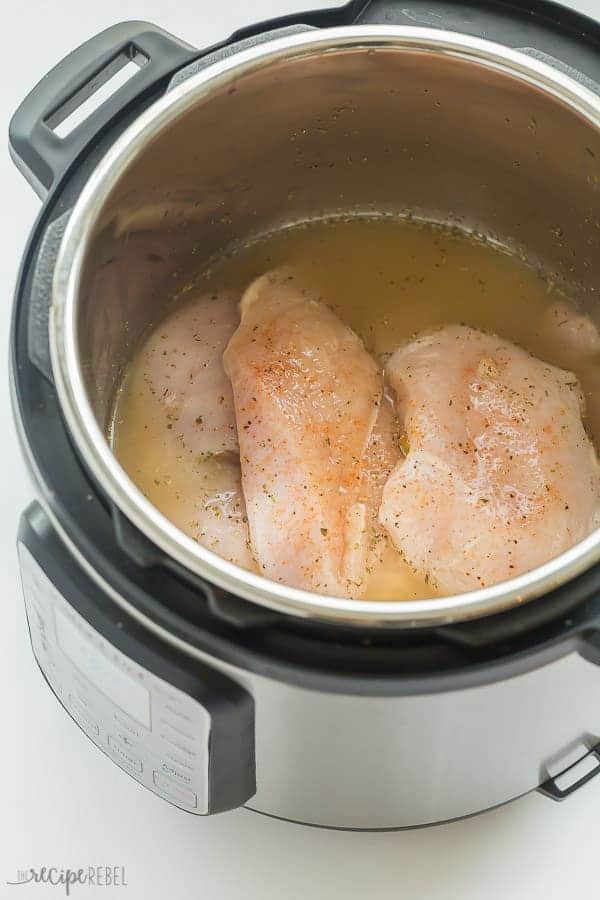 Looking for more easy Instant Pot recipes? Check out my Instant Pot Whole Chicken, Instant Pot Spaghetti, Garlic Herb Instant Pot Potatoes or my Instant Pot Chicken Tacos.
Reasons to love this Instant Pot Chicken Breast:
It's easy to make — just dump, start and go! Let the pressure release naturally, pop open the lid and you have an amazing dinner or perfectly cooked chicken for salads and sandwiches throughout the week.
It's versatile — like I mentioned above, it's great cold in sandwiches and salads, but it's also awesome tossed into soup, pasta, or any casserole, and can be easily reheated with a sauce of your choosing to make it something new (we are big on reinventing leftovers here)
It's healthy — don't get all worked up over the one dab of butter or margarine — our bodies need a little fat and this Instant Pot Chicken Breast is a high protein, relatively low fat and low calorie addition to any meal
How to make the juiciest Instant Pot Chicken Breasts:
The secret ingredient:
That little bit of butter goes a long way to making these chicken breasts incredibly moist and flavorful! It's a simple addition that makes all the difference.
How long to cook Instant Pot Chicken Breast:
Don't overcook — overcooked chicken breast is not anyone's favorite thing, but is somewhat difficult to do in the Instant Pot because the steam provides such a moist environment for the chicken to cook in.
Don't undercook — undercooked chicken breast is just plain dangerous! Be sure to check the internal temperature of the chicken to ensure it's at least 165 degrees F.
The exact cook time is going to depend on a variety of things, including the size and shape (how thick it is at the widest point), and also the model of Instant Pot you have, as some run hotter or cooler. My recipes are tested in the 6 quart model with Bluetooth. It's important to take these these factors into consideration but I find a cook time of 8-10 minutes is always perfect and juicy for the chicken
Choose good quality meat:
Choose your chicken well — not all chicken, and not all grocery store meat departments, are created equally. If you're having trouble making juicy Instant Pot Chicken Breast, you may want to test out a couple different brands to see which turns out best.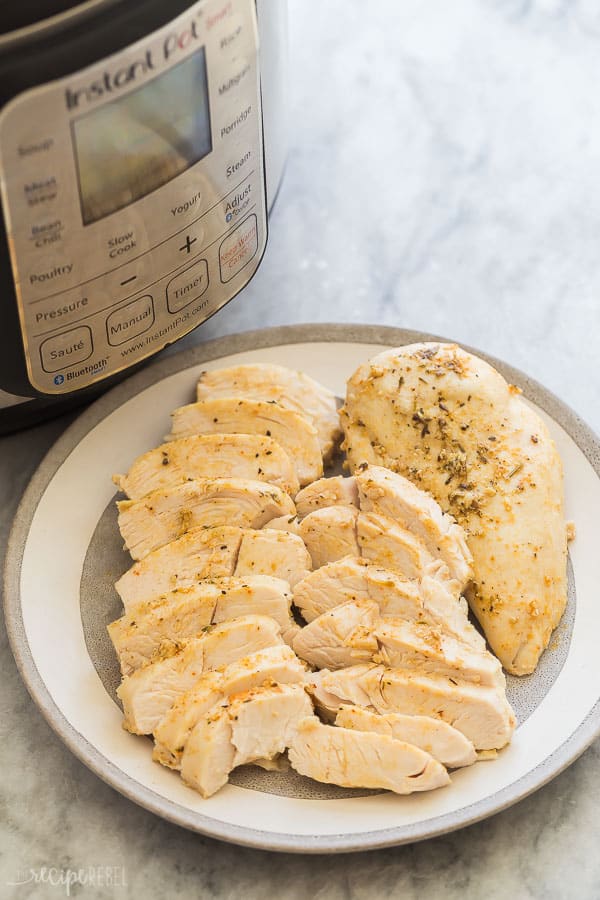 Instant Pot Chicken Breast Variations:
Chicken is one of my favorite proteins because it can take on a wide variety of spices, seasonings and sauces! Mix things up with your seasoning blend or use a bottled blend that you love for a new flair.
Slice and toss in barbecue sauce for easy Instant Pot BBQ Chicken.
Got frozen chicken? Check out how to cook frozen chicken breasts in the Instant Pot here.
This seasoning blend and cooking method works just as well for a combination or breasts and thighs — if you have a chicken thigh lover, toss in some boneless, skinless chicken thighs with your breasts and everyone is happy!
What to serve with chicken breasts:
Tools you'll need to make this Instant Pot chicken recipe:
My recipes are tested in my 6 quart Instant Pot — it's an older version and for this reason the manual lists 1 cup of liquid as the minimum. I know that the 8 quarts and some of the newer ones list different requirements. For this recipe, you can easily change the liquid to match your manual's suggestion.
There's really not much else you'll need! I know everyone has different thoughts on cooking meat on or off the trivet, but with chicken breasts I usually place them on the bottom in the liquid.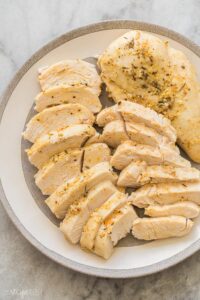 Juicy Instant Pot Chicken Breast
The JUICIEST Instant Pot Chicken Breast! Made with an all purpose seasoning and one secret ingredient, this is the perfect pressure cooker chicken breast!
Prep Time 10 minutes
Cook Time 8 minutes
Total Time 18 minutes
Servings 4 servings
Calories 170kcal
Author Ashley Fehr
Ingredients
1 1/2

cups

low sodium chicken broth*

4

boneless skinless chicken breasts

3/4

teaspoon

Italian seasoning

1/2

teaspoon

salt

1/4

teaspoon

paprika

1/4

teaspoon

garlic powder

1/8

teaspoon

black pepper

1

tablespoon

unsalted butter
Instructions
Pour chicken broth into the Instant Pot or pressure cooker. Add chicken breasts.

Combine Italian seasoning, salt, paprika, garlic powder, and pepper. Sprinkle over chicken breasts in Instant Pot.

Top with butter (no need to melt it, just throw it in there!).

Put the lid on, turn the valve to sealing, and select Pressure Cook or Manual for 8 minutes. It will take about 10 minutes to build pressure and begin counting down. 

When the cook time is over, let the pressure release naturally for at least 10 minutes (or completely). Open the lid and remove the chicken. Let rest for 5 minutes before slicing.

If desired, you can make a corn starch slurry (equal parts corn starch and water, roughly 1-2 tablespoons each) and add it to the cooking juices to make a gravy to serve with the chicken. Just turn the Instant Pot to saute and cook until thickened.
Notes
*If your Instant Pot calls for more or less liquid, you can adjust this amount to your Instant Pot model. I often use only 1 cup of liquid in my 6 quart Instant Pot.
Nutrition (this is an estimate)
Nutrition Facts
Juicy Instant Pot Chicken Breast
Amount Per Serving
Calories 170 Calories from Fat 54
% Daily Value*
Total Fat 6g 9%
Saturated Fat 2g 10%
Cholesterol 79mg 26%
Sodium 449mg 19%
Potassium 494mg 14%
Total Carbohydrates 1g 0%
Protein 25g 50%
Vitamin A 3.7%
Vitamin C 1.6%
Calcium 1.5%
Iron 4.1%
* Percent Daily Values are based on a 2000 calorie diet.