Your grill just made a new best friend with this Korean BBQ Chicken! Perfectly seasoned chicken is drenched in finger-licking-good, super easy, homemade Korean BBQ sauce, skewered, and grilled to perfection!
For more drool-worthy Korean recipes, check out my popular posts for Spicy Korean BBQ Chicken Wings, Spicy Korean Beef Noodles, and Slow Cooker Korean BBQ Pork Tacos.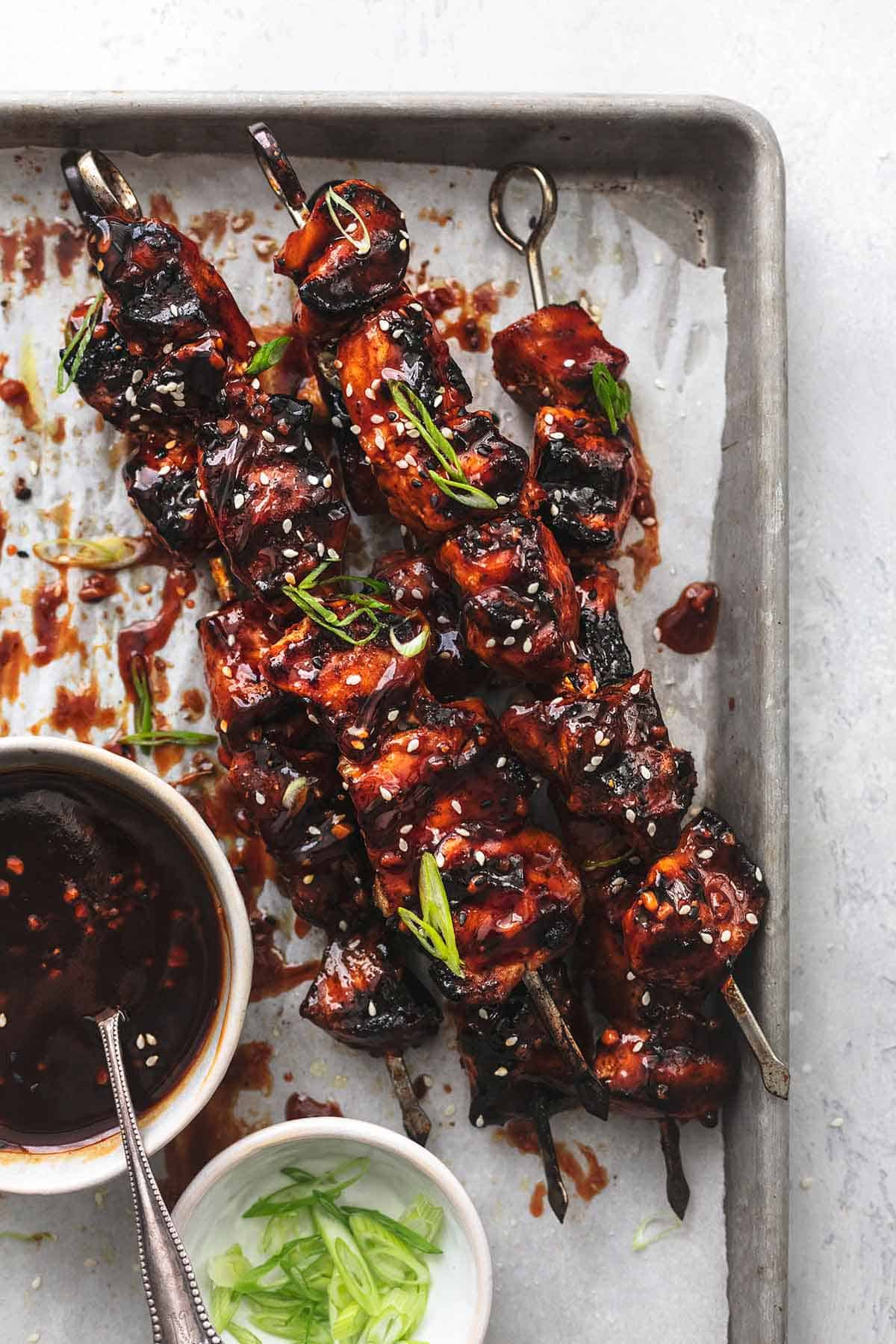 I don't know about you, but I want to be outside 100% of the time right now. I have even considered setting up a hammock on the deck to sleep outside. If it weren't for the bugs and fear of whatever animals roam at night, I totally would! 
These Korean BBQ Chicken skewers are easy to throw together with simply pantry ingredients, which means I can minimize my time outside and maximize my time outdoors. Bonus? This recipe easily doubles to feed a crowd — just be sure to serve with extra napkins! 
Why this Recipe Works
This recipe just works! Here's why:
Simple ingredients — Even if you don't have some of the spices and condiments now, once you buy them, you'll a) use them for many recipes to come and b) wonder why you never had these pantry staples before! 
Use any protein — The BBQ sauce works great on chicken, but also pork tenderloin, steak, thick cuts of fish, and tofu if you want to switch it up! 
Versatile cooking methods — I know it's warm where I am but not the case everywhere. Want to bake the chicken instead of grill it? No problem! (See instructions in my tips section, below.)
Easy clean up — All you have to wash is the pan you cooked the Korean BBQ sauce in. The rest can be thrown away or put in the dishwasher.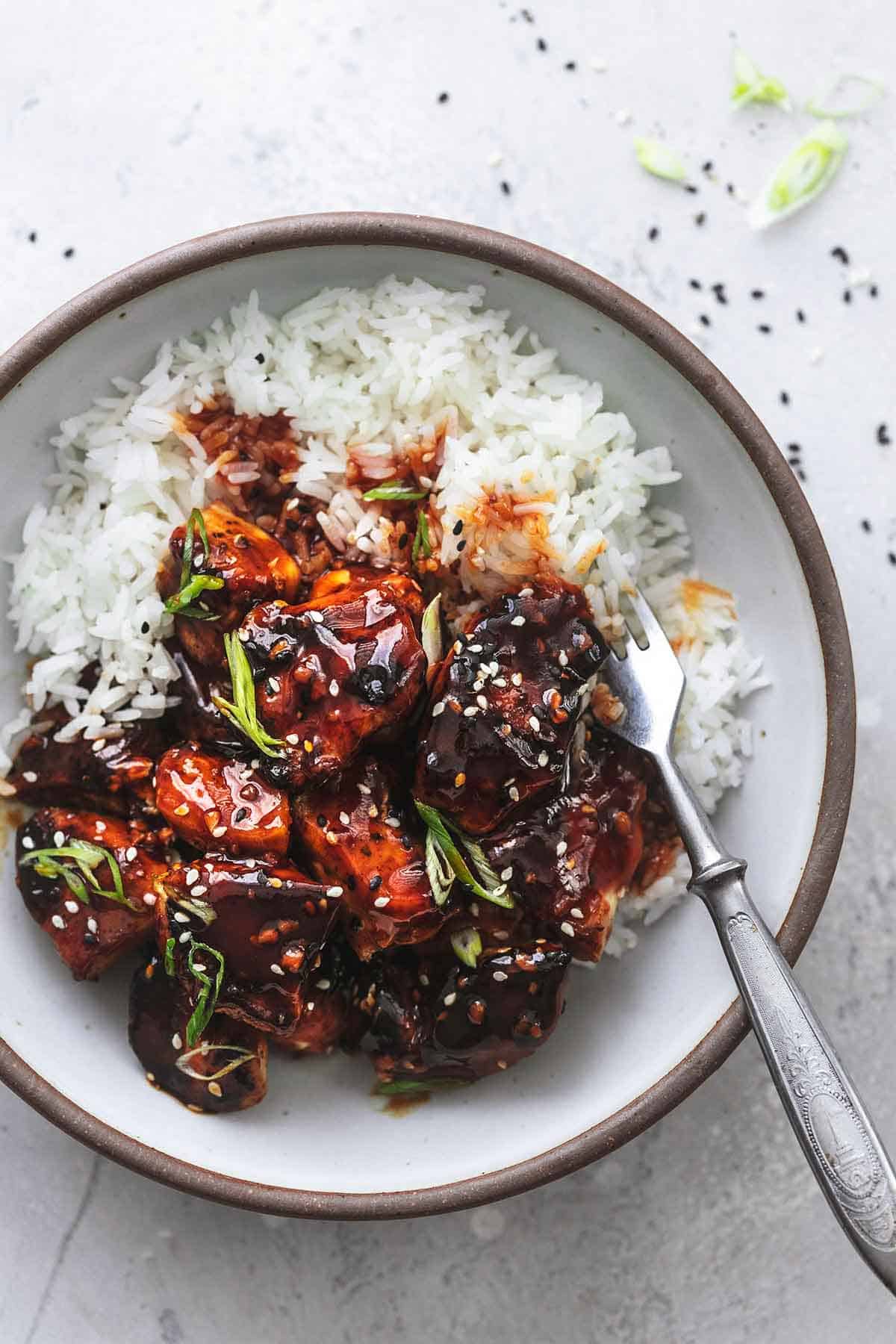 Here's How you Make it?

Preparing the BBQ sauce 
Stir together the soy sauce, brown sugar, rice vinegar, sesame oil, Sriracha, and garlic in a medium saucepan over medium-high heat. Bring it to a boil. 
In a small bowl stir together the cornstarch and water, mixing until it's dissolved. Add this to the boiling sauce. 
Take the sauce off the heat and divide it evenly between two bowls. Save one for later.

Preparing the chicken
Slide chicken pieces onto metal skewers or water-soaked wooden skewers. 
Salt and pepper the chicken and add Asian five spice if desired. 
Brush the Korean BBQ sauce over the chicken skewers from one of the half-bowls. Coat generously. 
Grill the chicken over medium heat for 8-10 minutes. Turn them occasionally and brush with the BBQ sauce after every turn. 
Take off the grill and serve over rice noodles with the reserved BBQ sauce and garnish with sliced green onions.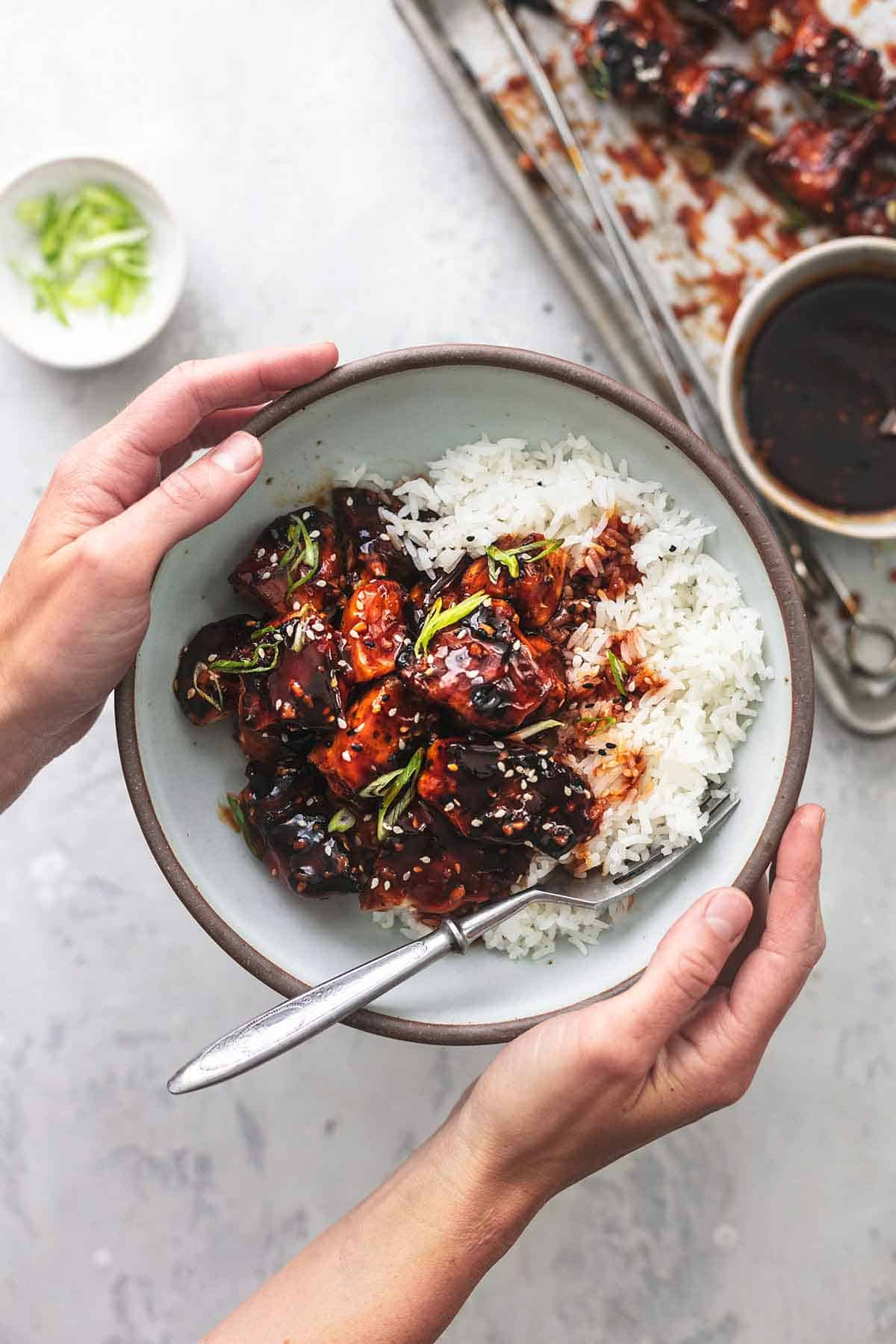 What Does Korean BBQ Consist of?
Korean BBQ in and of itself is just the act of grilling meat on skewers. Usually this is done right at the table in a Korean restaurant! But, since we do not have one of those fancy tables, we just grill it all outside on the regular grill! (These can also be baked in the oven or on a grill pan on your stovetop.)

The meat is brushed with a BBQ sauce. There are varying types — this one happens to be my favorite as far as Korean BBQ Chicken recipes go! 
What is Served with Korean BBQ?
So many things go great with Korean BBQ! The following are some of my favs I put on heavy rotation whenever we make Korean dishes in my house.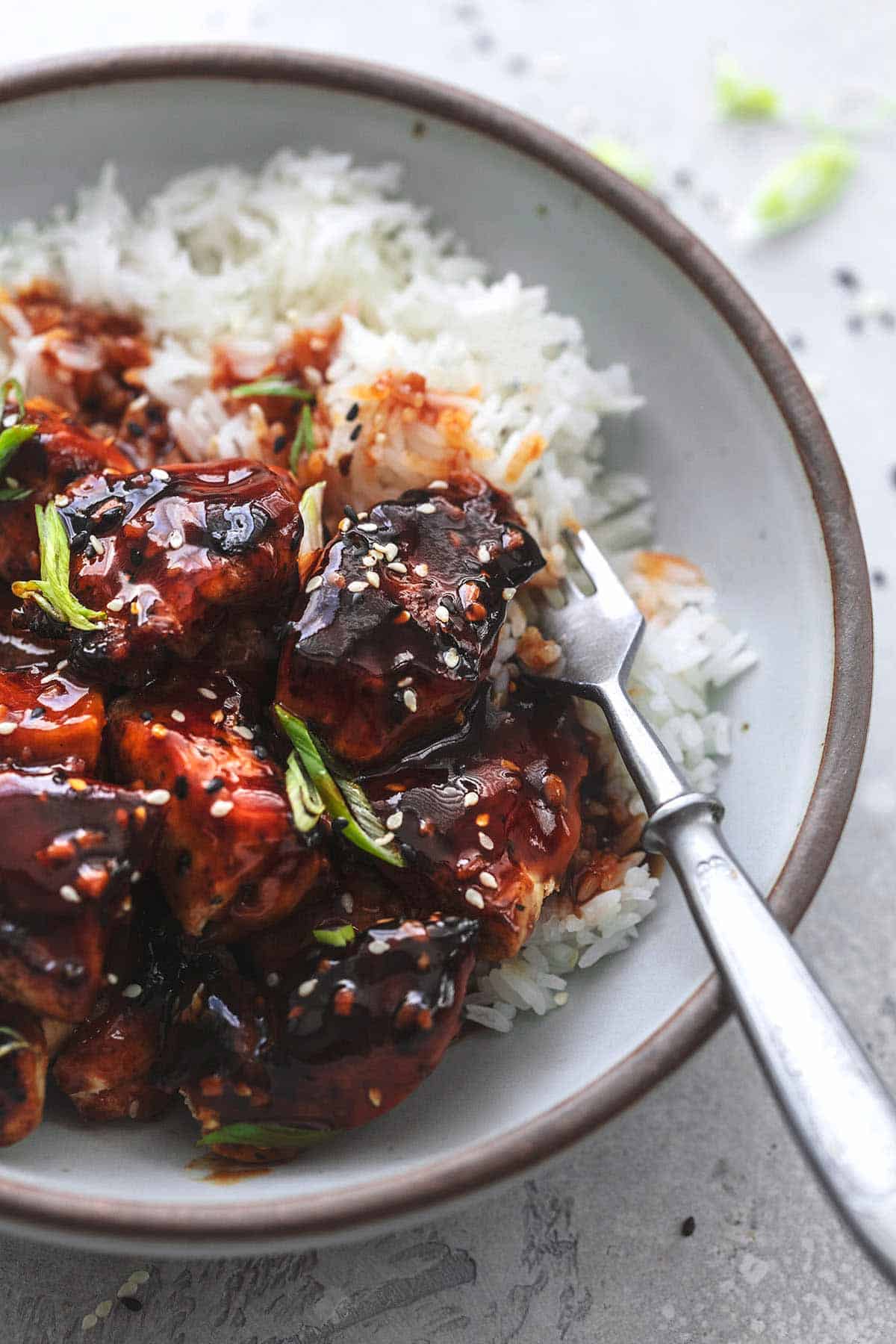 Expert Tips 
Over the years I've perfected my Korean BBQ Chicken cooking methods. Here are some of my best tips! 
If you don't have soy sauce or prefer teriyaki that's no problem. My favorite is a thicker teriyaki sauce made by Kikkoman called Teriyaki Takumi. It has a purple label and is carried in the Asian or international aisles of many grocery stores. 
If you want to bake this chicken instead of grill it, then the directions are as follows: Bake at 400 degrees on a rimmed baking sheet for 12-16 minutes. Take out and reapply BBQ sauce on all sides 2-3 times during the baking period. 

I suggest serving this chicken with a side of steamed white rice, rice noodles, or a side salad. But you can find more of my suggestions for sides above. 

If you are using wooden skewers, get them soaking in a pan of water (all the way submerged) for an hour or more before skewering up the chicken. This will ensure the skewers don't burn/char/catch on fire while you grill.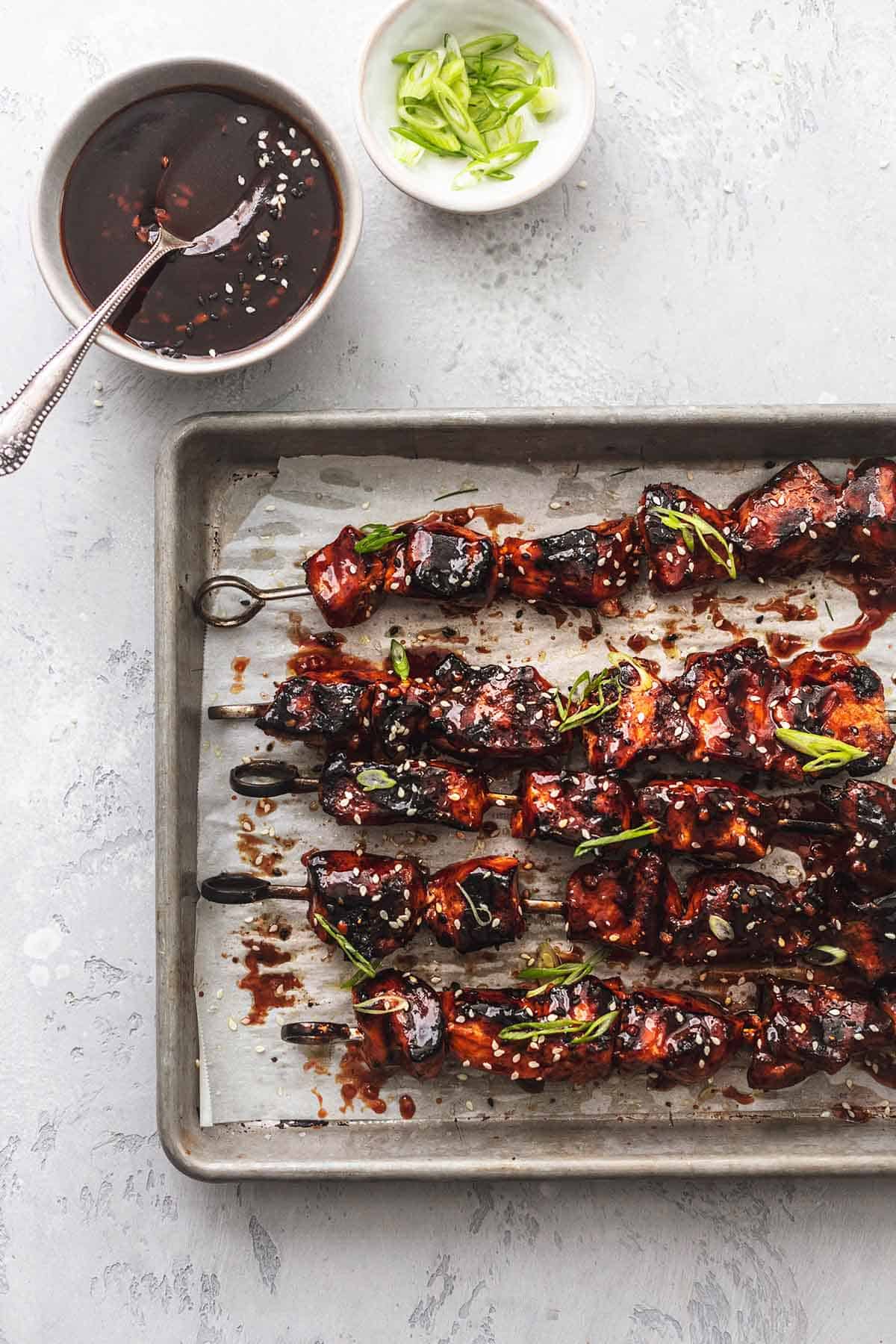 More Asian-inspired Recipes You'll Love
Did you make this dish? Please rate the recipe below! 
Prepare the bbq sauce
In a medium sauce pan over medium-high heat stir together soy sauce, brown sugar, rice vinegar, sesame oil, sriracha, and garlic. Bring to a boil.

In a small bowl stir together cold water and corn starch til dissolved. Stir into boiling sauce.

Remove from heat and divide between two bowls. Reserve one bowl for serving later.
Prepare the chicken
Skewer chicken onto metal or soaked wooden skewers.

Season chicken pieces with salt and pepper to taste, and Asian five spice if you have it.

Brush chicken all over with the Korean bbq sauce (from one bowl – remember to reserve one bowl for serving).

GRILL over medium heat 8-10 minutes turning periodically and brushing with additional bbq sauce after each turn. (See note for baking option)

Serve over rice or noodles with reserved sauce and garnish with green onions. Enjoy!
Soy sauce option: you can also use a thick teriyaki sauce if your grocery store carries it. I love the Kikkoman Teriyaki Takumi (purple label), it's very thick and has amazing flavor.  Baking option: Bake at 400 degrees on a rimmed sheet pan for 12-16 minutes until cooked through, brushing with additional bbq sauce 2-3 times throughout the baking time.  Serving suggestion: I love to serve this chicken with a side of steamed white rice and a side salad. 
Calories: 351kcal | Carbohydrates: 22g | Protein: 38g | Fat: 11g | Saturated Fat: 2g | Cholesterol: 109mg | Sodium: 1353mg | Potassium: 736mg | Fiber: 1g | Sugar: 19g | Vitamin A: 141IU | Vitamin C: 7mg | Calcium: 39mg | Iron: 2mg