This is the absolute BEST Linzer Cookies recipe ever! These gorgeous and easy cookies are buttery, flaky shortbread filled with sweet jam and dusted with powdered sugar. A Christmas Cookie Classic!
Linzer Cookies Are A Classic Christmas Cookie Recipe!
I love a classic cookie. I mean they're classics for a reason, right? And I've really been trying to perfect the classics for you because there's nothing more rewarding int he kitchen than really knowing how to nail a classic recipe…don't you think?
And yes, while Linzer Cookies are most popular around the holidays, they certainly are a cookie that can be enjoyed year round.
Use whatever flavor of preserves you like most and be proud that you just made one of the prettiest cookies ever!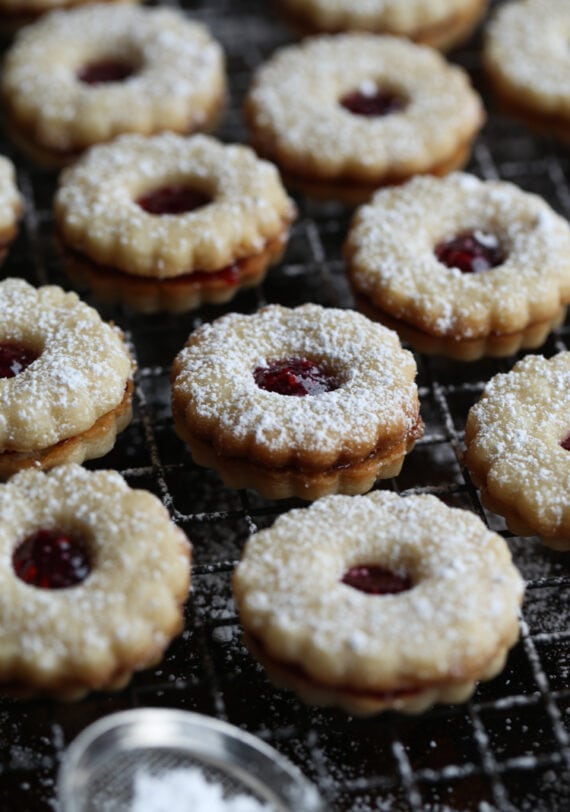 What Are Linzer Cookies?
I will admit, I had to google this. Of course, I've been eating Linzer Cookies forever, but it never occurred to me to wonder about why they're called "Linzer". So I thought it might be a fun to find out their origin story!
Linzer Cookies are named after a Linzer Torte, which was originated in Linz, Austria. The torte is a pastry traditionally filled with black currant preserves and topped with a lattice crust.
So the cookies take the same idea and flavors of the torte, but the dough is cut into cookies instead and sandwiched with the preserves. The cut out shape on top mimics the lattice crust!
If These Are Linzer Cookies, Where are the Nuts?
I know some of you guys will have hang-ups that there are no almonds or nut flavor in this recipe, as there are in a traditional torte. You can absolutely add in almond extract if you prefer that flavor!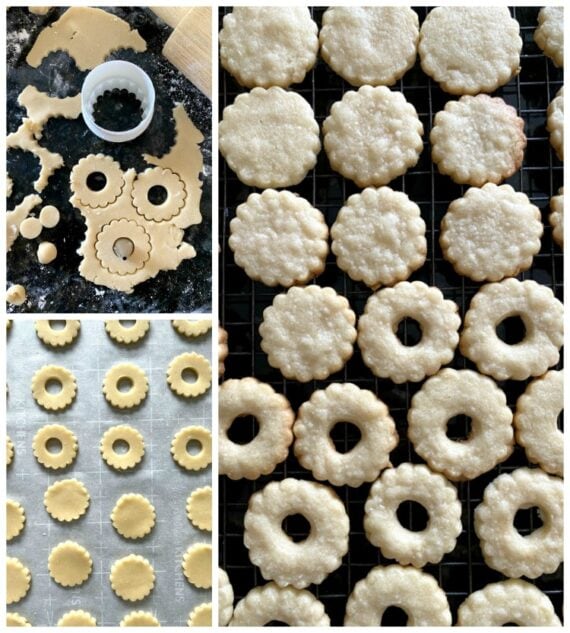 How Do You Make Linzer Cookies?
They are actually very simple to make. The dough is very much like a shortbread, and you can purchase delicious, high quality preserves at any local supermarket nowadays.
What Do You Need For the Dough?
Only 5 ingredients are necessary:
Butter
Granulated Sugar
Vanilla
Salt
All Purpose Flour
You could certainly add more flavor to the dough if you would like, such as:
Lemon Zest
Almond Extract
Cinnamon
HELP! The Dough Is Dry!
One of the complaints I hear most often from this recipe is that the dough was too dry and crumbly. Yes, this is a drier dough, but it shouldn't crumble apart. I promise the recipe works as written, as I have made these cookies time and time again!
Are There Supposed To Be Eggs?
Nope. The cookies are more like shortbread, no eggs are needed. However I have had people add an egg or two and say they came out ok. I can't speak to that however.
Do You Have To Use Biscuit Cutters?
No, of course not! Any shape will work. I have this set of biscuit cutters thatI use all the time and they're great, but if you don't want to buy them you can use any 2- inch round cutter. Or to be honest you could really use any shape you would like!
What Kind Of Preserves Do You Recommend?
You can use just about any flavor you prefer! I like raspberry and strawberry best, but here are some other ideas:
Black Currant (the traditional choice)
Apricot
Peach
Fig
Cherry
Apricot-Raspberry
Can You Freeze Linzer Cookies?
Oh yes, absolutely! You can freeze the finished cookies airtight for up to a month. You will need to re-dust them with powdered sugar, as that will melt when they thaw, but beyond that, these are amazing to freeze!
Can You Freeze the Dough?
Sure! Make the dough, flatten it into a disk as stated in the recipe and freeze it just like that! I do recommend thawing it in the refrigerator because the dough should be chilled to hold the shape of the cutter.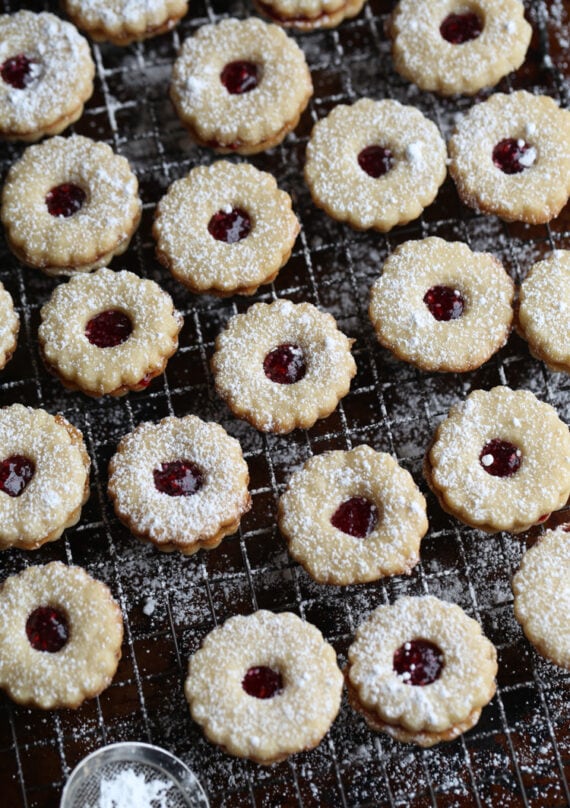 If you've never tried Linzer Cookies, you definitely should give them a try!
Looking For More Christmas Cookie Recipes? Try These:
---
Description:
Linzer Cookies are a classic holiday cookie recipe! Use whatever preserves you like best!
---
Ingredients:
1 1/2 cup

s butter, room temperature

1 cup

granulated sugar

1 teaspoon

vanilla extract

1/2 teaspoon

kosher salt

3 1/2 cup

s all purpose flour

3/4 cup

raspberry or strawberry preserves

1/2 cup

powdered sugar
---
Instructions:
In the bowl of your stand mixer fitted with the paddle attachment mix the butter and sugar together on medium speed for 2 minutes. Add in the vanilla and salt and mix until combined.
Turn mixer to low and add in the flour, mixing until just combined.
Remove the dough, flatten it into a disk and wrap in cling wrap. Refrigerate for at least 1 hour.
Line a baking sheet with parchment paper and set aside.
Remove the dough from the refrigerator and let it sit for 10 minutes, to take the chill off.
Dust a clean counter with flour and using a rolling pin, roll the dough out to 1/4- inch thick.
Cut out the dough using a round 2- inch round biscuit cutter or cookie cutter. In half of the rounds, cut out  circle (or shape) in the centers. You can use a small cookie cutter, or even the back of a piping tip.
Place the dough on the prepared baking sheet and place baking sheet in the freezer.
Preheat the oven to 350°F. When the oven is preheated, remove the baking sheet from the freezer and bake for 18-20 minutes, or until the edges are lightly golden.
Transfer the cookie to a wire rack to cool completely.
Once cooled, spread about 1 teaspoon of preserves on the bottoms of the solid cookies. Gently press the cut out cookies on top of the preserves.
Dust all the cookies with powdered sugar.
---
Notes:
Store airtight at room temperature for up to 5 days.
Keywords:: cookies and cups, linzer cookies, christmas cookies, cookie recipe
Want To Save This Recipe?