We check out Livefreshr, a recipe kit delivery service in Dubai and Abu Dhabi.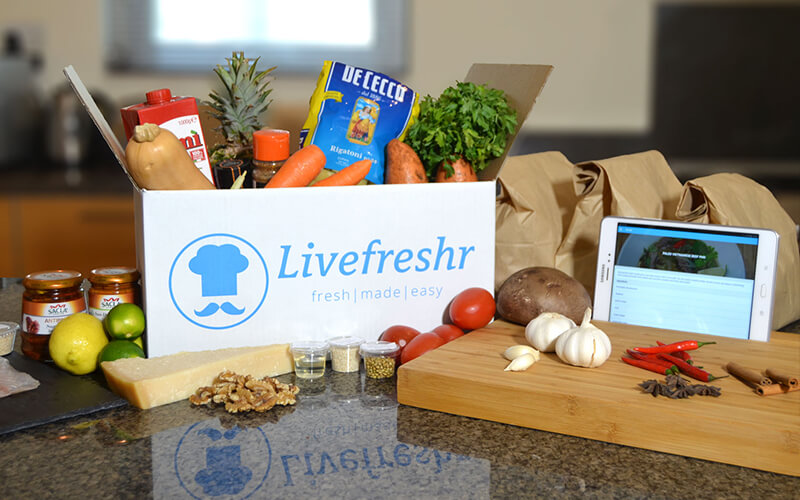 During these challenging times, families around the world are housebound due to the COVID-19 pandemic and now find themselves, like us, in the position of having to cook two or three meals a day for their families.
While having more time on our hands to cook homemade meals more often is a treat, it can be challenging to menu plan day after day – not to mention gathering all necessary ingredients to create chosen dishes with supermarket visits now only allowed in the UAE every three days, and supermarket delivery slots taking up to two-weeks to secure.
In light of this, we decided to give Livefreshr a try, a fresh food delivery service in Dubai that supplies its users with cooking instructions, and pre-portioned, ready-to-cook ingredients to create delicious meals. Here's how it works:
Choose your meals
The experience begins at livefreshr.com, where you can select the recipes you'd like to try for the week to come. Recipes on the site are updated every week so you'll not get bored, and are created by Livefreshr's in-house chefs – ensuring a balanced diet full of nutritional value.
Whether you prefer a meat, fish, or vegetarian style menu, the site is structured to suit all tastes and diet requirements, with recipe options including the likes of baked salmon with spicy-maple roasted squash and green beans, Portobello mushroom vegetarian fajitas, kung pao chicken, and brown butter fish with sprout mashed potato.
Then it's over to Livefreshr's team to do the grocery shopping for you.
Ingredient delivery
The ingredient box is delivered on your preferred date, and what's great is that each of the recipes come portioned to the exact number of people you need it for, eliminating any waste. Ingredients, sourced from trusted supplier Kibsons, are also carefully wrapped and packaged to extend life.
Each individual recipe is bagged separately and contains all you need, with the exception of olive oil, salt & pepper, so the only decision left to make is which dish you'd like to cook and eat first.
Each bag comes with an ingredient check-list and a link to the online recipe to follow for cooking instructions. It's all very easy and straight forward, resulting in quality meals without any hassle.
How to order
If you'd like to try the service, head to livefreshr.com. The recipe kit service caters to one to six people, for either three, four, five or six meals per week. Pricing depends on how many recipes and portions you choose, but as an outline, you can expect to pay AED 178 for four meals for one person per week, AED 306 for four meals for two people per week, or AED 468 for four meals for four people per week.
Livefreshr is also launching a referral program. Each person a user refers will be worth a 10% discount off their weekly order for as long as they are a customer.
If you enjoyed this article, check out more of our at-home delivery service reviews here.