This Marble Pound Cake Recipe is an ultra moist easy cake recipe baked in a bundt pan with ribbons of chocolate and vanilla cake swirled together!
This Marble Pound Cake Recipe is Perfect For All Occasions!
I have really gotten into bundt cakes. Like in a major way. For so many years I dreaded making them because they would always stick to the pan and be a big old mess…until I found the best bundt pan ever. But that's not the point here. The point is, boy I was missing out. I feel like bundt cakes, specifically pound cakes made in a bundt pan are so super nostalgic and cozy all while being delicious! So, yes, lately I've been on a major bundt/pound cake recipe kick!
Here Are Some Pound Cake Recipes I Love: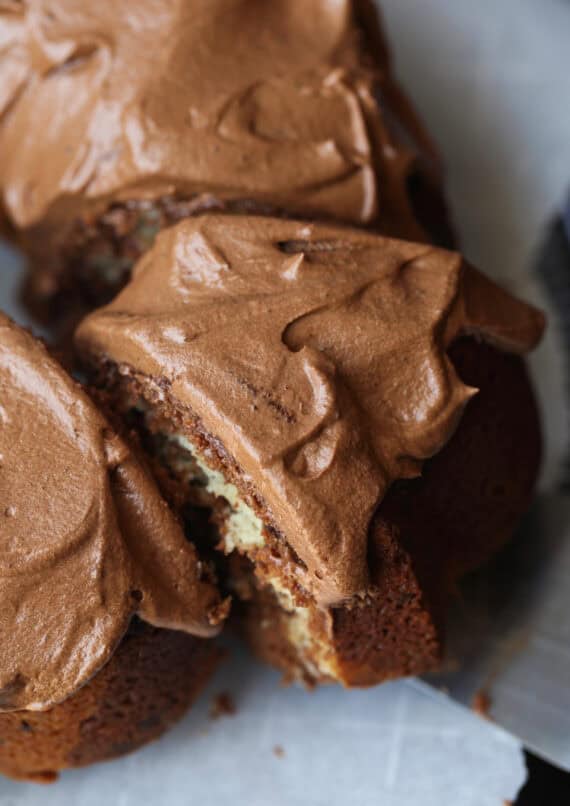 Marble Cake has never been a "first choice" cake for me, and I really have no idea why! I mean I'm all about a chocolate/vanilla swirled ice cream cone, and I love vanilla and chocolate cake in equal measure, so why wouldn't I always want a marble cake?
And I'll tell you, this recipe is so so good that I probably won't ever want another kind of cake! This recipe is easy to follow, quick to whip up, and great the first day, even better the next, as is with most pound cakes! Plus, I added in mini chocolate chips for good measure, AND topped it with a creamy layer of chocolate frosting to make it officially a real cake 🙂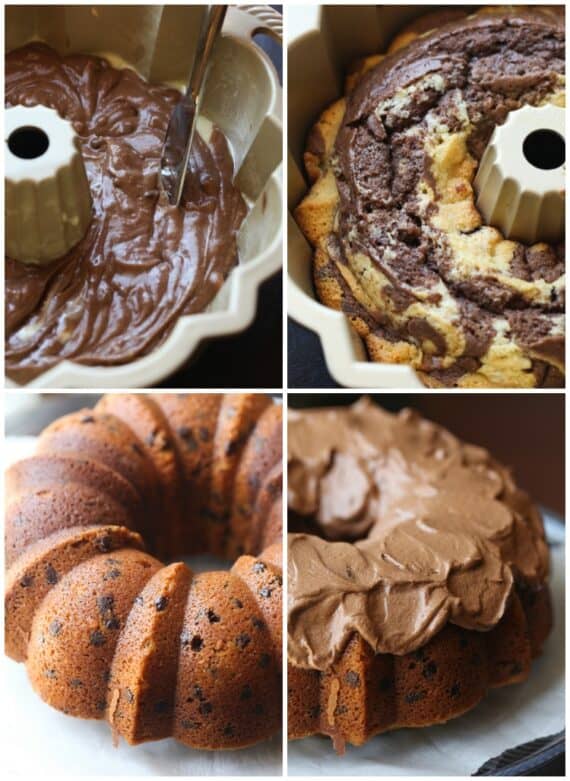 How Do You Make Marble Cake?
I think maybe the reason I was always hesitant about making Marble Cake is because I thought you had to make two separate cake batters to swirl together…which translated to double work. BUT turns out you don't really do that at all! You make one cake batter, divide them in half, and then add some cocoa powder to one creating a chocolate batter. It's really that easy!
What Ingredients Do You Need For Marble Pound Cake?
Butter: I use salted butter!
Sugar: Just plain old granulated sugar works best for this cake recipe!
Eggs: Large eggs work best!
Vanilla Extract: Of course! Make sure you're using Pure Vanilla and not imitation.
Sour Cream: Adding sour cream adds a very moist texture to this pound cake.
Flour/Baking Powder/Baking Soda/Salt: These are the usual suspects in baking cakes. I prefer using a combo of baking soda and baking powder in this cake, giving it a tender crumb while having a pound cake texture.
Cocoa Powder: Unsweetened Cocoa Powder is what makes half of the batter chocolate. You can use regular cocoa powder, Dutch Process, or even Dark!
Mini Chocolate Chips: This isn't mandatory, but it is a nice addition to the cake in my opinion! The mini chips scattered throughout are pretty int he baked cake, while adding a little extra chocolate!
How To Make Your Cake Marbled:
This is the easy part! Once you've made your cake batter, divided it, and added cocoa powder to half you will have chocolate and vanilla batter. Here's what you do next:
Make sure your bundt pan is greased well. You can do this with nonstick baking spray, or you can coat it in butter (or shortening) and dust it lightly with flour or powdered sugar, tapping out any excess. I prefer to use nonstick baking spray because flour or powdered sugar can occasionally leave a white-ish coating on the outside of the cake. This is fine, but doesn't look as pretty!
Using a large spoon or measuring cup, drop the cake batter into the prepared pan, alternating between vanilla and chocolate.
Use a butter knife to swirl the batters together to create a marble effect.
Bake the cake until it's set, allow it to cool in the pan for 20 minutes and then invert it out onto a wire rack or cake plate!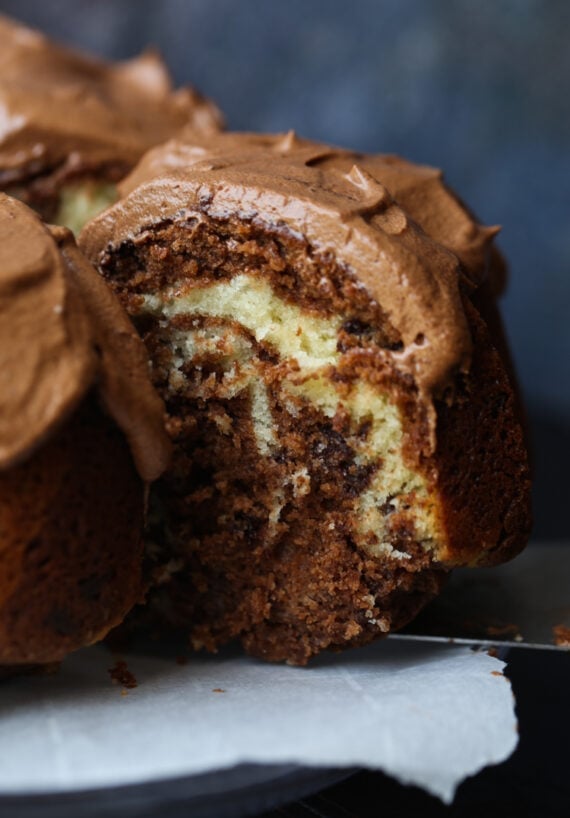 What Kind Of Frosting Do You Use on Marble Cake?
I love creamy chocolate frosting on top of this marble cake, but you can even enjoy it without frosting if you prefer! Some other frosting options are:
Looking for more Bundt Cake Recipes? Try These: