These Mini Frittata Muffins are an easy breakfast recipe made with Arla Herbs and Spices Cream Cheese. They're also loaded with flavour and also meal prep, make ahead and freezer friendly!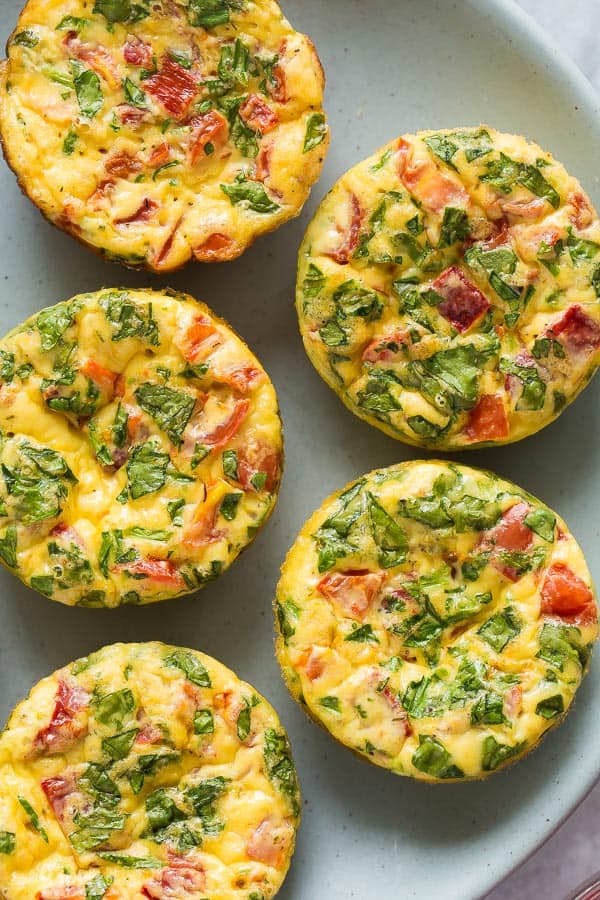 This is one of those recipes that makes my heart so happy to bring you.
It's quick, nourishing recipes like these mini frittata muffins that just make life easier, and although I have a blast coming up with all sorts of fun recipes to share with you here, these egg muffins are about Real Life.
With 3 kids 6 and under, Real Life is a little hectic, and there are times I wish I had 8 arms like an octopus so I could accomplish everything that needs to be accomplished.
Since these frittata muffins can be made ahead and easily reheated, it means I can get a fabulous breakfast/lunch/dinner on the table when my 18 month old needs a little extra love.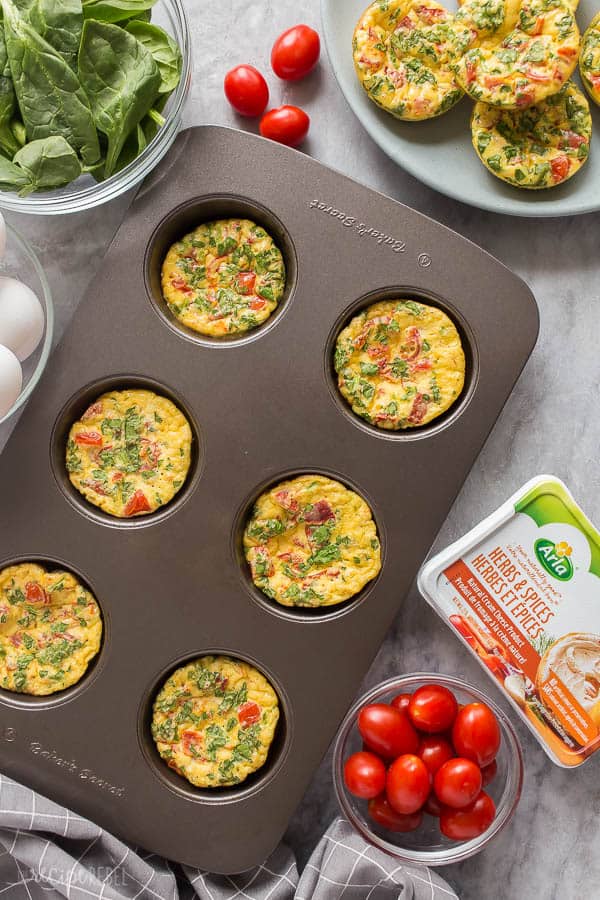 On a good day (or an evening when all the littles are tucked in bed!), I'll make an extra batch to stash in the freezer for a later date, along with these Blueberry Oatmeal Muffins and Our Favorite Breakfast Burritos!
Reasons to love these Mini Frittata Muffins:
They're a nutritious breakfast when you've slept in
They're a protein-packed dinner when you're on the go
They're an easy, make ahead lunch perfect for the kids
They're great for meal prep, make-aheadable and freezer-friendly!
And they're made with the new Arla Herbs & Spices Cream Cheese which is packed with flavour from paprika, dill and buttermilk and made only with a handful of ingredients you can pronounce! It's made with natural ingredients with no aritificial flavours and is a great source of protein!
How to make Frittata Muffins:
Start with your eggs, Arla Herbs & Spices Cream Cheese, a bit of milk (we've replaced most of it with the cream cheese), and a bit of salt. There's enough flavour in the cream cheese that we don't have to add a lot of spices! Whisk it up until smooth.
Stir in your veggies (I use tomatoes, spinach and roasted red peppers) and cheese.
Portion it out into greased muffin pans (silicone pans make removal so easy!), and bake until set.
Serve or cool to store in the refrigerator or freezer.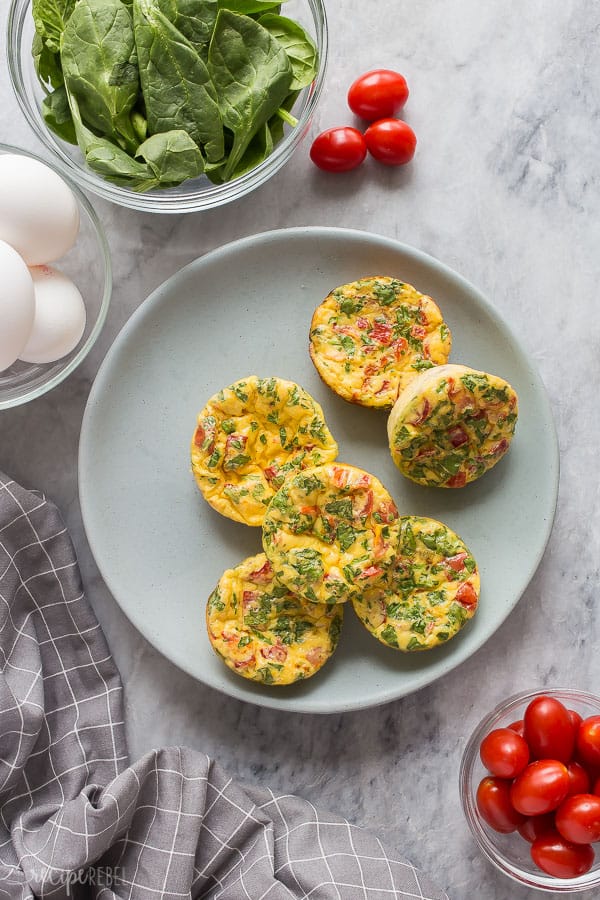 Variations on these mini frittatas:
Mix up the veggies to suit your tastes — almost anything goes that you enjoy with eggs!
Add in cooked, chopped meat: bacon, ham, turkey breakfast sausages are great options.
Switch up the cheese and try another variety you have on hand: Mozzarella, Gouda, Parmesan — get a little crazy!
How to store Frittata Muffins:
These egg muffins can be store in the refrigerator for up to 1 week. Simply let cool to room temperature before placing in an air tight container.
They can also be frozen up to 3 months! Let cool and place in an air tight container or large freezer bag, then freeze. To thaw, leave in the refrigerator overnight or microwave on 50% heat for 1-2 minutes until warmed through.
Looking for more easy breakfast recipes?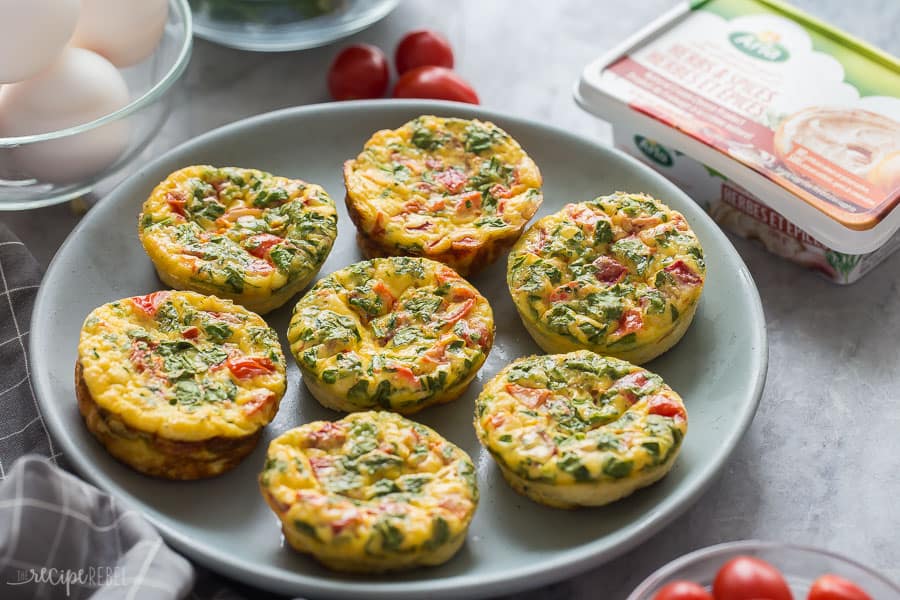 This post is made in partnership with Arla Canada and I was compensated for my time in creating this recipe. All opinions are, as always, my own.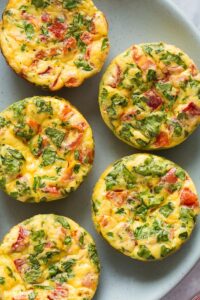 Mini Frittata Muffins
These Mini Frittata Muffins are an easy breakfast recipe that is loaded with flavour, meal prep, make ahead and freezer friendly! 
Prep Time 10 minutes
Cook Time 20 minutes
Total Time 30 minutes
Servings 14 frittatas
Calories 71kcal
Author Ashley Fehr
Ingredients
8

eggs

200

grams

Arla Herbs & Spices cream cheese

(1 tub)

1

teaspoon

salt

1/8

teaspoon

pepper

1/2

cup

jarred roasted red peppers

finely chopped

3/4

cup

fresh spinach

finely chopped

1/2

cup

tomatoes

finely chopped
Instructions
Preheat oven to 350 degrees F and lightly grease a muffin pan (non stick or silicone).

In a large bowl, whisk together eggs, cream cheese, salt and pepper until smooth.

Stir in peppers, spinach and tomatoes and fill muffins cups (about 3/4 full). 

Bake for 20-25 minutes until centers are completely set. Serve immediately or cool to room temperature to store. 

Mini frittatas can be stored in the refrigerator for up to 1 week or in the freezer for 2-3 months.
Nutrition (this is an estimate)
Nutrition Facts
Mini Frittata Muffins
Amount Per Serving
Calories 71 Calories from Fat 45
% Daily Value*
Total Fat 5g 8%
Saturated Fat 2g 10%
Cholesterol 102mg 34%
Sodium 347mg 14%
Potassium 63mg 2%
Total Carbohydrates 1g 0%
Protein 4g 8%
Vitamin A 7.1%
Vitamin C 4.2%
Calcium 1.8%
Iron 3%
* Percent Daily Values are based on a 2000 calorie diet.