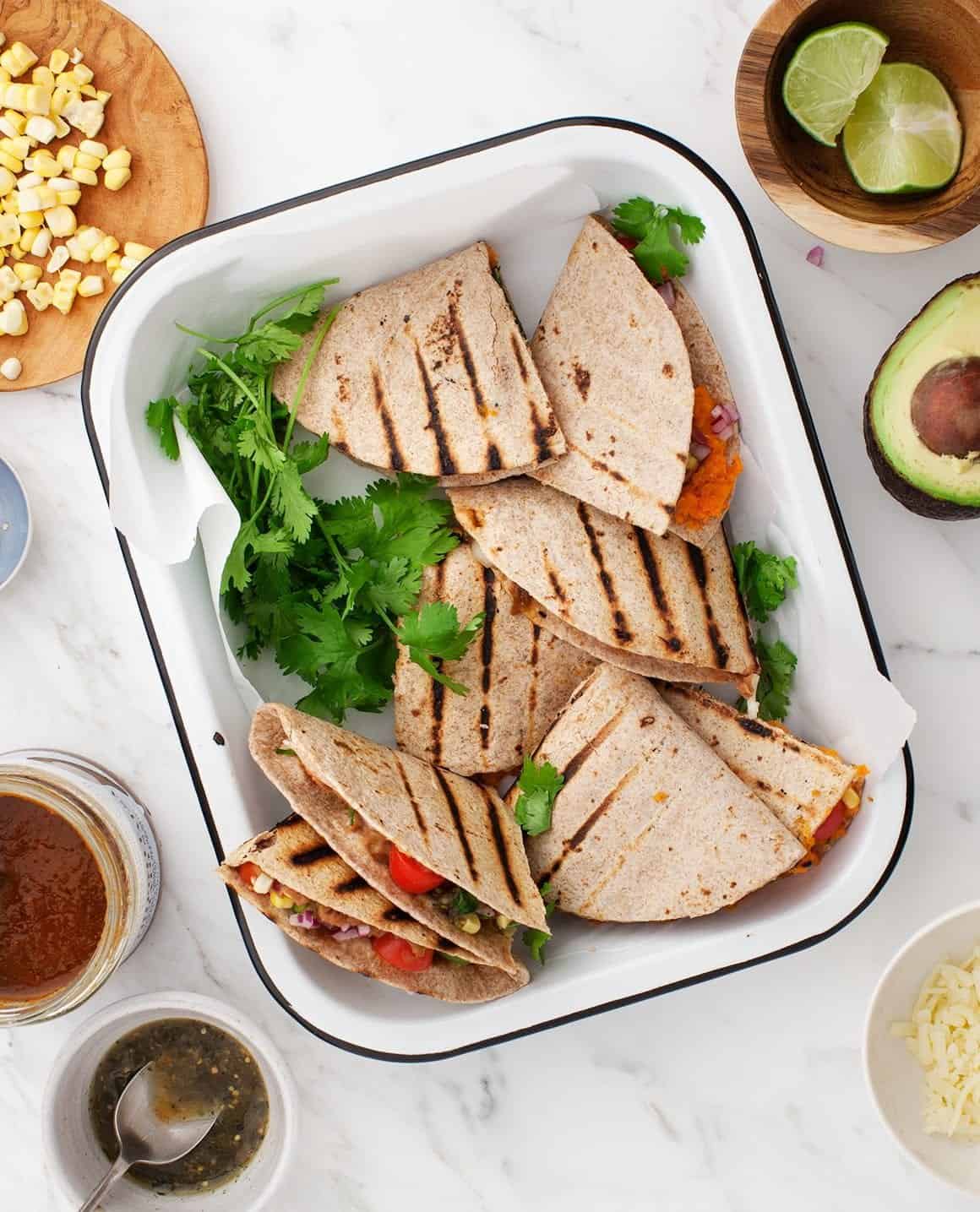 We've been overloaded with decisions lately. "Where to live?" has been the question of the year, but I'm happy to say that we're finally in the process of buying a new home (more on that later!). Now the decisions at hand are things like "which barstools match the new countertop? which sofas are free of VOC's?" and "is a white sofa a really bad idea?"
Suffice it to say, when I got around to this recipe, I couldn't make up my mind on just one option so… Mix & Match quesadillas it is! A no-brainer. Hallelujah.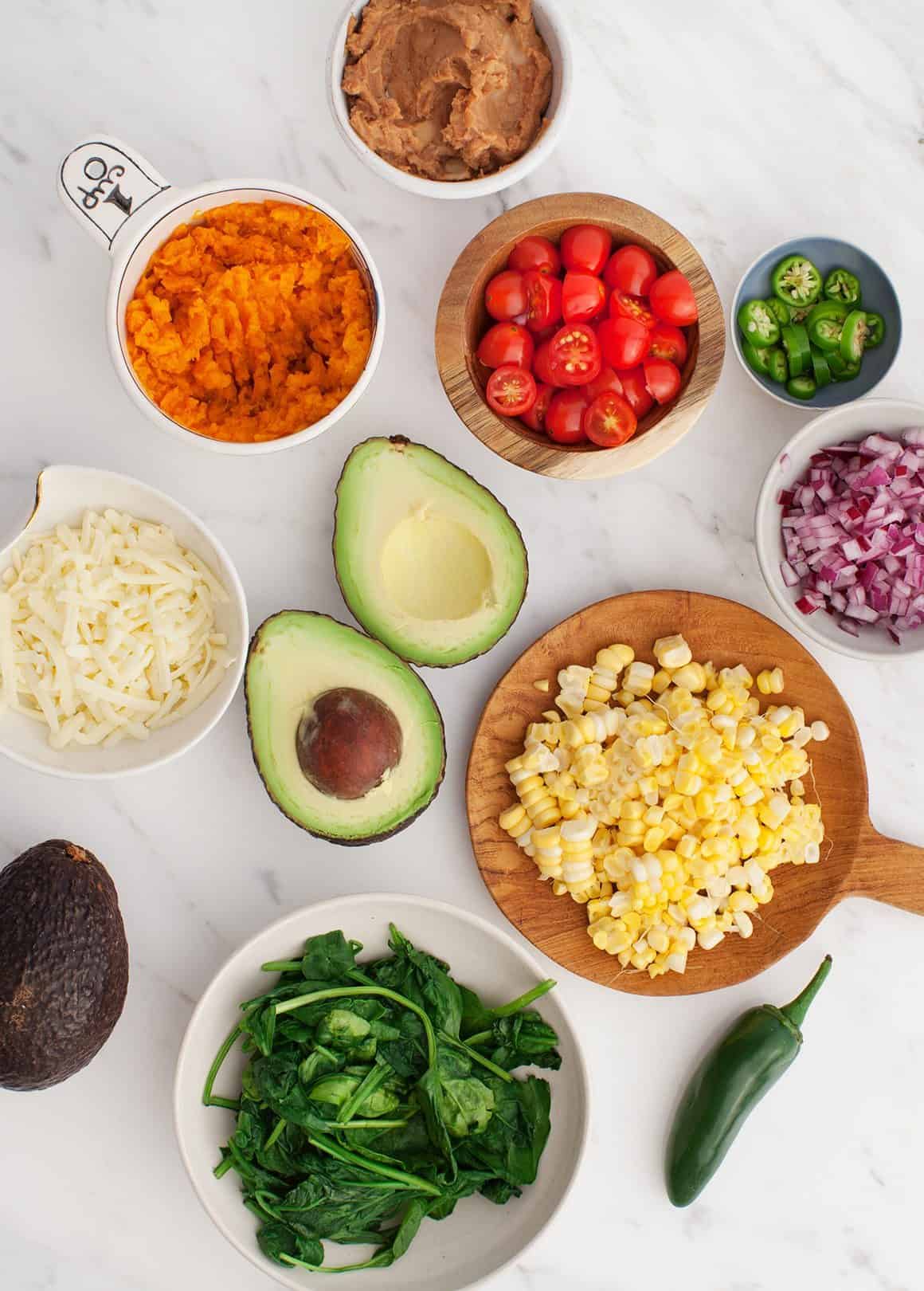 Here's how they go:
First, the binders. Yes, you could just bind your quesadillas with melted cheese, but refried beans, mashed sweet potato, and mashed avocado are fun, healthy, vegan-friendly alternatives. Spread a thin layer onto your tortilla before adding the fillings (see the photos below).
Next, the veggie fillings! Fresh sweet corn, sauteed spinach, red onion, diced avocado, sliced serrano peppers, and sliced cherry tomatoes are all good seasonal choices.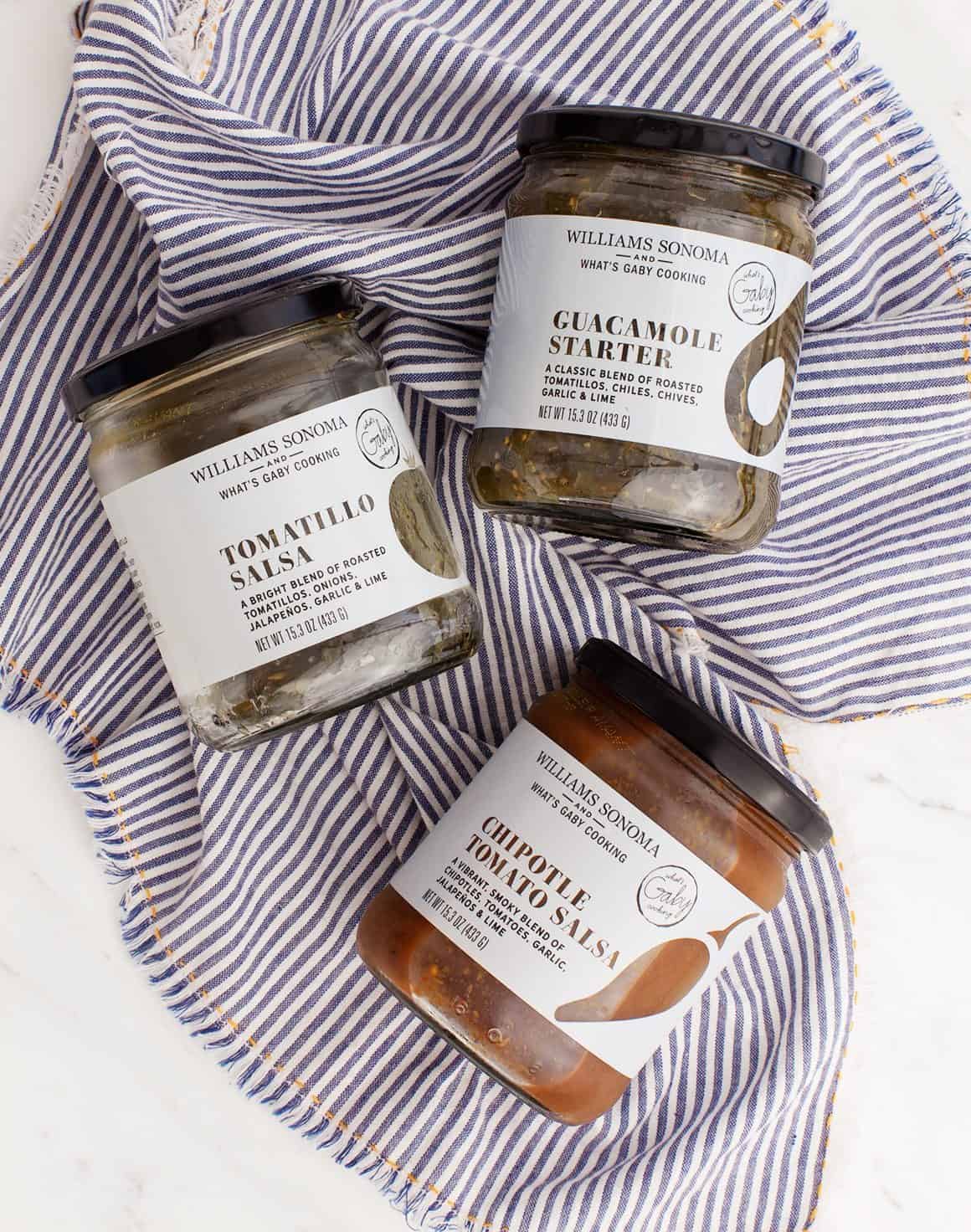 Next, make your quesadilla really flavorful by adding a few dollops of salsa inside before you fold them up. My dear friend Gaby of the blog What's Gaby Cooking just launched her own line of salsas – they're SO delicious in these! Her Tomatillo Salsa is bright and tangy, and her Chipotle Tomato Salsa is rich and smoky. I haven't tried her Guacamole Starter yet, but I pictured it here anyway because you can buy these 3 as a set at Williams Sonoma. So good, (way to go Gaby!)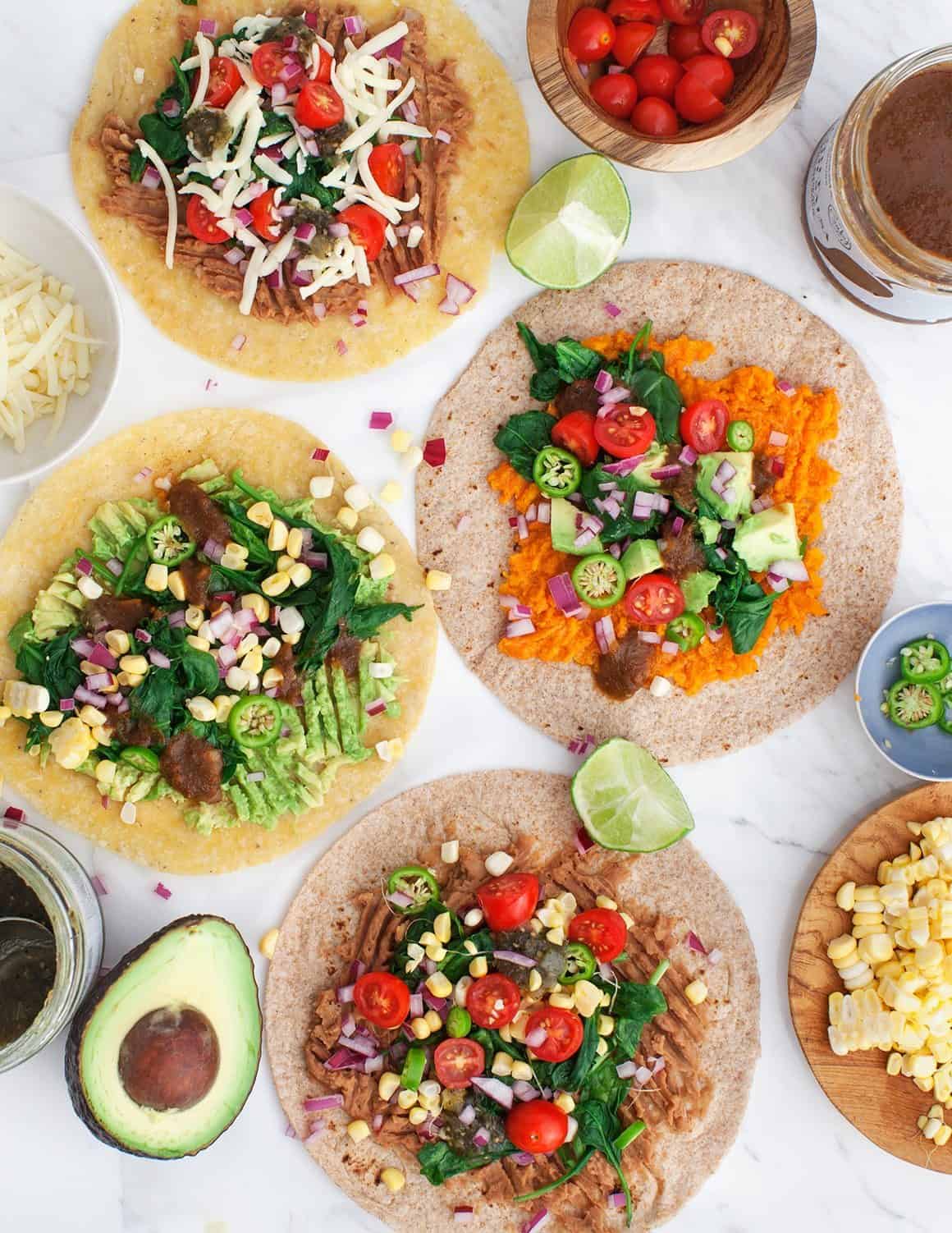 Fold your filled tortillas in half and grill on each side. Slice the finished quesadillas into wedges (as pictured at the top of this post). Serve hot with more salsa on the side ?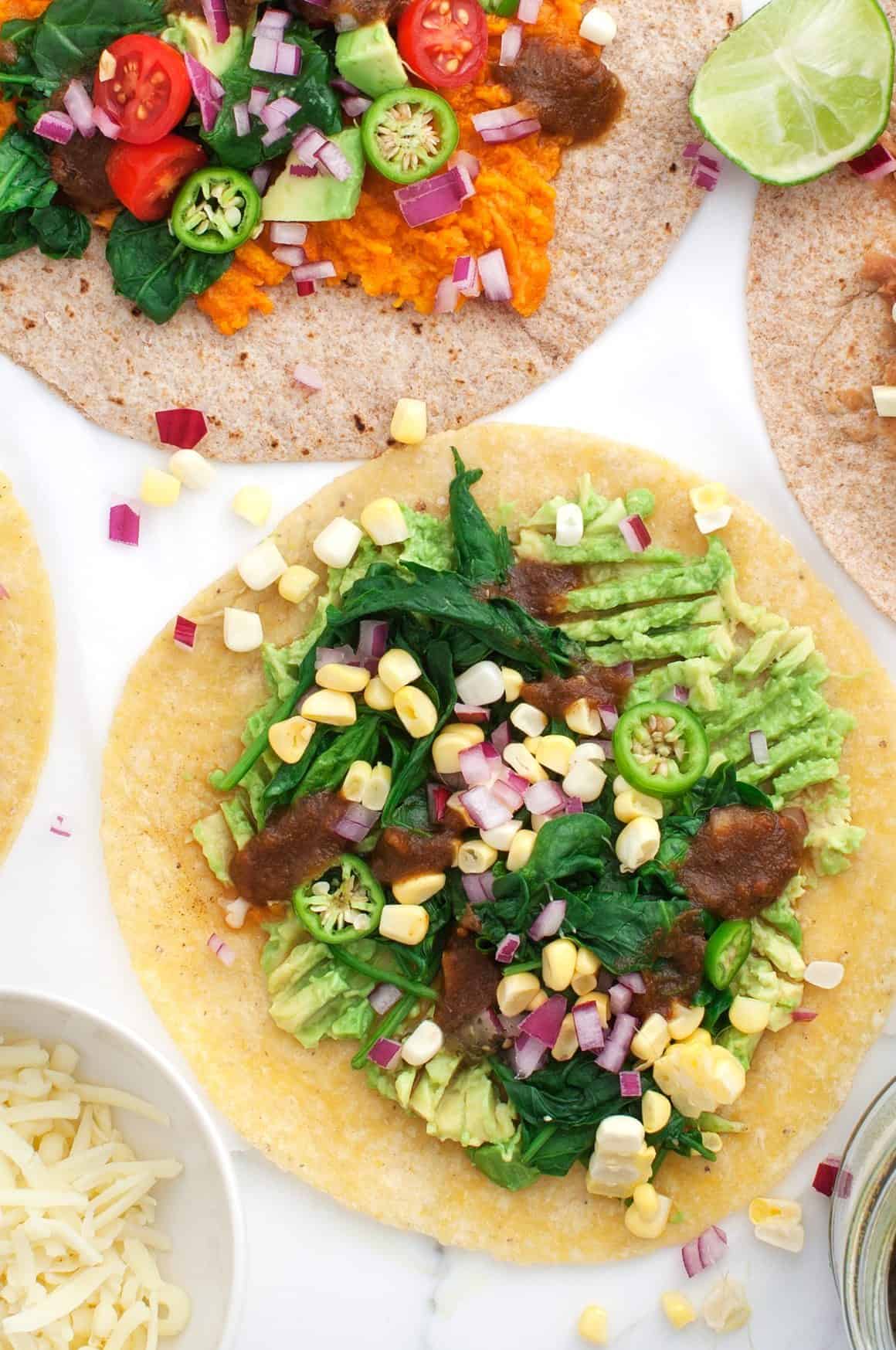 Mix & Match Veggie Quesadillas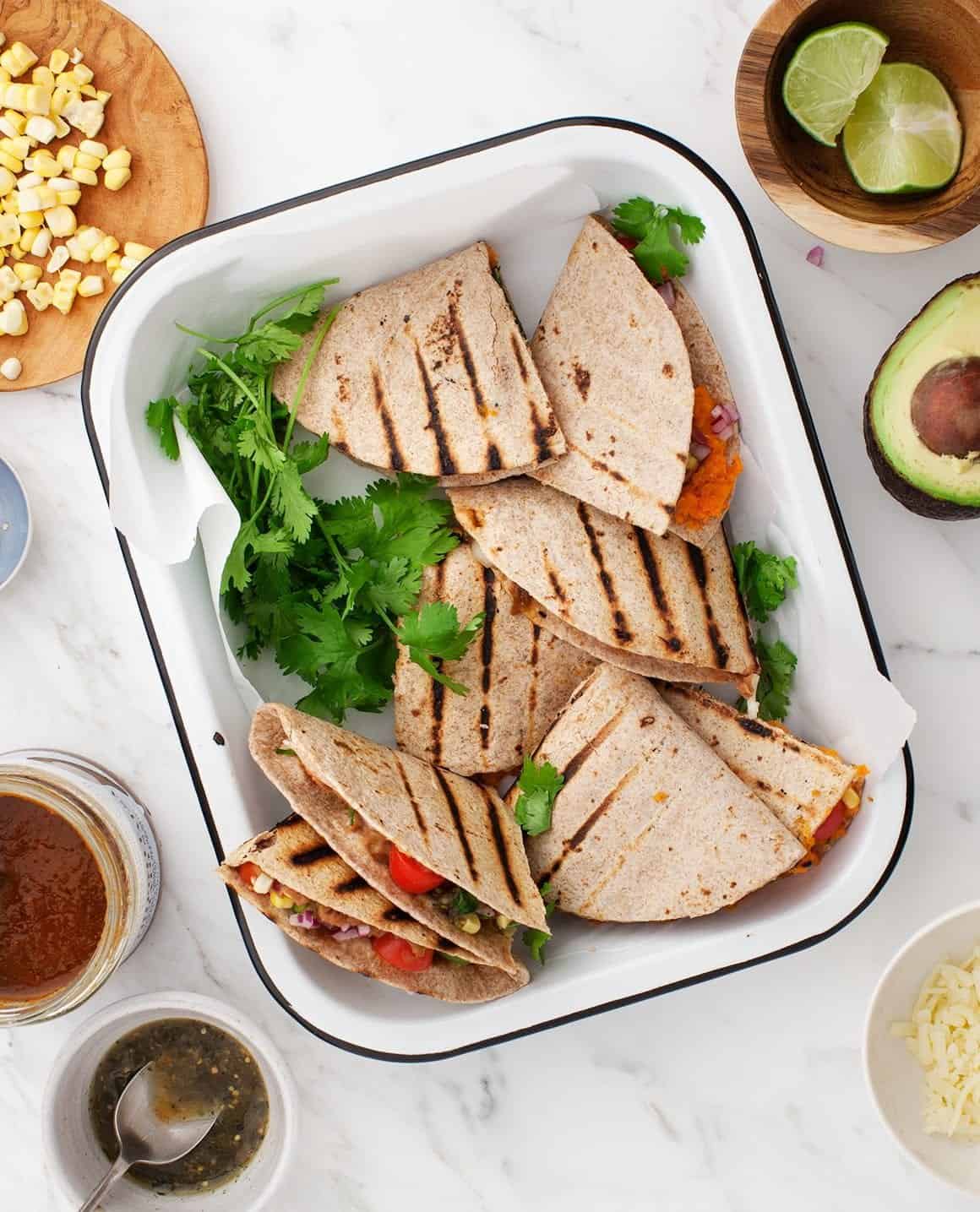 8 whole wheat or corn tortillas* (see note)
¾ cup sweet potato mash, from about ½ baked sweet potato
1 (14-ounce) can refried pinto beans** (see note)
1 avocado, mashed with a squeeze of lime & pinch of sea salt
1 cup shredded Monterey Jack cheese, optional
Prep the fillings and preheat a grill pan or skillet to medium high.
Spread each tortilla with one binding ingredient – mashed sweet potato, refried beans, mashed avocado or cheese – so that your quesadillas will stick together.
Add desired veggie fillings. Fold each tortilla in half over the fillings and gently press down.
Cook each quesadilla for 2 to 3 minutes per side, until light char marks form. Remove from the pan, slice into wedges and serve.
*To make these gluten free you can use corn tortillas – although I prefer wheat tortillas for quesadillas (I like Whole Foods' brand) because they are easier to handle and less likely to break.
**I used Whole Foods refried pinto beans which I like because they come nicely spiced.
3.4.3177