These No Bake Chocolate Nutella Cheesecake Bars are SO easy and perfect for topping with fresh berries! Rich, creamy and no oven required! Includes step by step recipe video.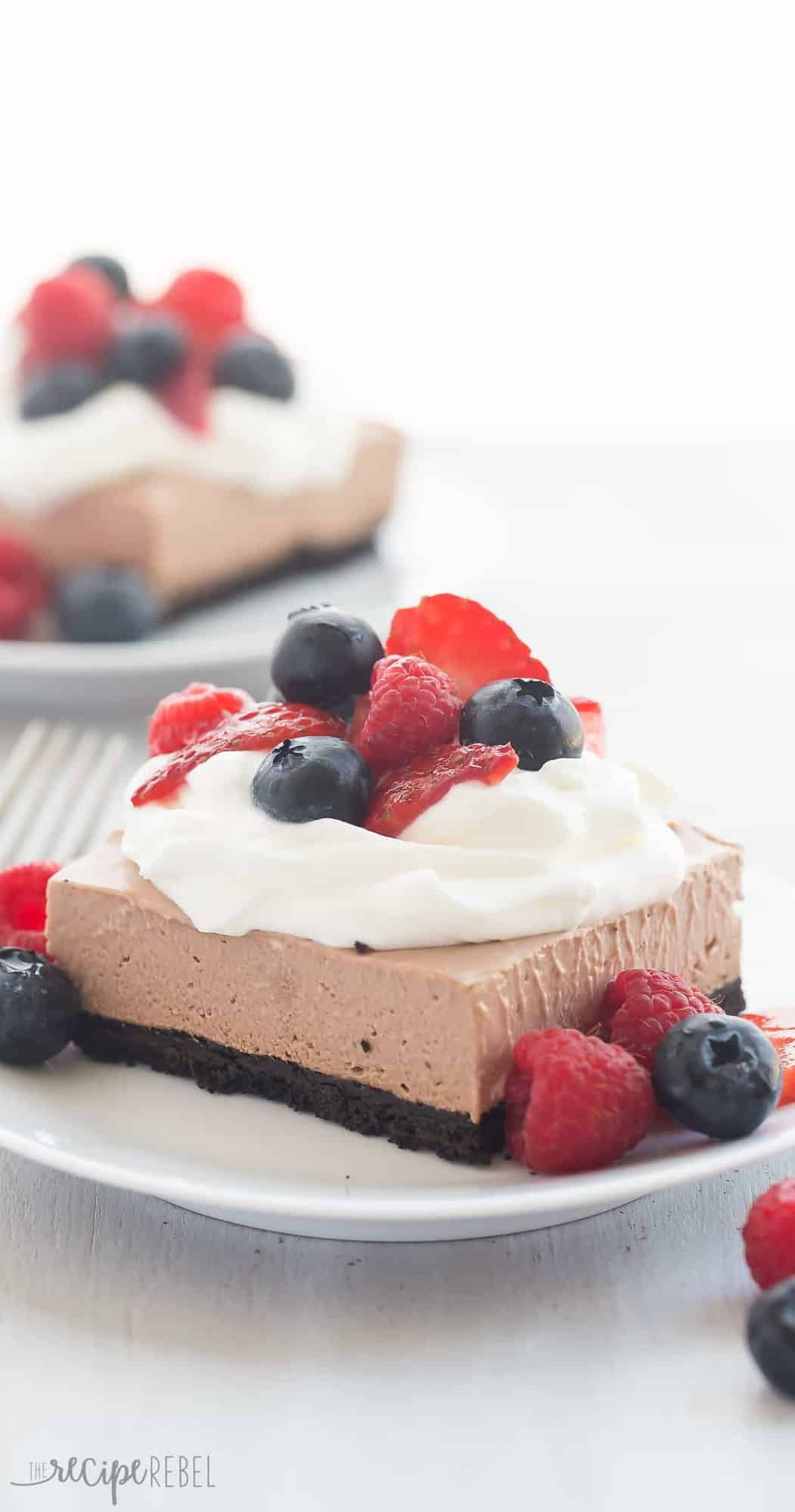 Summer desserts are my thing. I just love coming up with all the No Bake Things — cool, creamy, and no slaving over the oven or stove!
One of my favorite desserts from last summer is this Nutella Brownie Fruit Pizza — it is SO wildly delicious I had to leak the recipe to my taste testers before it even hit the blog last summer. You guys — Nutella and fresh berries is an out of this world combination.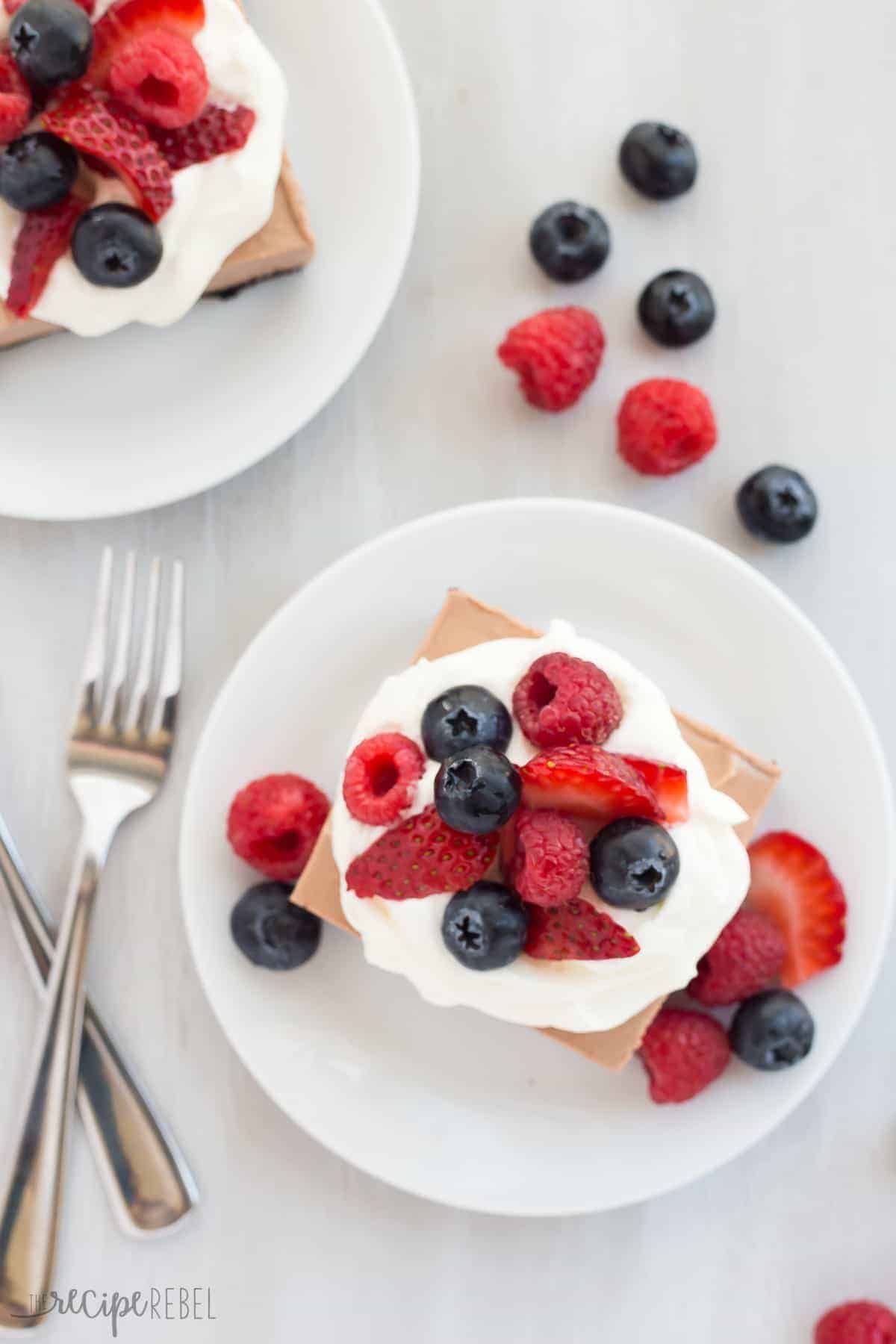 And so here I am with these No Bake Nutella Cheesecake Bars, and a pile of fresh berries because it's just so darn good!
It's nearly impossible for me to resist piling all the no-bake desserts with strawberries, raspberries and blueberries. I wait anxiously for strawberry season to hit Manitoba in the summer. And I know we're a long way off here, but we're just about at that point where I'm so over the cold and ready for the sunshine ?
Growing up, we went every summer — multiple times! — with my mom to the U-Pick to pick strawberries. There is nothing like fruits and vegetables gathered straight from the field or the garden.
I love taking my girls now to do the same thing, even though they're not all that helpful! They're more into the quality control ?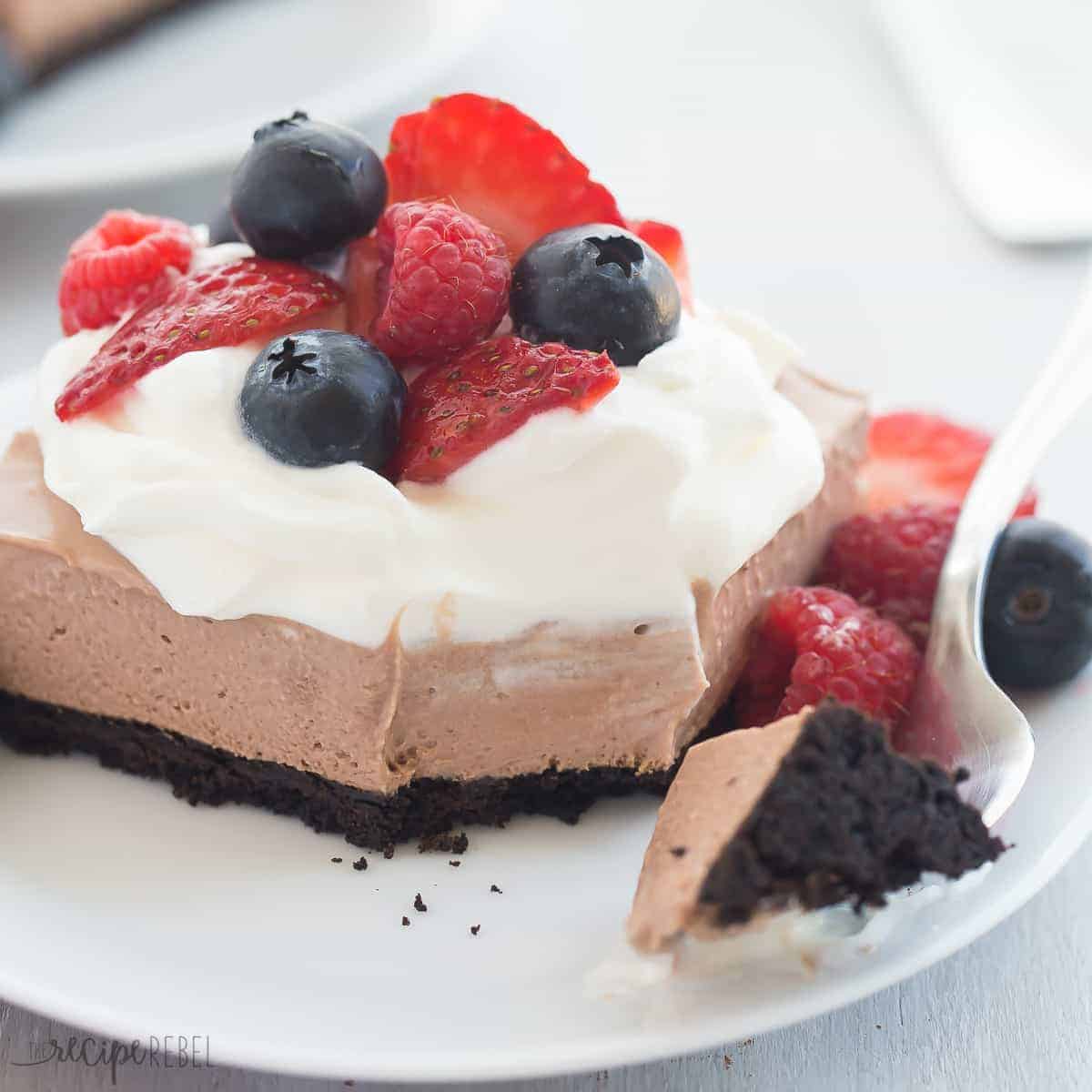 Tips and Tricks for Making these No Bake Chocolate Nutella Cheesecake Bars:
Adding a bit of melted chocolate to these no bake cheesecake bars helps them to set and slice beautifully. But also, chocolate.
I added a little bit of gelatin to the cheesecake mixture because I was a little worried about not getting a clean slice even with the chocolate. You can leave it out if you think that's weird, but they might not slice quite as cleanly as these ones did here.
You can swap the Greek yogurt for an extra block of cream cheese if you prefer — it shouldn't make a difference in the recipe. I just love adding Greek yogurt for an extra boost of protein (because, hey — it's chocolate and Nutella).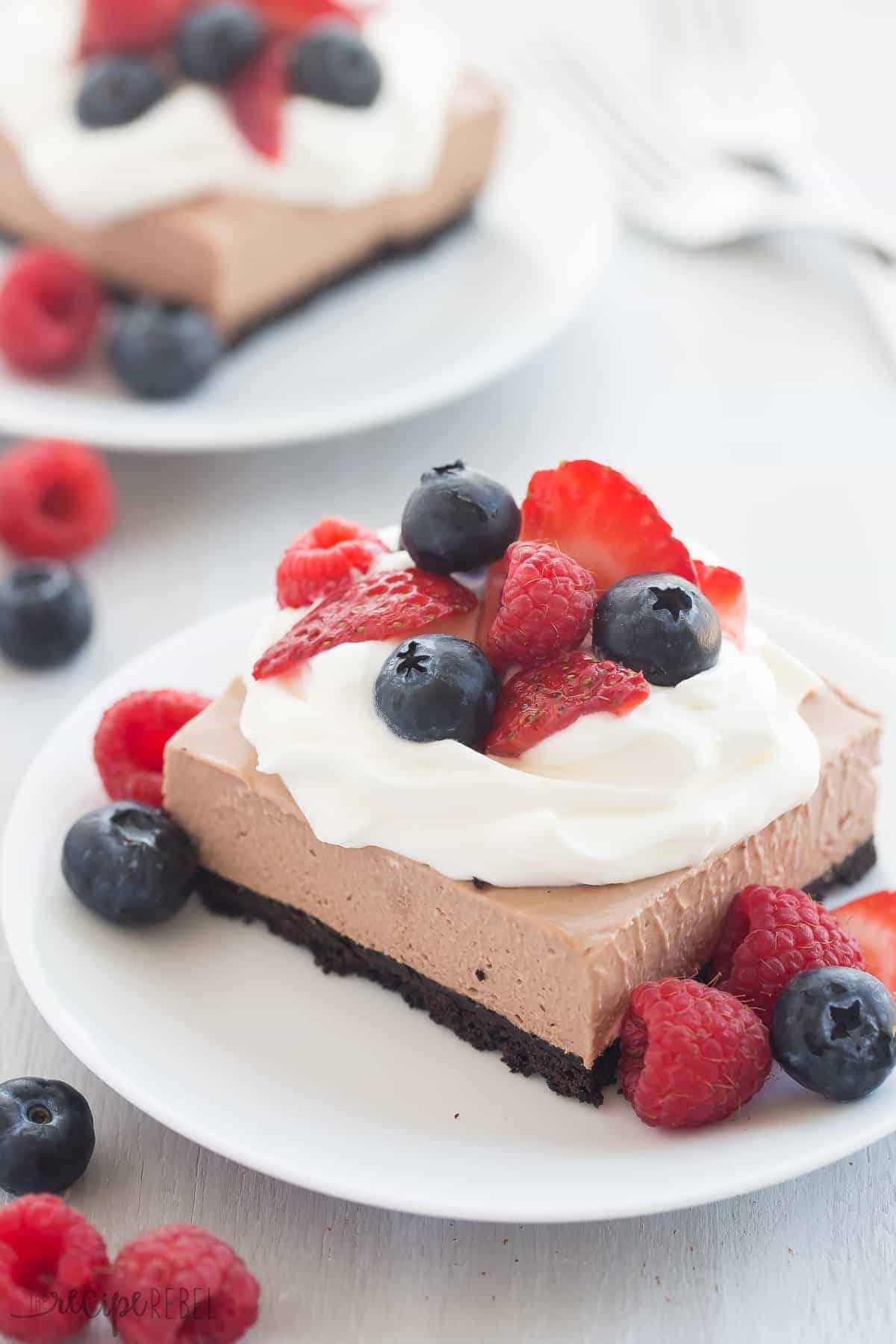 These bars can easily be frozen and thawed or served frozen — they are perfect either way! And if you need to make them gluten free, simple swap out the cookies with gluten free cookies or skip the crust and be sure to check all ingredient labels to ensure they are gluten free.
Watch the recipe video and see how easy they are to make!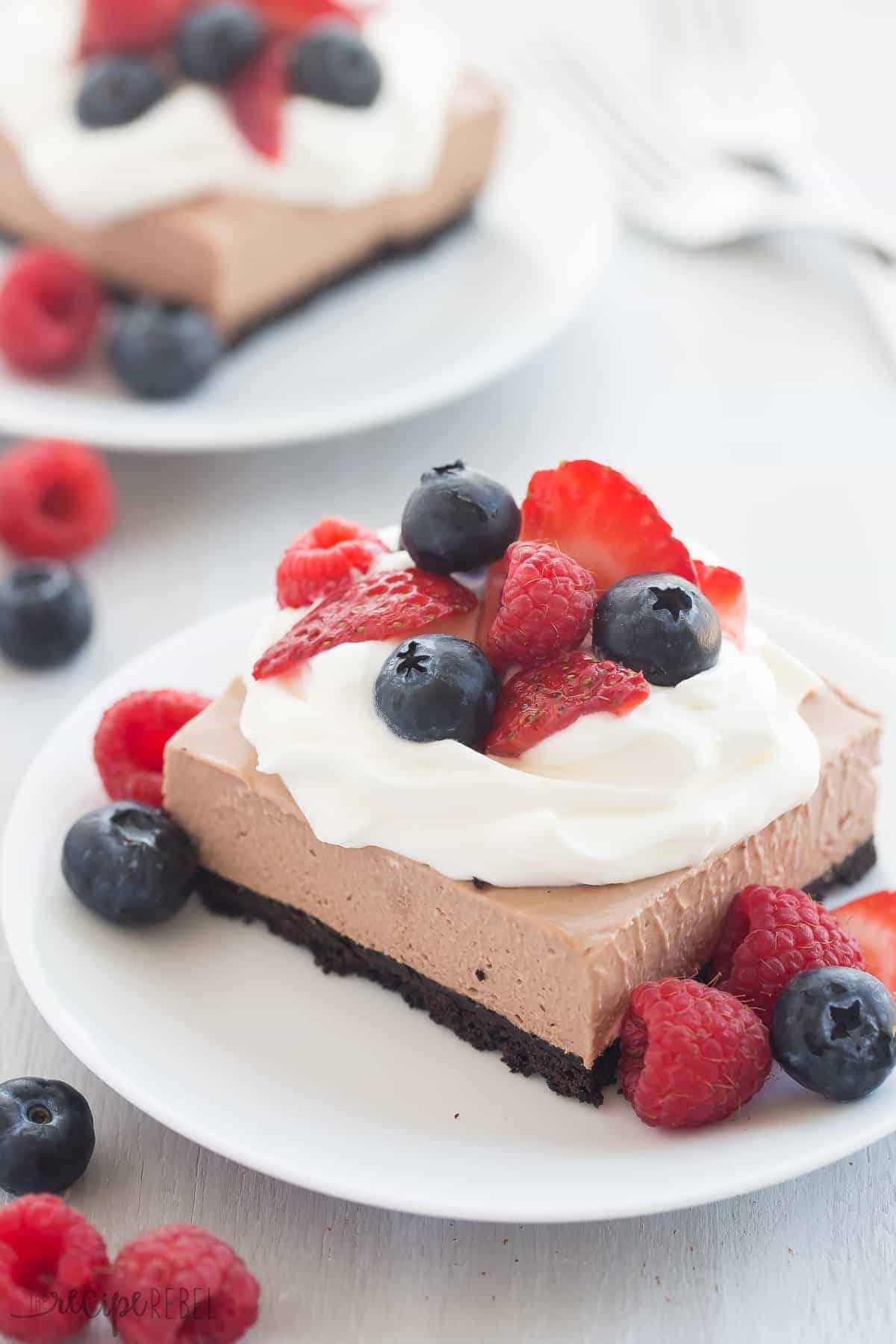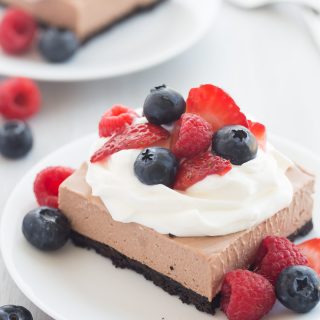 Ingredients

1/3

cup butter, melted

2

1/2 cups chocolate baking crumbs

2/3

cup chopped chocolate or chocolate chips

1

tablespoon plus 1 cup heavy cream, divided

1

package (2 1/4 teaspoons) unflavored gelatin

4

tablespoons water

2

pkg (8oz each) light cream cheese

1

cup 0% vanilla Greek yogurt

3/4

cup Nutella or other chocolate hazelnut spread

1

cup powdered icing sugar



Whipped cream and berries for garnish as desired
Instructions
Line a 9×13″ pan with tin foil or parchment paper if desired and grease the bottom lightly. Combine melted butter and chocolate crumbs and press into the bottom of the pan. *OPTIONAL: bake at 350 degrees F for 10 minutes (this is unnecessary — it only helps to firm up the base).
In a small bowl, combine chocolate and 1 tablespoon cream. Microwave on high for 45 seconds and stir until smooth. Set aside to cool to room temperature.
In a small bowl, sprinkled gelatin over cold water and let sit for 1 minute. Microwave on high for 15 seconds and stir until dissolved. Set aside to cool to room temperature.
With an electric mixer, beat cream cheese until smooth. Add in yogurt, Nutella and powdered sugar and beat until combined. Add in cooled chocolate mixture and cooled gelatin mixture and beat until combined.
Add in 1 cup heavy cream and beat on high for 3-4 minutes until light and fluffy. Spread onto crust (be sure it's cooled if you baked it), cover and refrigerate for at least 6 hours or overnight before slicing. Freeze if desired. Garnish with whipped cream and berries if desired.