Dutch Oven Bread is such a simple way to make homemade bread. Making no knead bread in a dutch oven is just so easy, it's completely changed the way I think about baking bread! This Rosemary Bread with Sea Salt is simply perfect & tastes amazing. If you're looking for an easy bread recipe, this is it!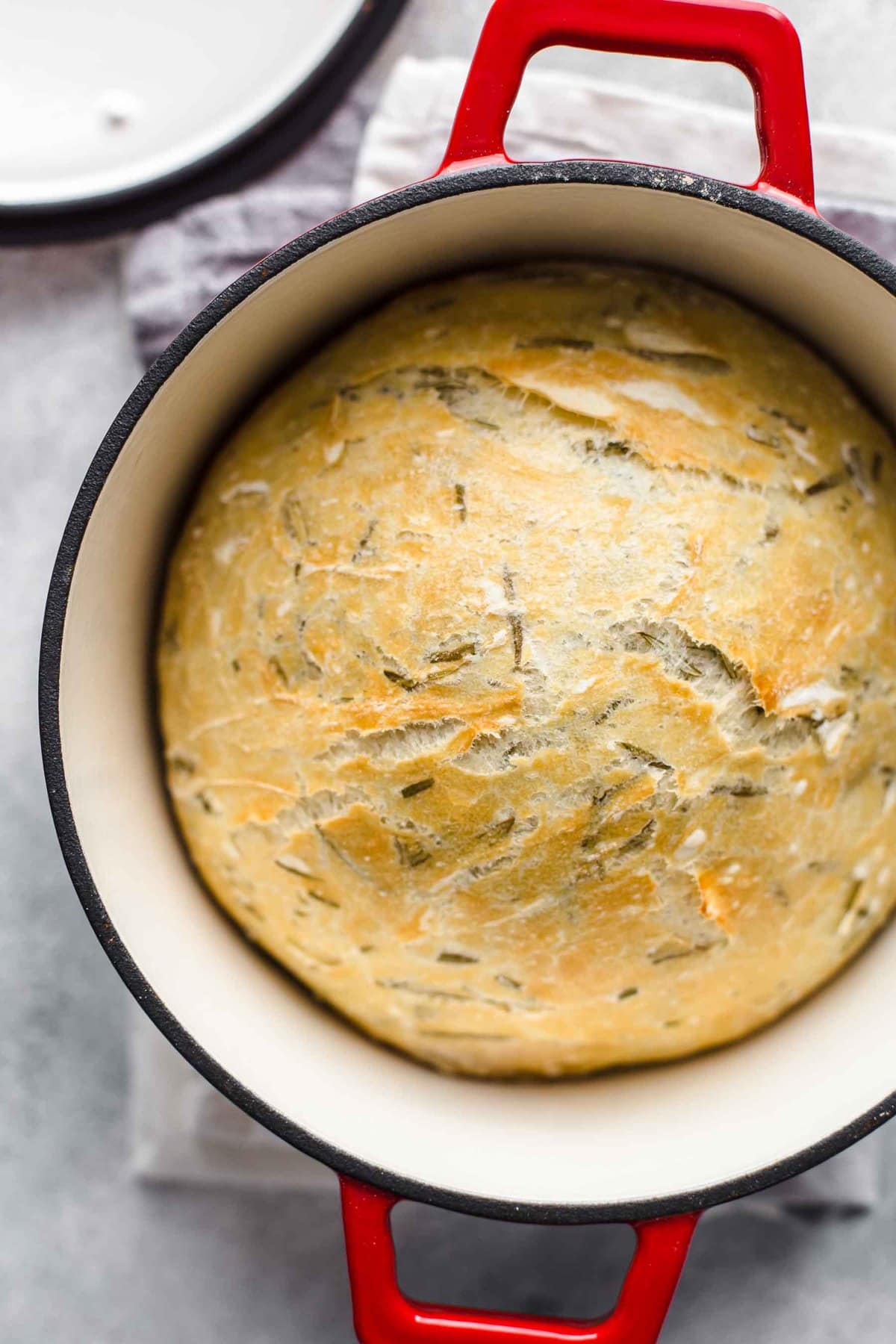 Dutch Oven Bread Recipe
This dutch oven bread recipe is simply delicious. Sea Salt and Rosemary Bread baked in a dutch oven, no kneading required. So easy!
Making homemade bread used to terrify me. I'm not the World's Best Baker by any means, and bread just always seemed like the ULTIMATE in baking. It takes time, it takes patience, and it seems like it takes a little bit of magic too. Sounds like something SO not for me…
But this amazing Dutch Oven Bread recipe has changed my view of bread-making! No knead bread in a dutch oven…THAT sounds like something that IS for me. I gave it a whirl and it worked beautifully! This Sea Salt and Rosemary bread turned out just perfect. The perfect flavor, the perfect texture, the perfect bread.
Baking bread in a dutch oven is the way to go if you're intimidated by homemade breads like I am. This easy bread recipe will make all that fear disappear, so you can have fresh, flavorful bread in your home without stress!
This Rosemary Dutch Oven Bread recipe is so simple. Baking bread in a dutch oven is going to make your life so much easier!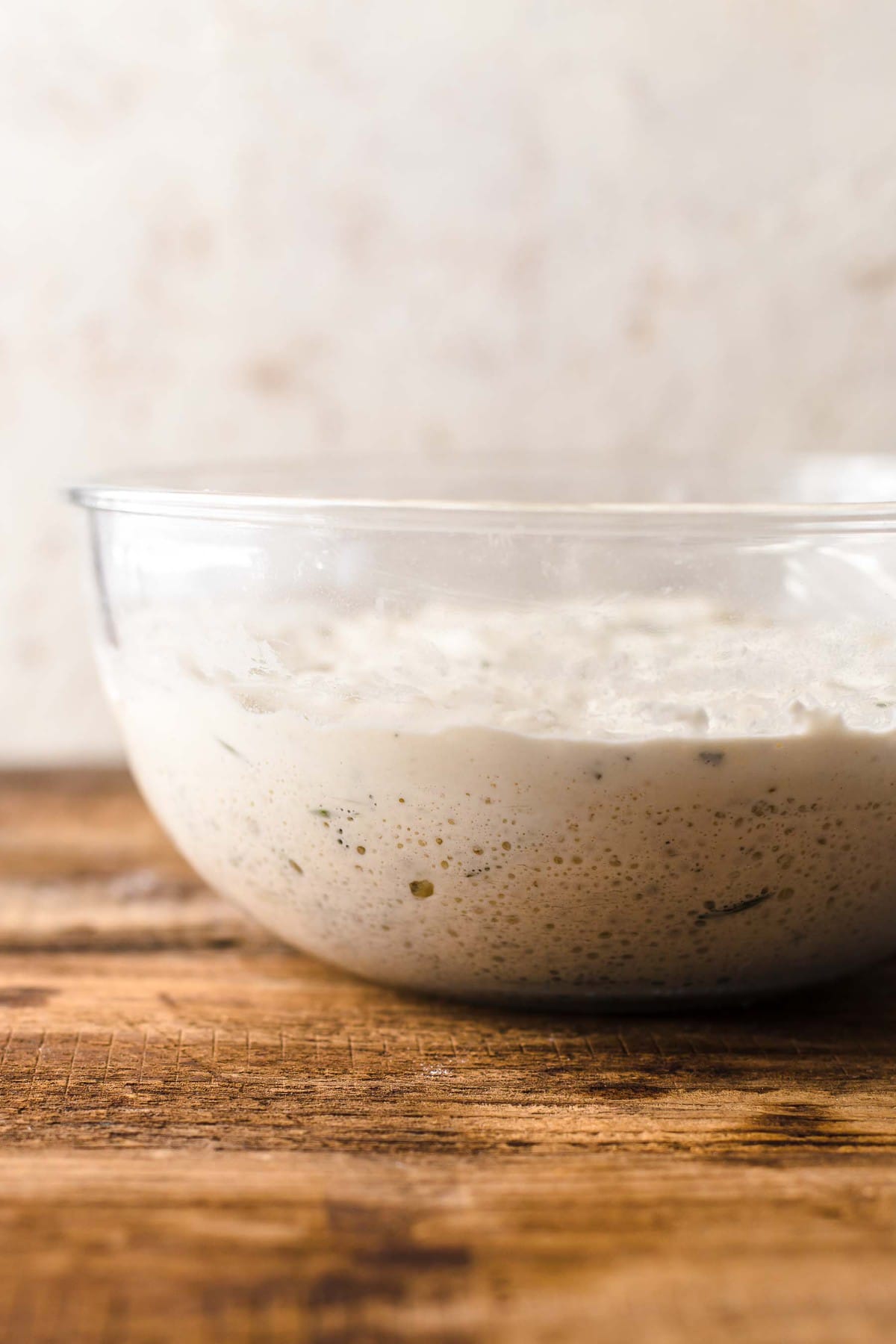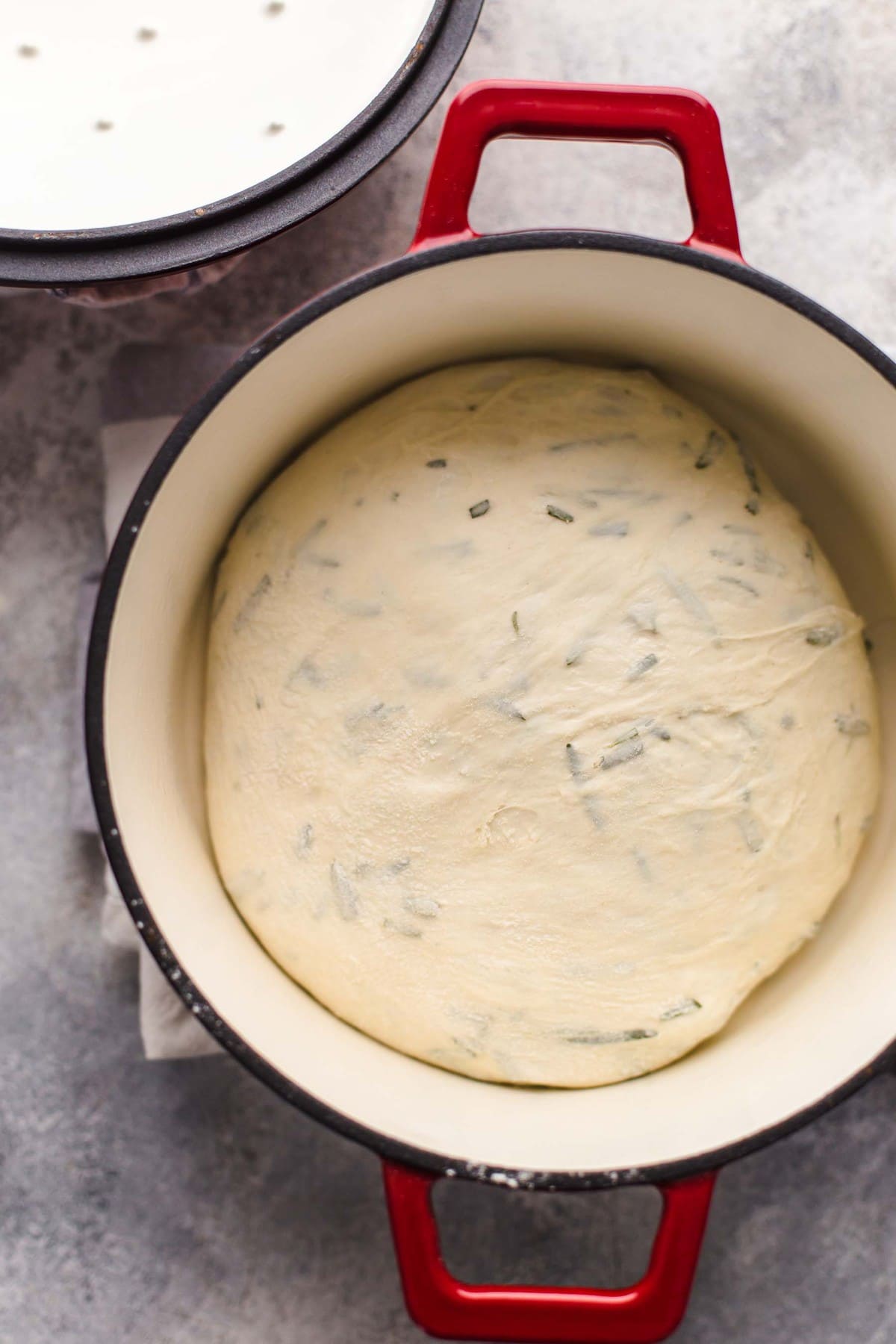 Rosemary Bread
This crazy simple Rosemary Sea Salt Dutch Oven Bread is 100% fool-proof. It's easy AND delicious, so you'll have an easy bread recipe to whip up any time you need to impress someone. What is it about baking bread at home that makes someone seem like they have their whole life figured out? Or is that just me…
Anyways, this rosemary bread is so fresh and so flavorful. It has that perfect combination of crunchy on the outside, soft on the inside. And the sea salt really adds to the overall flavor. Slice it up, add a pat of butter, and enjoy!
Bonus: your house will smell amazing. Holy yum!
No Knead Bread in a Dutch Oven
Baking bread in a dutch oven is easy! Although it does have to sit and rise overnight (it needs a good 12 hours), the prep for it is basically nothing. So there's no fussing around in the kitchen to worry about. There's no need for kneading with this easy dutch oven bread recipe. Just let the dough rise, form it into a ball, set it in the dutch oven, and bake!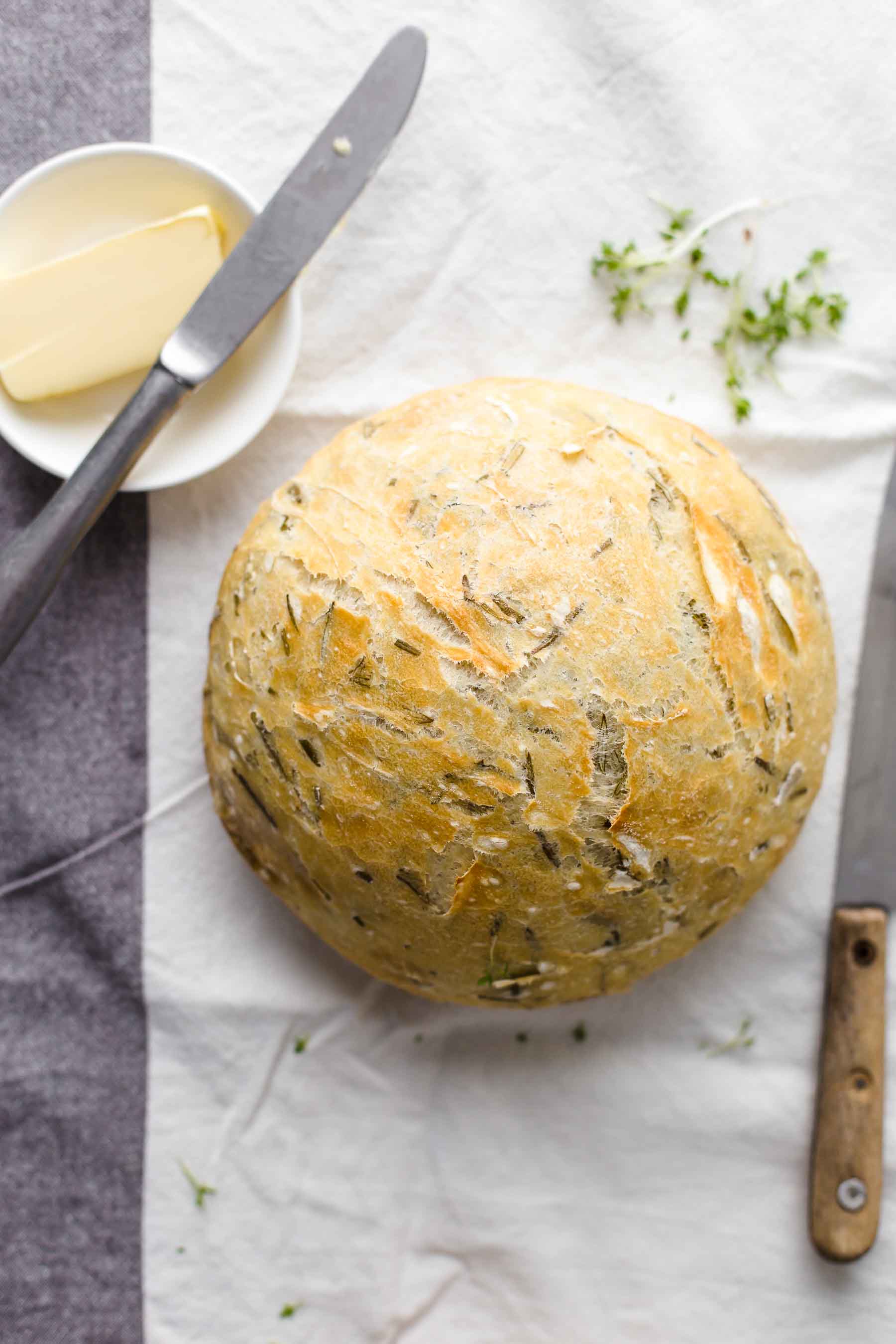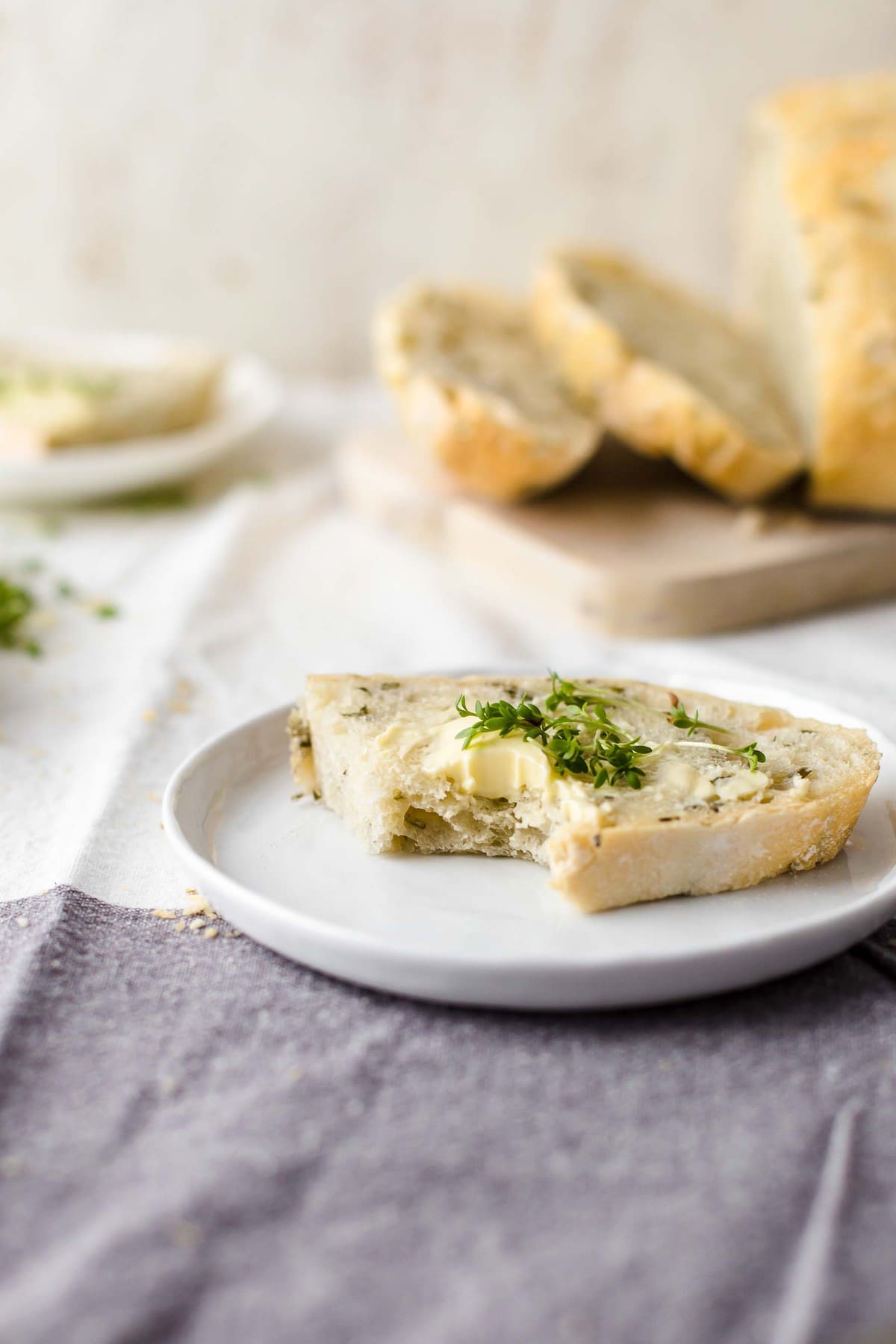 Baking Bread in a Dutch Oven
This no knead dutch oven bread recipe couldn't be easier. I'm using my 4 1/2 Quart Dutch Oven (Cherry Red, it's a beaut!) for this recipe. All you need to make this rosemary bread is all purpose flour, water, yeast, sea salt, and fresh rosemary. Simple, fresh, delicious!
How to Make Rosemary Bread in a Dutch Oven:
Mix flour, sea salt, rosemary, and yeast together in a mixing bowl. Then use a spatula to mix in the water.
Cover the bowl and let it sit out overnight to rise (give it at least 12 hours).
When you're ready to bake, preheat the oven to 450°F and let the dutch oven preheat as well.
Flour your work surface and your hands. Remove the dough from the bowl and form it into a bowl. Place the dough into the preheated dutch oven.
Bake 30 minutes with lid on (450°F), then remove the lid and continue baking 15-20 minutes.
Let the bread cool, slice and serve! I love snacking on this rosemary bread, or serving it with soup or pasta. 
Easy Bread Recipes
I'm a big fan of easy bread recipes. This dutch oven bread is the ultimate easy bread, but I have plenty of other breads, rolls, biscuits, etc. to share as well.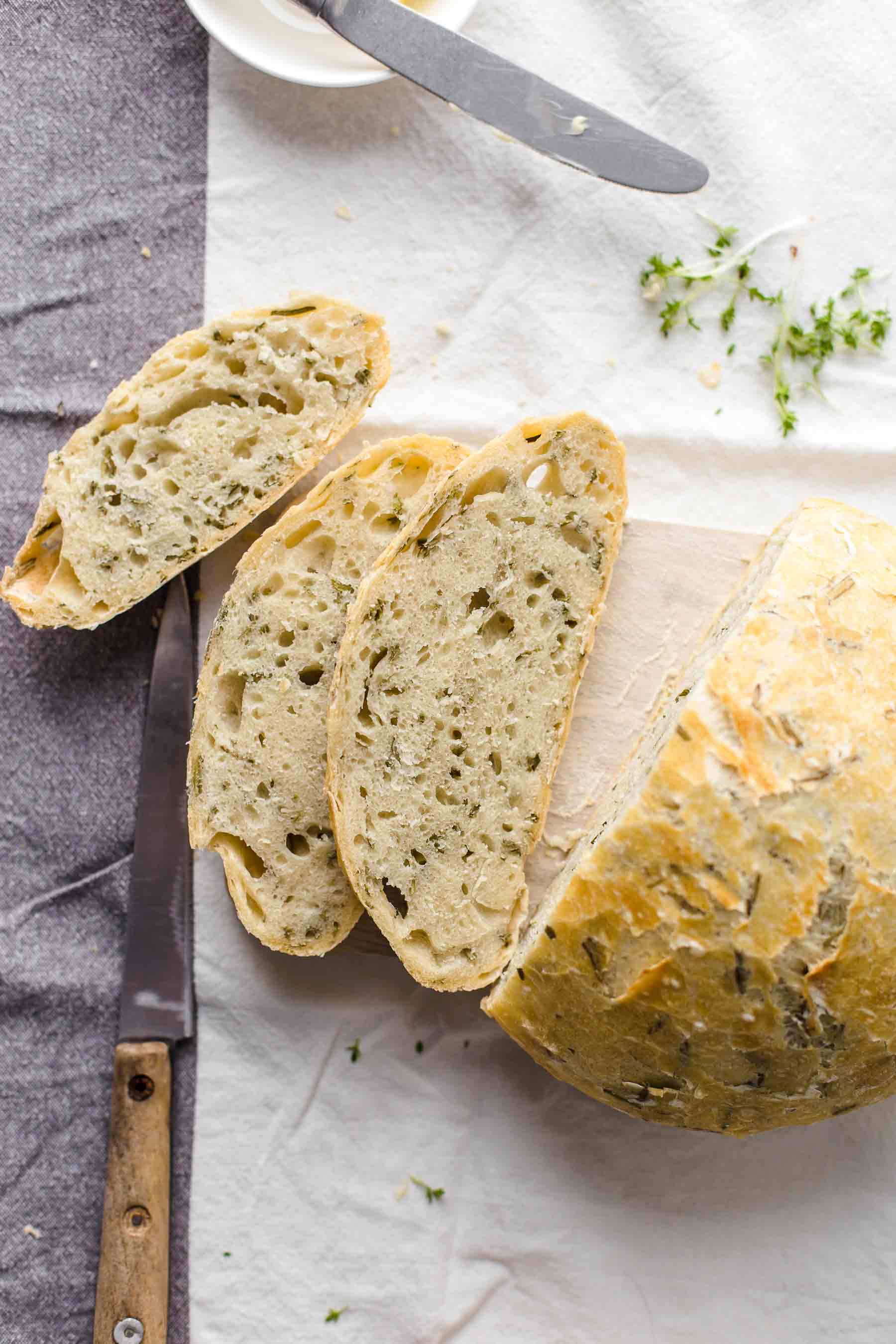 Make this easy dutch oven bread next time you need some fresh bread in your life. Sea Salt and Rosemary Bread is just SO delicious!
Watch the Video & See the recipe card for details on how to make Rosemary Dutch Bread Oven. Enjoy!
If you like this dutch oven bread, try these other dutch oven recipes: