This No Knead Honey Oatmeal Bread is easy to make, and is as perfect for your holiday table as it is for making sandwiches. Baking bread from scratch has never been easier!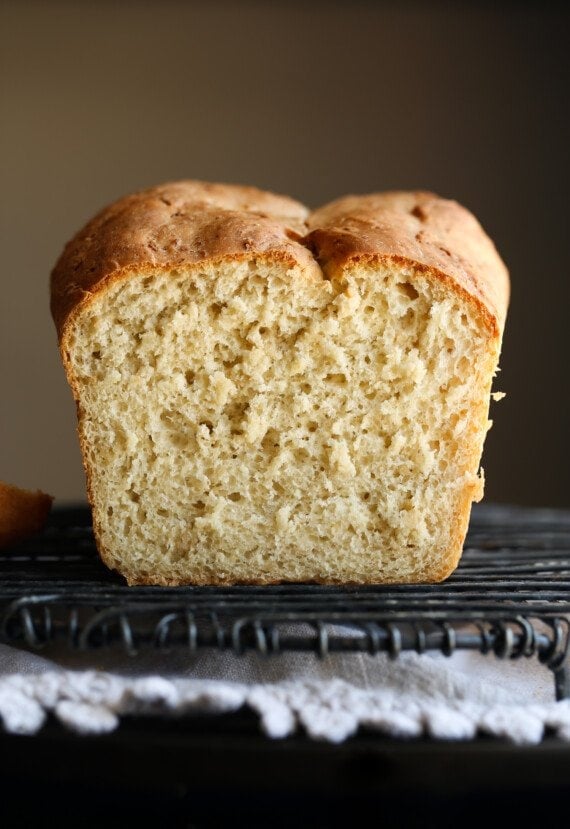 This Honey Oat Bread Is Soft And Sweet!
Why buy bread from the store when you can make it yourself? Homemade No Knead Honey Oatmeal Bread tastes so much better than the processed loaves you're used to. It has hints of sweetness, extra fiber and protein from the oats, and it's SO soft.
Honey oat bread has many uses in this household. It makes a great breakfast with a little bit of butter, but it also makes a fabulous peanut butter and jelly sandwich that you can enjoy for lunch! This sweet oat bread works as a side dish at dinnertime, too, with meat, soups, stews, and more.
The bread-making process for no knead bread (or any bread recipe really) is a little bit lengthy, but it's nothing you can't handle, and you'll love the results!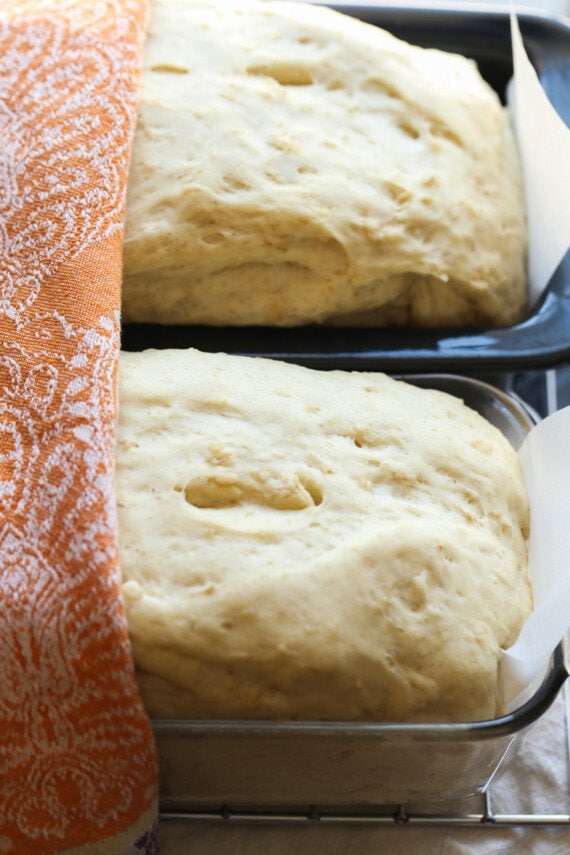 What is No Knead Bread?
As you may have guessed, no knead bread is bread that you can make and bake without kneading the dough. Shocker, right? Kneading bread dough usually stretches and develops the gluten, which both eliminates air pockets and gives the bread texture. However, in this recipe, the gluten will develop while the dough rises.
Note: No knead bread dough is typically a wetter than regular bread dough.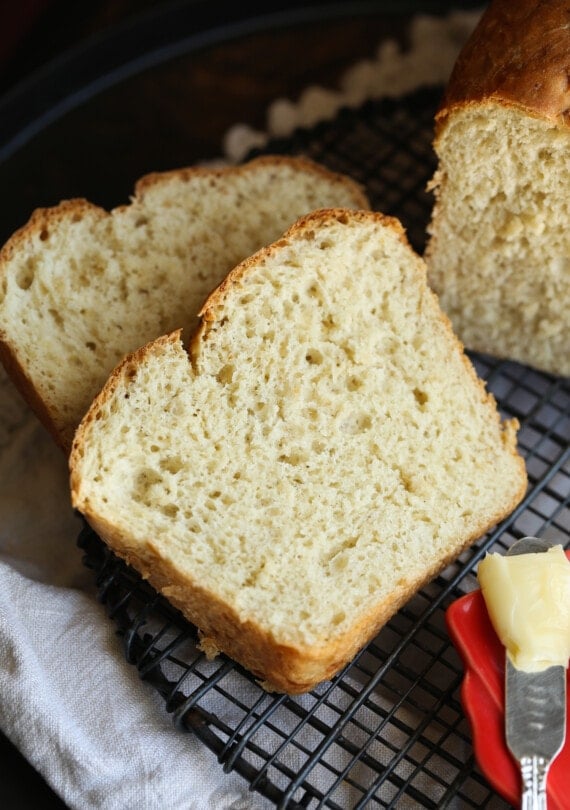 What You'll Need
Let's go over no knead bread ingredients – there are only 8 for you to gather!
Water: For boiling and dissolving the yeast in.
Butter: Cubed – you can use salted or unsalted, it doesn't really matter.
Honey: To add sweet flavor to the bread.
Oats: Use old-fashioned (rolled) oats, not quick oats.
Salt: If you use salted butter, feel free to reduce the amount a little bit.
Yeast: You'll need a couple packages of active dry yeast.
Egg: Let it come to room temperature.
Flour: I used all purpose flour, but you can use bread flour too.
How to Make No Knead Honey Oatmeal Bread
Honey oatmeal bread is great because you don't have to knead it, as the name implies, and you also don't need a bread machine to make it. You will want a stand mixer, though, to get started:
Boil Water: In a small saucepan bring 1 cup of the water to a boil. Stir in the butter, honey, oats, and salt and remove from the heat. Allow the mixture to cool until it reaches a temperature of 110°F – 120°F.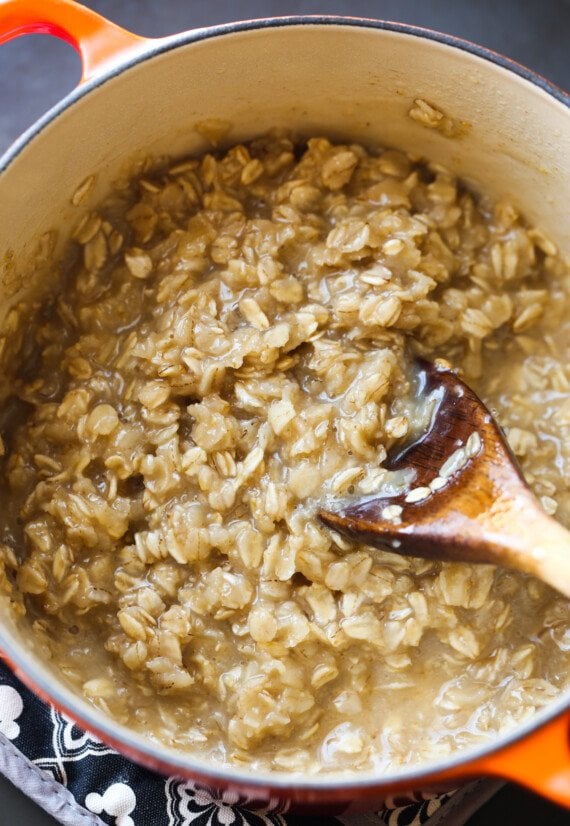 Dissolve the Yeast: Heat the remaining water to a temperature of 110°F – 120°F. Pour the warm water into the bowl of your stand mixer fitted with the paddle attachment. Sprinkle the yeast on top and allow it to dissolve, about 5 minutes.
Form the Dough: Add the egg, the cooled oat mixture, and 2 cups of flour into the dissolved yeast and mix on low until combined. With the mixer still on low add in enough remaining flour until the dough forms a soft dough. It will hold together as a ball, but will be sticky. (I usually add about 4 1/2 cups flour total).
Coat a Large Bowl with Nonstick Spray: Place the dough in the bowl, cover it with a clean towel and place in a warm, draft-free place for 1 hour, or until the dough doubles in size.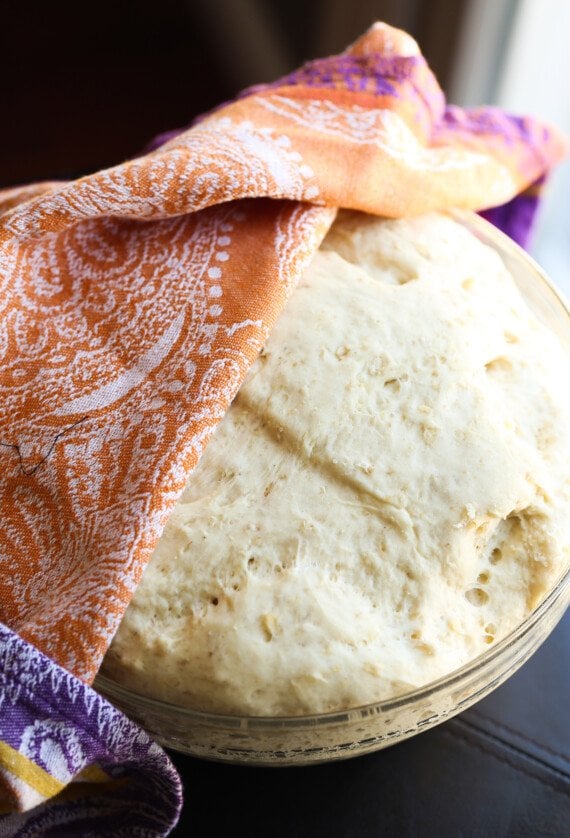 Divide the Dough and Let Rise: Coat 2 8×4- inch loaf pans with nonstick spray (and line with parchment paper if desired). Punch the dough down and divide it into 2 equal portions. Place the dough into the prepared loaf pans, cover with a towel and allow the dough to rise again for 30 – 40 minutes in a warm, draft-free place.