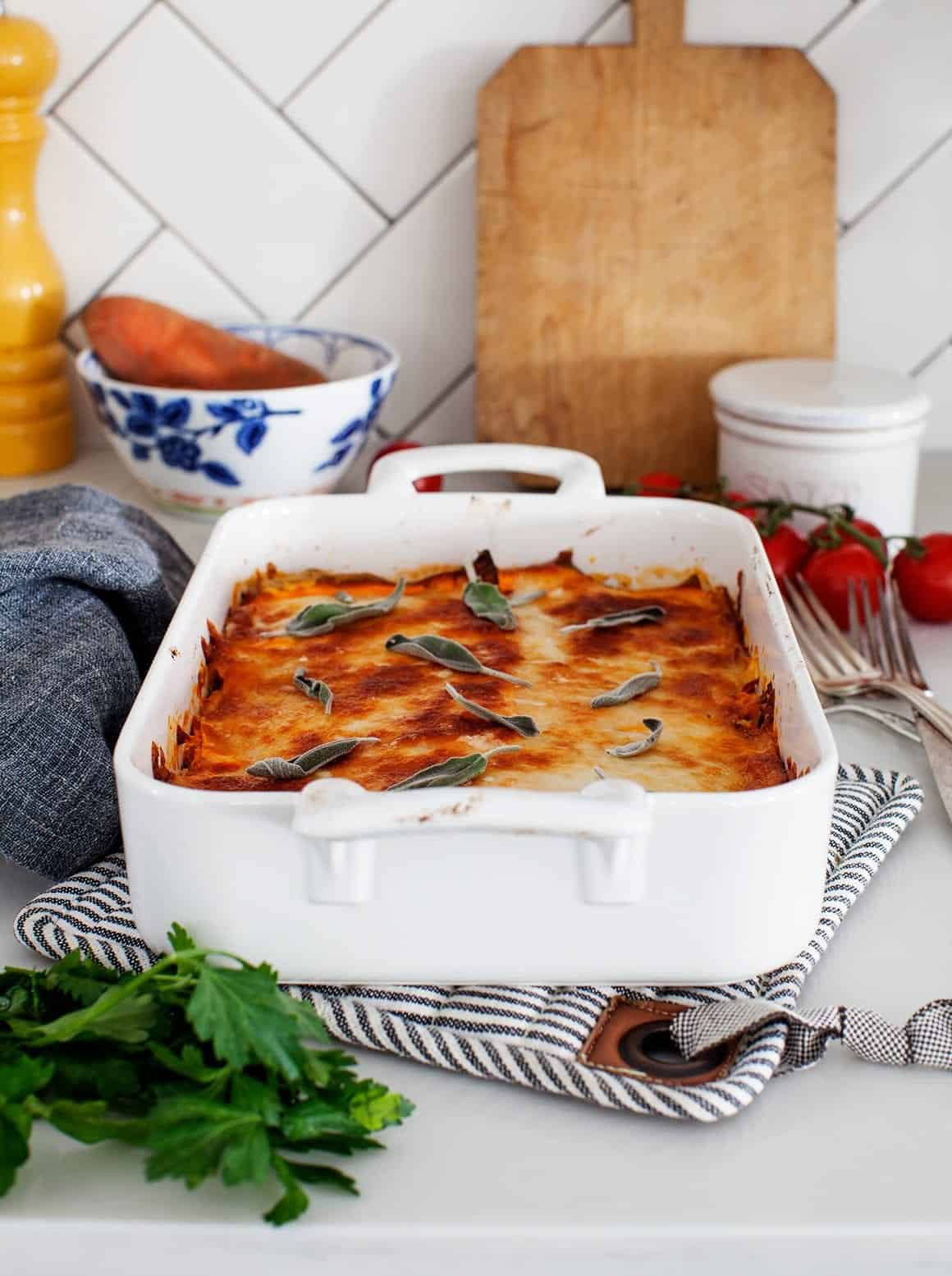 I'm so excited about this recipe because, who doesn't love lasagna in the middle (err… beginning) of winter! Growing up, lasagna was my favorite food. Even though my mom made it pretty darn often, I was always excited when lasagna night came around. But this version of lasagna is no ordinary lasagna because instead of noodles, I used paper-thin sheets of sweet potato! It's what veggie dreams are made of.
I hope Santa was good to you last week… if you found a KitchenAid® Artisan® Stand Mixer under your tree, do yourself a favor and go get this Vegetable Sheet Cutter Attachment as a gift to and from yourself. It's so fun! Just look at that long sheet of sweet potato!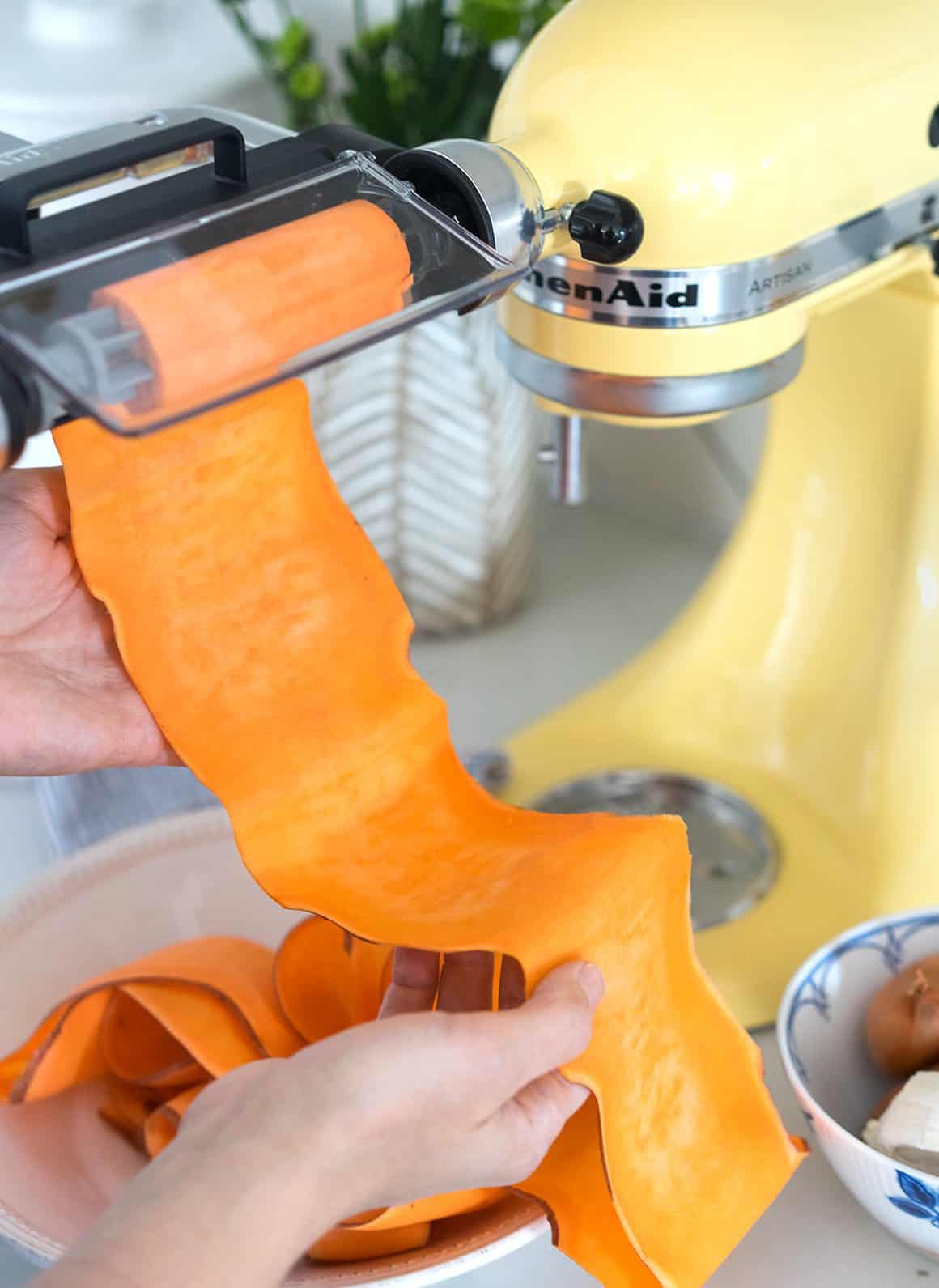 Since these noodles aren't noodles, I had to do some experimenting to figure out what works and what doesn't as a filling. The biggest takeaway is that the filling can't have too much moisture. This means using one layer of marinara sauce at the bottom instead of diced canned tomatoes throughout. It also means making a mixture of ricotta and feta cheese (rather than just ricotta), which helps to thicken up the filling. The feta also has the added benefit of adding a tangy bite, which is so delicious in contrast to the earthy sage throughout the filling.

Also, you can see in the photo above that my sweet potato noodles are not all the exact same size… nor did I peel them. Since sweet potatoes come in different shapes and sizes, you're not going to get perfectly rectangle noodles (although if you get a short/fat potato, you'll get really close) – just get crafty while piecing them together however they fit together best. I used 3 smaller strips of "noodles" for the first layer, and wider strips for the middle and top layers. No wasted food scraps here (any extra scraps we did have we gave to the pups who love sweet potatoes).


This recipe could not be more simple – from start to finish, it took me less than 30 minutes to assemble. The noodles don't need to be pre-cooked, so all you have to do is mix together the filling and layer this up. A warm and cozy dinner (or in our case, lunch, after we took these photos!) awaits.





What should I noodle next? Sweet potato manicotti? Maybe a multi-root vegetable lasagna?
 



No-Noodle Sweet Potato Sage Lasagna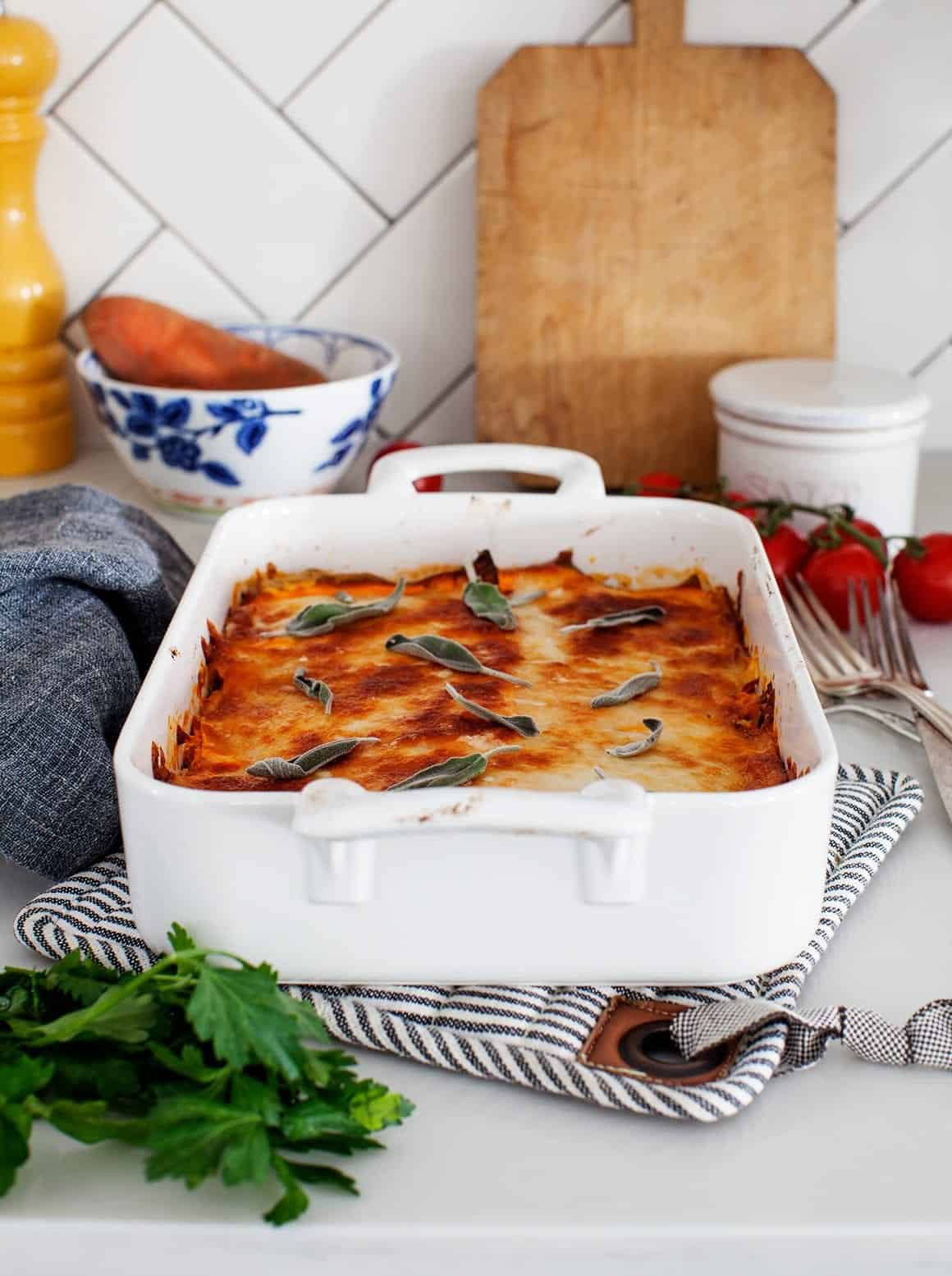 1 (15-ounce) container whole milk ricotta cheese
½ cup crumbled feta cheese
2 garlic cloves, minced
¼ cup chopped fresh basil
2 tablespoons chopped fresh sage, more for the topping
¼ teaspoon red pepper flakes
Sea salt and freshly ground black pepper
Extra-virgin olive oil, for drizzling
½ cup marinara sauce (homemade or store-bought)
2 sweet potatoes, cut paper thin (enough for 3 layers)*
2 cups fresh baby spinach
½ to ¾ cup shredded mozzarella cheese
2 tablespoons freshly grated Parmigiano cheese
¼ cup chopped parsley, optional
Preheat the oven to 375°F.
In a medium bowl, mix together the ricotta, feta, garlic, basil, sage, red pepper flakes and a few generous pinches of salt and pepper.
Lightly grease an 8×8 or similar size baking pan with olive oil. Spread the marinara sauce over the bottom of the baking dish and top with the first layer of sweet potato slices. Spread with half of the ricotta cheese mixture and add a layer of 1 cup baby spinach. Add the next sweet potato layer, the remaining ricotta cheese, and the remaining spinach. Top with the last layer of sweet potatoes, the shredded mozzarella, and the Parmigiano cheese.
Bake for 35 minutes, uncovered. If cheese starts browning too much, cover the pan with a sheet of aluminum foil. Add the remaining fresh sage during the last minute of baking time.
Remove from the oven and let sit for 15 minutes before slicing. Sprinkle with parsley, if using.
note: If your sweet potatoes are not paper thin, you will need to increase the baking time in order for them to become tender (and cover for half of the total baking time).
another note: This lasagna is not very tall after it bakes since the vegetables cook down a bit. This yielded 4 large servings for us (or 6 smaller servings) – if you want to bulk this up and increase the serving #, you could add 2 layers of regular lasagna noodles in addition to the sweet potato layers.
3.4.3177
This post is in partnership with KitchenAid®. Thank you for supporting the sponsors that keep us cooking!