Nutella Stuffed Chocolate Chip Cookies are a MUST MAKE! They are a brown butter chocolate chip cookie recipe with a thick, gooey layer of Nutella baked right inside.
I think I might have found my calling. Who's onboard with a whole series on this site with stuffed cookies? I mean, I feel like you guys like them, I like them, and the possibilities are ENDLESS! I've done a few pretty popular stuffed cookie recipes here on my site:
And when I really started jotting down ideas for stuffed cookies, the list kept going and going! I know you guys LOVE chocolate chip cookies, and while there is a time and place for the classic, let's all agree that jazzing up a chocolate chip cookie by stuffing all sorts of yumminess inside is not an idea I would turn down.
So today we embark on a whole new journey. The Stuffed Cookie. Get your happy pants ready, because in the coming months I am fully prepared to test their elastic. Who's down?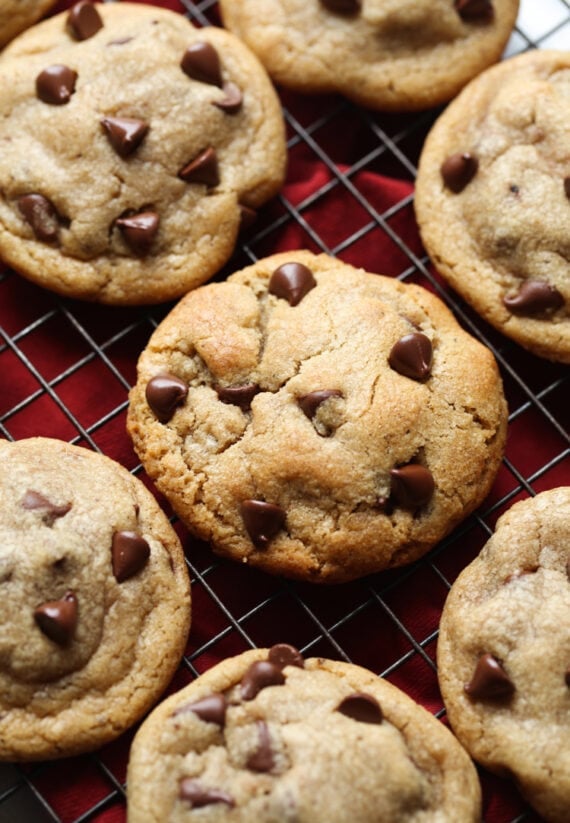 How To Make Nutella Stuffed Cookies
SO many years ago I posted a recipe for Nutella Filled Chocolate Chocolate Chip Cookies which were definitely a good idea back in 2013. I should really go back in and recreate that recipe with shiny new pictures, but I digress. Anyhow, I took the method I used to stuff the cookies with Nutella, but switched the cookie into a Brown Butter Chocolate Chip Cookie, a lot like the most popular cookie recipe in my book!
Ultimately what we have here today is a Gooey Nutella Stuffed Brown Butter Chocolate Chip Cookie…which sounds delicious, but doesn't roll off the tongue! Which is fine because you're going to be so busy eating these, you won't care what they're called!
How To Stuff Cookies With Nutella
This part is actually pretty easy! All you do is drop spoonfuls of Nutella onto a lined baking sheet and freeze the dollops! When you make your cookie dough, scoop out a portion, make a little "well" in the center. Place one of the frozen dollops off of the baking sheet and press into the center of a ball of cookie dough, making sure to form the cookie dough all around it, sealing it inside!
You can even place the Nutella in a zip-top bag with the corner snipped off  and squeeze it out onto the baking sheet to freeze.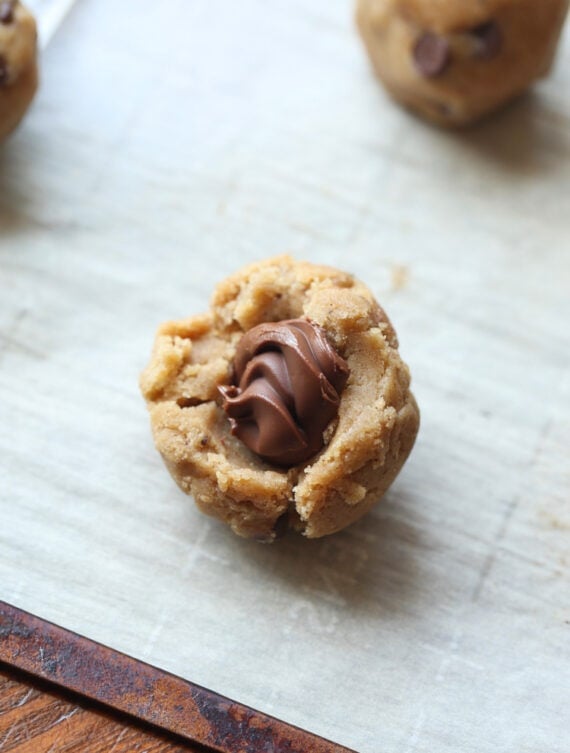 These amped up version of chocolate chip cookies are certainly worth the extra few minutes. Browning the butter pairs amazingly with the nutty flavor of the Nutella, and they would be OH SO AMAZING with a little flaked seas salt sprinkled on top!
Can You Freeze These Nutella Stuffed Cookies?
Yes, absolutely! You can freeze them before OR after baking!
If you would like to freeze the dough before baking just do all the steps of the recipe 1-7 without preheating the oven. Once you have the dough balls prepared, place them all on a baking sheet and freeze them for at least 30 minutes, until they are frozen. Then place all the dough balls into a zip-top bag and freeze for up to 30 days! When you're ready to bake them just place them on the baking sheet, and pick up where you left off…BUT add a few minutes to the bake time if you are baking them from frozen.
If you would like to freeze these after baking them, just let them cool completely, and then stack them into a large plastic container. Use a piece of parchment to separate the layers. All the cookie to thaw out at room temperature before eating. You can even pop them in the microwave for a few seconds once they are thawed to get that gooey layer of Nutella! You could even bake them at 350°F for 3-4 minutes to warm them up as well!
Looking for More Nutella Recipes? Try These: