This is the recipe you want if you're craving classic banana bread flavor and texture, but want as little mess, drama, and equipment as possible. It's the laziest one bowl banana bread I know, still with big pay-off. The promise – no mixer, a single bowl, classic flavor, moist and tender crumb. If you have three ripe bananas on hand, chances are good you have the rest of the ingredients too.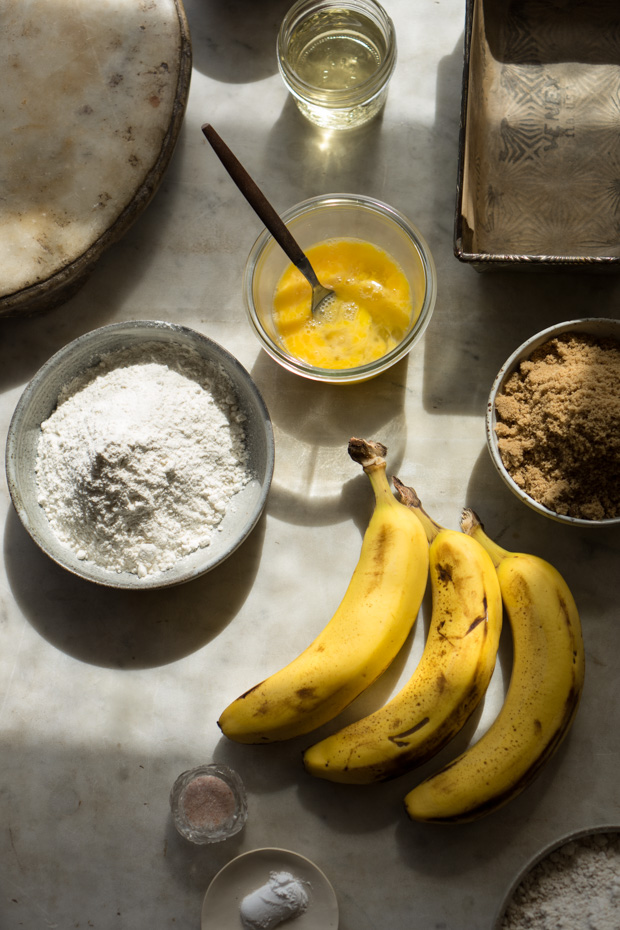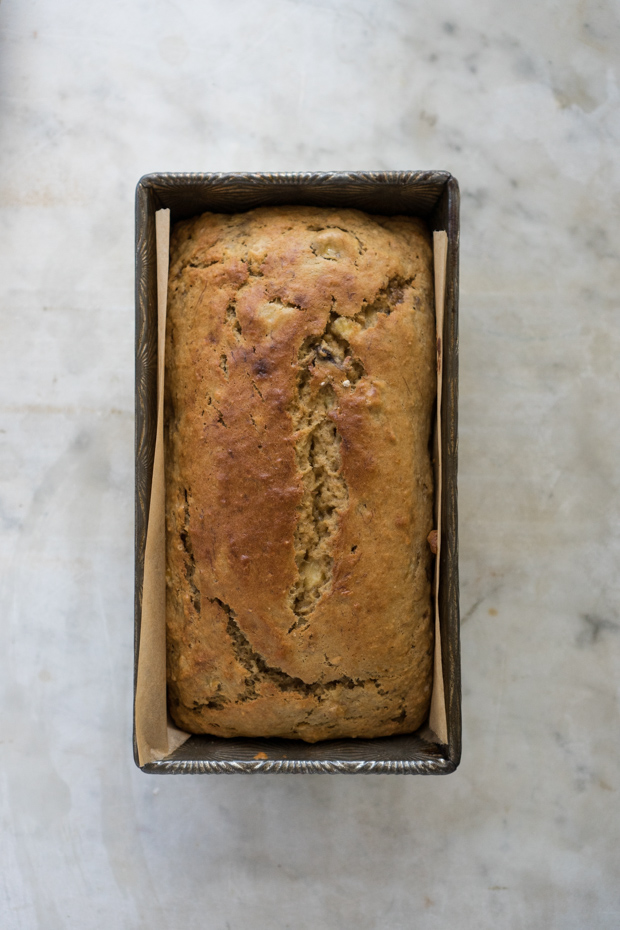 This is a straight-ahead banana bread, or as straight-forward as I get. I like my baked goods to have rustic wholesomeness to them, which is why you see a portion of whole wheat flour and brown sugar here. It makes your banana bread extra special and delicious (when compared to versions with white sugar and white flour). The recipe evolved to its current lazy-day state from this Melissa Clark gem. I skipped any add-ins for simplicity's sake here, and would recommend a banana-only first pass, but you can absolutely add ingredients like toasted nuts, chocolate chunks, citrus zests, herbs, toasted coconut, glazes, etc.
Also(!), if you like this, I'd be willing to bet you'll also like these banana-packed Buttermilk Berry Muffins.
I tend to have leftover coconut milk on hand, so that is what I use here (along with coconut oil). They both compliment banana beautifully, but I offer up a range of easy, everyday substitutions in the ingredient list if you don't have either of those on hand.
1 1/2 cups / 12 oz / 340 g mashed, RIPE bananas (~3 bananas)
1/3 cup / 80 ml melted coconut oil (or melted butter)
3/4 cup / 4.5 oz / 125 g dark muscovado or dark brown sugar
1/4 cup / 60 ml full-fat coconut milk (or yogurt, or sour cream)
2 large eggs, lightly beaten
1 teaspoon vanilla extract
1 cup / 4.5 oz / 125g all-purpose flour
1 cup / 5 oz / 140g whole wheat flour
3/4 teaspoon baking soda
1/2 teaspoon fine grain sea salt
Preheat the oven to 350°F, and place a rack in the center. Oil a 9-by 5-inch (23 x 13 cm) loaf pan, or equivalent.
Place the mashed bananas in a large bowl. Stir in the coconut oil, and then the brown sugar and coconut milk. Add the eggs and vanilla, and stir until well combined. Add the flours, baking soda, and salt (sprinkling the baking soda and salt across the surface of the batter), and mix just until the batter combines, avoid over-mixing.
Pour the batter into the prepared pan and bake until golden brown, about 50 minutes. Transfer the pan to a wire rack to cool in the pan for 10 minutes, then turn the loaf out of the pan to cool completely. Slice, and enjoy!
Serves 10.
Prep time: 10 min –
Cook time: 50 min
Print Recipe