Ever wanted the chewy, fudgy gloriousness of brownies in cookie form (if you haven't, WHAT IS WRONG WITH YOU)? Look no further! These insanely delicious one-bowl brownie cookies are amazing and completely irresistible!
I'm excited about today!
Not only am I sharing with you one of the most divine cookie recipes on the planet…
…but I'm also partnering with some other bloggers to raise awareness about research and treatment for childhood cancer (more details down below!).
These cookies, you guys.
They are definitely up there in probably my top 5 favorite cookies of all time.
They are insane. Fudgy. Chewy. Ultra-chocolatey.
And just like the best desserts? They are AMAZING straight from the freezer (such dangerous info).
If the cookies/recipe look a bit familiar to you, you aren't imagining things.
The original recipe was published in the eCookbook I put out several years ago, but I recently decided it was high time to let the entire world have access to these decadent brownie cookies.
I'm not exaggerating when I say that these are some of my favorite cookies ever.
Everything about them speaks to my soul.
Easy? Check (we're talking one bowl, one wooden spoon kind of easy)
Soft and fudgy? Double check.
Decadent and richly chocolate? Yep. Check, check, check.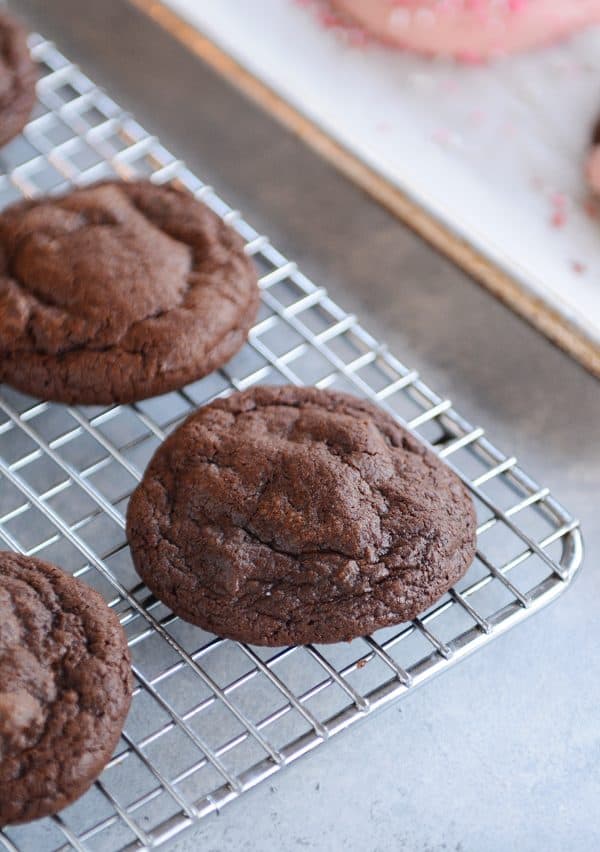 If you can melt chocolate and butter, add an egg and a few dry ingredients, you've got yourself some of the best cookies on the planet.
And look how cute they are fancied up a bit?
These clearly have a Valentine's day vibe, but you could put your own spin on how to dip and sprinkle.
How elegant would they be dipped half in white chocolate? And then drizzled with dark chocolate. Or sprinkles.
The only caution I can give is to not let the adornments overshadow the simple gloriousness of the fudgy brownie cookie itself.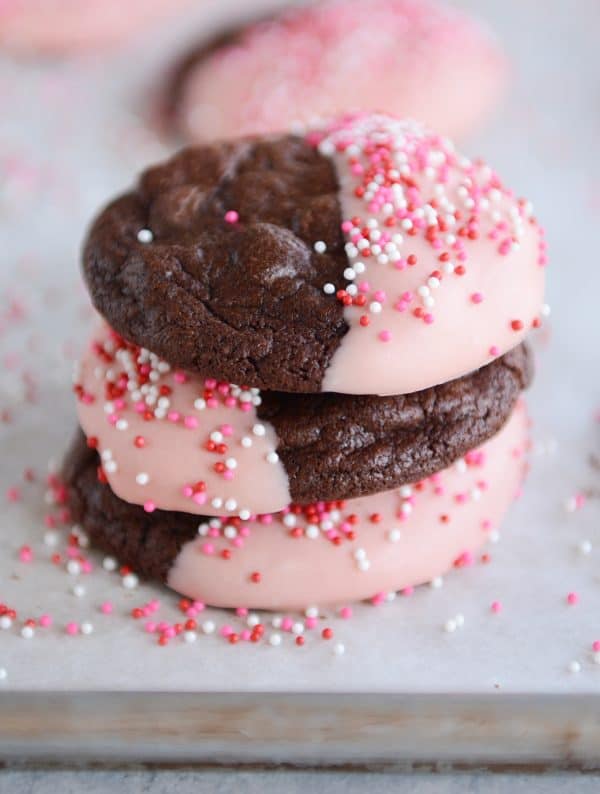 These brownie cookies have been a staple in our lives (and freezer) for years and years.
I'm just so happy to finally be sharing them with every last one of you. If you haven't made them out of the eCookbook yet, let now be the time.
And if you have made them, let me know what you think (and then congratulate yourself for being head of the game by making another batch!).
You can never have too many brownie cookies. That is a guiding theme of my life.
I've made these cookies for so many events over the years, and they are met with rave reviews every single time, which should come as absolutely no surprise.
An intensely chocolate, fudgy, cookie that's basically a brownie in cookie form? Yeah, what's not to love?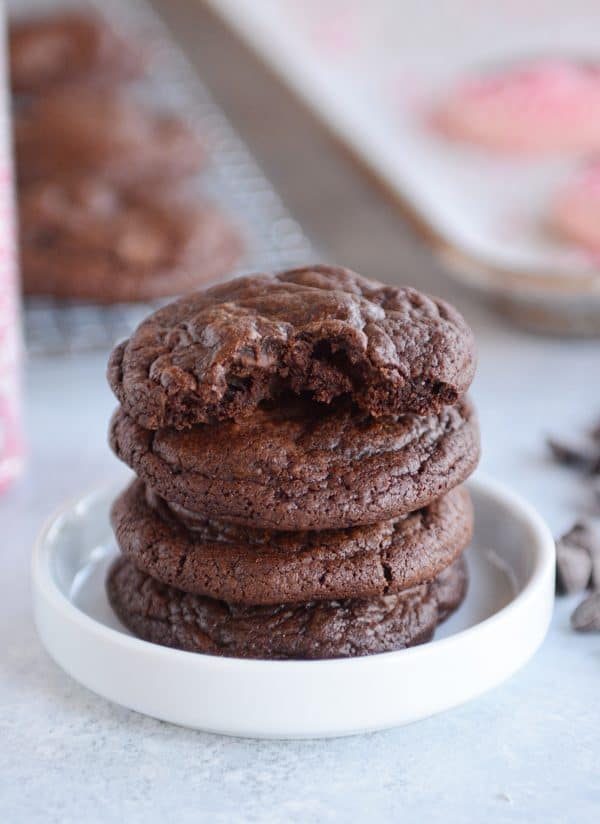 Also, today (and probably most importantly!), I'm partnering with some fellow food bloggers to raise awareness and much-needed funds for childhood cancer research and treatment.
Although I haven't had to fight any difficult cancer battle with my children, and hope I never have to, cancer has played a role in my life, personally, and raising awareness about it in any form is extremely important to me.
Today, many food bloggers around the internet are posting a cookie recipe in support of the Cookies for Kids' Cancer organization in the hopes that it will raise awareness and donations for this amazing organization.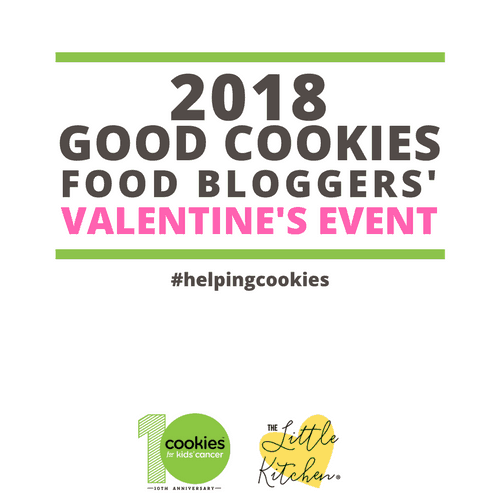 Julie at The Little Kitchen has organized this awesome event with the hopes of raising more than $12,000 (to exceed what was raised last year)! There are also some amazing companies (OXO, Mediavine, Dixie Crystals) that are doing a donation match!
You can learn more about the non-profit Cookies for Kid's Cancer HERE or donate HERE. I donated last week to this wonderful cause, and I'm excited to see what more can be done for childhood cancer research and treatment!
Thank you! Life-changing things happen when we educate ourselves and band together to help.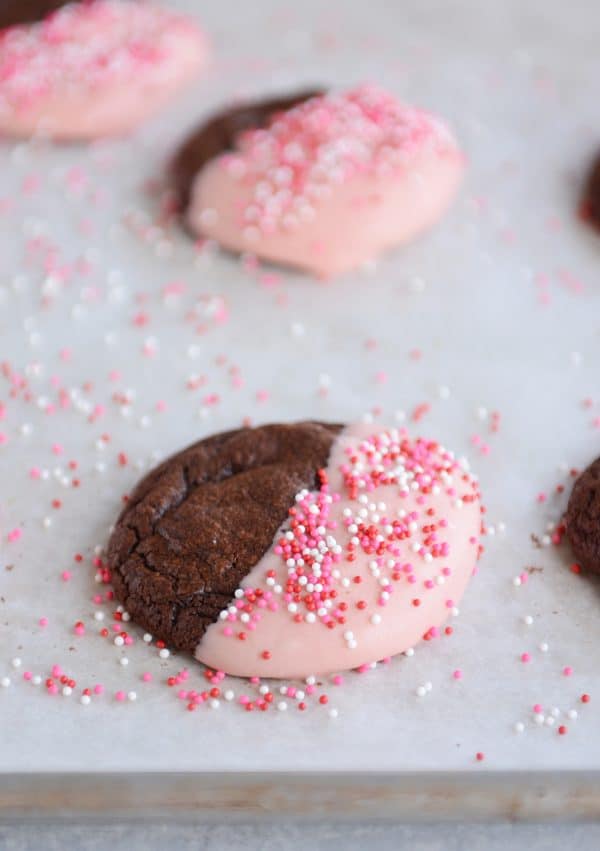 Yield: 24 cookies
Fudgy Brownie Cookies
Ingredients:
1/2 cup (4 ounces, 1 stick) butter
1 cup (6 ounces) semisweet or bittersweet chocolate chips (or chopped chocolate)
3/4 cup (5.25 ounces) light brown sugar
2 large eggs
1 teaspoon vanilla extract
1 cup (5 ounces) all-purpose flour
1/3 cup (1.25 ounces) natural unsweetened cocoa powder
1/4 teaspoon salt
1/2 teaspoon baking soda
1/2 cup (3 ounces) chocolate chips
Directions:
In a large microwave-safe bowl, melt the butter and bittersweet chocolate chips at 1-minute intervals, stirring in between, until melted and smooth (but not overly warm). Let the mixture cool until room temperature.
Add the brown sugar, eggs, and vanilla. Stir until well-combined.
Add the flour, cocoa, salt and baking soda. Gently stir until evenly combined (don't overmix). Stir in the chocolate chips.
Chill the dough for 1-2 hours until the dough is more firm but not so stiff you can't scoop out the cookie dough.
Preheat the oven to 350 degrees F. Line two large, rimmed baking sheets with parchment paper and lightly grease with cooking spray.
Scoop out heaping tablespoon-sized portions of dough and roll into balls (I use a medium #40 cookie scoop).
Place the cookie dough balls a couple inches apart on the prepared baking sheets (about 12 cookies per sheet).
Bake for 9-11 minutes until set around the edges but still soft in the middle (and there are a few cracks on top); don't overbake!
Let cool for a couple minutes on the baking sheets before removing to a wire rack to cool completely. Store covered at room temperature for a couple days or freeze for longer (these taste great straight from the freezer!).
Notes:
For a festive look, once the cookies are cooled, they can be half dipped in colored candy coating (or white, milk or dark chocolate) with sprinkles added before the chocolate has hardened.
If the cookie dough has chilled long enough that it's too hard to scoop out, let it sit at room temperature for 10-15 minutes to soften up a bit before scooping (or consider scooping the really soft cookie dough mounds onto a parchment sheet and refrigerating that way – then the little mounds of cookie dough could be picked up and rolled into balls after chilling).
All images and text ©Mel's Kitchen Cafe.
Recipe Source: from Mel's Kitchen Cafe (originally published in the eCookbook I created a couple years ago)
Here are the other blogger's posting cookie recipes today!
Yellow Heart-Shaped Rainbow Funfetti Cookies from Julie of The Little Kitchen
Peanut Butter Cookie Cake from Julie of Julie Blanner
Cherry Coconut Macaroons from Miranda of Cookie Dough and Oven Mitt
Brownie Cookies from Mel of Mel's Kitchen Cafe
No-Bake Chocolate Candy Cookies from Debi of Life Currents
Double Dark Chocolate Chery Black Forest Cookies from Jamie of Southern Revivals
White Chocolate Valentine Madeleine Cookies from Marlynn of Urban Bliss Life
Pillowy Soft Sugar Cookies from Stephie of Stephie Cooks
Steak with Peppercorn Sauce from Sonja of Ginger & Toasted Sesame
Creamy Beet Risotto from Rachel of Copper & Verdigris
Valentine's Day Chocolate Sugar Cookies from Denise of Chez Us
Red Velvet Donuts from Gwynn of Swirls of Flavor
Brown Butter Panbanging Cookies from Marybeth of babysavers
Gluten-Free Chocolate Kiss Cookies from Audrey of Mama Knows Gluten Free
Gluten-Free Red Velvet Crinkle Cookies from Brianna of Flippin' Delicious
Rose Meringue Cookies from Kirsten of Comfortably Domestic
Raspberry Chipotle Chicken Curry from Shashi of Savory Spin
Double Chocolate Meringue Cookies from Dee of Meatloaf and Melodrama
Food Bloggers' Valentine's Event from Sarah of Sarah Cooks the Books
Cream Wafer Cookies from Kelly of Live Laugh Rowe
White Chocolate and Raspberry Cookies from Wanda of My Sweet Zepol
Raspberry Fudge Cookies from Jessica of A Kitchen Addiction
Raspberry Cookies from Courtney of Know Your Produce
Syltkakor Raspberry Jam Cookies from Megan of Stetted
No-Bake Chocolate Tart from Rachel of Rachel Cooks
Heart-Shaped Chocolate Chip Cookies from Angela of About a Mom
Mexican Hot Chocolate Cookies from Lisa of TasteCookSip
Chai Latte Shortbread Hearts from Sue of It's Okay to Eat the Cupcake
Soft and Sweet Sugar Cookie Bars from Carlee of Cooking With Carlee
Strawberry and Cream Cookies from Ashley of A Cup of Charming
Cherry Cream Cheese Cookies from Lisa of Blogghetti
Galete Waffle Cookies from Shaina of Food for My Family
Almond Shortbread Cookies from Denise of addicted 2 recipes
Easy Strawberry Fudge from Chrysa of Thrifty Jinxy
Valentine's Day Mug Hug Cookies from Aimee of Southern From Scratch
Doughnut Sandwich Cookies from Bree of Baked Bree
Chocolate Nutella Cookies from Melissa of Modern Honey
Easy Crinkle Cookies from Amy of The Nifty Foodie
Chocolate Sugar Cookies from Becca of The Salted Cookie
Love Cake from Sara of Confectionary Tales
shop this postFeatured Products
(may include affiliate links)