Easy and healthy one pan baked teriyaki salmon and vegetables is a quick 30 minute meal with hearty vegetables and a tasty homemade teriyaki sauce.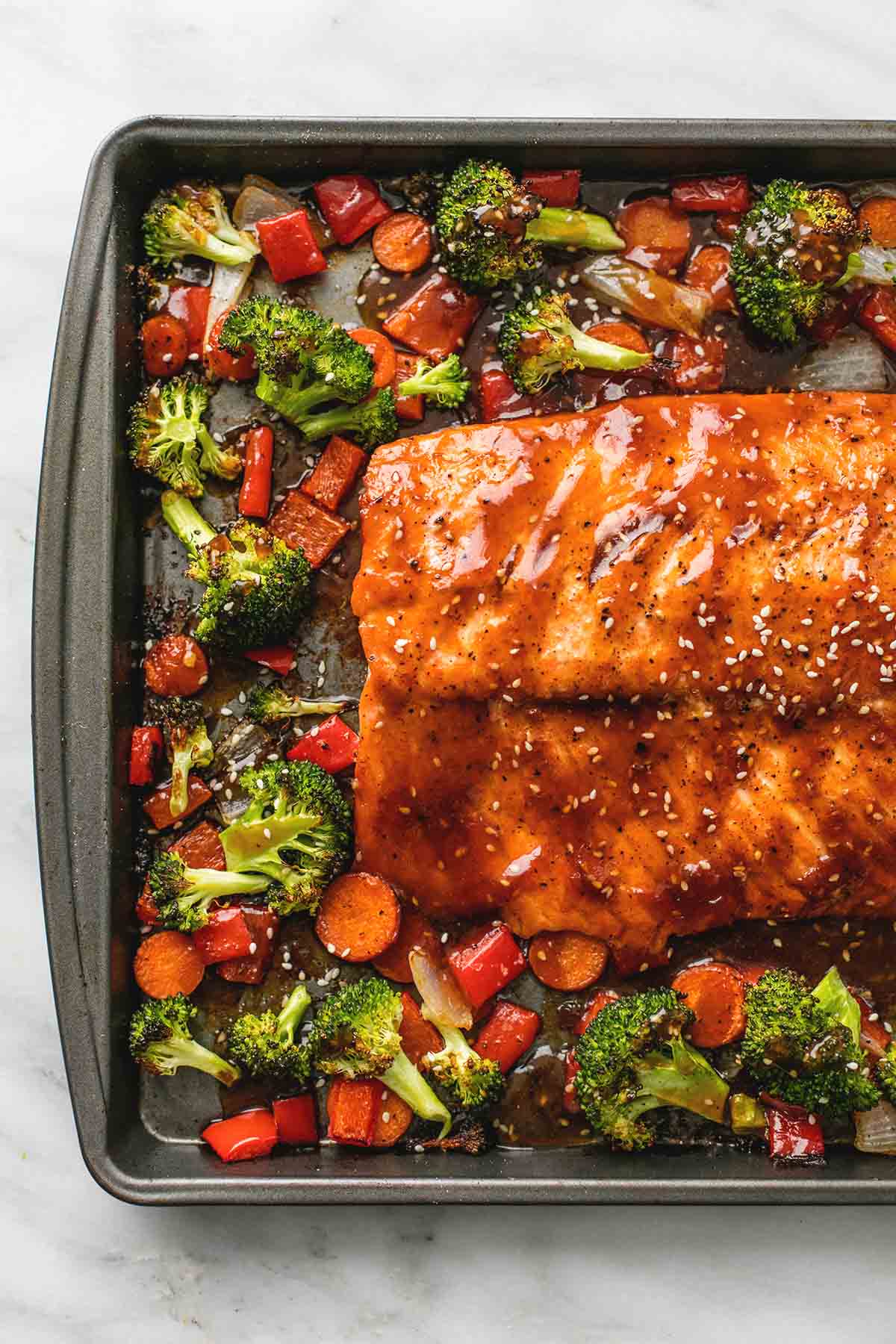 Two words for you: meal prep. Have you tried it? It's kind of amazing. We all get busy, really busy (especially mid-week – Wednesdays why must you be so rough on us.) so having some go-to already prepped and cooked meals waiting for you in the fridge can be a total sanity saver. This easy and healthy baked salmon and vegetables dish is made all on one pan so it's easy breezy cleanup and prep. Plus it's SALMON you guys, and you know how I feel about salmon. (insert ALL the heart eyes)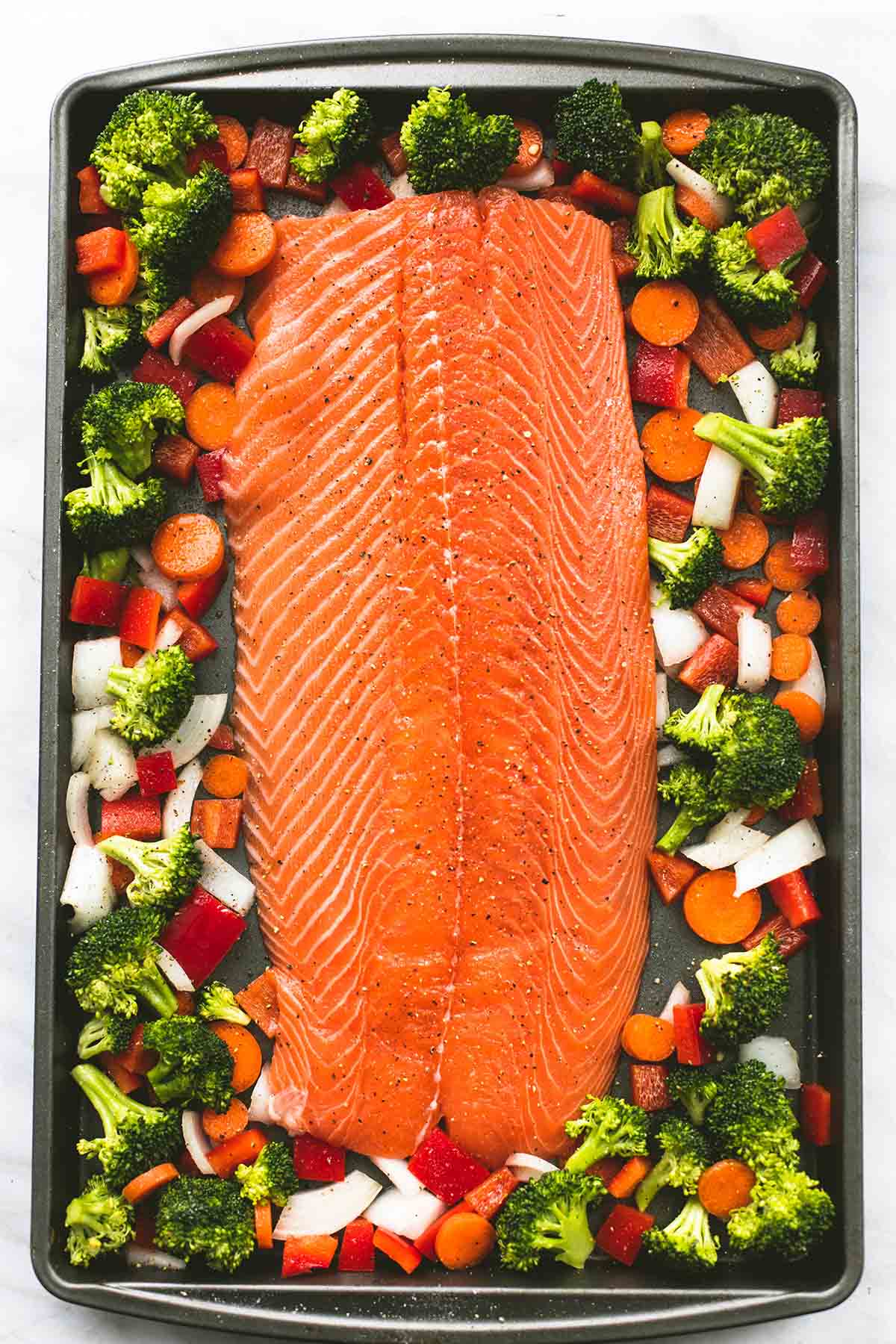 Does this meal have to be made ahead and saved for another day? Heavens no. This is an incredibly tasty one pan salmon and veggie meal that is great for any occasion and you can absolutely prep, cook, and serve right away. But if you are a think-ahead type person (or want to be) then this optional meal prep recipe can make your routine a little less hectic and a lot more yummy. Either way, this is a meal your dinner routine really needs.
Now before you start scrutinizing my veggie choices, saying oh I wouldn't like that dish it has bell peppers, or I don't care for broccoli – just stop right there and know that you can easily swap out any of these veggies for others you prefer. Asparagus, cauliflower, zucchini – they are all delicious here, so don't be afraid to mix things up, use your favorites or whatever is hanging out in your fridge waiting for a bigger purpose.
One Pan Baked Teriyaki Salmon and Vegetables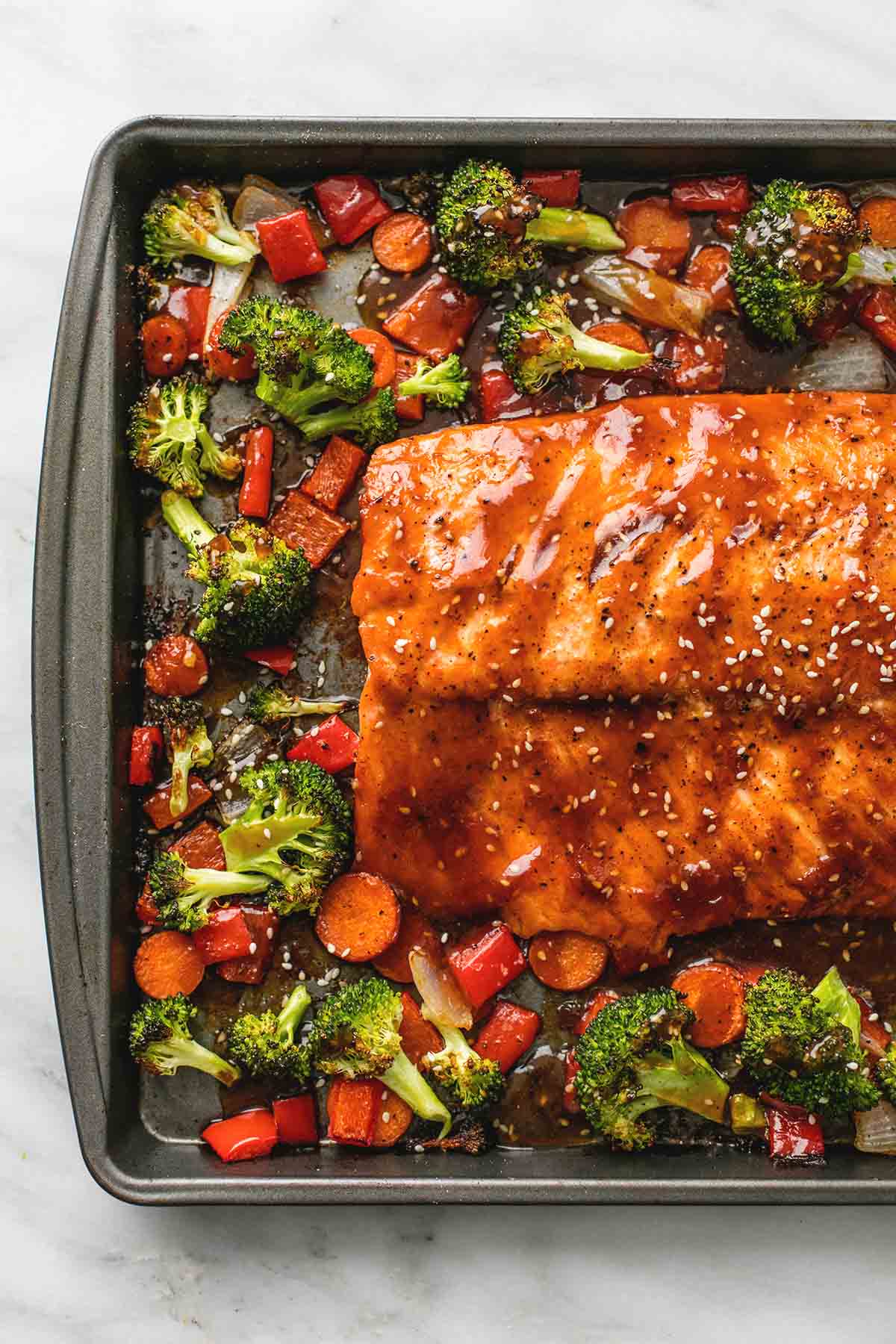 Easy and healthy one pan baked teriyaki salmon and vegetables is a quick 30 minute meal with hearty vegetables and a tasty homemade teriyaki sauce.
Author: Tiffany
Recipe type: Main Dish
Cuisine: Asian
Serves: 4
Ingredients
1 large salmon fillet (or 4 6-ounce salmon fillets)
2 bell peppers (red or green), chopped (see note)
½ white or red onion, chopped
1 cup chopped or sliced carrots
2 cups broccoli florets
salt and pepper, to taste
2 tablespoons oil
1½ cups of your favorite teriyaki sauce OR use my favorite recipe below
teriyaki sauce
1 cup water
¼ cup soy sauce
2 teaspoons minced garlic
¼ teaspoon ground ginger
¼ cup packed brown sugar
2 tablespoons honey
¼ cup cold water + 2 tablespoons corn starch
2 teaspoons sesame seeds
meal prep
4 resealable containers
2-3 cups steamed white rice
Instructions
First make the sauce. Combine water, soy sauce, garlic, ginger, brown sugar, and honey in a medium sauce pan and whisk to combine. Bring to a boil over medium-high heat. Stir together cold water and corn starch until dissolved, then whisk into boiling sauce and reduce heat to medium-low. Remove from heat, stir in sesame seeds, and allow to cool while you prepare the veggies and salmon.
Preheat oven to 400 degrees. Grease a large baking sheet and arrange salmon in the center. Combine vegetables in a large bowl along with oil. Toss to coat. Transfer to baking sheet arranging the vegetables so that they are around but not on top of the salmon. Season vegetables and salmon with salt and pepper to taste.
Drizzle ⅔ of the sauce over the salmon and veggies. Bake for 15-20 minutes until salmon is flaky and tender and veggies are easily pierced with a fork. Steam/cook the rice while the salmon is baking.
Drizzle with remaining sauce and serve immediately OR follow next step for meal prep.
For meal prep: divide rice, salmon, and veggies between four resealable containers and teriyaki sauce in it's own small container. Refridgerate for up to 1 week. To reheat, simply remove the lid from the containers and microwave for 2-4 minutes until hot throughout. (See tip) Serve with reheated remaining teriyaki sauce.
Notes
You can easily swap out any of these suggested veggies for your favorites. I have tried this recipe with cauliflower, asparagus, and zucchini as well and they are all delicious and work perfectly.
Pro Tip for reheating: I highly recommend investing in an inexpensive plastic splatter guard (sold at almost any grocery store like Walmart, Target, etc) and using whenever you are reheating, especially for a dish like this one – not only will it keep your microwave from getting messy, it will also act as a bit of a steamer and keep a lot of the natural moisture in the food so it doesn't get dried out.
3.4.3177
More one pan and sheet pan meals you'll love…
Sheet Pan Honey Balsamic Chicken and Brussels Sprouts
Sheet Pan Garlic Parmesan Chicken and Potatoes
Related