One Pot Chicken Alfredo with Feta is a creamy, decadent dish that tastes fancy but is super simple and versatile. Your family will love this easy chicken alfredo recipe!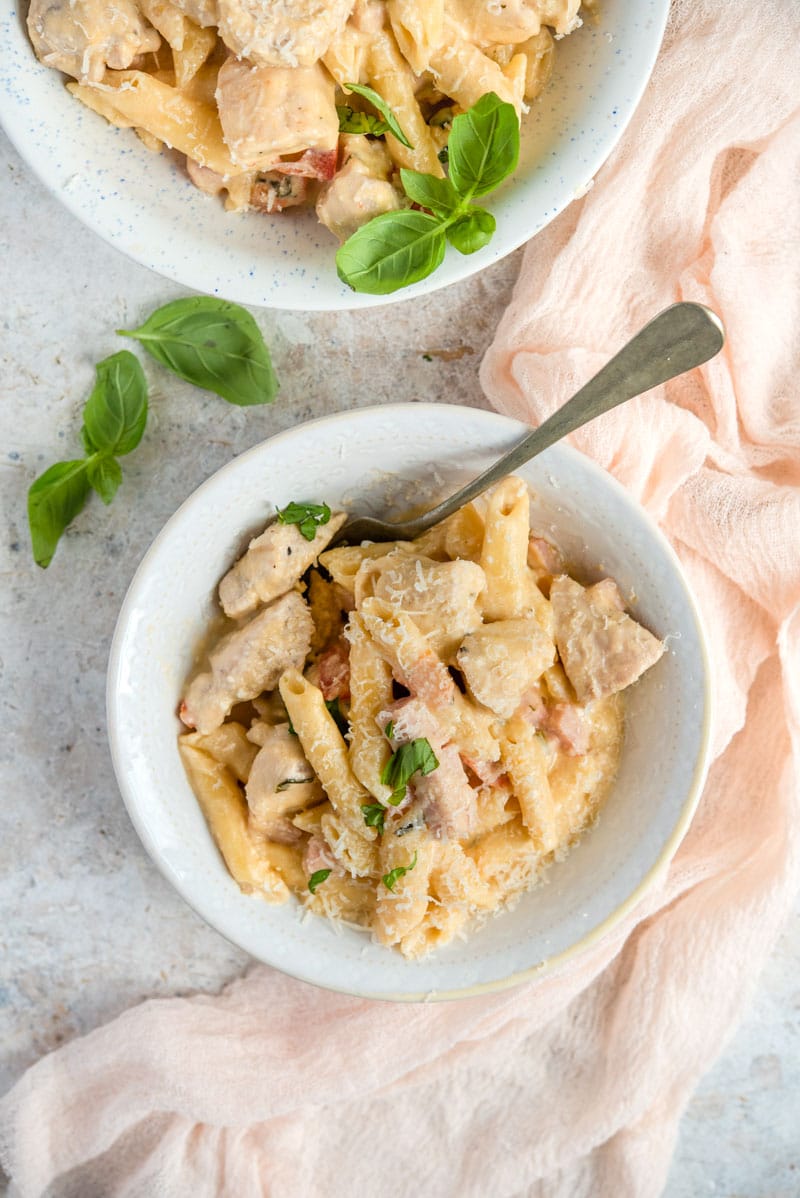 This easy Chicken Alfredo with Feta is one of my favorite Chicken Recipes! It is so easy to throw together on a busy weeknight, and can be switched up easily to suit your family's tastes.
Don't be intimidated by Alfredo sauce. For years I held off trying my hand at the stuff because it seemed entirely too complicated. I thought it best to leave it to the restaurant professionals.
How wrong I was! This simple recipe tastes just like what you order at your favorite Italian place, and uses ingredients you probably already have on hand!
Ingredients for Making Easy Chicken Alfredo With Feta
Just as the title implies, chicken and feta are the stars of this show. For the Alfredo sauce, all you need are a few simple items including:
Parmesan Cheese
Heavy Cream
Garlic
Chicken Broth
Salt and Pepper
See? Staple items! No crazy unrecognizable ingredients here. The rest of the ingredients are up to you! For this pasta recipe I added Roma tomatoes, prosciutto, and some fresh basil.
But you could easily add other veggies, bacon, parsley, other herbs, whatever you have on hand! That's one of the things I love best about One Pan/Pot Recipes, they are so versatile. You can toss any of your family's favorites in the pan and watch them gobble it up.

How to Make One Pot Chicken Alfredo with Feta
First grab your favorite large, deep sided skillet. It's the only pan you'll need for this glorious recipe so make sure you like it.
Next heat up some olive oil (or whatever oil you have on hand) and add some cut-up chicken. I like mine in bite size pieces, but you could easily cut your chicken into long strips or whatever you like.
Once it's mostly browned (it doesn't have to be cooked completely through at this stage in the game) you'll add some minced garlic and sautee for a minute. Your house will now smell like the gates of Heaven.
Then, add the heavy cream, chicken broth and uncooked penne pasta.
Bring it all up to a simmer, and let it bubble away for about 15 minutes, until your pasta is al dente.
Just before it's all done cooking, toss in some tomatoes, prosciutto and fresh basil and season with salt and pepper.
Once you've removed the pan from heat, stir in a healthy amount of Parmesan cheese, then a little more for good measure.
Enjoy every single bite, and rest easy because clean-up will be a cinch!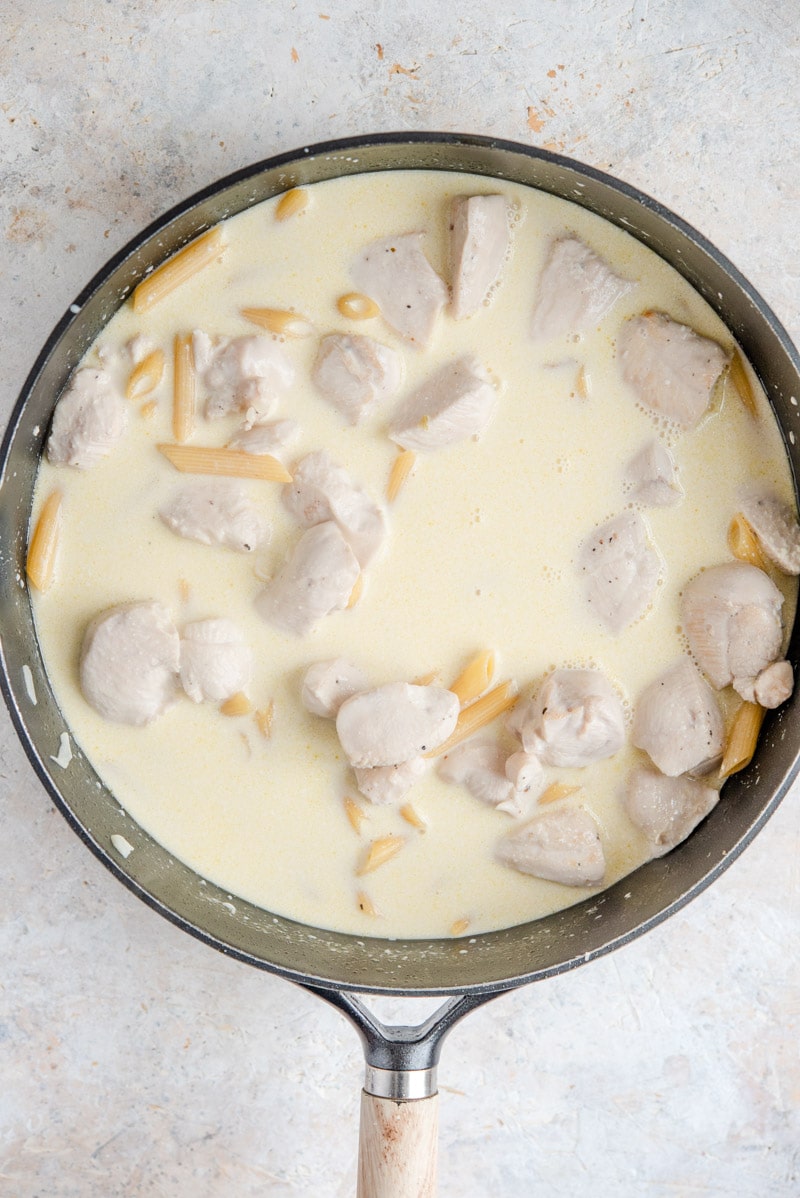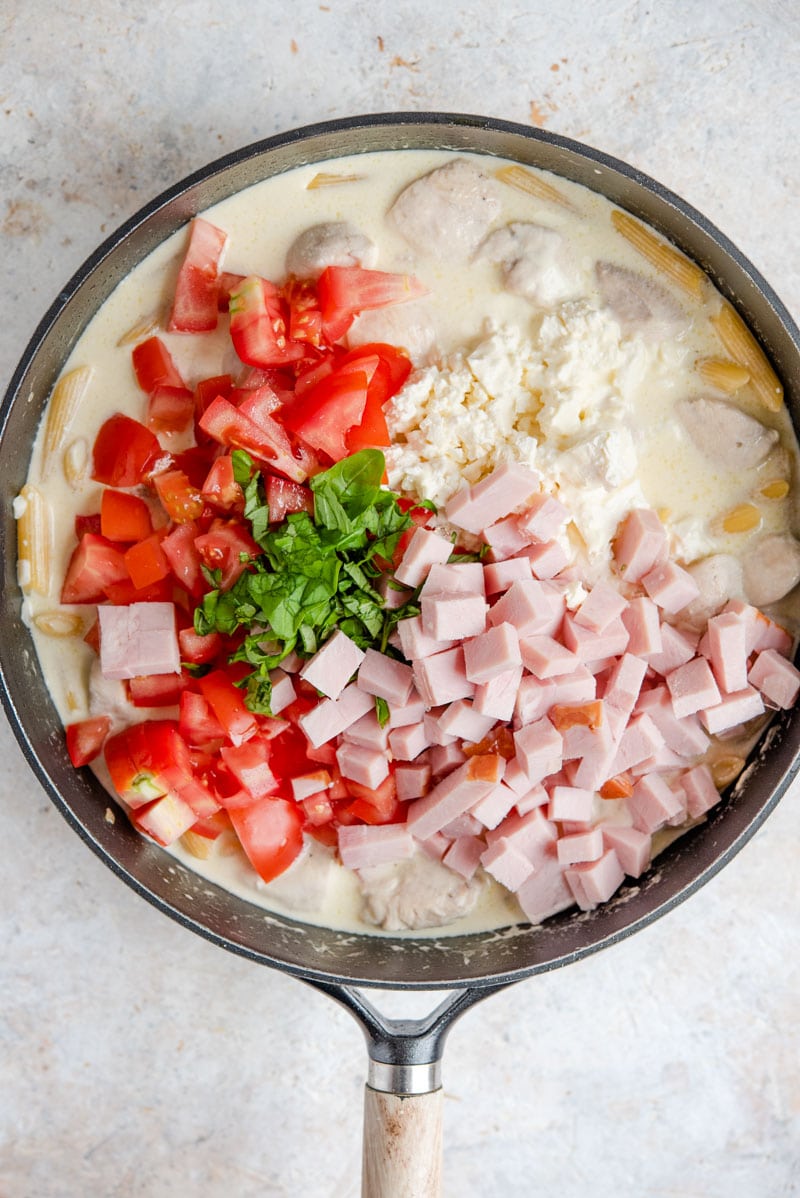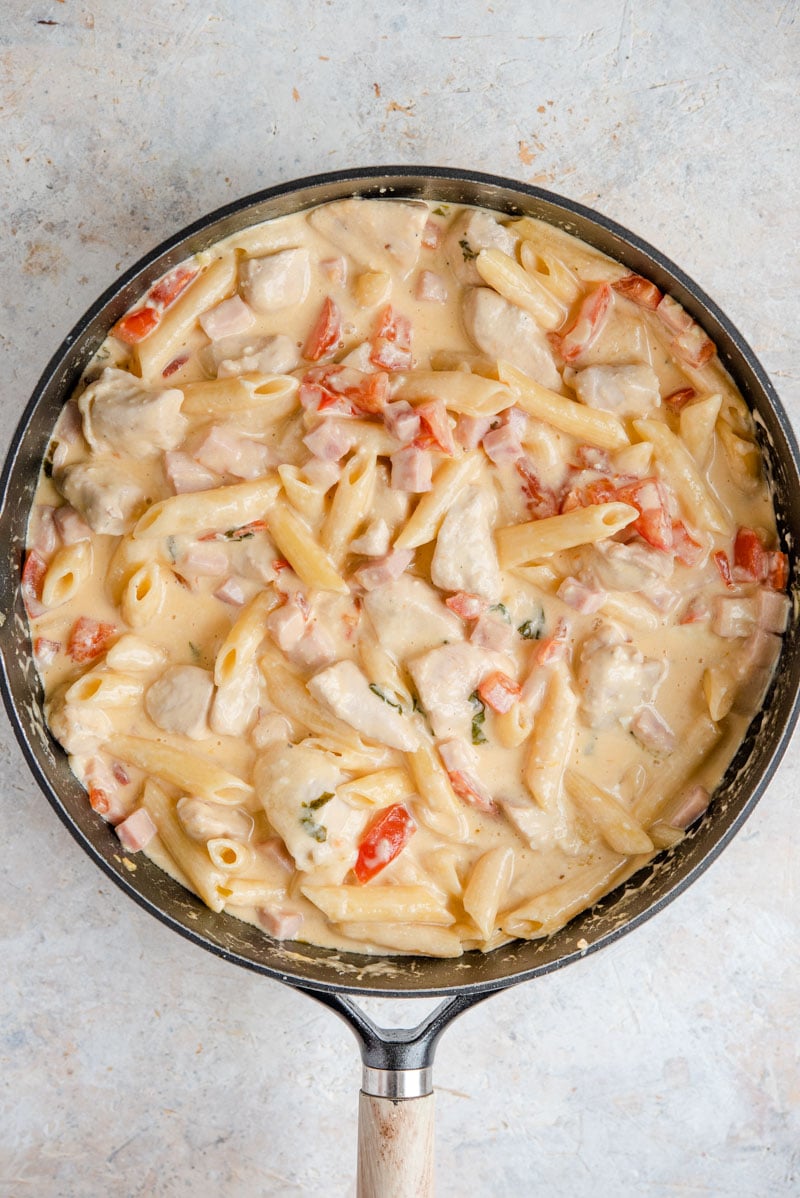 Can I Substitute the Feta Cheese in this Recipe?
Feta cheese gives this chicken pasta dish a creamy, mild flavor that goes so well with the tangy bite of the Parmesan cheese that you add at the end. It melts beautifully into the pasta. Try this Chicken with Feta Cheese Sauce too! But if Feta isn't your thing, you could also use Ricotta or Mozzarella cheese as a substitute.
How Long Can I Store Leftover Chicken Alfredo?
This recipe heats up beautifully the next day for leftovers. Store in an airtight container in the refrigerator for up to 1-2 days. I always like to top my re-heated plate with fresh Parmesan, because more cheese is my love language.
What to Serve it With?
This chicken alfredo is a one-pot, hearty meal as it is so you don't need to put in extra effort to make sides to go with it although a hunk of crusty bread and a light side salad would work really well!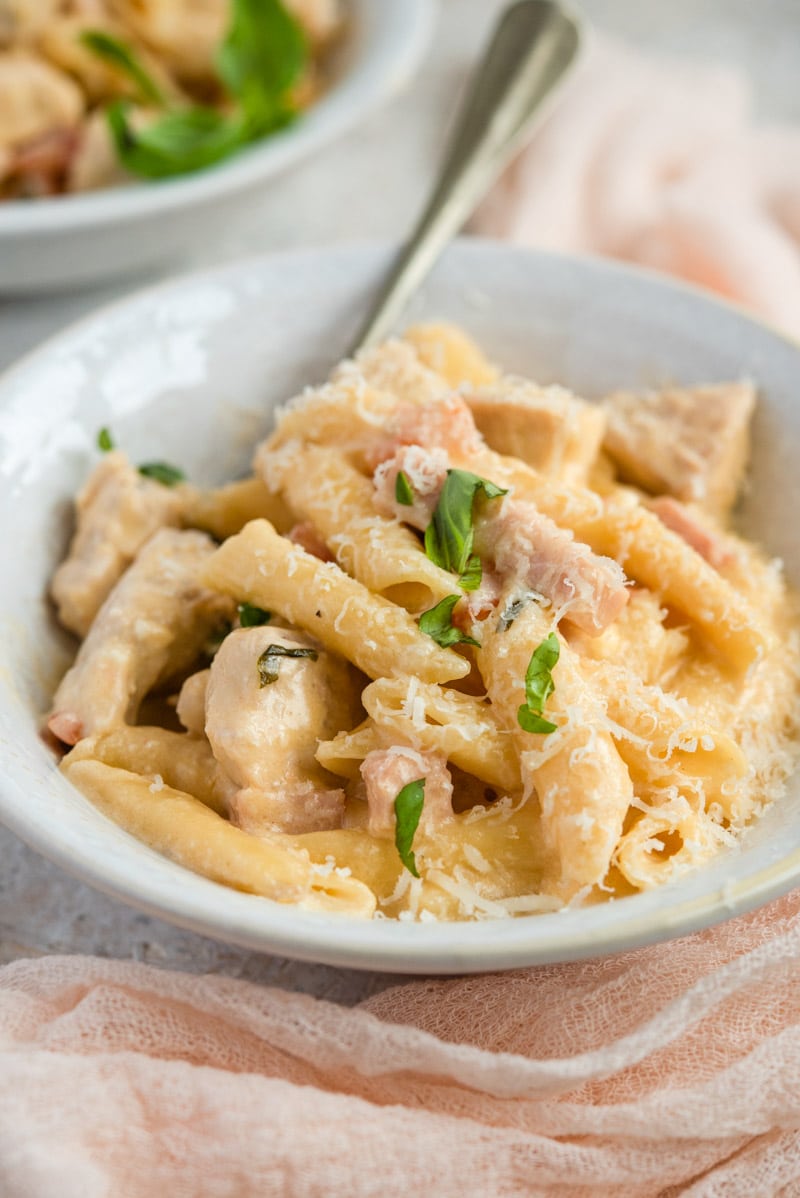 Cozy up with a big bowl of this easy One Pot Chicken Alfredo with Feta and a glass of wine. Trust me, everyone will want a taste of this delicious comfort meal. Happy eating!
Top Tips for Making One Pot Chicken Alfredo:
Any short pasta shape will work for this chicken alfredo recipe
To switch it up try adding in cooked bacon, different herbs and cheeses
Leftovers can be stored in the fridge for 1-2 days although the pasta may turn mushy
I don't recommend freezing this as dairy can split and the pasta will lose it's texture
Other Alfredo Recipes You Might Like:
Once you get the hang of Alfredo sauce (meaning once you throw everything into a pan and stir, because it's that easy!) you can make all sorts of delicious recipes. From sandwiches to nachos, here are a few Alfredo favorites: