Looking for an easy dinner? One-pot Shrimp with Orzo is full of juicy shrimp, feta cheese, lemon, garlic, and black olives. It's a hearty, festive, delicious dish that's very simple to make!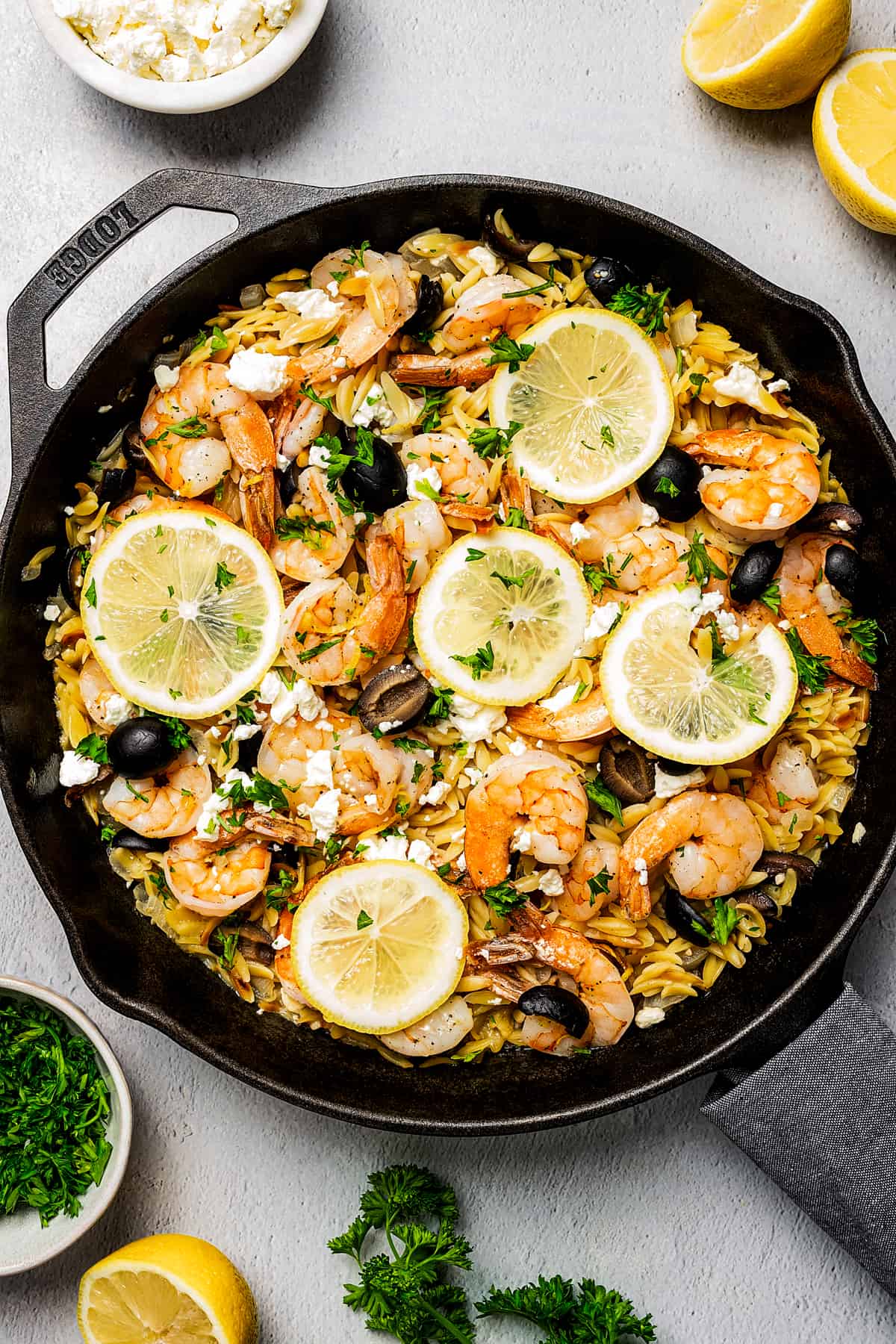 A Quick and Satisfying One-Pot Shrimp Dinner
Do you ever make orzo? It's one of my favorite pastas. Spooning up those little "grains" of soft orzo is the definition of pasta comfort food. And, orzo doesn't have to be plain! You can add all kinds of goodies to a pot of this tasty pastina. For example, to make a quick weeknight dish, you can't go wrong with adding some shrimp. OR a whole chicken! 👉 Chicken In a Pot 👈
This recipe stars juicy, succulent shrimp, briefly marinated in lemon, salt, and pepper before adding them to the pasta. Then the whole dish is studded with chopped black olives and tangy feta – an unforgettable combination! A garnish of fresh parsley is the perfect finishing touch.
One-pot shrimp with orzo might just be the ultimate easy dinner, with loads of flavor. 🍤
Does Orzo Taste Like Pasta?
Definitely! Orzo is a type of small pasta, shaped more or less like grains of rice. It's super-satisfying to eat, with a pleasant pasta flavor and plenty of texture. In this recipe, we'll be lightly toasting the orzo in butter before adding the chicken broth, which brings another layer of flavor to the table.
The List of Ingredients
This shrimp with orzo gets its special flavor from simple-yet-powerful ingredients- black olives, garlic, lemon, feta… so good! Here's the complete list:
Lemon: You'll want about two tablespoons of juice, plus some zest.
Salt and Pepper
Shrimp: Look for large, raw shrimp. They should be thawed, peeled, and deveined before using them. 
Olive Oil: Extra virgin olive oil has the boldest taste, but any olive oil is fine.
Onion: Finely dice a small yellow onion.
Garlic: Mince the garlic, or press it with a garlic press.
Orzo: This is sold with other pasta, rice, and gnocchi in most grocery stores. If you can't find orzo, you can substitute other small pasta shapes.
Chicken Broth: Vegetable broth is also fine to use.
Black Olives: Pitted and chopped.
Feta: You'll need a small amount for sprinkling in the pasta, and a little more to garnish the top.
Chopped Fresh Parsley: For garnish.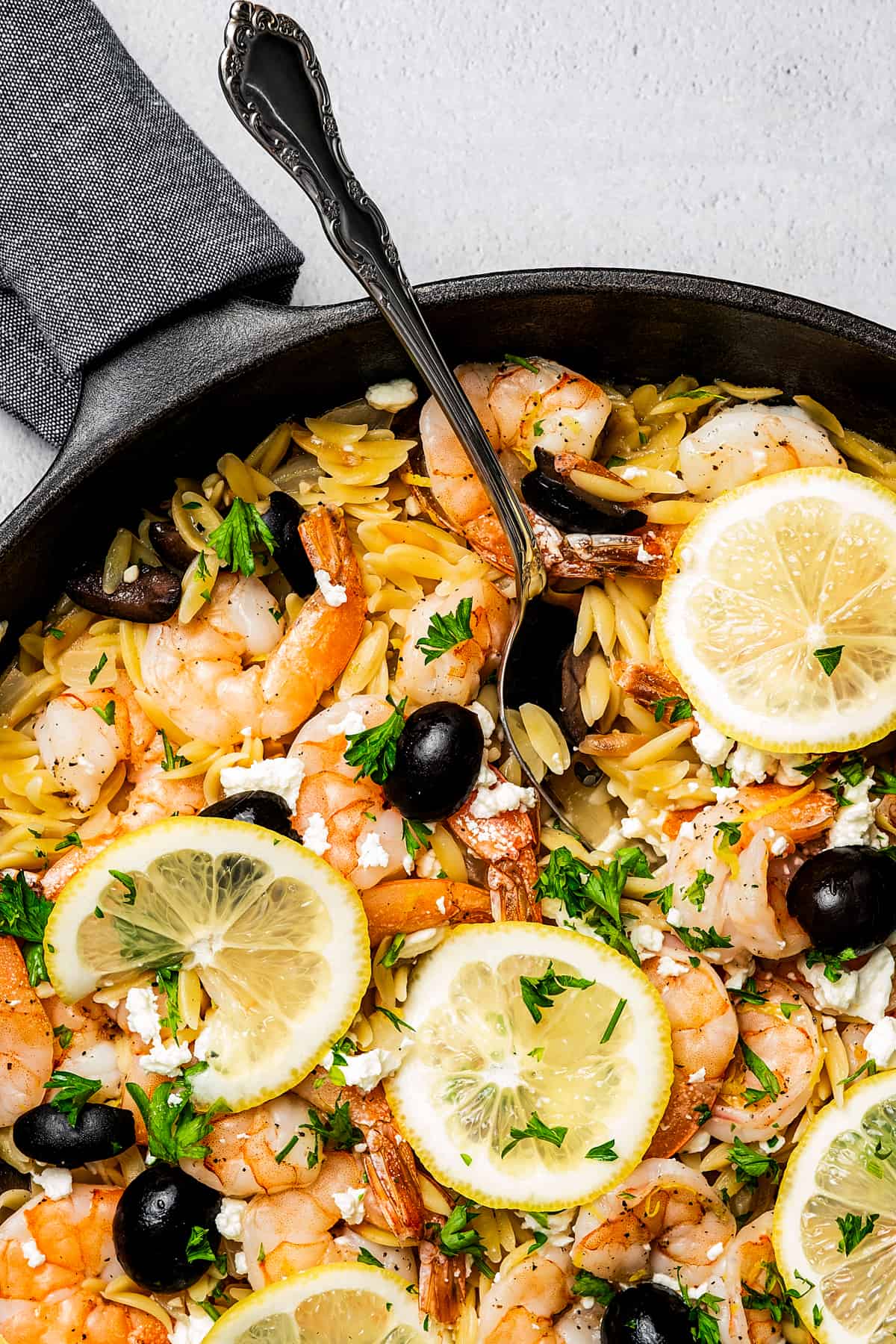 How to Make One-Pot Shrimp with Orzo
The process for making this one-pot meal couldn't be easier, and cleanup is a snap. For an even faster prep, opt for shrimp that have already been peeled and deveined, so you don't have to.
Marinate the Shrimp. First, let's get those shrimp marinating for maximum flavor! Whisk together a tablespoon of the lemon juice with the lemon zest, salt, and pepper. Toss the shrimp in this mixture to coat, and set them aside until you're ready to cook them. 
Saute the Onions, Garlic, and Orzo. Next, heat the olive oil in a large skillet over medium-high heat. Cook the onion for 4 minutes before stirring in the garlic and cooking for about 15 seconds more. Add the dry orzo to the skillet, and sauté it for about 4 minutes until it's a little bit browned.
Add Broth and Simmer. Stir the chicken broth into the orzo, and bring everything to a boil. Let it cook for 6 minutes, stirring occasionally. 
Add Olives, Feta, and Shrimp. At this point, you can stir in the olives and ¼ cup of the feta cheese, along with the rest of the lemon juice. Season with salt and pepper, and then nestle the shrimp into the orzo. Cover the skillet and cook for about 3 to 4 more minutes, or until shrimp is opaque and cooked through.
Finish the Dish. Once the shrimp are done, remove the skillet from the heat, sprinkle with the rest of the feta and the fresh parsley, and serve.
Tips for Success
Before you start cooking, hang with me for just a few more seconds – I have some tips to share! These are my best hacks for customizing this easy recipe for shrimp with orzo. Enjoy!
Make It Creamy: For a creamier dish, try stirring in a bit of heavy whipping cream or softened cream cheese at the end of the cooking time.
Add Herbs: If you have a little fresh basil, parsley, or dill, you know what to do! Shred or chop it up to add complexity and brightness to your shrimp and orzo.
Use Frozen Shrimp: Fresh shrimp are fine, but frozen shrimp can be just as good – sometimes even better. Just thaw them out before using.
Substitute Chicken: Not a fan of shrimp? No problem. Small pieces of chopped chicken breast would be delicious here.
Serving Ideas
To serve this dish, all you need is a simple veggie side. Anything from steamed broccoli to a platter of crudités will work, but these recipes are super tasty and easy to make!
How to Store and Reheat This Dish
To store, cool down the shrimp with orzo, and place in airtight containers. Refrigerate for up to three days.
To reheat, place the desired amount in a covered skillet and set over low heat. Add a splash of water if the orzo seems dry, and cook just until heated through. Don't overheat, or the shrimp will be tough and chewy.
Can I Freeze Shrimp with Orzo?
I recommend enjoying this recipe freshly made, because freezing and thawing orzo can leave it soft and mushy. However, if you do freeze it, it will be safe to eat! Just cool it down, pack it into freezer containers, and store in the freezer for up to two months.
Thaw before reheating.
ENJOY!
In a mixing bowl whisk together 1 tablespoon lemon juice, lemon zest, salt, and pepper; add in the shrimp, toss to coat, and set aside until ready to use.

Heat olive oil in a large 12-inch skillet set over medium-high heat.

Add onion and cook for 3 to 4 minutes, or until softened.

Stir in the garlic; cook and stir for 15 seconds.

Add orzo and cook for about 4 minutes, or until lightly browned, stirring frequently.

Stir in the chicken broth and bring to a boil.

Cook for 6 minutes, stirring occasionally.

Stir in the olives and ¼ cup feta cheese.

Stir in the remaining lemon juice and season with salt and pepper.

Nestle shrimp into the orzo; cover and cook for about 3 to 4 more minutes, or until shrimp is opaque and cooked through.

Remove from heat.

Top with remaining feta cheese.

Garnish with parsley.

Serve.
Calories: 495 kcal | Carbohydrates: 65 g | Protein: 19 g | Fat: 18 g | Saturated Fat: 6 g | Polyunsaturated Fat: 2 g | Monounsaturated Fat: 9 g | Cholesterol: 25 mg | Sodium: 954 mg | Potassium: 456 mg | Fiber: 4 g | Sugar: 4 g | Vitamin A: 189 IU | Vitamin C: 8 mg | Calcium: 187 mg | Iron: 2 mg | Net Carbs: 61 g
Nutritional info is an estimate and provided as courtesy. Values may vary according to the ingredients and tools used. Please use your preferred nutritional calculator for more detailed info.
More Easy Pasta Recipes