This Oven Baked Macaroni and Feta Cheese recipe is everyone's favorite mac 'n cheese made BETTER! Everything is betta with Feta!
HOMEMADE MAC N CHEESE WITH FETA
Oven baked macaroni made with a mixture of eggs, milk, spices and seasonings, plus feta cheese, and garnished with a crispy bread-crumb topping. SO GOOD! 😋
Have you been dreaming about baked macaroni with, ummm, a different kind of cheese? 🤔
Do you often think about adding a crunchy topping to THAT mac 'n cheese?  Yeah… nothing like a good dose of fried bread crumbs on top of macaroni and cheese – that's some goooood stuff! 😍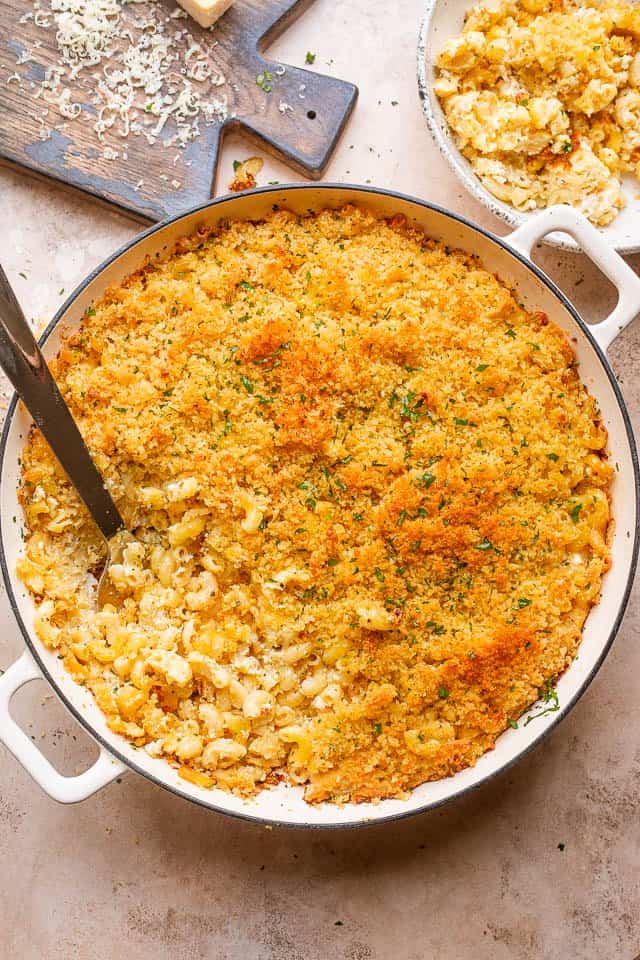 OVEN BAKED MACARONI AND FETA CHEESE
We all know what a struggle it can be to cook delicious, fresh homemade meals on busy weeknights.
Growing up, this was one of our family's favorite meal. We used to eat this stuff all.the.time. Macaroni and Feta Cheese was on mom's menu about every other week; one pot + 4 forks = 1 happy family.
Now that I am all grown up and have a family of my own, I also make this about once or twice a month. Some nights when we crave pasta and we want to satisfy that craving, Macaroni and Feta is close to the top of our to-do list.
Ingredients for Macaroni and Cheese
Whenever I make this, I am always surprised by how simple the ingredient list is.
Elbow Macaroni
Butter
Feta Cheese
Eggs
Milk
seasonings/spices
breadcrumbs/panko crumbs (optional, but it adds a really nice crunch and texture to the overall dish)
freshly grated parmesan cheese, for topping (optional)
How to make Baked Macaroni and Feta Cheese
Are you ready to make the best Oven Baked Macaroni and Feta Cheese? Let's get to it:
Cook the macaroni according to directions on the package.
Drain macaroni and transfer to a greased baking dish; mix in crumbled feta cheese and set aside. Fyi: I use the same pot for boiling the macaroni and baking it – it's this 3 quart dutch oven. My new favorite cooking pot of the day. ❤️
In a mixing bowl whisk together eggs and milk, plus seasonings. 
Pour egg mixture over macaroni.
Optionally, melt butter in a pan and stir in plain breadcrumbs or panko crumbs; fry to a light golden brown.
Sprinkle fried breadcrumbs over macaroni and bake in a 400˚F preheated oven for 35 minutes. 
Let stand several minutes before serving with a topping of freshly grated parmesan cheese. 
How to Store Oven Baked Macaroni with Feta Cheese
Store Baked Macaroni in an airtight container and keep in the fridge for 2 to 3 days.
Can I Freeze Baked Mac 'n Cheese
Yes. Store completely cooled mac and cheese in an airtight container and keep in the freezer for up to 3 months.
What is Feta Cheese
Feta cheese is a brined white cheese main from sheep milk or from a mixture of sheep and goat milk. It is a crumbly aged cheese, commonly produced in blocks, and has a slight grainy texture.
Feta cheese is versatile and can be used in any recipe that calls for a salty, softer cheese.
Compared to other cheeses, it's low in calories and fat. It also contains a high amount of B Vitamins, phosphorus and calcium, which can benefit bone health. Feta also contains beneficial bacteria and fatty acids.
Now that you know all you need to know about feta, let's get on this meal! You know there's, like, nothing to it, right? It's just some cooked macaroni swimming in custard with a sprinkle of feta. And some crunchy breadcrumbs on top with fresh shavings of parm cheese. Easy peasy.
Give it a try. You might love it as much as we do.
More Macaroni and Cheese Recipes
ENJOY!
Tools Used In This Recipe
Oven Baked Macaroni and Feta Cheese
Oven baked macaroni made with a mixture of eggs, milk, and feta cheese, garnished with a crispy crumb topping.
Course: Dinner
Cuisine: American
Servings: 6
Calories: 659 kcal
Ingredients
1

box (1-pound)

Elbow Macaroni

butter for greasing

1

tablespoon

butter

2

cups

crumbled feta cheese

5

eggs

2 1/2

cups

milk

salt and pepper

, to taste

1

teaspoon

dried Italian Seasoning

1/2

teaspoon

garlic powder

1/2

teaspoon

chili powder

1/2

teaspoon

sweet paprika
For the Topping (Optional)
2

tablespoons

butter

2

cups

panko crumbs or plain breadcrumbs

freshly grated parmesan cheese,

for topping

freshly chopped parsley,

for garnish
Instructions
Cook macaroni in salted water according to package directions. Drain.

In the meantime, generously butter a 13-by-9-inch baking dish.

Pour cooked macaroni into baking dish and toss with 1 tablespoon butter.

Mix in crumbled feta cheese.

In a mixing bowl, whisk together the eggs, milk, salt, pepper, Italian seasoning, garlic powder, chili powder, and paprika.

Pour the egg mixture over the macaroni; mixture should come about 3/4 of the way up – it shouldn't cover the macaroni.

Heat remaining butter in a frying pan.

Add the bread crumbs to the pan and cook over medium-high heat, stirring frequently, until golden brown.

Remove from heat and sprinkle the bread crumbs over the macaroni.

Bake for 35 minutes, or until the custard sets and edges are browned.

Top with freshly grated parmesan cheese and parsley; serve.
Recipe Notes
WW FREESTYLE POINTS: 16 
Nutrition Facts
Oven Baked Macaroni and Feta Cheese
Amount Per Serving
Calories 659 Calories from Fat 225
% Daily Value*
Fat 25g38%
Saturated Fat 15g75%
Cholesterol 206mg69%
Sodium 858mg36%
Potassium 424mg12%
Carbohydrates 79g26%
Fiber 4g16%
Sugar 11g12%
Protein 28g56%
Vitamin A 880IU18%
Calcium 440mg44%
Iron 3mg17%
* Percent Daily Values are based on a 2000 calorie diet.
Want To Save This Recipe?
*This recipe was first published on April 5, 2013. Updated on March 24, 2020.