Overflowing with sweet, juicy peaches and topped with a cinnamon-sugar-oatmeal buttery crumble top, this peach crisp makes perfect use of all those in-season, delicious summer peaches and comes together in a flash!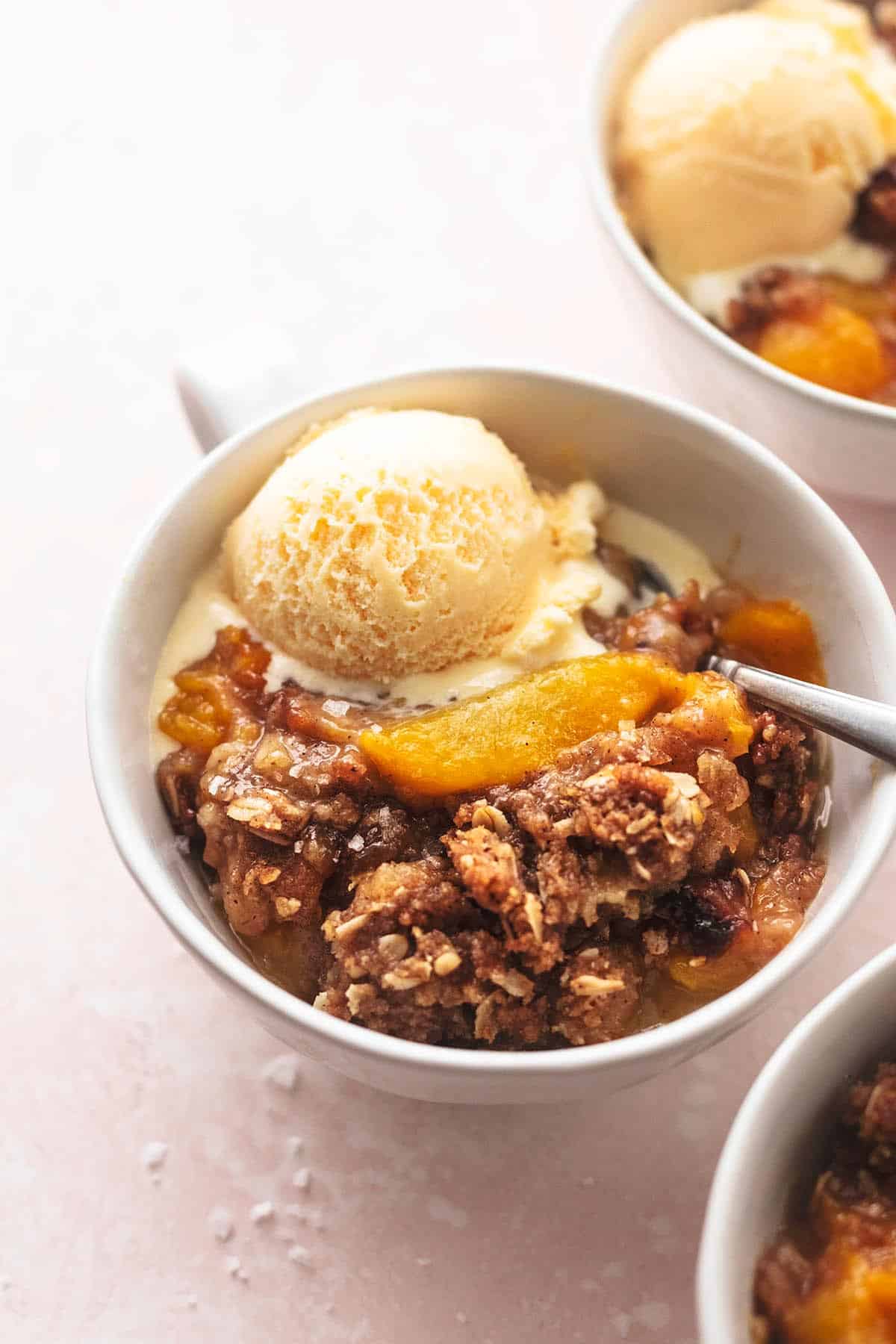 For more amazing fruit dessert recipes, head on over to my posts for Raspberry Crumb Bars, Cream Cheese Lemon Bars, and Apple Slab Pie. 
When peach season arrives, I'm All. Over. It. I head to the farmers market and purchase bagfuls every time I see them. Then I bring them home and make all the peach things. Moon Milk, Stuffed, Baked Peaches, Peaches n' Cream Puff Pancakes…you name it. 
Right now though, we are enjoying every bit of perfect weather this summer has been serving up and I wanted all the peaches, but also something quick. That's when this peach crisp recipe comes in handy. I can pull it all together in under 30 minutes and pop it in the oven while we eat dinner. Served right out of the oven with vanilla ice cream? Heaven. 
Why this Recipe Works
Grab your peaches and head to your kitchen — this recipe is soon to become your new favorite for a few important reasons. 
Simple — Made with fresh fruit and pantry staples, this peach crisp recipe is so easy to cobble together (see what I did there)? Younger school-aged kids can even make this on their own! 
Fresh ingredients — While you can use frozen peaches, for best flavor I think it's important to use fresh peaches. They are in abundance right now and you can even pass this dessert off as a serving of fruit! 
Great hot or cold — I like to eat this best peach crisp basically right out of the oven. But when I have leftovers, I have been known to eat it right out of the fridge, too (for breakfast, at that!). 
Picnic-perfect — Have you been tasked with bringing dessert to a potluck or picnic? This peach crisp is easy to make and take and serve! It holds its own at room temperature for several hours.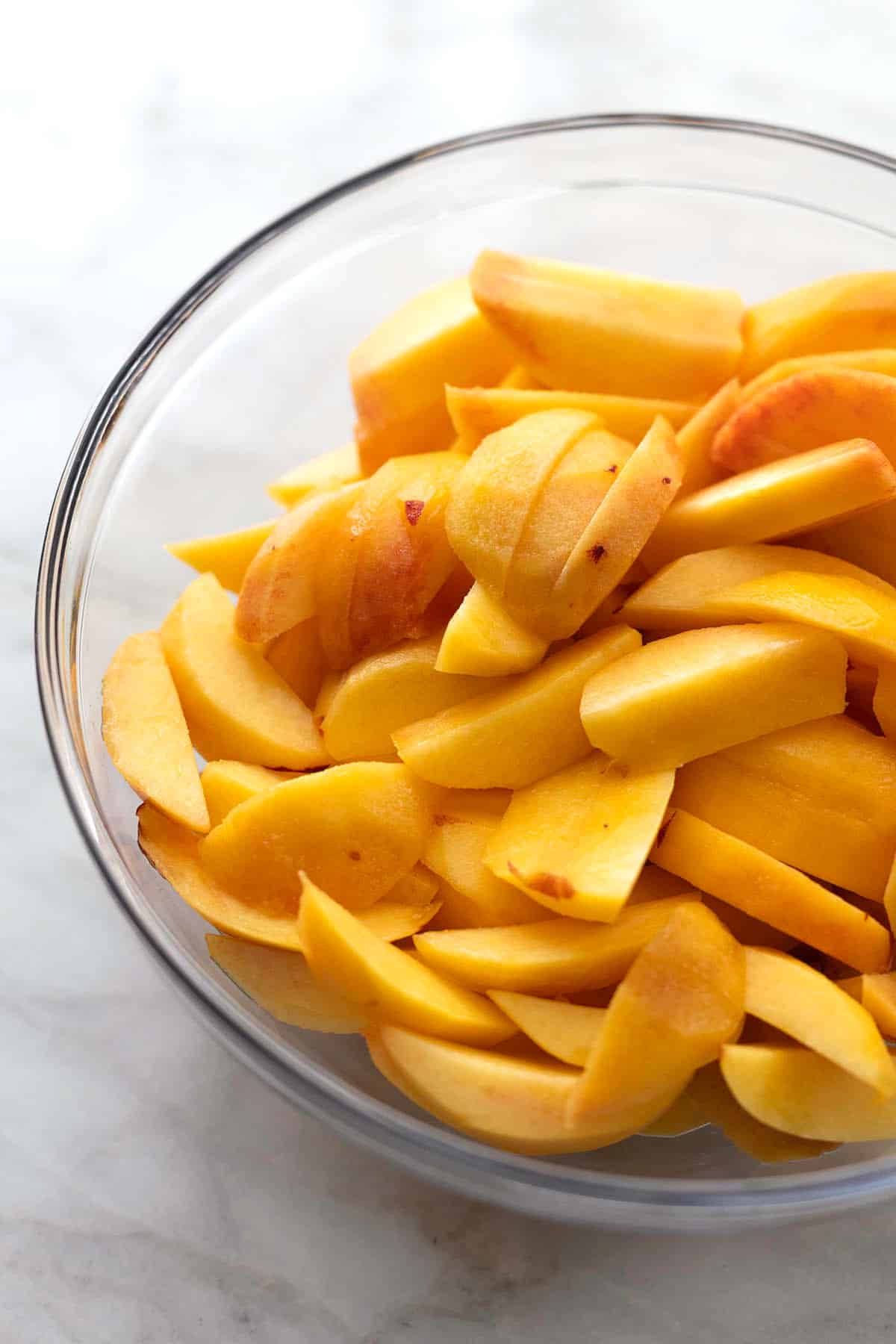 Here's How you Make it

Preheat the oven to 350 degrees and butter a 9×13-inch pan. 

Combine the peaches, lemon juice, flour, vanilla, and sugar in a large bowl and stir to combine.

Pour the peach mixture into the buttered pan and spread it out evenly. 

In another bowl, combine the flour, oats, brown sugar, salt, and cinnamon and stir. 

Cut the chilled butter pieces into the flour mixture using a pastry cutter, fork, or even your fingertips. You could also pulse this in a food processor. Whatever way you choose, you'll want to see coarse crumbs forming.

Spoon the flour/oat topping over the peaches in one single layer. 

Pop the pan in the oven for 34-45 minutes, or until the topping browns and the edges look dry and crisp. 

Allow the peach crisp to cool for 15 minutes before digging in and topping with vanilla ice cream or whipped cream!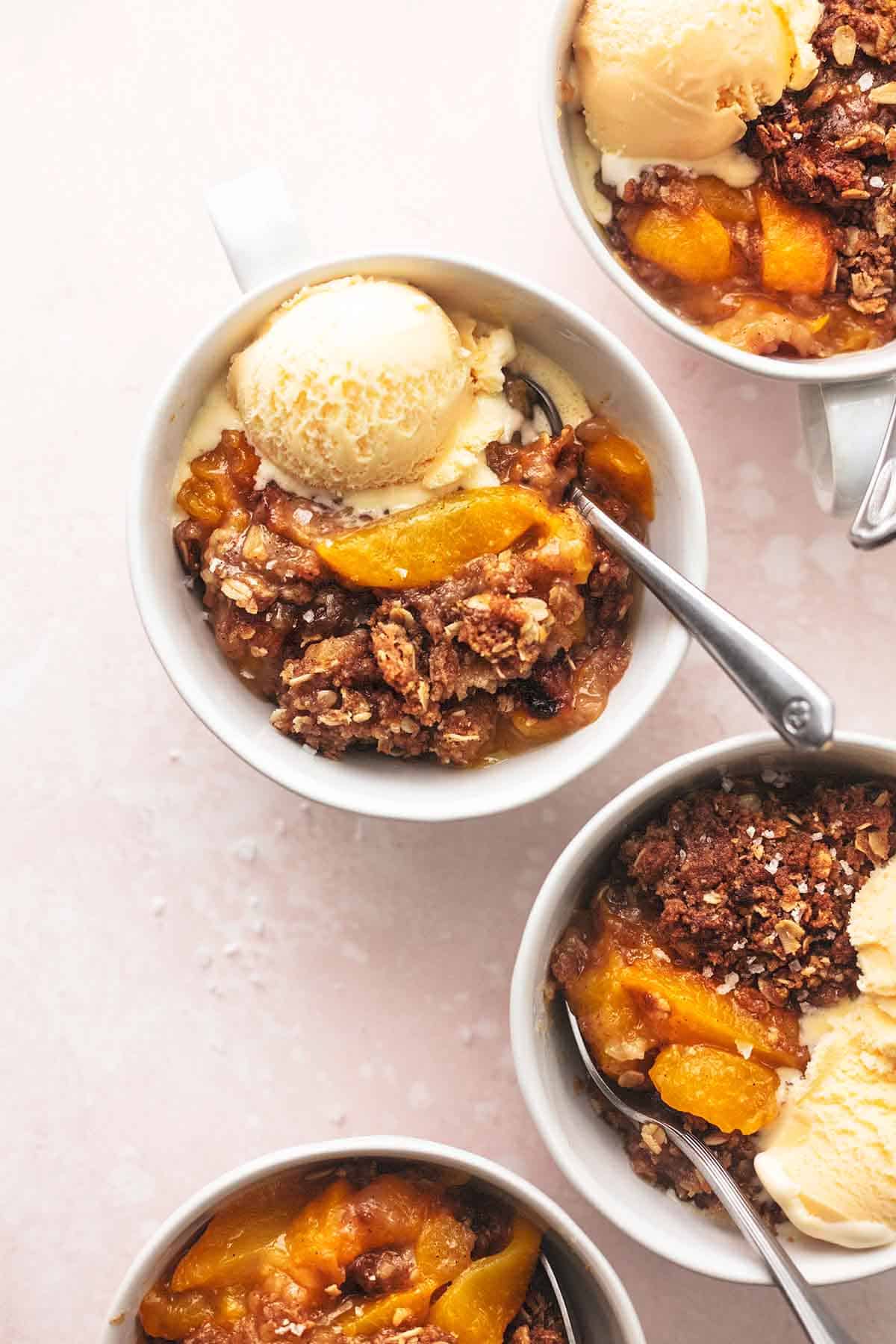 What's the Difference between Peach Cobbler and Peach Crisp?
Both peach cobblers and peach crisps start out with the best summer fruit, but the difference lies in the topping. 
A cobbler starts out the same with the sliced peaches, sugar, etc. in the bottom of the pan, but it's topped with thick dough like biscuits, pie crust, or another pastry crust. 
A crisp has a topping that's a — you guessed it — crumbly topping like the one with flour, oats, brown sugar, salt, cinnamon, and butter that we use in this recipe. The crumbles get "crispy" in the oven, whereas the topping of a cobbler just bakes or puffs up.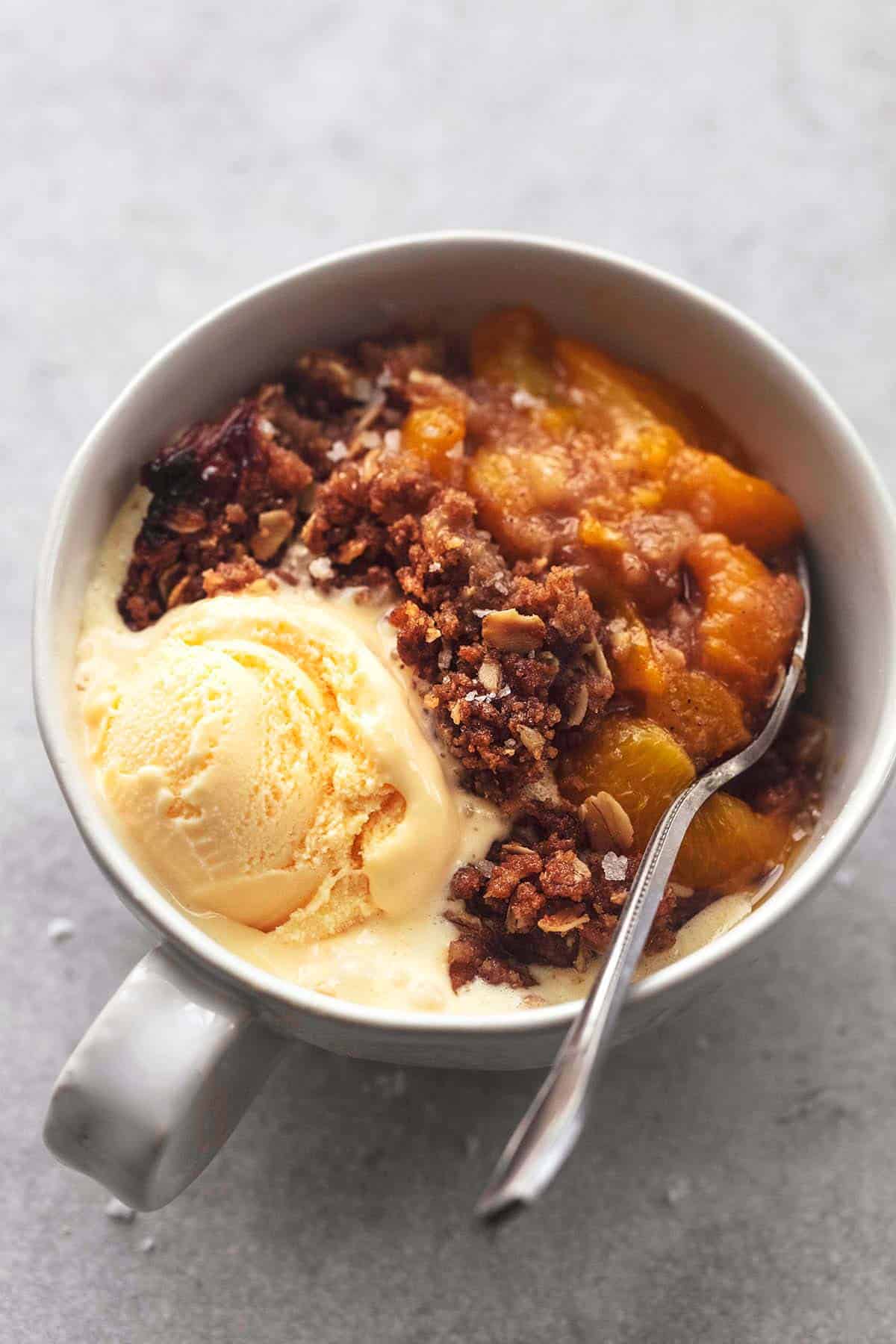 How do You Store Peach Crisp?
If you have any leftovers (big "if" in my house), I keep it in the same pan and cover with plastic wrap or foil. You can keep it at room temperature for 2 days, or pop it in the fridge and keep, covered, for up to 1 week. 
You can mitigate the sogginess of the crisp by letting it cool completely before chilling, but by around 5-7 days, the crisp will become soggy regardless. Still tasty — but not crispy.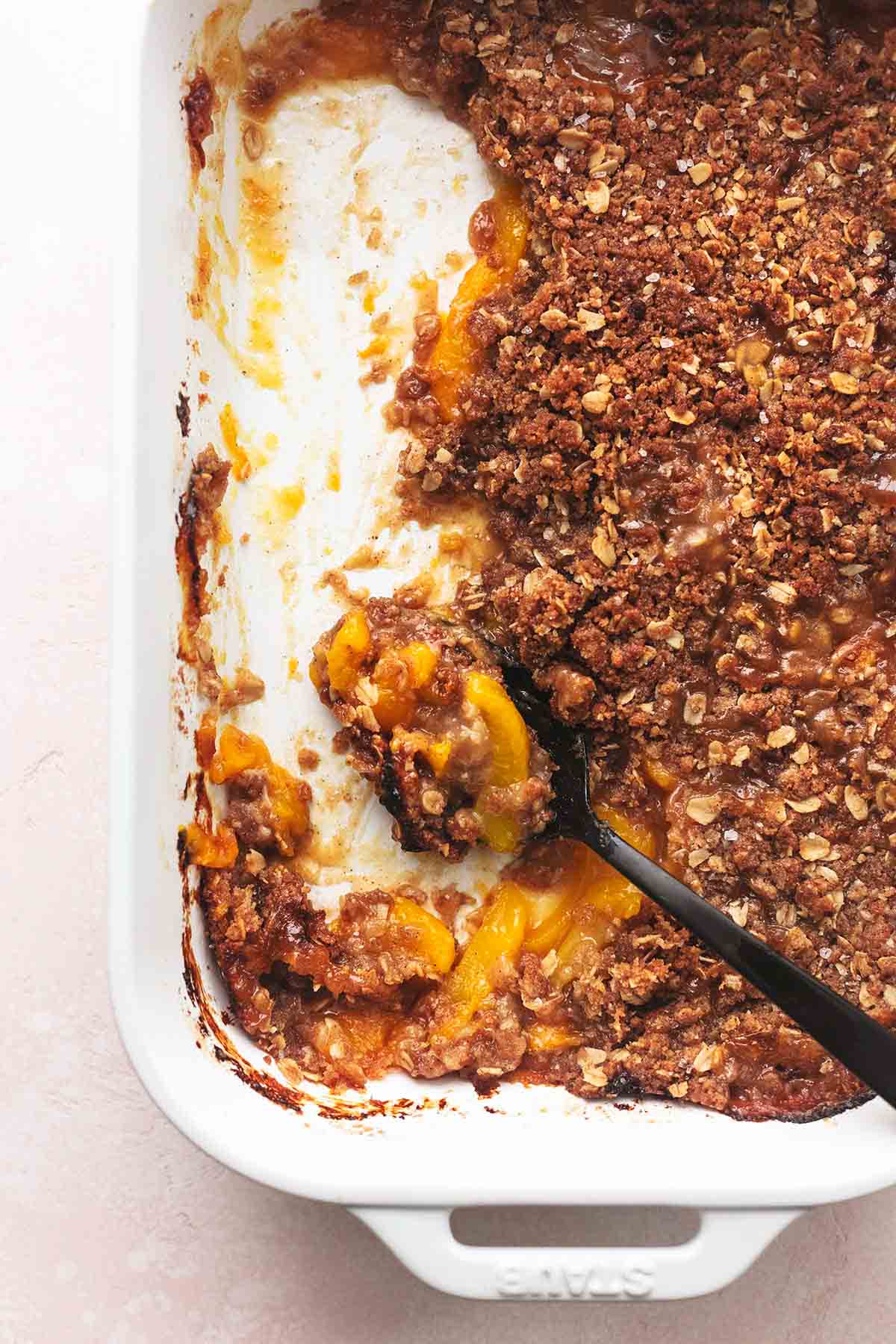 Expert Tips 
I

use yellow peaches

when making peach dishes, because I think they are sweeter than white, but use what you love or what you can find. 

Peaches can be used with the

skin on or off

, it's a personal preference. They are easiest to peel before you slice them. 
Keep the

peach slices relatively thick

— about a ½ inch or more. Otherwise, they will break down too much when they are baking and become too soft or even mushy. 

When cutting peaches

, I peel first (if you are taking the skin off), then I run a sharp knife around the circumference of the pit. Use two hands to twist the peach into two halves, then pop the pit out. Turn each pit half flat-side down and slice into even pieces.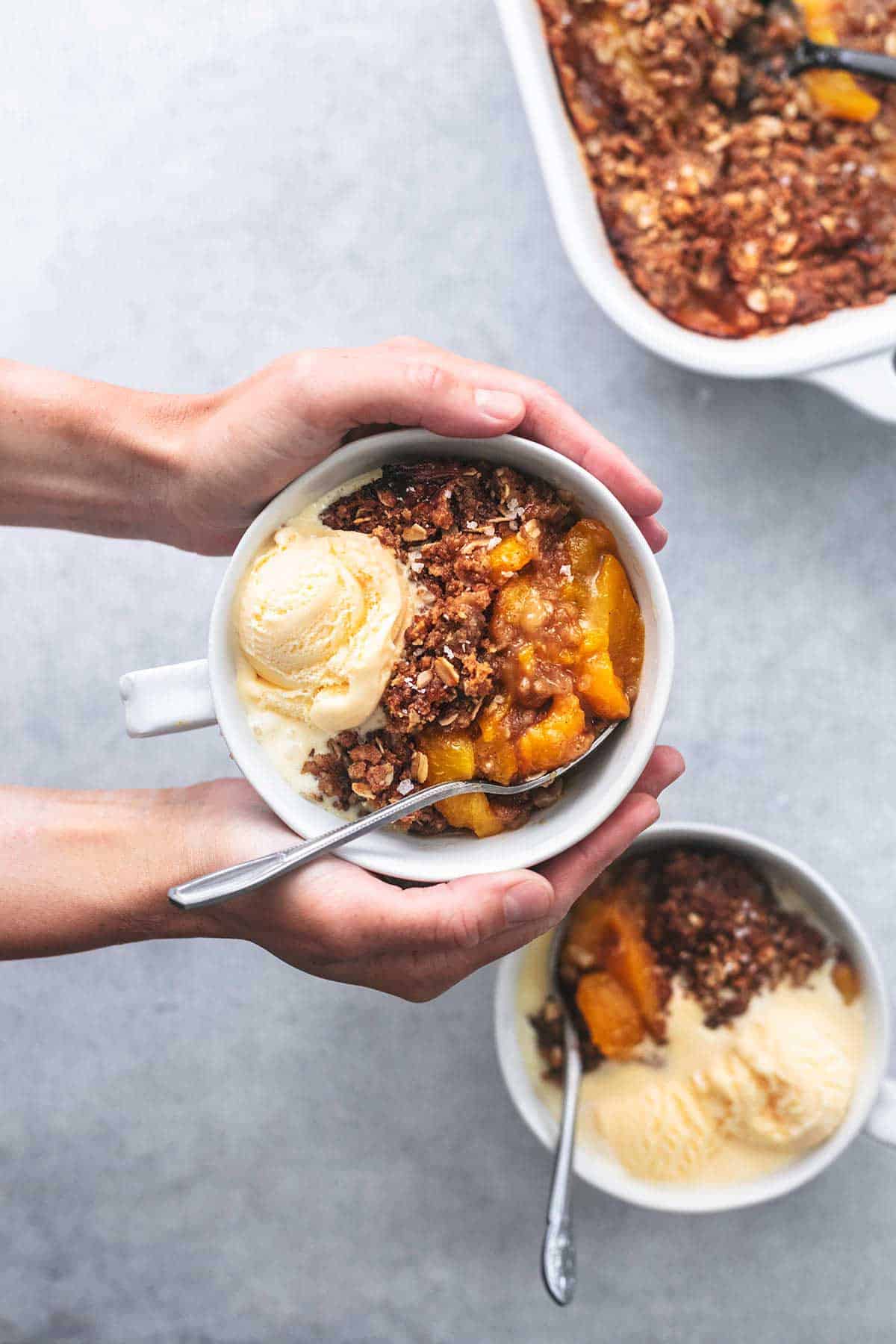 Best Dessert Recipes
Did you make this recipe? Please leave it a review below!
Preheat oven to 350 degrees and butter a 9×13 inch pan.

In a large bowl combine peaches, lemon juice, vanilla, flour, and sugar and stir well. Dump into prepared pan and spread out peaches evenly.

In a medium bowl combine flour, oats, brown sugar, salt, and cinnamon and stir well.

Cut in chilled butter (use a pastry cutter, fork, or your fingertips OR you can pulse a few times in a food processor). until coarse crumbs form.

Spoon the topping over the peaches in an even layer.

Bake for 35-45 minutes until topping is browned around the edges and top is looking "dry" and crisp.

Cool for 15 minutes. Serve warm with vanilla ice cream. Enjoy!
For the peaches:
I prefer yellow peaches as they are sweeter than white.
Feel free to peel them if you prefer, I like the skin on the peaches but my husband prefers it off so I usually end up peeling them. Totally your preference! 
Don't slice your peaches too thin – the topping takes at least 40 minutes to really crisp up and if your peaches are sliced too thin they will get really soft or even mushy. 
Calories: 327kcal | Carbohydrates: 77g | Protein: 5g | Fat: 1g | Saturated Fat: 1g | Cholesterol: 1mg | Sodium: 300mg | Potassium: 413mg | Fiber: 4g | Sugar: 54g | Vitamin A: 555IU | Vitamin C: 12mg | Calcium: 43mg | Iron: 2mg