Peach Salsa is an easy summer snack that can be made in minutes. Serve the salsa with chips or use the salsa as a topping for tacos, grilled chicken, fish, or pork. This salsa recipe is a summer favorite!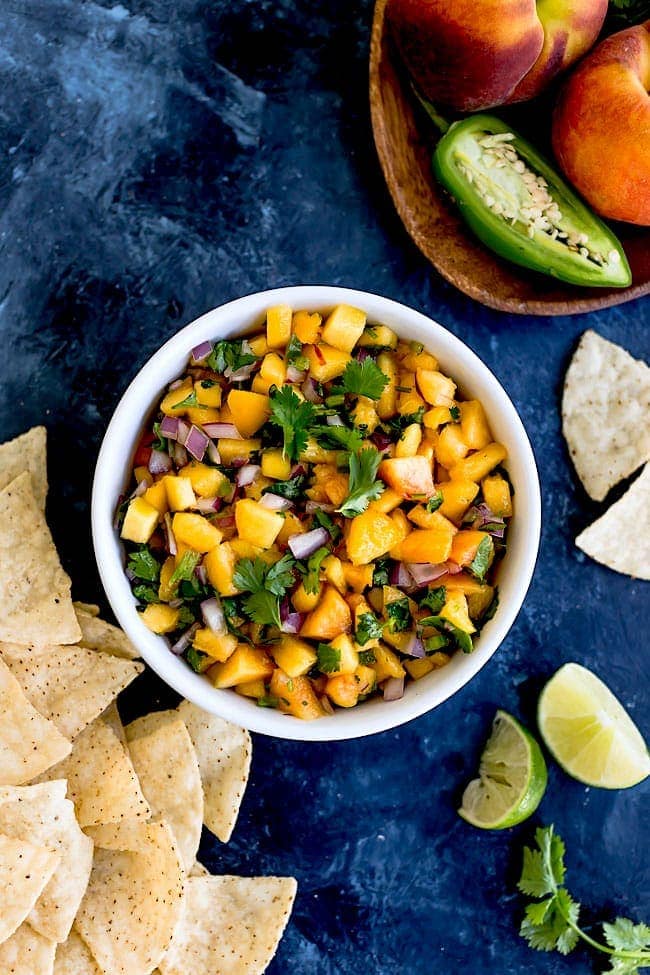 Summer Peaches are the BEST!
Peach season is my favorite because Utah has the BEST peaches. I look forward to peach season every year because we buy boxes of peaches from the farmers market. We eat as many as we can and let the juice drip down our faces…and then we get to work. We make all the peach recipes we can before they go bad. One of my favorite easy peach recipes is Peach Salsa! This fruity salsa is so fresh and delicious and the perfect snack for a summer day.

OTHER RECIPES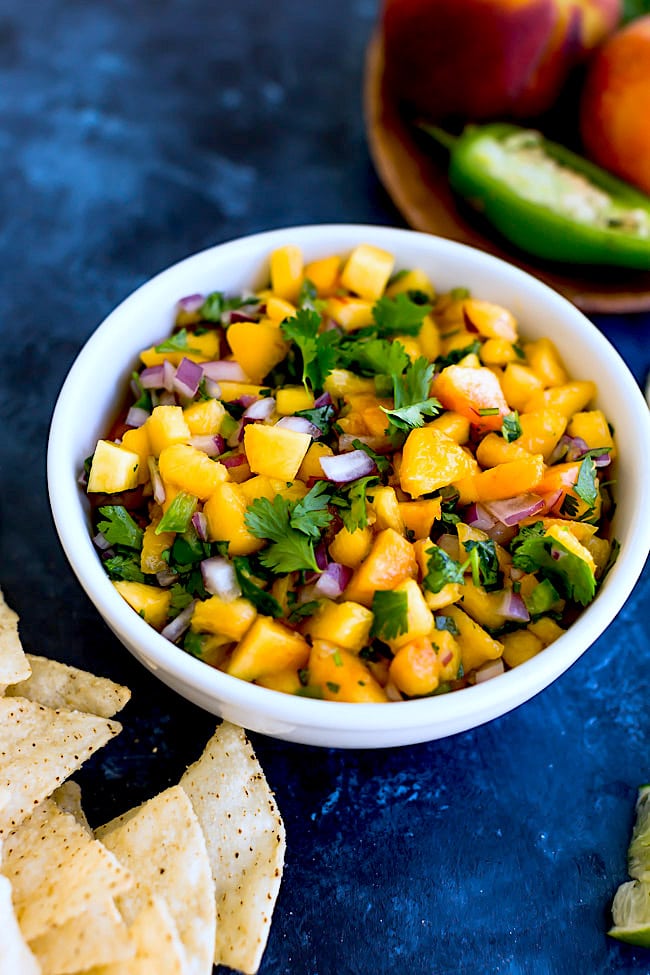 How to Make Peach Salsa
This quick and easy salsa is a great way to enjoy summer peaches. Make sure you choose the best peaches. You want them to be ripe and juicy so your salsa has the best flavor.
First, peel the peaches and remove the pit. Chop the peaches into small pieces and place them in a medium bowl. Now, you are going to add all of your traditional salsa ingredients: red onion, jalapeño, cilantro, and lime juice. And don't forget the salt and pepper to bring out all of the flavors.
See how easy that was? You can make fresh peach salsa in a matter of minutes! You will love the sweetness from the peaches with the heat of the jalapeño. The combo is amazing!
Peach Salsa, A Fun Summer Snack!
Peach salsa is a great appetizer or snack when served with chips. We like to make homemade pita chips or homemade baked tortilla chips  to go with our big bowl of peach salsa. Salty chips are perfect with the sweet peach salsa. This salsa never lasts long at our house because we all love dipping into this fresh and juicy salsa!
The peach salsa also goes great with tacos, quesadillas, burritos, grilled chicken, fish, or pork! It is a summer favorite!
If you are having a BBQ, picnic, or summer pool party, make this peach salsa to share. It is a great dish to take to parties.
If you like this Peach Salsa recipe, you might also like: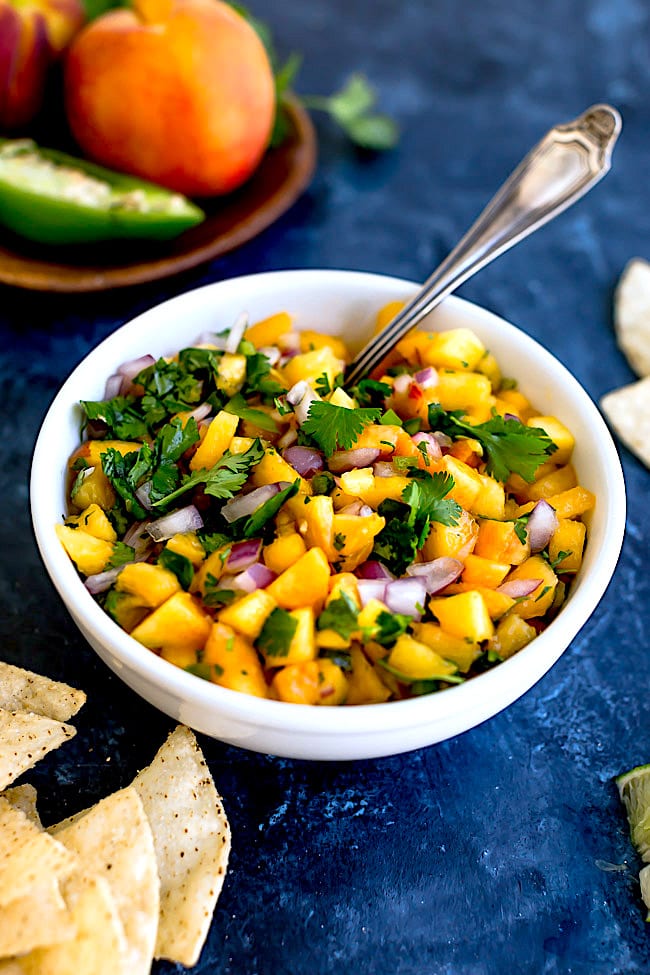 Peach Salsa
This simple and fresh peach salsa is a summertime favorite! Serve with chips or enjoy with grilled chicken, fish, or pork!
Yield: 2 cups
Prep Time: 10 minutes
Total Time: 10 minutes
Ingredients:
4 large peaches, peeled, pitted, and chopped
1/2 of 1 red onion, diced
1 to 2 jalapeños, diced
1/2 cup chopped cilantro
Juice of 1 large lime
Kosher salt and black pepper, to taste
Directions:
In a large bowl, add the peaches, red onion, jalapeño, cilantro, and fresh lime juice. Stir well. Season with salt and pepper, to taste. Serve with chips or with chicken, fish, or any Mexican dish.


All images and text ©Two Peas & Their Pod.




Follow twopeasandpod on Instagram and show us what recipes you are making from our blog! Use the hashtag #twopeasandtheirpod! We want to see what you are making in your kitchen!