Personal pizzas are a fun, customizable, and kid-sized twist on the typical larger version. An easy-to-make crust that's simple to divide into four, means no arguing because everyone gets their favorite toppings! 
For more pizza ideas, pop on over to my posts for Pizza Pot Pies, Hawaiian Pizza Dip, and Pesto Chicken Pizza.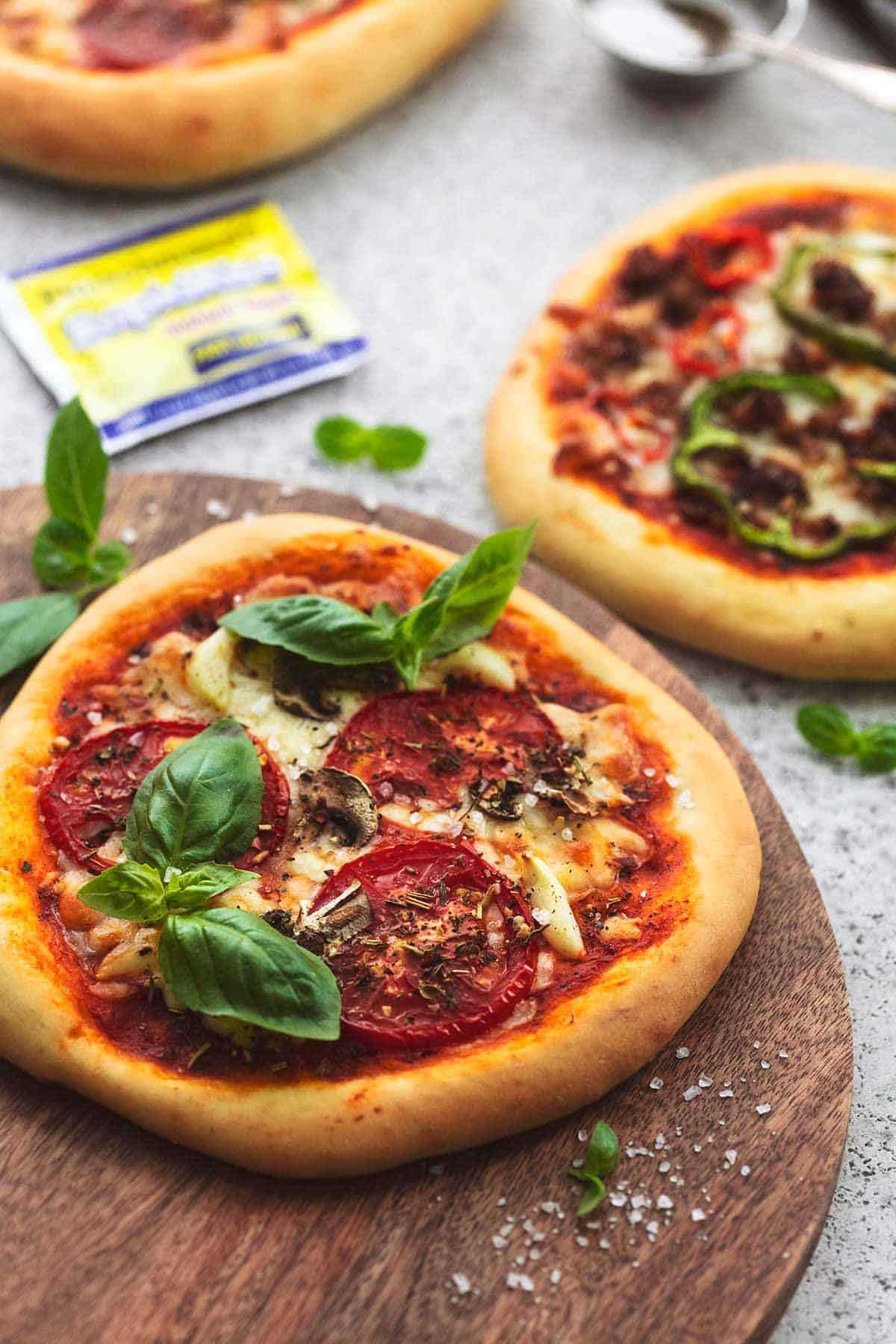 This post is in partnership with Fleischmann's Yeast. All opinions are my own. 
Like many moms and home cooks, by weekend nights all I wanted to do was have someone else do the cooking and go to a restaurant. But we realized going to a restaurant isn't always as fun for the kids and we wanted to make weekend nights fun for them too. So this year we shifted our weekend dinner routine away from eating out so much and instead focused on making our weekend nights special at home and we have loved this little change in our dinner routine.
We have been bringing pizza night home by making our own — a version for the kids and one for the adults — and having a movie night with twinkle lights and a sheet fort. We have had so much fun experimenting with different flavor combinations and this is now one of our favorite family traditions!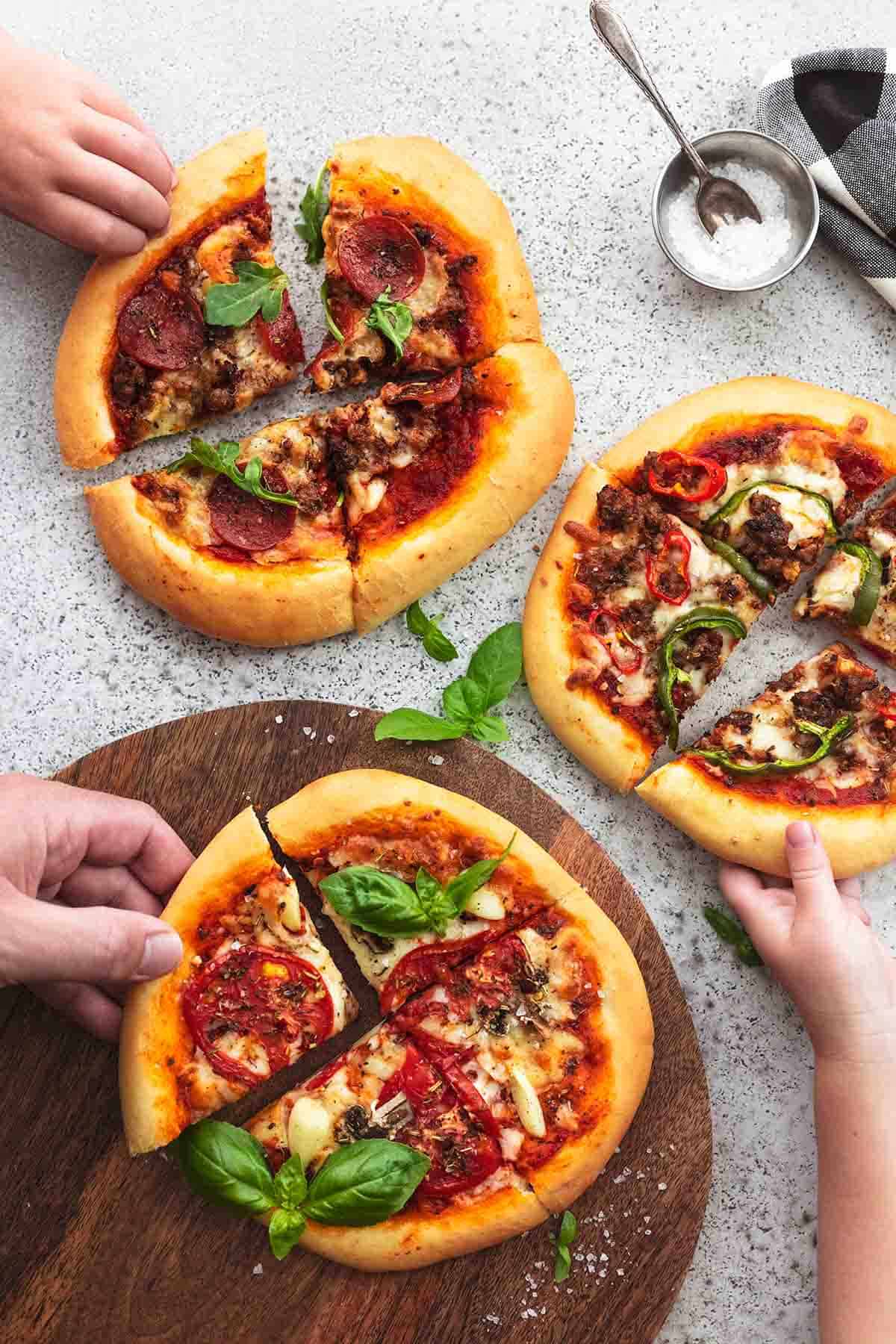 Why this Recipe Works

You can ignore the flour everywhere once you realize how great this recipe is to make (and eat) otherwise! 
Fun — It's not often you get to have fun with your food, but making these personal pizzas is truly fun for all ages in the kitchen! 
Customizable — Nothing says "make it your own" like pizza. Just about any toppings you love will go great on these individual pizzas (so long as they aren't so full they can't cook). 
Easy — No need to start the dough early so it can rise twice. Using Fleischmann's Yeast cuts pizza-dough-making time in half so I have more time to set up more twinkle lights and enjoy some little kid snuggles.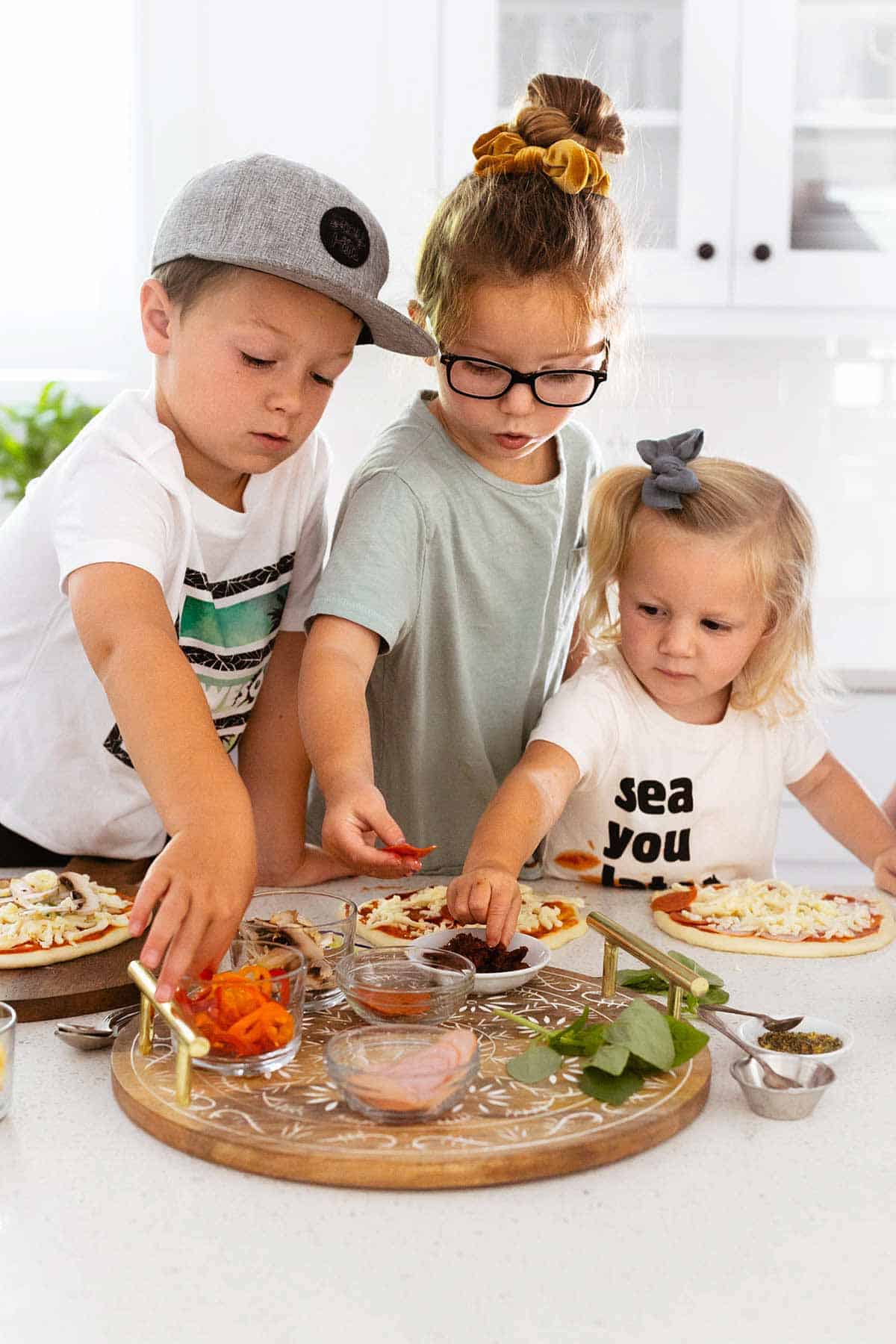 Perfect dough (every time) – Fleischmann's RapidRise® yeast only requires ten minutes of rising time and comes perfectly portioned into tear-and-pour packets so there is no measuring or guess-work involved. You'll get perfectly golden, chewy, fluffy, and supremely soft pizza crust every single time with have the effort of other doughs!
Pantry ingredients — The crust ingredients are within your fingertips, and the sauce and toppings are probably already in your pantry, too! If you don't have something, there are many substitutes so get creative! It's just pizza after all and nothing tastes better than homemade!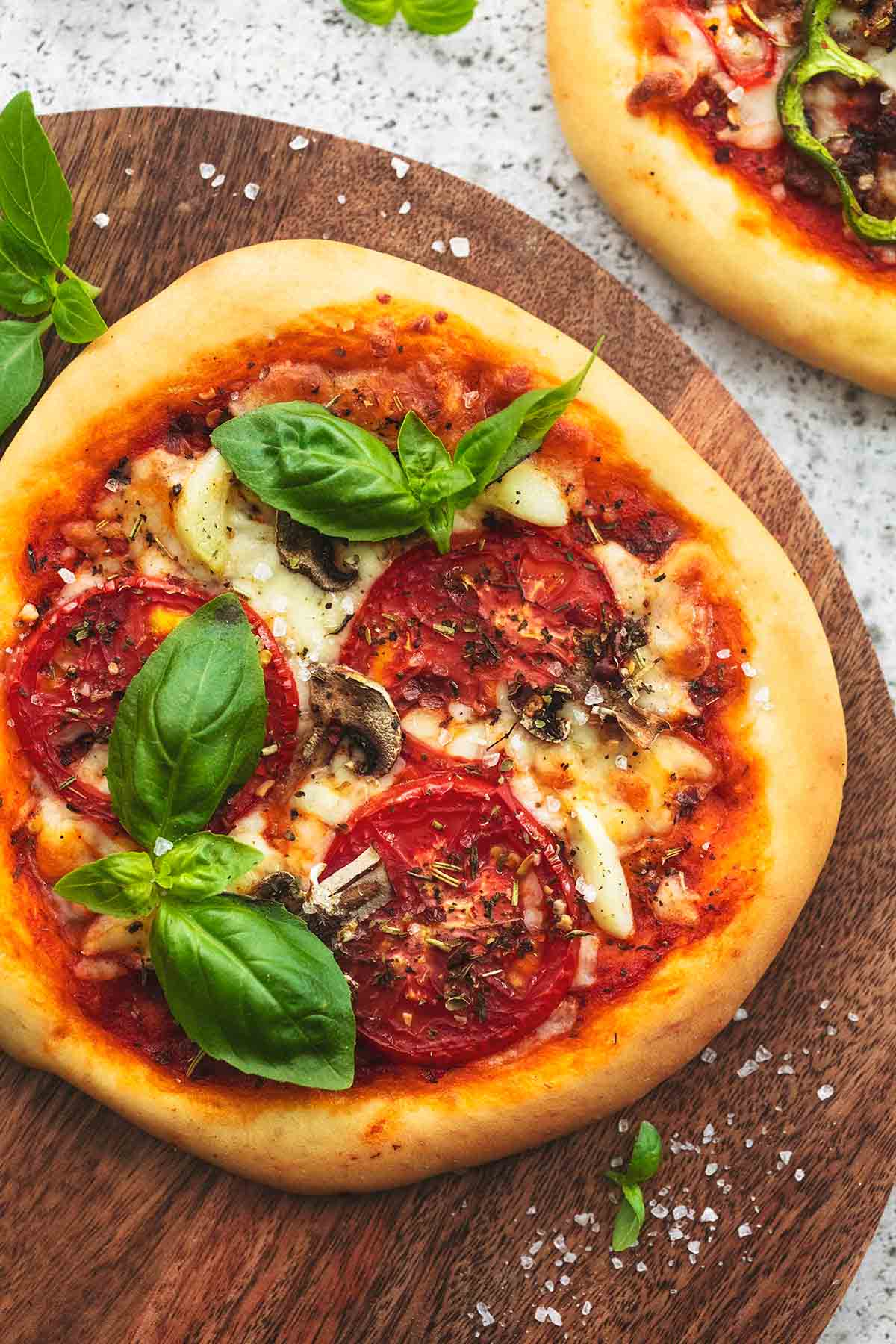 Here's How You Make It
Making the crust 
Preheat the oven to 425 degrees. 
Get a large bowl out and in it whisk together 1 cup of flour, yeast, sugar, and the salt. 
Next, add the warm water and oil and mix in both to the flour mixture. 
Add more flour, ¼ cup at a time to the dough until you can form it into a ball. It will be sticky, but if you flour your hands you should be able to work with it. 
Turn the dough out onto a floured surface and knead it for 4-6 minutes or until it's smooth and has an elastic feel. 
Place the dough into a bowl again and cover tightly with plastic wrap.
Let it rise for about 10 minutes in a warm place (I like next to the oven).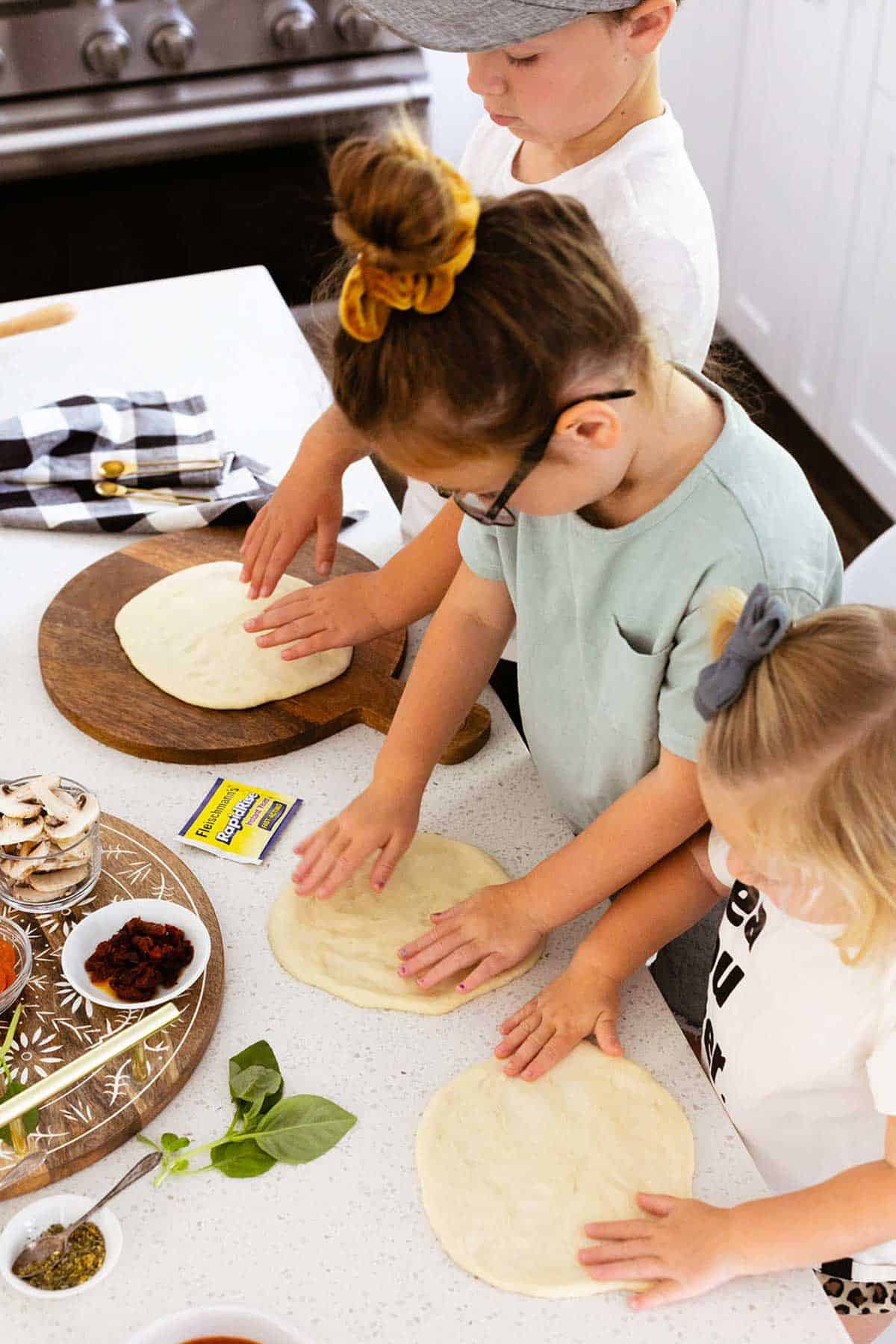 Putting together the pizza

Once the dough has risen, divide it into four equal-sized pieces, rolling or patting each piece into a 10-inch circle. 
Spread the pizza sauce on top of each of the pizzas, then the cheese, and then your favorite toppings. 
Put the pizzas in a preheated oven on the closest rack for 12-15 minutes or until the crust is golden brown and the cheese has melted. Serve it warm.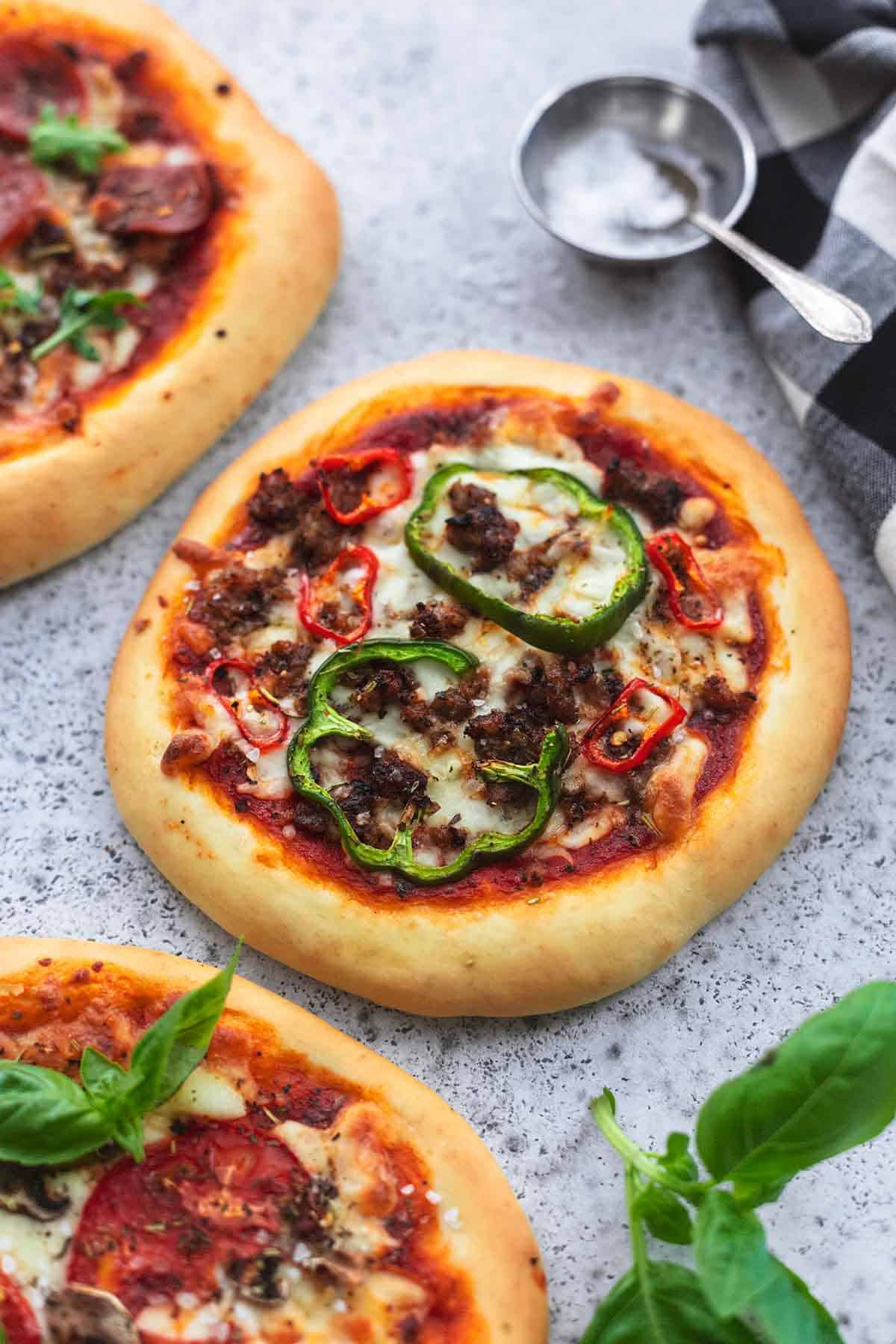 Pizza Topping Ideas
BBQ Chicken: This finger-licking-good version only requires BBQ sauce, shredded or diced cooked chicken, red onions, and cilantro
Spicy Hawaiian: Are you a Hawaiian-style pizza lover? On top of the personal pizza crust add the sauce, crushed red pepper flakes, pineapple chunks, and Canadian bacon or ham.
Meat Lovers: Want all the meats? You can do that too. Try topping with cooked ground sausage, pepperoni, and Canadian bacon or ham.
Veggie Lovers: Vegetarian pizzas are simple and tasty! I usually make mine from thinly sliced bell peppers, mushrooms, onions, and olives, but you can top with any veggies you love!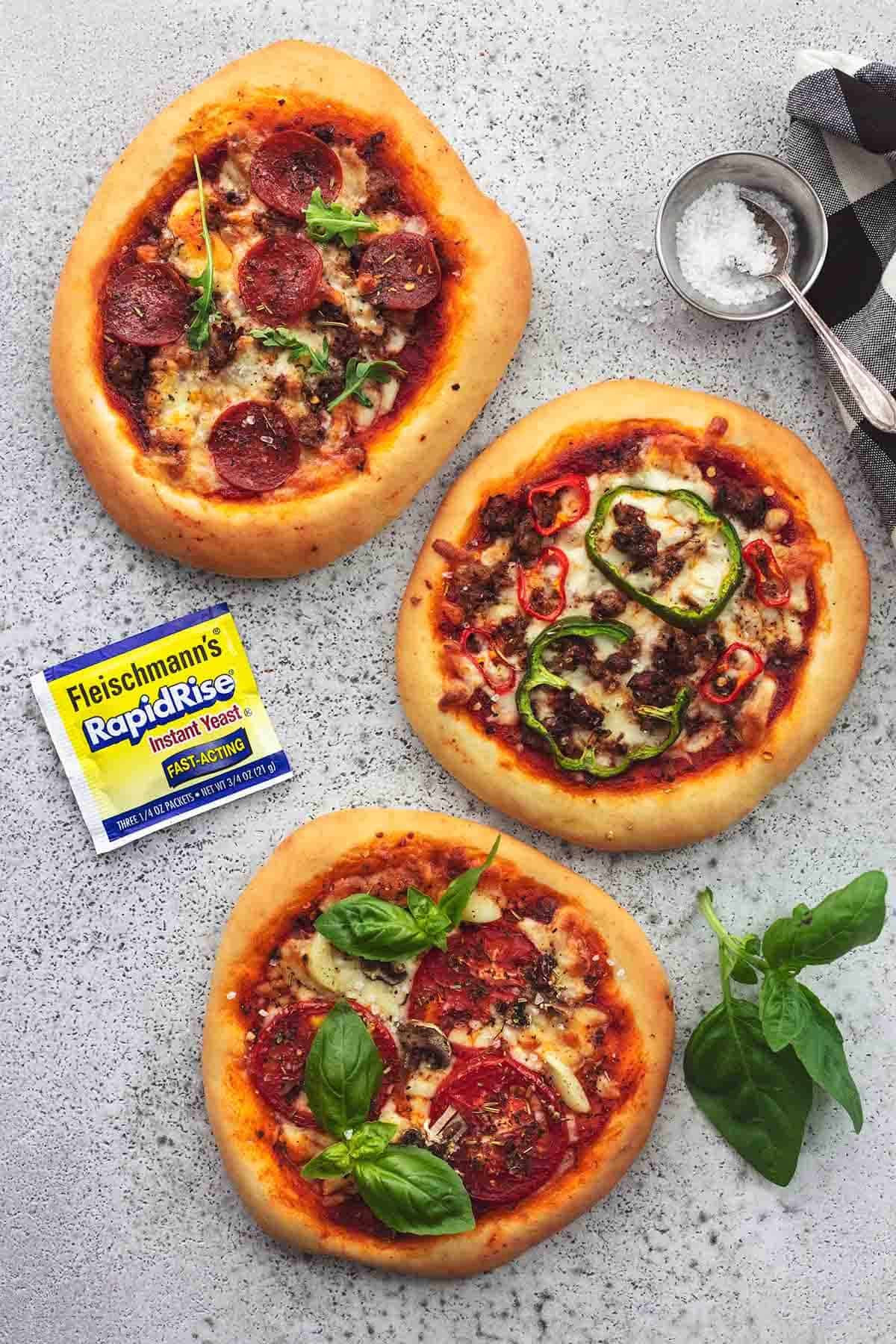 Expert Tips for Perfect Personal Pizzas
To make your personal pizza with a thick crust, double the recipe and bake the crusts for an additional 10 minutes before adding toppings and baking again.
Pizza + movie night means I want more time with the kiddos and less in the kitchen. For that reason, I use Fleischmann's RapidRise® Yeast to give the pizza crust the quickest, easiest dough rise (it only needs one rise!). Fleischmann's RapidRise® Yeast comes in a convenient strip of three packets so I know we can have pizza night a few weeks in a row without a trip to the store. Plus, you can even use the yeast in a bread machine, just add it right in!
If you don't have pizza sauce, any jar of pasta sauce will do. Pizza sauce is usually made with uncooked tomatoes but a mild marinara will work just fine!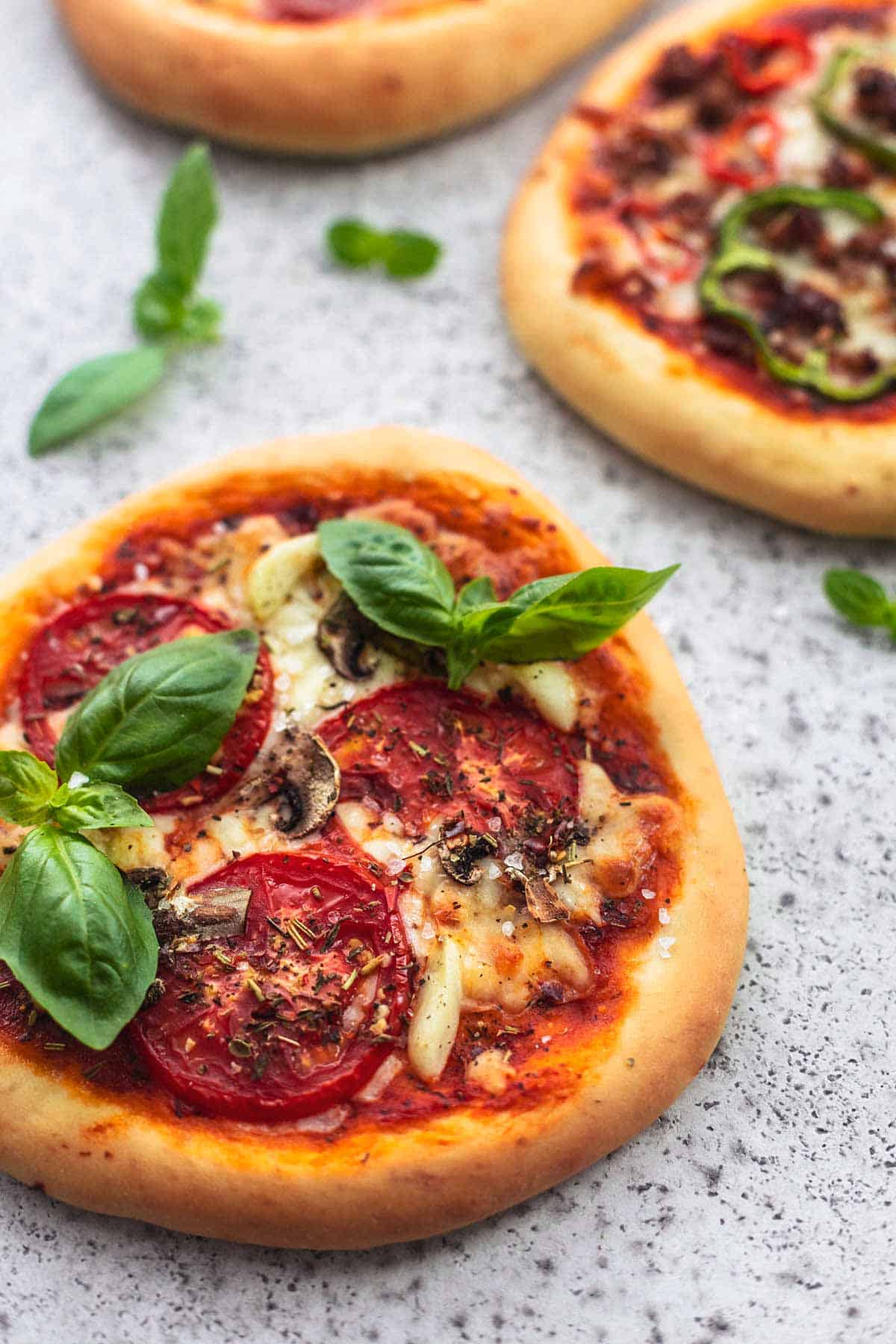 More Recipes Like This
Did you make this Personal Pizza recipe? AWESOME! Please rate the recipe below!
Preheat oven 425 degrees.

In a large bowl whisk together 1 cup flour, yeast, sugar, and salt.

Add water and oil and mix well until blended.

Gradually add more flour, 1/4 cup at a time, until dough forms into a ball. (Dough will be quite sticky but with you should be able to handle it with floured hands)

Turn dough out onto a floured surface and knead for 4-6 minutes until smooth and elastic.

Place dough in a bowl, cover tightly and allow to rise in a warm place for 10 minutes.

Divide dough into four equal-size pieces and roll or pat each into a 10-inch circle.

Spread pizza sauce on top of each pizza, followed by cheese, and desired toppings. (See notes for ideas)

Bake in preheated oven on the lowest rack for 12-15 minutes until crust is golden brown and cheese is melted. Serve warm.
Thick Crust: double the recipe and bake crusts 10 minutes alone before adding toppings
BBQ Chicken: bbq sauce, shredded or diced cooked chicken, red onions, and cilantro
Spicy Hawaiian: pizza sauce + crushed red pepper flakes, pineapple chunks, Canadian bacon or ham
Meat Lovers: ground sausage, pepperoni, and Canadian bacon or ham
Veggie Lovers: thinly sliced bell peppers, mushrooms, onions, olives
Calories: 735kcal | Carbohydrates: 93g | Protein: 33g | Fat: 25g | Saturated Fat: 10g | Cholesterol: 54mg | Sodium: 1282mg | Potassium: 393mg | Fiber: 4g | Sugar: 5g | Vitamin A: 669IU | Vitamin C: 4mg | Calcium: 682mg | Iron: 6mg