Quick and easy, these Philly cheesesteak sloppy joes are going to save dinner night, I just know it. Plus, they'll be on the table in 30-minutes or less. Yum!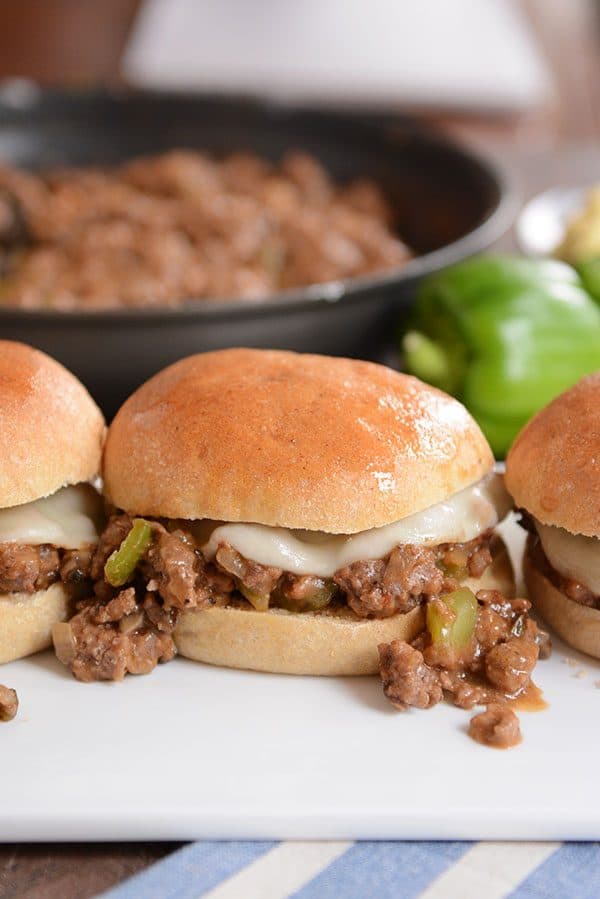 I'm obsessed with new recipes.
Though we have our standby, go-to meals, it makes me a little irritated and grumpy thinking about eating the same things for the rest of forever.
Even with the landscape of blogging changing – and many bloggers (including myself, at times, like with this sour cream banana bread) taking recipes out of the archives and reposting them with a new date – I'll never be able to give up my love for a brand new amazing recipe.
I had someone say to me the other day that they are overwhelmed by all the recipes coming at them in their feed, google searches and on their screen! They can't keep up.
And they wished food bloggers everywhere would stop posting new recipes and stick to updating the ones they already have on their sites (kind of a "stick with what you know" type of message).
Of course, I immediately unfriended this person.
Ok. Not really. But I couldn't believe we had managed to exist on different planets in terms of new recipes vs already posted recipes.
It made me curious to know how YOU feel.
Do you like seeing brand new recipes? Or are you like my friend-who-narrowly-missed-being-unfriended…and do you want to see only archived tried-and-true recipes above sparkly new ones?
Maybe a mix of both?
Just curious. You may not have an opinion, and that's ok.
I, personally, have an opinion about everything, so if you do have a preference, let's hear it in the comments below.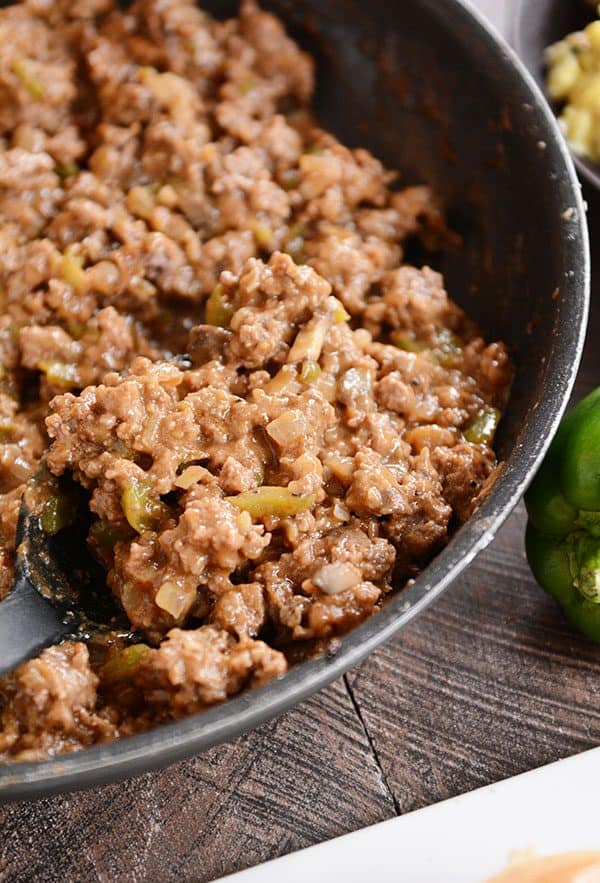 These Philly cheesesteak sloppy joes are a NEW recipe.
Yahoo for new recipes! Seriously, love them.
And yes, I know that by using the term "Philly," I'm opening myself up to some potential criticism here.
Let me assure you that I am NOT claiming these Philly cheesesteak sloppy joes to be just like a Philly cheesesteak sandwich.
They aren't authentic. You aren't going to find them in Philadelphia or anywhere close, most likely.
And I promise, I'm not trying to offend a single soul with the title.
With disclaimers aside, let me tell you that what they are is a delicious mashup of Philly cheesesteak flavors stuffed inside a tender bun and smothered in melty provolone cheese.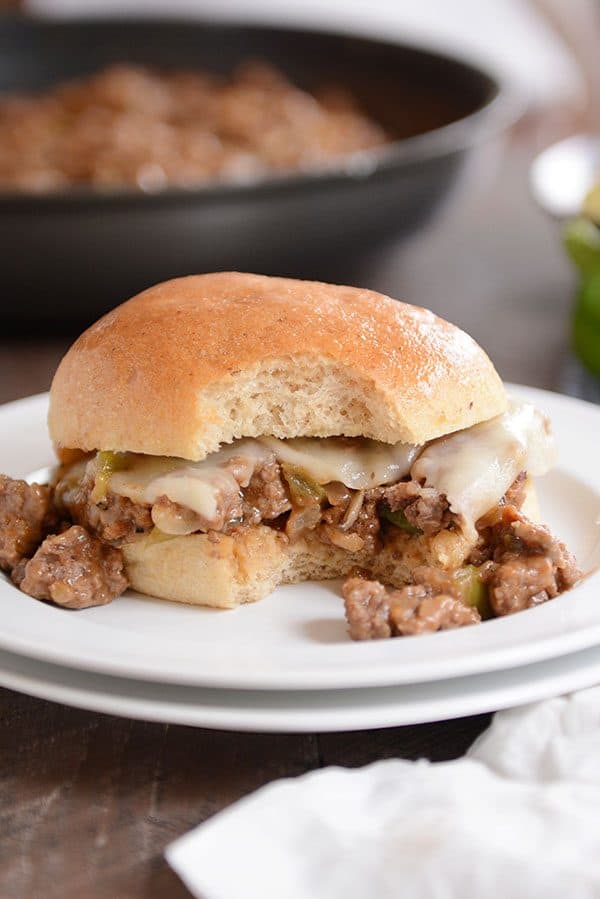 And they are so, so delicious.
Even better? These delectable little Philly cheesesteak sloppy joes can be on your table in 30 minutes or less (20 minutes if you are totally rockin' your dinnertime A-game).
It took me a long time to get on board with sloppy joes (think: therapy sessions needed regarding the traumatic sloppy joes of my youth).
But once this classic (and crazy tasty) sloppy joe recipe came into my life, I've occasionally lived life on the edge experimenting with sloppy joe flavors.
Like, these turkey and Swiss sloppy joes. At first glance, they seem a little, well, weird.
As in, who would dare throw those flavors into a sloppy joe?
Some of you even expressed skepticism (it's ok, skepticism is allowed here), but if you read through the recent comments on that post, you'll see that turkey and Swiss were meant to be sloppy joe flavors (lots of you love this recipe!).
Same goes for Philly cheesesteak flavors. They just work in a sloppy joe.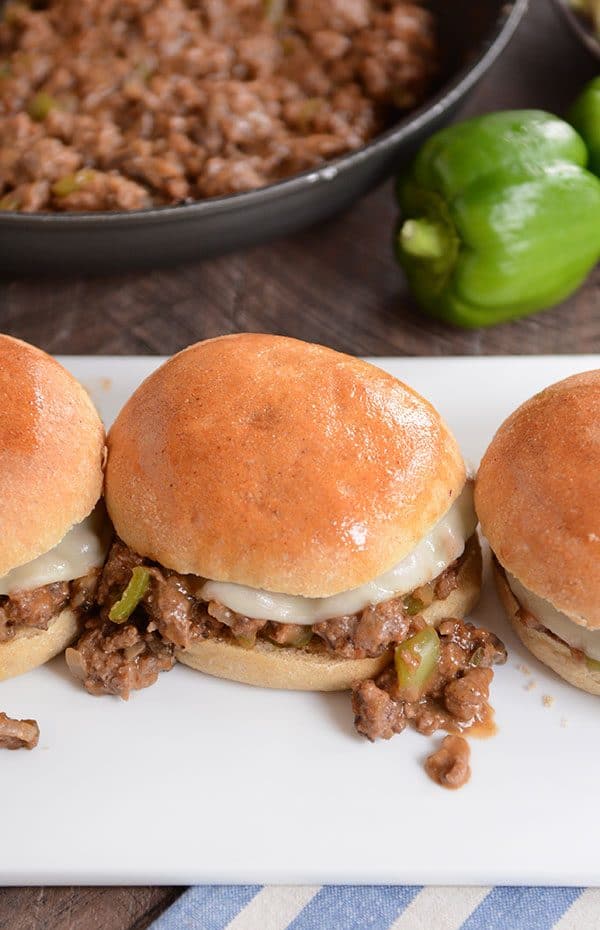 While storebought buns are going to work JUST FINE here, if you are in the market time-wise to get homemade buns on the table, these French bread rolls or their fluffy whole wheat counterpart are my go-to for recipes like this.
I roll pieces of dough (about 3 ounces in size) into balls and then flatten slightly with the palm of my hand.
Let rise. Bake.
And just like that, you've got yourself some homemade buns that will seriously rock your world.
I freeze these baked (and cooled) rolls all.the.time.
The ones you see pictured in this post were frozen and defrosted and lightly warmed for the express purpose of using them for the Philly cheesesteak sloppy joes.
Ok, now get your sloppy joe on! This Philly version is worth the throwback to the good ol' days of sloppy joes for dinner. Hope you love them!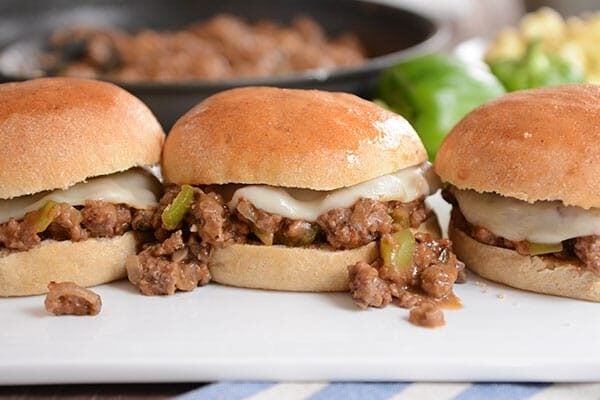 Green salad or this Amazing Romaine Salad
Homemade Tater Tots or Baked Cheesy Zucchini Fritters
Fresh fruit and/or vegetables
One Year Ago: Simple Creamy Chicken and Wild Rice Soup
Two Years Ago: Perfect Pumpkin Chocolate Chip Cookies
Three Years Ago: Dinner in a Pumpkin
Four Years Ago: Overnight Steel Cut Oats
Five Years Ago: Cinnamon Apple Cider Muffins
Yield: 6-8 servings
Philly Cheesesteak Sloppy Joes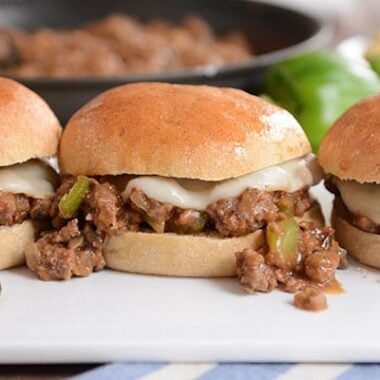 Ingredients:
2 pounds lean ground beef or ground turkey
1/2 cup chopped yellow or white onions (about 1 small-medium onion)
1/2 to 3/4 cup chopped green bell pepper (about 1 large or 2 small-medium peppers)
8 ounces white button or baby bella mushrooms, stemmed and finely minced (see note)
1 teaspoon salt
1/4 teaspoon black pepper
1/4 cup all-purpose flour
1 1/2 cups low-sodium beef broth
2 tablespoons Worcestershire sauce
1/4 cup BBQ sauce (fave homemade version here; use a brand/recipe you love)
Provolone cheese slices, for serving (or other cheese of choice)
Buns, for serving (see note for my go-to homemade recipe/method)
Directions:
Heat a large, 12-inch nonstick skillet over medium heat and add the meat, onions, bell pepper, mushrooms, salt and pepper. Cook, stirring often to break the meat into small pieces, until the meat is evenly and completely cooked and the vegetables are tender, 5-10 minutes. Drain excess grease.
Sprinkle the flour over the meat/veggies and stir to combine. Cook the mixture over medium heat for 1-2 minutes, stirring often (this helps cook out the flour taste).
In a bowl or liquid measuring cup, whisk together the beef broth, Worcestershire sauce, and BBQ sauce.
Over medium heat, gradually add the sauce mixture to the skillet, stirring with a wooden or silicone spoon or spatula. Bring the mixture to a simmer and cook for 4-5 minutes until bubbly and thickened. Add additional salt and pepper to taste, if needed. 
Serve the sloppy joe mixture on buns topped with a slice of provolone cheese (or other cheese of choice). For a meltier cheese, place the assembled sloppy joes in a 350 preheated oven for a few minutes before serving.
Notes:
If you HAVE to, you can leave out the mushrooms. But they do add great flavor (and texture – I know, some of you are cringing right now). The idea is that they should be very finely minced so they meld perfectly into the meat mixture. 
I use this whole wheat bun recipe when I have the time (and usually have some of the finished, baked rolls in the freezer, which makes this meal easy peasy). I weigh out about 3 ounces of dough per bun, shape into a ball and then lightly flatten on the baking sheet so they bake more wide than they do tall. Clearly, though, storebought buns are going to work just fine here as well!
All images and text ©Mel's Kitchen Cafe.
Follow @melskitchencafe on Instagram and show me the recipes you are making from my blog using the hashtag #melskitchencafe. I love seeing all the goodness you are whipping up in your kitchens!
Recipe Source: from Mel's Kitchen Cafe