This Pizza Crust Recipe is the easiest way to make pizza dough ever! You can have a homemade pizza on your table from start to finish in 30 minutes, even quicker than it takes to order delivery! AND there is NO rise time! This will be your favorite way to make pizza from now on.
I have partnered with Fleischmann's Yeast on today's recipe. Thank you for continually supporting the brands that make this website possible.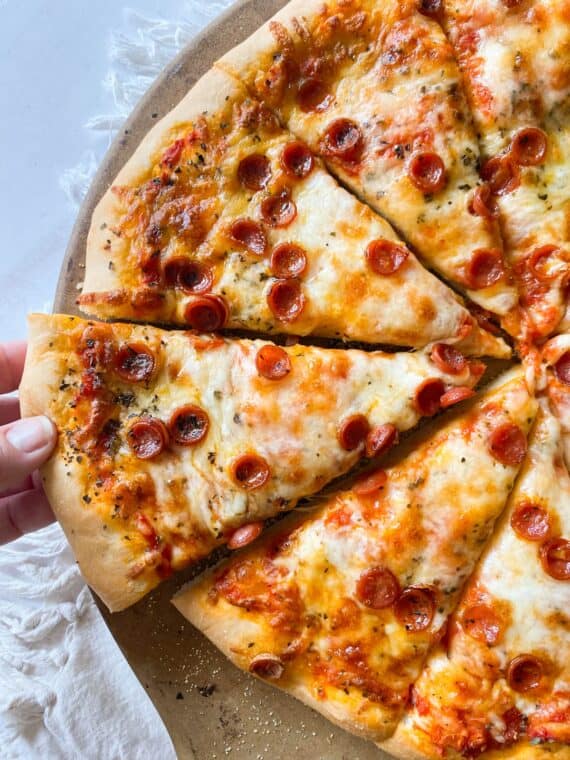 The Best Pizza Dough Recipe Only Takes Minutes to Prep!
You might wonder how it's possible to have this recipe ready to go in the oven in 15 minutes…I wouldn't believe it either, if I hadn't made it so many times! The secret is you don't have to let the dough rise!! 
Yep, you read that right! NO RISE TIME!! Which takes any guess-work you might have when baking with yeast OUT of the equation! 
But WHY Doesn't the Dough Have To Rise?
Well, first let's talk about the yeast we're using in this recipe. It's Fleischmann's® RapidRise® Yeast and quick or instant yeast, like the RapidRise® is milled into finer particles which allows it to dissolve faster! This is why you don't have to "bloom" the yeast in water before adding it into your dry ingredients! Pretty cool, right?
And I will say, you CAN allow your dough to rise, you just don't have to! If you allow this dough to rise for 30-60 minutes you will need to punch it down before rolling… so see? What's the point?
I mean, think about it…you want your pizza crust to be chewy, and slightly "airy", but you don't want it to be like bread. AND you're rolling, or pressing the dough flat, and spreading it with sauce, cheese, and toppings. You don't NEED it to rise up that much. The short, 10 minute, rest time gives the gluten time to relax, develops the yeast flavor quickly (another benefit of RapidRise® Yeast) and allows for it to rise slightly.
It's pretty genius!
AND it makes it the perfect pizza recipe to prepare with your kids help. Homemade Pizza Night is a fun tradition, and making pizza from scratch, dough included, just gives you even more of a sense of accomplishment!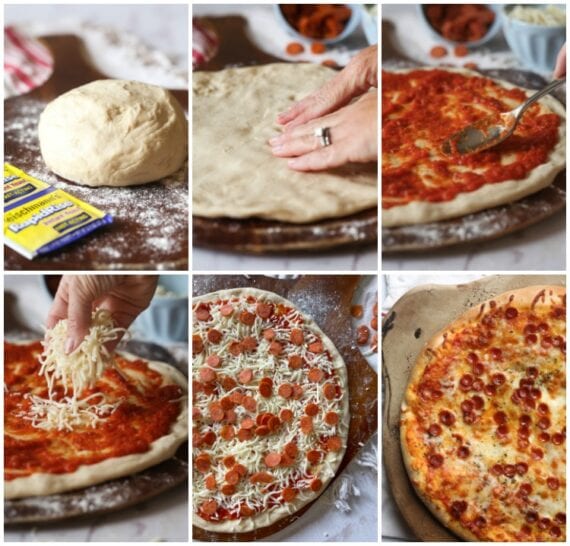 What Toppings Can You Put On This Pizza Crust?
Well, this is where your creativity comes into play! I just used mini pepperoni on today's pizza, but the sky is the limit! Again, this is a great time to get your kids involved and let them create their very own pizza flavor!
What Can I Add To Pizza Dough To Season It?
This is another great way to put your own stamp on your homemade pizza. Adding seasonings into the dough is a fantastic idea to add more flavor! You will add the seasonings in with the flour mixture in Step #2 of the recipe below.
Here are some ideas to get you started:
Crushed Red Pepper
Italian Seasoning
Oregano
Basil
Rosemary
Garlic Powder
Seasoned Salt
Parmesan Cheese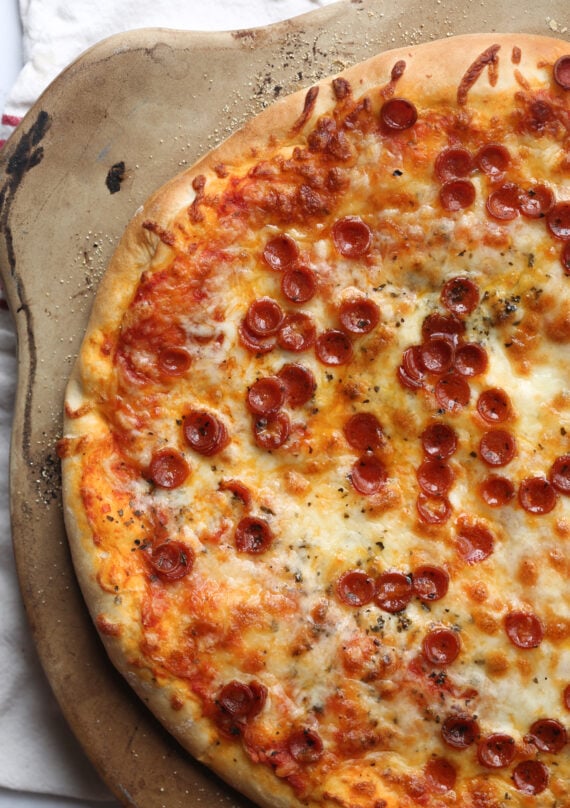 I hope you try this Pizza Crust Recipe, I really think you will enjoy it! Everything just tastes better when it's homemade!!
Looking For More Pizza Recipes? Try These: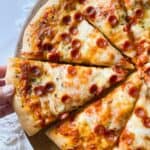 ---
Description:
This Easy Pizza Crust Recipe is going to be your go-to recipe from now on! Chewy, flavorful and on your dinner table in 30 minutes!
---
Ingredients:
1 3/4

to

2 1/4

cups all-purpose flour

1

envelope Fleischmann's® RapidRise® Yeast

1 1/2 teaspoon

s granulated sugar

1 teaspoon

kosher salt

2/3 cup

warm water (120° to 130°F)

3 tablespoon

s olive oil

1 cup

pizza sauce

2 cup

s shredded mozzarella cheese

1 cup

sliced pepperoni or preferred topping

1

–

2

tablespoons cornmeal if using a pizza stone
---
Instructions:
Preheat oven to 425°F. If using a baking stone, place the baking stone in the oven while it preheats. Otherwise, lightly coat a pizza pan with nonstick spray. Set aside.

In a large bowl stir together 1 cup of flour, dry yeast, sugar, and salt. Add warm water and oil, stirring using a wooden spoon or rubber spatula for 1 minute. Gradually add more flour to form a soft dough that holds together in a ball and is slightly sticky. Knead on a floured surface for 4 minutes until smooth and elastic. Alternately, you can do this in the bowl of your stand mixer. Mix the ingredients together with the paddle attachment, and then attach the dough hook to knead for 4 minutes on medium speed.

Cover with a clean towel and allow the dough to rest for 10 minutes.

Place the dough onto the prepared pizza pan. Or if you're using a pizza stone to bake, I recommend doing this step on a floured pizza peel or a cutting board. Press the dough into a 12 – 15-inch circle.

Top with your pizza sauce, cheese, and topping(s).

Place the pizza pan into the oven, or if using a pizza stone, remove the stone from the oven and sprinkle with corn meal. Slide the pizza onto the stone and place back in the oven. Bake for 12-15 minutes, or until the crust is golden and the cheese is melted.
---
Notes:
recipe adapted from breadworld.com
Keywords:: cookies and cups, pizza crust, pizza dough, pizza recipe, yeast baking, yeast, instant yeast
Want To Save This Recipe?