Easy20 minsQuick
This quick Gochujang Lettuce Wraps recipe is easy to make in about 20 minutes with veggies and your choice of beef, chicken, pork, shrimp or tofu.  And it is made with the absolute yummiest 4-ingredient sesame gochujang sauce.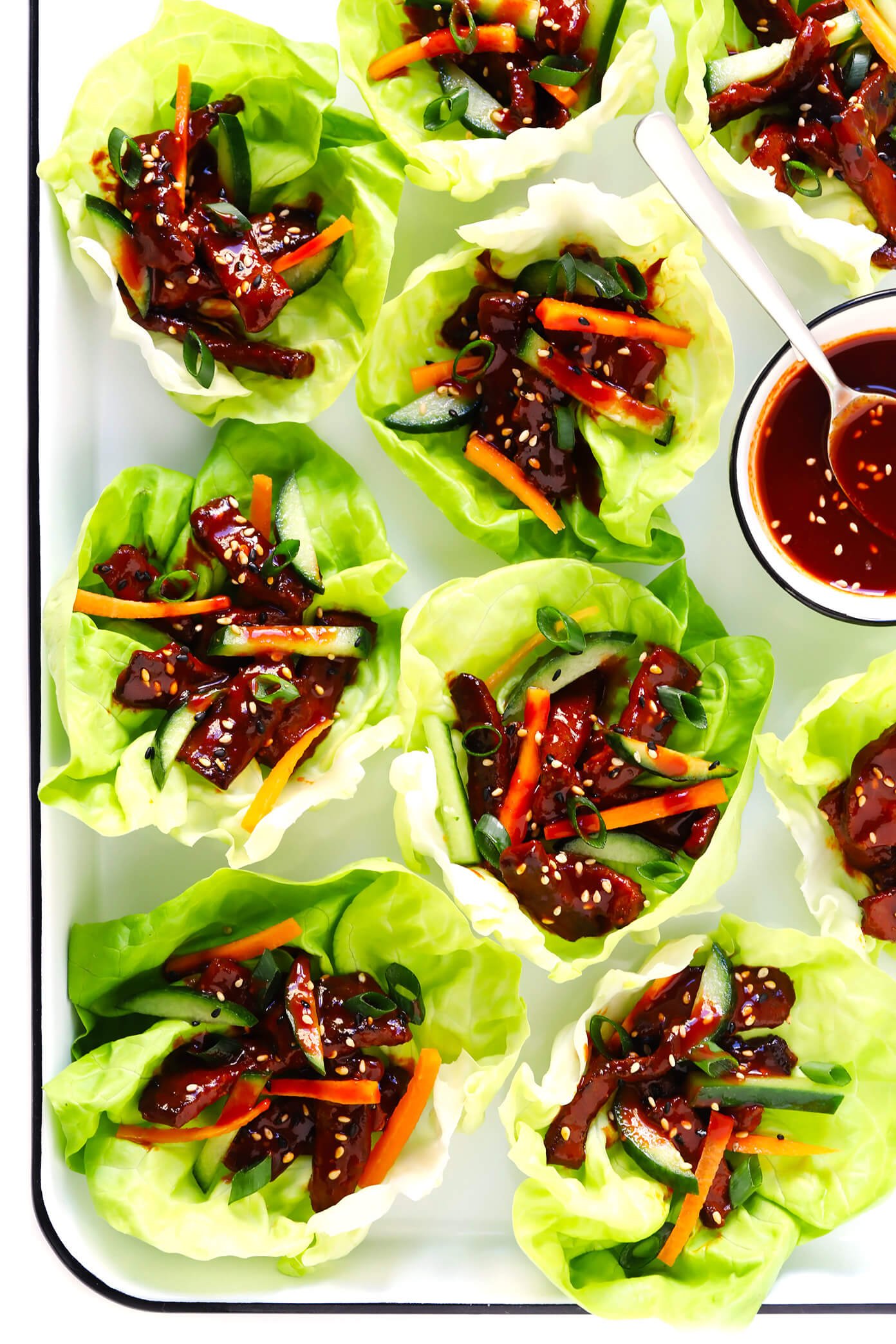 Guys, have you tried cooking with gochujang yet?
If not, it's time! ♡

MY
LATEST VIDEOS
This bold, spicy, savory, slightly-sweet, and irresistibly-good Korean chile paste has become one of my favorite ingredients to cook with this past year.  We use it regularly in our kitchen to whip up quick Korean stir-frys, liven up soups and salad dressings and marinades, and make the sauce for Barclay's favorite spicy Korean noodles (<– recipe coming soon).  Most often, though, I love using it to make a super-simple gochujang sauce for lettuce wraps!
This 4-ingredient gochujang sauce only takes a minute or two to whip up with gochujang paste, soy sauce, maple syrup and sesame oil.  And when tossed with a few crunchy veggies and your choice of protein (beef, chicken, pork, shrimp or tofu would all work here!), you can have a batch of the tastiest Korean lettuce wraps ready to go in less than 30 minutes.  It's the perfect light meal or appetizer for springtime.  It's a great recipe for using up leftover veggies or protein in the fridge.  And I'll just tell you now — once you whip up a batch of this simple sesame gochujang sauce, you're going to want to put it on everything.
So add a bottle of gochujang to your grocery list, and let's make some lettuce wraps!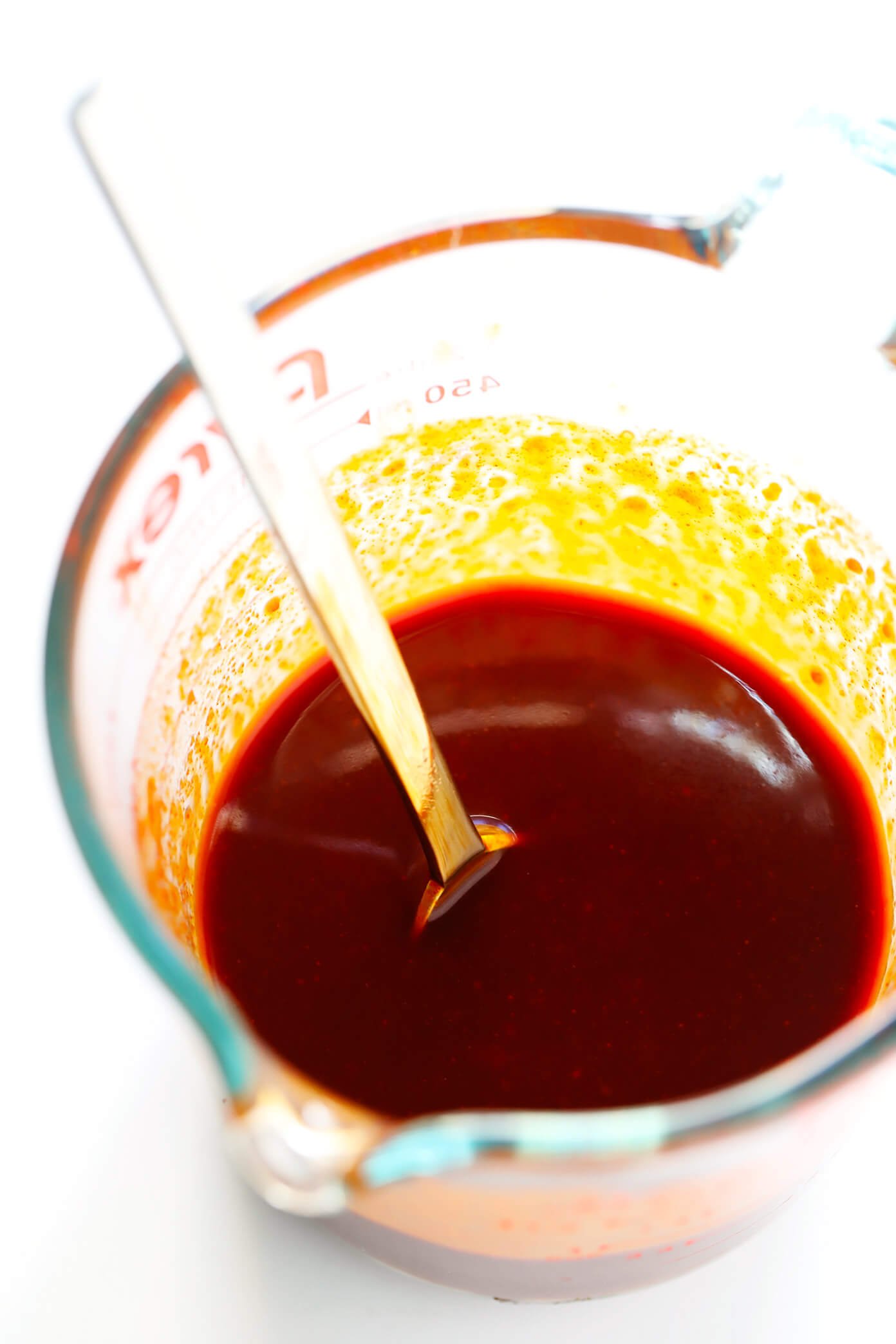 What is Gochujang?
First, though, let's back up a second — exactly what is gochujang paste?
Sometimes referred to as the "spicy miso of Korean cooking", gochujang is a fermented red chile paste that is a staple in Korean cooking.  It is a thick and very-concentrated condiment that usually comes in a little tub or bottle.  And it has this complex spicy, savory, sweet, funky, umami flavor that instantly livens up any dish.  When I was visiting Korea this month, gochujang was served with almost every meal, and it's the signature flavor of many traditional dishes there, including the ever-famous bibimbop.
Heads up — gochujang definitely packs some heat, so go easy adding it into dishes if you are sensitive to spicy food.  That said, different brands of gochujang can vary somewhat significantly when it comes to heat levels and ingredients, so feel free to do some taste-testing and find the brand you prefer.  Gochujang is increasingly available in everyday American grocery stores in the Asian section.  But if you can't find it there, it's worth the visit to an Asian grocery store, or you can easily order it online.  (I would recommend this brand of gochujang, which is delicious and does not include corn syrup.)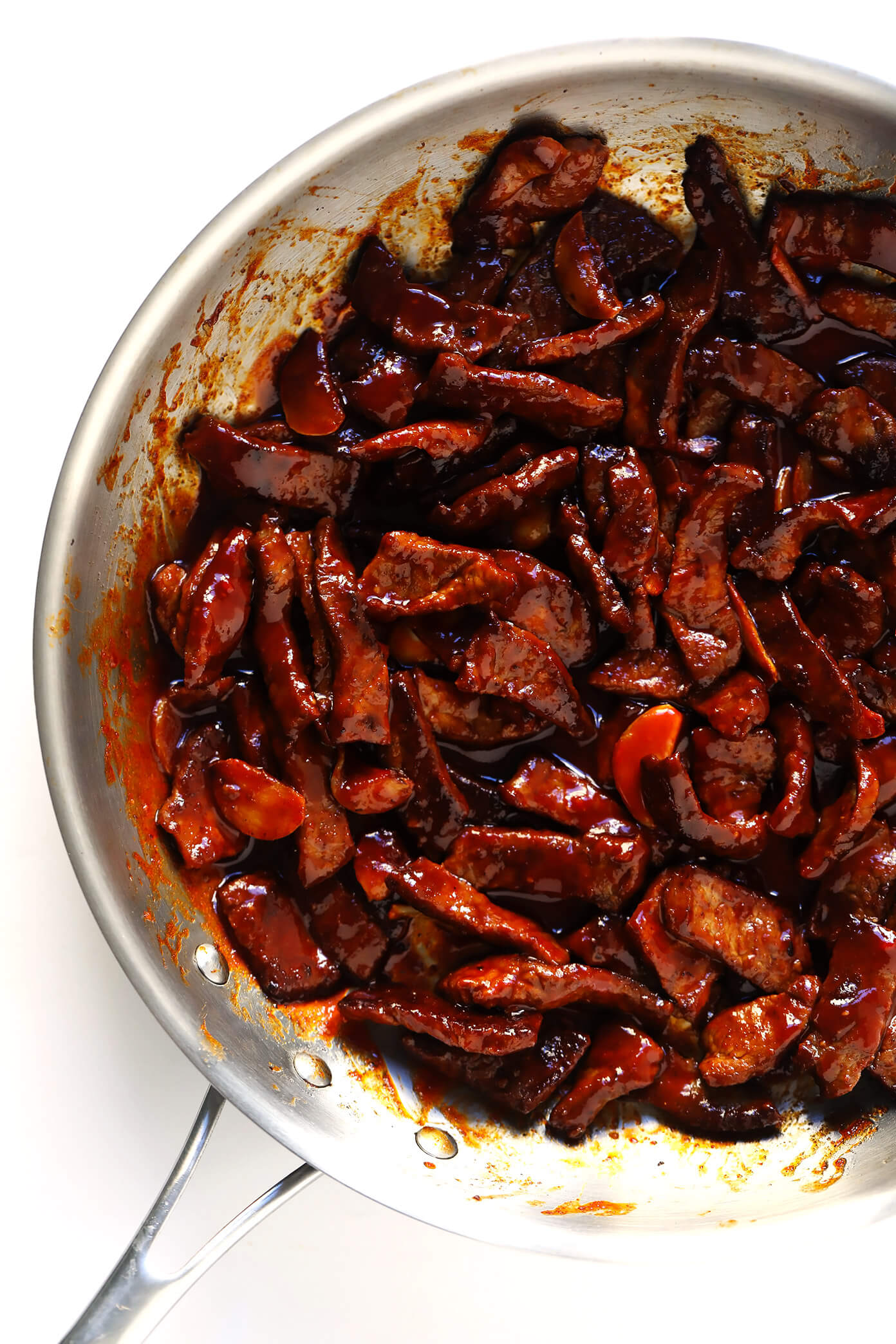 Korean Lettuce Wraps Ingredients:
So here's the thing — this recipe is mostly just about the sauce!  The rest of the ingredients are super-flexible, so go with whatever sounds best to you.  You will need:
Protein: I stir-fried some steak with a bit of garlic for the lettuce wraps in these photos.  But ground beef, chicken (sliced chicken breasts or ground chicken), pork (sliced pork chops or ground pork), shrimp, or tofu would also be delicious here.
Veggies: I kept things simple with thinly-sliced carrots and cucumber.  But any additional lettuce-wrap-friendly veggies would also be delicious here, such as radishes, bean sprouts, bell peppers or avocados.
Lettuce: I used butter (bibb) lettuce leaves, but romaine, iceberg, cabbage, or endive would be delicious alternatives too.
Sauce: Our 4-ingredient sauce simply calls for gochujang paste, soy sauce, maple syrup (or honey or brown sugar), and toasted sesame oil.
Garnishes: I just sprinkled some toasted sesame seeds and thinly-sliced green onions on my lettuce wraps.  But feel free to add on any other garnishes that sound fun!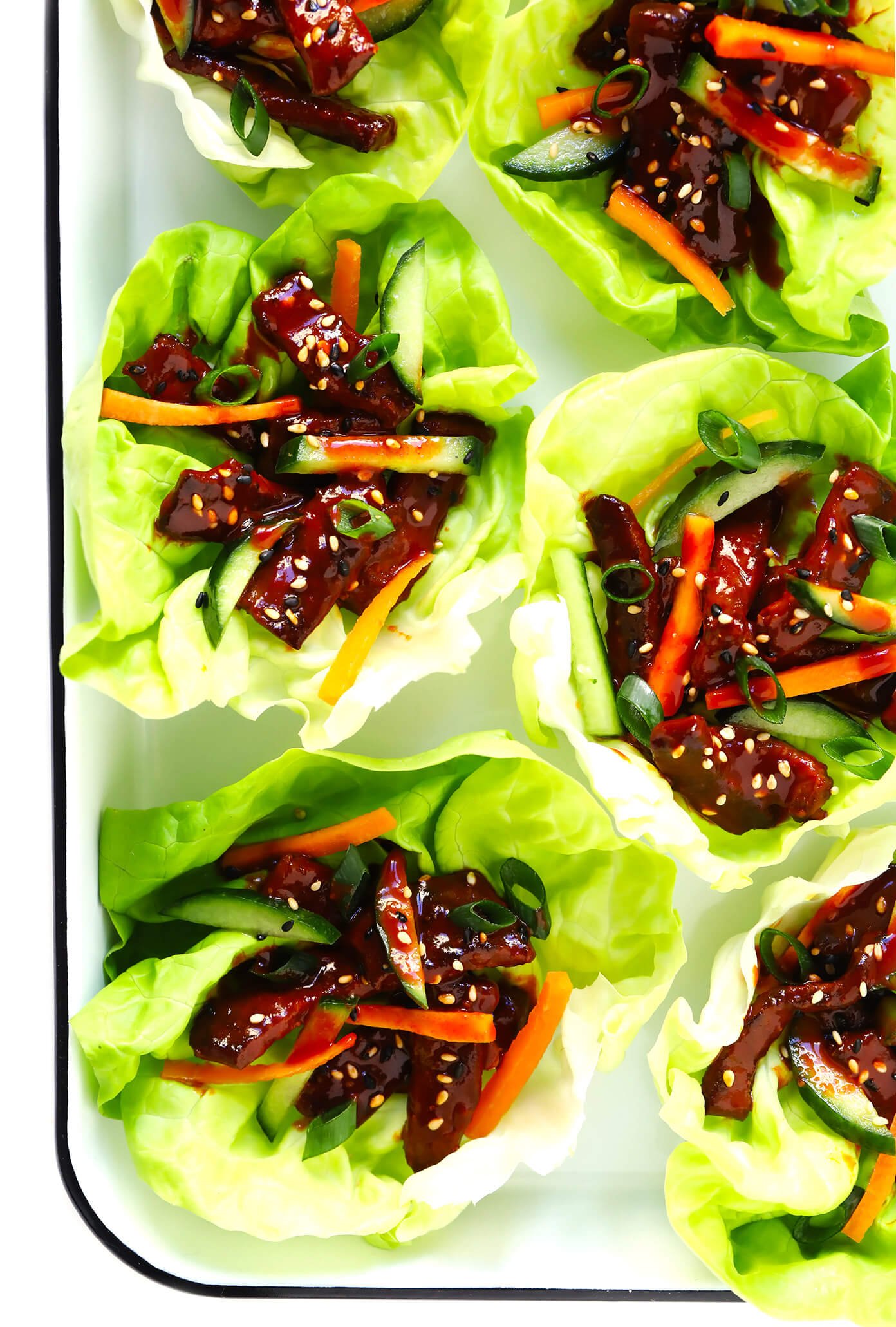 How To Make Lettuce Wraps:
Alright, let's talk about how to make lettuce wraps!  Simply…
Chop the veggies.  You can shred, slice or dice them into whatever shapes you prefer.
Make the sauce.  In a small bowl, whisk together the four sauce ingredients until combined.  Give it a quick taste and feel free to add more sweetener and/or gochujang if you would like.
Cook the protein.  Season your chosen protein with salt and pepper.  Then I recommend just stir-frying it in a tablespoon or two of oil until it is cooked.  Remove the pan from the heat, then toss the protein with

half

of the sauce.
Assemble the lettuce wraps.  Then place a generous spoonful of the saucy protein in each lettuce cups, topped with a few veggies and an extra small drizzle of sauce.  Sprinkle with your desired garnishes and…
Serve!  Right away, while they are still warm.  🙂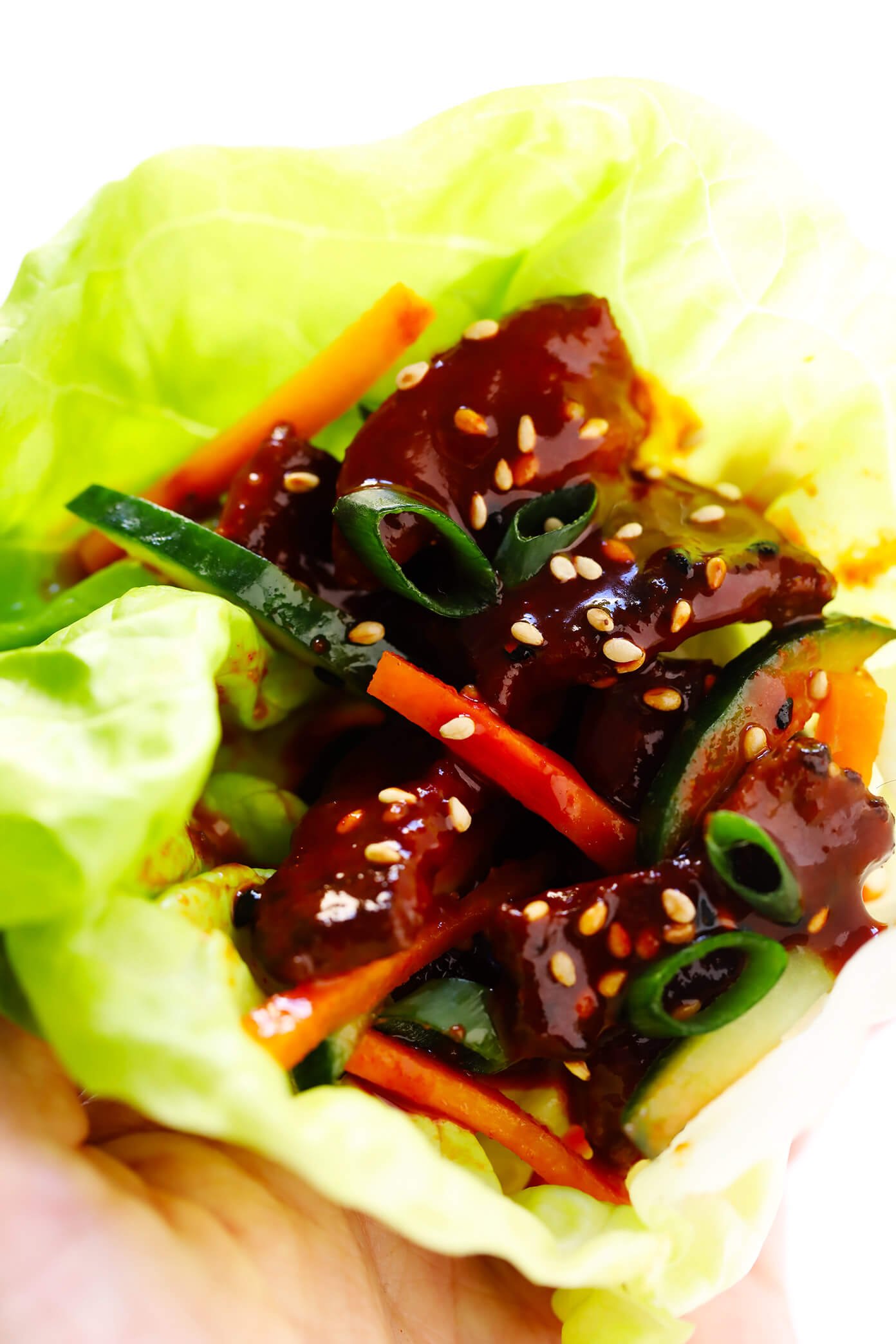 Possible Variatons:
Want to mix things up with these gochujang lettuce wraps?  Feel free to:
Make them spicier: If you want an extra kick, feel free to add in a little extra gochujang and/or mix some crushed red pepper flakes in with your sauce.
Make them milder: If your sauce accidentally packs too much of a punch, feel free to tone it down by adding in more of the other ingredients (especially maple syrup).  Or another random trick — stir in some ketchup!  Its vinegar and sweetness will help balance things out a bit.
Add rice or grains: To make these lettuce wraps a bit more hearty, feel free to also add in some cooked rice or grains.
Add nuts: This isn't traditionally Korean, per se, but I love always love sprinkling some chopped peanuts on top of my lettuce wraps.
Add citrus: For a sweeter spin, feel free to also add in some chopped apple, pear, or grapes.
More Favorite Korean Recipes:
If you're looking for some more inspiration, here are a few of my favorite Korean recipes!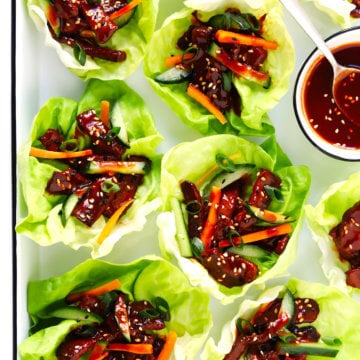 Yield: 8-10 servings
Quick Gochujang Lettuce Wraps
This quick Gochujang Lettuce Wraps recipe is easy to make in about 20 minutes with the most delicious 4-ingredient gochujang sauce, plus your choice of protein and veggies.
Ingredients:
Lettuce Wraps Ingredients:
1 pound steak (or chicken, pork, shrimp or tofu*), sliced into bite-sized pieces
sea salt and freshly-cracked black pepper
1 tablespoon oil
4 cloves garlic, thinly sliced or minced
8-10 butter lettuce leaves
1 cup thinly sliced English cucumber
1 cup shredded carrots
optional garnishes: thinly-sliced green onions and toasted sesame seeds
Easy Gochujang Sauce Ingredients:
Directions:
Make the sauce.  Whisk together all sauce ingredients in a small bowl until combined.  Taste and add any extra maple syrup (to sweeten) or gochujang (for spice) if would like.
Cook the protein.  Season the steak (or your preferred protein) with a few generous pinches of salt and pepper.  Heat oil in a large sauté pan or wok over high heat.  Add the steak and garlic and sauté for 4-5 minutes, stirring occasionally, until the steak is browned and tender.  Remove pan from heat and stir in

half

of the gochujang sauce until it has evenly coated the steak.
Assemble the lettuce wraps.  Portion a spoonful of the saucy steak into each lettuce cup, topped with a few cucumbers and carrots, an extra small drizzle of the remaining sauce, and your desired garnishes.
Serve warm.  And enjoy!
Protein: Feel free to stir-fry 1 pound (more or less) of any of the following proteins.  Cooking time will vary a bit according to whichever protein you choose, but just stir-fry until it is cooked through.
Beef: Either steak (such as a flank steak or sirloin) or ground beef
Chicken: Either boneless skinless chicken breasts or ground chicken
Pork: Either boneless pork chops or ground pork
Shrimp: Peeled and deveined
Tofu: Extra-firm tofu
Difficulty: EasyCategory: Quick


All images and text ©Gimme Some Oven
If you make this recipe, be sure to snap a photo and hashtag it #gimmesomeoven. I'd love to see what you cook!
This post contains Amazon affiliate links.