Rigatoni with Mushrooms, Rosemary and Parmesan
Easy30 minsQuick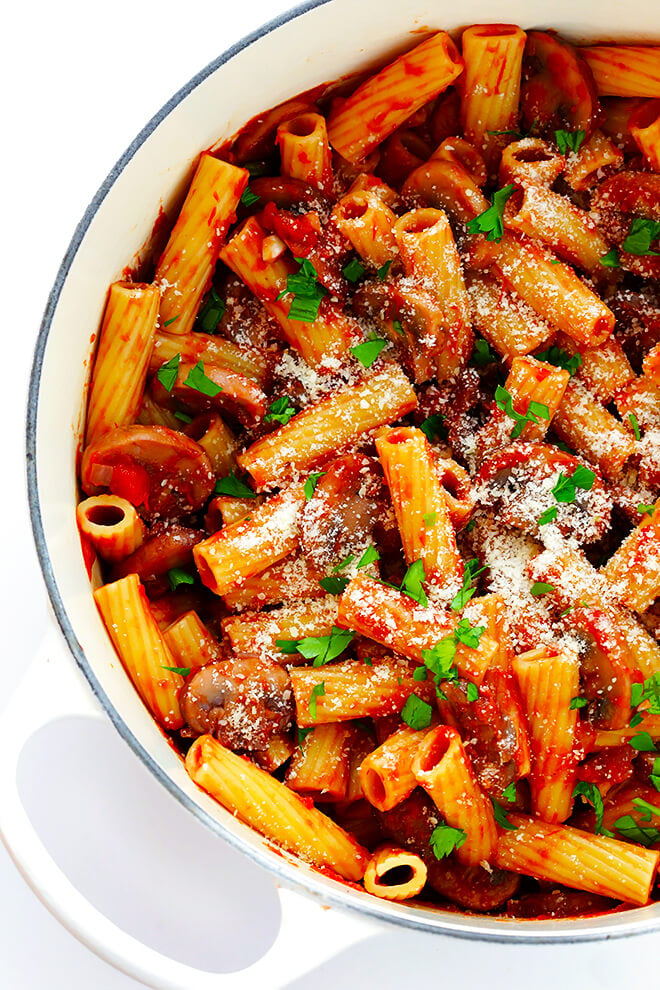 I feel like there are about a million or so reasons why I'm thankful for all of you wonderful reader-friends, who have stuck with this blog through thick and thin over the years, and make me smile literally on a daily basis with your awesome comments and yummy photos of the recipes that you keep making from the blog. Seriously — I don't say it enough, but I'm so dang grateful for all of you, and feel like the luckiest duck to be part of such a thoughtful and cool community of people here. ♥ That said, I feel like I also don't thank you enough for one of the other ways you make my life extra delicious:
TRAVEL RECOMMENDATIONS!
Specifically, RESTAURANT RECOMMENDATIONS.
Oh my goodness, I brag on you guys to my friends and family all the time with this. You guys give the best restaurant recommendations for where to eat when I'm traveling! I know this should come as no surprise, knowing how much we all love to eat around here. 😉 But still, I feel like we should form our own Yelp around here with all of the yummy recommendations you all have to offer. After years of traveling, you've never let me down!
One recent example of that was with Barclay's and my trip to Washington D.C. last month. Oh my goodness, I fall more and more in love with that city every time I'm there and, without a doubt, half of that is because of all of the incredible places they have to eat! I still need to do a little write-up on all of the places we visited that weekend and loved. But I think that Barclay's favorite meal of the trip (and definitely one of mine) was an impromptu dinner we had at a place called Osteria Morini. I remember that we had walked miles and miles that day, adventuring all over the city on foot, when suddenly dinnertime arrived and we were feeling very hungry. Like, we-better-have-a-menu-in-front-of-us-stat kind of hungry. So I asked Barclay what sounded good, and without blinking an eye, he said, "Italian". I remembered that a reader named Dani had claimed that a place called Osteria Morini had "the absolute best Italian in D.C.", so we hailed a Lyft and quickly made our way over there.
And my goodness, Dani, you didn't let us down. ♥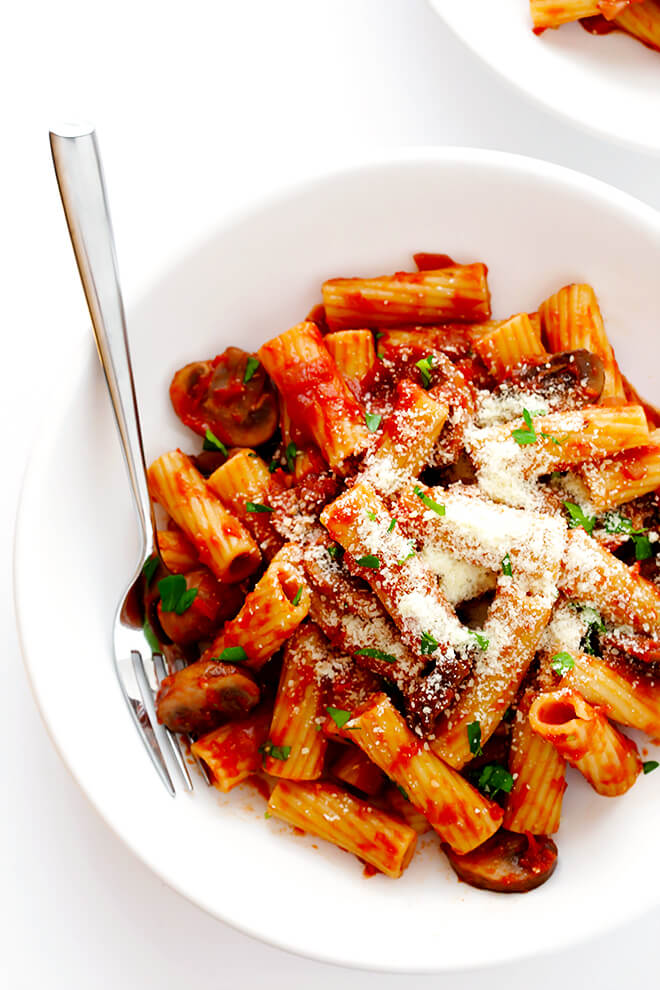 Our meal at Osteria Morini that night was, in fact, the absolute best!!
Oh my goodness, first off, this place serves the most amazing complimentary focaccia bread (that's super buttery and rosemary-y), that we could have happily just made our entire meal. And then the glasses of wine that we ordered to start the meal were spot-on. (Seriously, you've gotta try the temperanillo if you go!) Then we ordered the burrata plate as an appetizer (with house-made stracciatella, charred broccoli rabe, fig agrodolce — stunning), a simple arugula salad to get our greens (which was pretty much like this favorite salad recipe of mine), and then for our main course, we decided to just split some pasta.
Since Barclay's vegetarian, we went with the rigatoni, which said on the menu that it was served with wild mushrooms, rosemary oil, and Parmesan. And while we both expected it to be good, oh my goodness, it was amaaaaazing.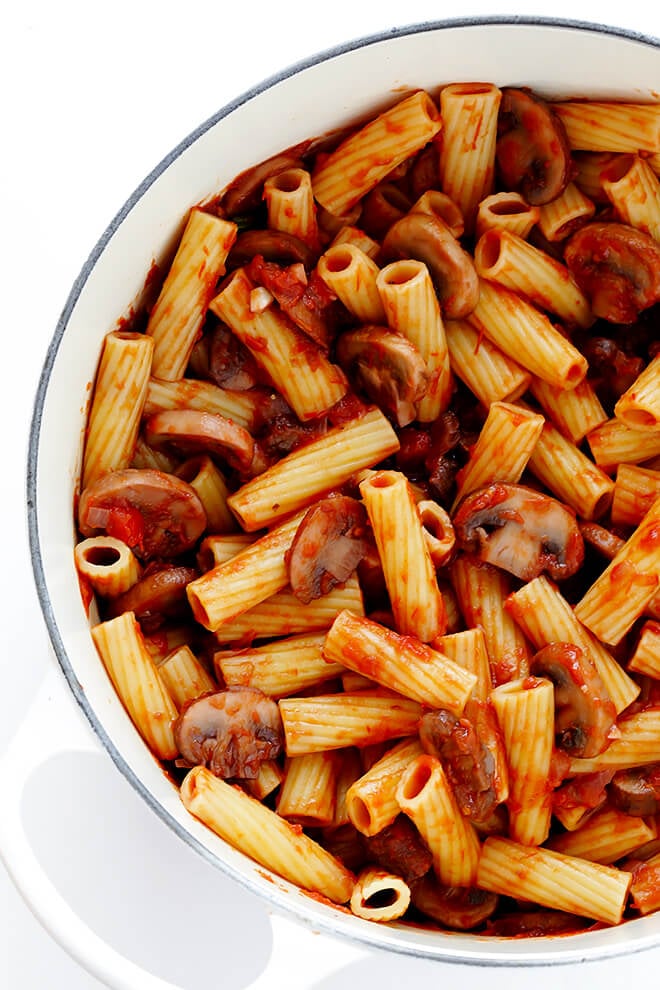 And the best part?!
It was truly so simple. Just a bunch of fresh pasta, served up with lots of sliced mushrooms, tossed in a very rosemary-y marinara sauce, sprinkled with lots and lots of fresh Parmesan. No fancy ingredients. Just simple, earthy flavors all tossed together to make one totally tasty, totally comforting pasta.
So of course, I had to come home and try to see if I could recreate it for us myself. And I'm happy to say that I think I may have deliciously succeeded.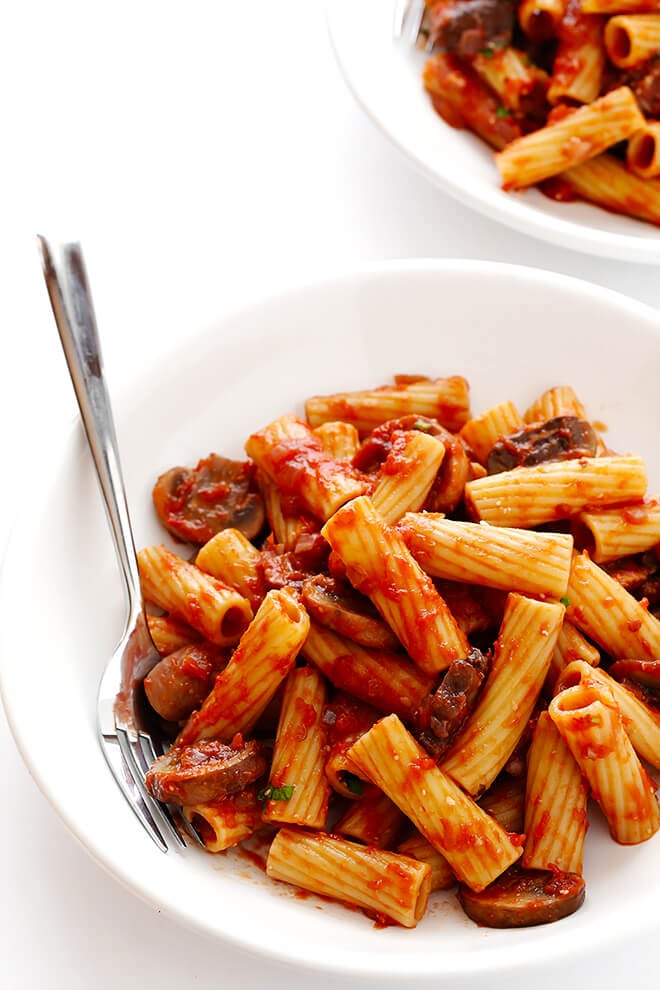 It's super easy! Just bring a big pot of salted water to a boil, and cook some rigatoni (or whatever shape of pasta you prefer) al dente. Then while that's coming to a boil and cooking, sauté some onion, garlic and mushrooms, deglaze the pan with some red wine, add in a bunch of tomatoes and fresh rosemary and crushed red pepper flakes, and let the marinara sauce simmer for awhile until all of those good flavors come together. Then season the sauce with salt and pepper, and voila!
This delicious pasta will be ready to serve!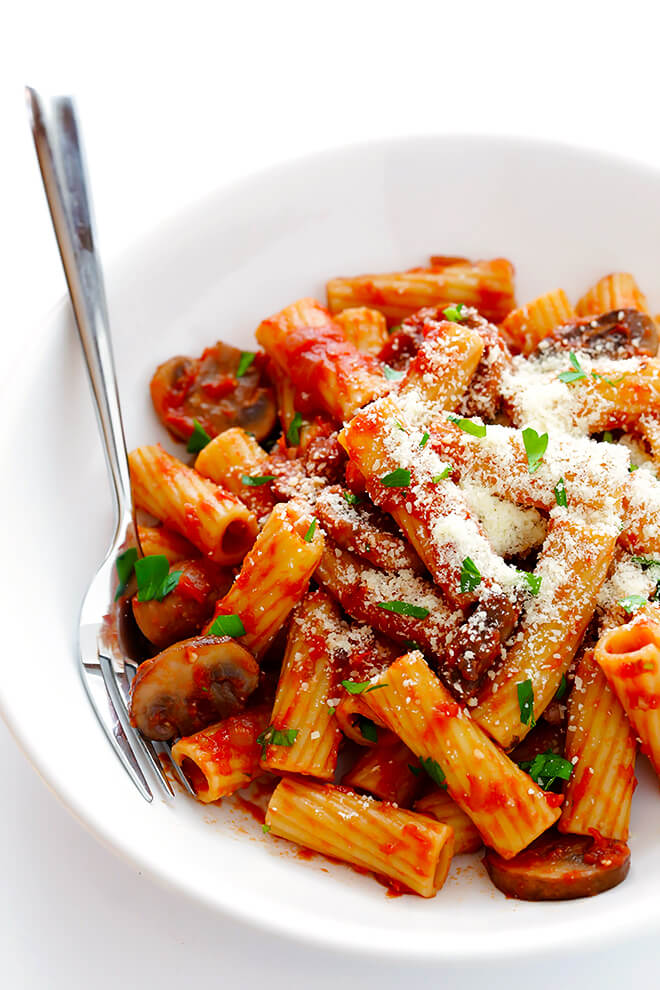 Oh! And of course, it's not complete though without loads and loads of Parmesan on top. The more the merrier, if you ask me. 😉
Seriously, so simple, and SO GOOD.
So big thanks to Dani (wherever you are out there!) for the awesome restaurant rec. And thanks to all of you who have left great recs in the past, and for all of those life-changing restaurant meals that inspire us to come home and try something new in our own kitchens. Good food, for the win!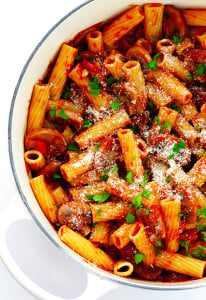 Yield: 6-8 servings
Rigatoni with Mushrooms, Rosemary and Parmesan
This vegetarian Rigatoni with Mushrooms, Rosemary and Parmesan is easy to make, nice and hearty and comforting, and full of the best earthy flavors!
Ingredients:
1 pound (16 ounces) uncooked rigatoni (or any shape of pasta)
2 tablespoons butter or olive oil
1 small white onion, peeled and diced
5 garlic cloves, peeled and minced
1 pound (16 ounces) baby bella mushrooms, sliced
2/3 cup red wine
1 (28-ounce) can crushed tomatoes
3 large sprigs fresh rosemary
pinch of crushed red pepper
Kosher salt and freshly-ground black pepper
grated Parmesan cheese, for topping
optional garnish: chopped fresh Italian parsley or basil
Directions:
Cook pasta in a large pot of generously-salted boiling water al dente according to package instructions. Drain.
Meanwhile, in a separate large sauté pan, add the butter (or olive oil) and cook over medium-high heat until melted. Add the onion, and sauté for 5 minutes, stirring occasionally, until it is soft and translucent. Add the garlic and mushrooms and continue cooking for an additional 4-5 minutes, stirring occasionally, until the mushrooms are browned and cooked through.
Slowly pour in the wine, and give everything a good stir, being sure to scrape up any browned bits on the bottom of the pan. Let the mixture come to a boil and simmer for about 2-3 minutes, or until the wine is reduced by about half.
Add in the crushed tomatoes, rosemary, and crushed red pepper, and gently stir to combine. Let the mixture continue cooking until it comes to simmer. Then reduce heat to medium-low, and simmer uncover for about 10 minutes so that the sauce slightly reduces.
Taste, and season with salt and pepper to taste (I added in a generous pinch of each), and also add in extra crushed red pepper if needed. Remove the sprigs of rosemary and discard.
Once the pasta is cooked and drained, combine it with the mushroom sauce and toss until combined. Serve immediately, garnished generously with Parmesan (plus chopped parsley or basil, if you'd like).

Difficulty: Easy
Category: Quick

If you make this recipe, be sure to snap a photo and hashtag it #gimmesomeoven. I'd love to see what you cook!