This is one of my favorite cakes of the past ten years. A rustic, incredibly moist, golden-crumbed loaf cake, flecked with rosemary, and dotted throughout with big and small chocolate chunks, it's one of those cakes that is both distinctive and memorable in an understated way, and a breeze to make. We have Kim Boyce to thank for the recipe, and you might remember it from when I originally posted it here after Kim released Good to the Grain back in 2010. I made this beauty over the weekend so that I could send a few thick slices along with Wayne on his flight to Tokyo. 🙂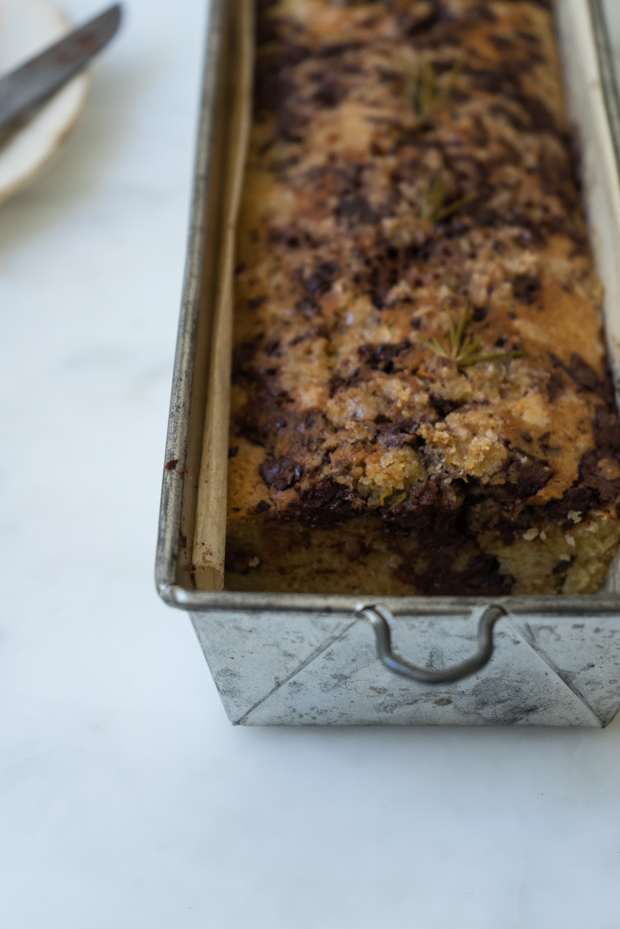 The rosemary is the wild card factor here, and it permeates the cake in a subtle but steady way, not at all overpowering. Bonus points for the cake being a breeze to make – ten minutes tops to get it in the oven. Perfect when you're trying to pull things together for a trip.
I made a few minor tweaks to Kim's original recipe, and you can see them integrated into the recipe below – most are stylistic more than anything. And I converted the recipe to weights for some of you. I wanted to bake it in a vintage baton cake pan I found in Portland a few years ago (my $1 pan!), and aside from a slightly longer baking time, that was no problem. I also decided I wanted more chocolate visible on top, and a bit of a sugary top crust.
It's one of those perfect picnic, travel, or lunchbox cakes. I can't believe it has been six years since I originally highlighted it here, but I love that it is still part of my repertoire. Xo Kim & congrats on the much deserved James Beard Award nomination! xx -h
As Kim notes,you don't need to use a specialty olive oil for this cake. But if you have one with a lot of flavor, the cake will be that much better. This is one of those recipes where I think using regular sugar is the way to go. There was plenty going on with the interplay between the rosemary, chocolate, and olive oil – and I'm not sure adding less refined brown or Muscovado sugar would have been the way to go. The last note I'll make is to suggest chopping up a chocolate bar for this. It's just not going to be the same if you use uniform chocolate chips. Aim for big chunks 1/2-inch in diameter, you'll end up with all sorts of shavings and littler pieces as you are chopping, and having that mix of flecks and the big chunks is pretty great.
Olive oil for the pan

Dry ingredients:
3/4 cup / 3 oz / 80g spelt flour or whole wheat pastry flour
1 1/2 cups / 7.5 oz / 210 g all-purpose flour
3/4 cup / 4 oz / 115g sugar
1 1/2 teaspoons baking powder
3/4 teaspoon kosher salt

Wet ingredients:
3 eggs
1 cup / 240 ml olive oil
3/4 cup / 180 ml whole milk

1 1/2 tablespoons fresh rosemary, finely chopped
5 ounces / 140 g bittersweet chocolate (70% cacao), chopped into 1/2-inch pieces
2 tablespoons sugar for top crunch
Preheat the oven to 350F / 175C. Rub a 9 1/2-inch (24 cm) fluted tart pan, or equivalent, with olive oil (and/or line with parchment paper).
Sift the dry ingredients into a large bowl, pouring any bits of grain or other ingredients left in the sifter back into the bowl. Set aside.
In another large bowl, whisk the eggs thoroughly. Add the olive oil, milk and rosemary and whisk again. Using a spatula, fold the wet ingredients into the dry, gently mixing just until combined. Stir in 2/3 of the chocolate. Pour the batter into the pan, spreading it evenly and smoothing the top. Sprinkle with the remaining chocolate and run a fork along the length of the chocolate so that the batter envelops it just a bit. Sprinkle with the second sugar.
Bake for about 40 minutes, or until the top is domed, golden brown, and a skewer inserted into the center comes out clean. My cake, in the alternate pan, took closer to 50 minutes. Also, just when my cake was nearly finished baking, I decided I wanted a bit more color on top. I finished it under the broiler for a minute – which caramelized the sugar on top as well and gave it a bit of crunch. Don't walk away from the cake while it is under the broiler.
The cake can be eaten warm or cool from the pan, or cooled, wrapped tightly in plastic, and kept for 2 days.
Serves 8 -12.
Recipe adapted from Good to the Grain by Kim Boyce.
Prep time: 15 min –
Cook time: 45 min
Print Recipe