The amazing SANGRIA PORK CARNITAS are made in a slow cooker and finished in a skillet, making them crispy, juicy, and unique. The flavor is out of this world! Eat them on their own, over rice, on nachos, or as tacos! You can't go wrong, except for not trying this recipe.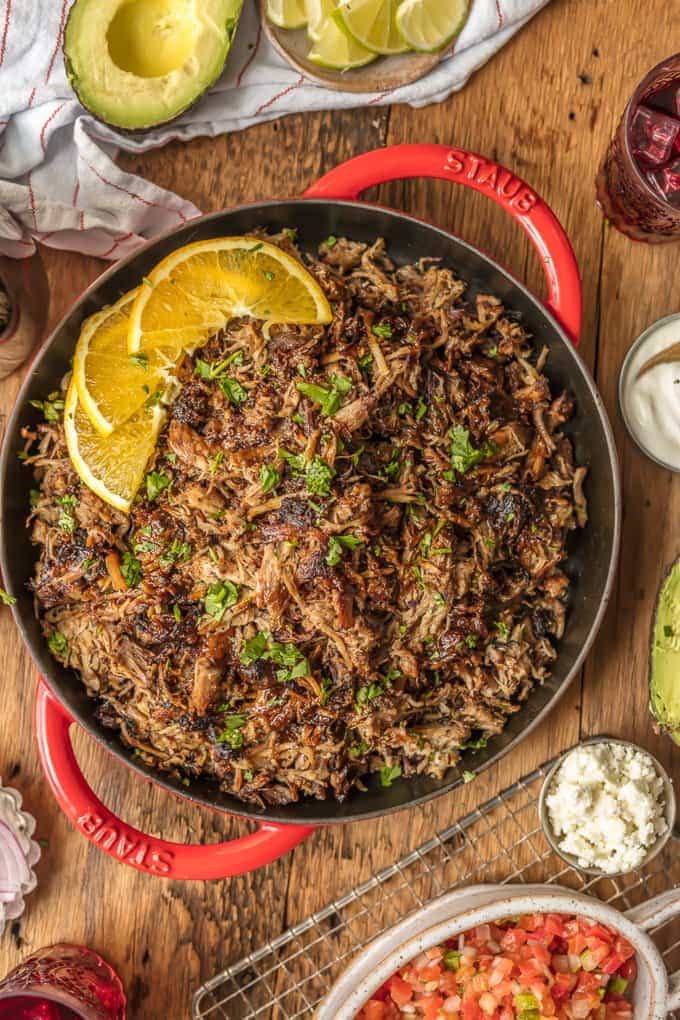 Mom called up the other day with an absolutely fabulous idea for our weekly cooking day…SANGRIA PORK! We are used to making pulled pork in the slow cooker but have never thrown in Sangria before. I thought it was an absolutely fabulous idea, and this recipe was made! These Sangria Pork Carnitas are SO juicy, SO flavorful, and OH SO easy. We finished them in a frying pan to crisp up those edges and you are gonna die when you taste them. HOLY OBSESSED. You'll want to eat them on their own, eat them in taco form, on top of rice, as a sandwich, you name it. SO GOOD!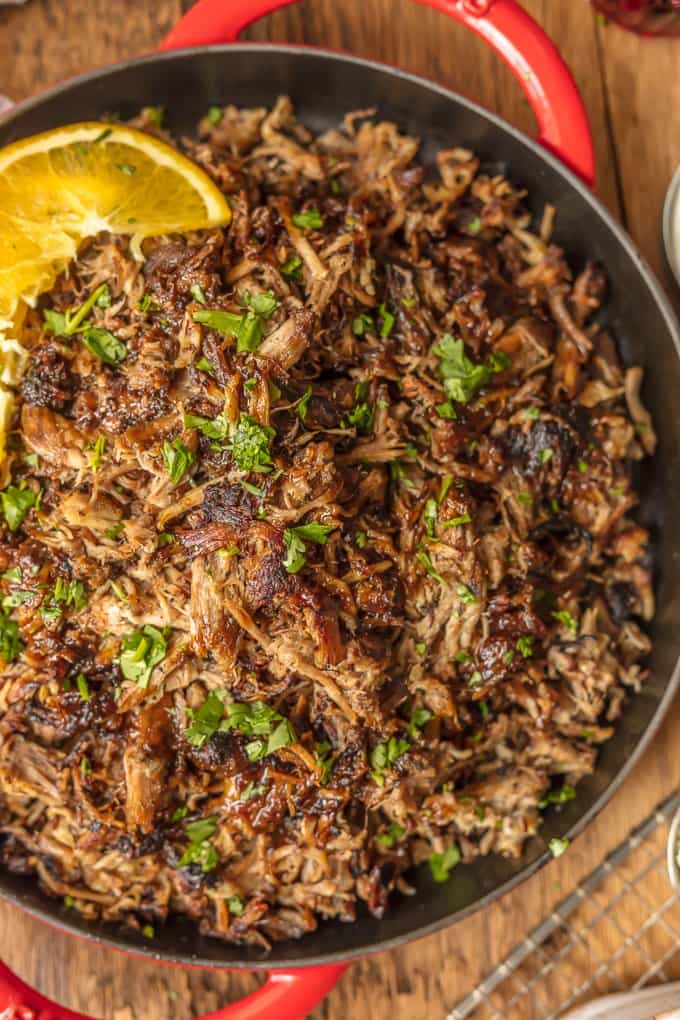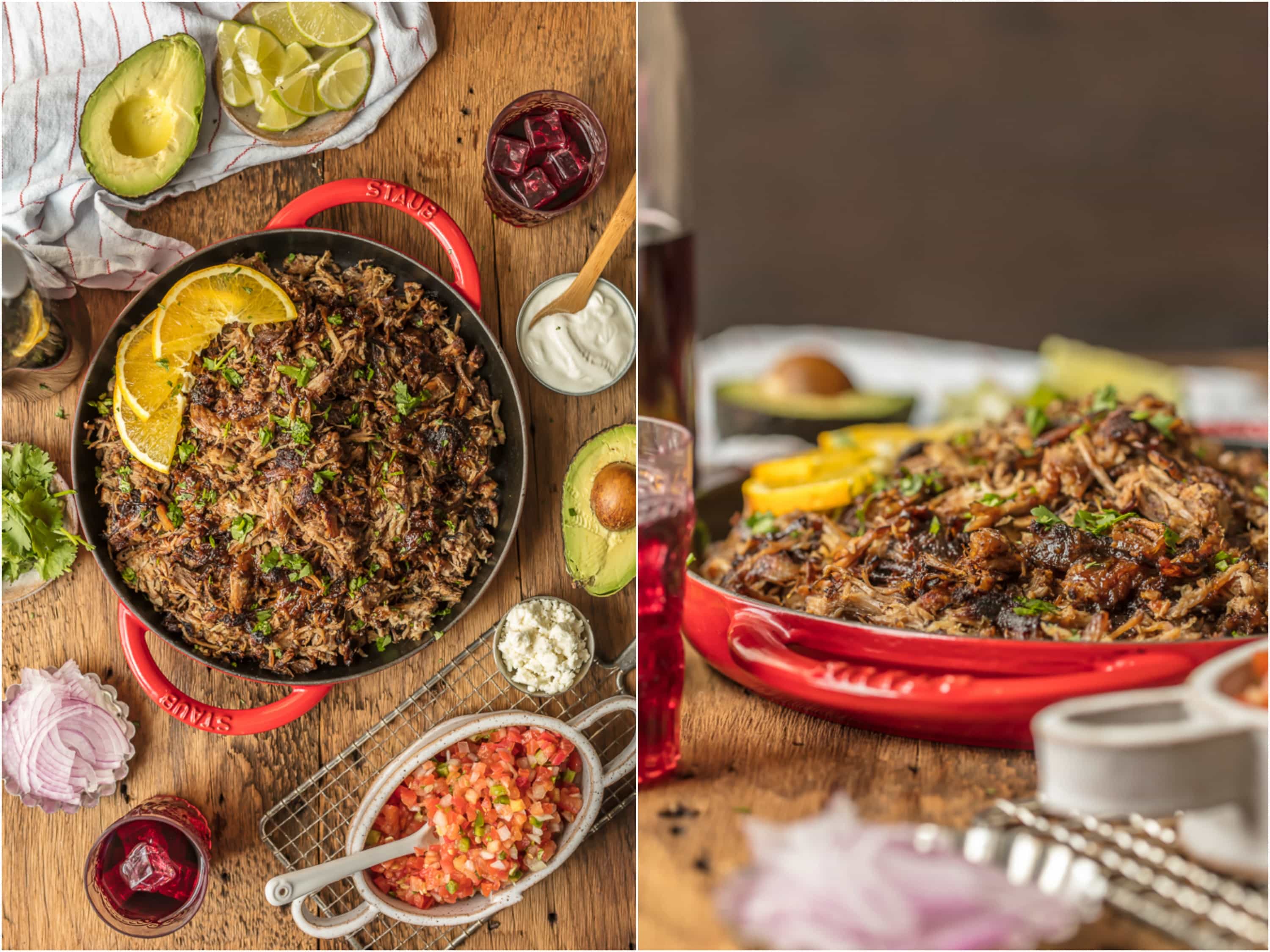 Sangria Pork Carnitas would be perfect for tailgating with a crowd. Make a heaping pot of this goodness, bring all the toppings and some tortillas and you're in business. Fresh flavors for all. We topped with red onion, cilantro, pico, cojita cheese, and fresh orange juice. Flavor was out of this world, trust me. Something about the flavors of the pork with the sangria juice that just works. I'm so excited about this recipe.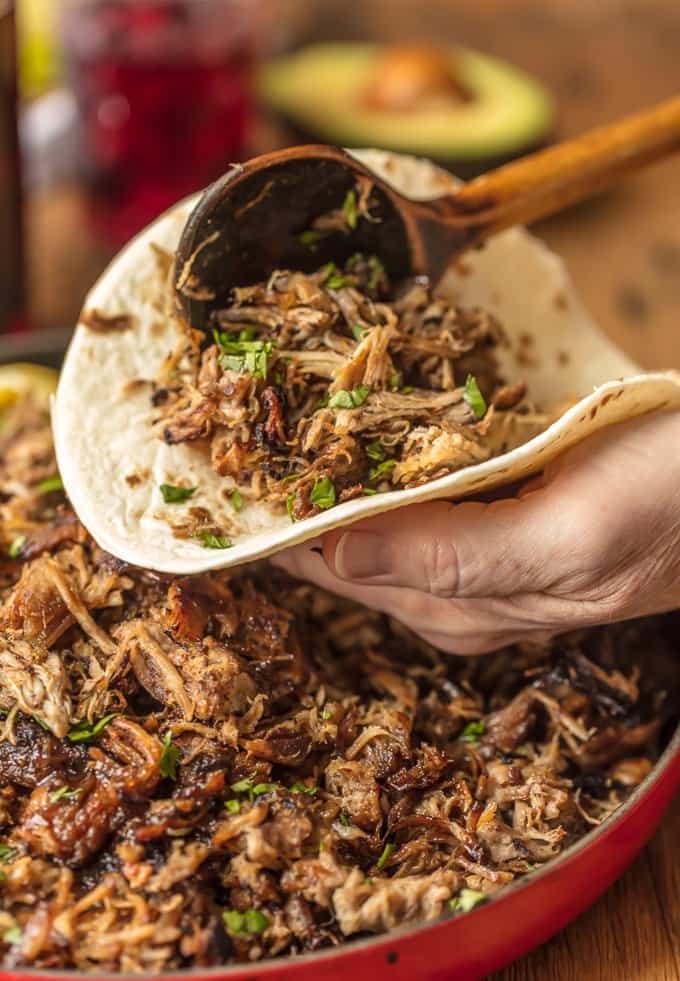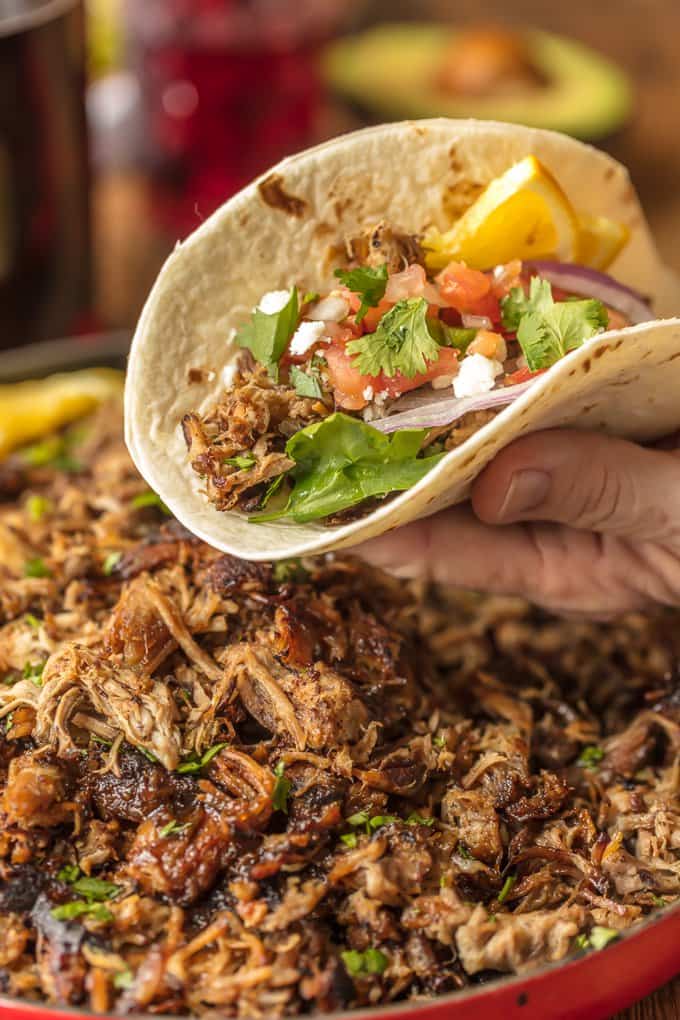 I always make fun of Mom because when we cook together, she's sure to exclaim, "WOW! This is so good! It really is one of my favorite things!!!". And I always look at her like, really? Haha. But these Sangria Pork Carnitas REALLY are one of our favorite things. We kept tasting it, and tasting it, and tasting it. It got all the ooo's and aaahhh's out of these two nerds.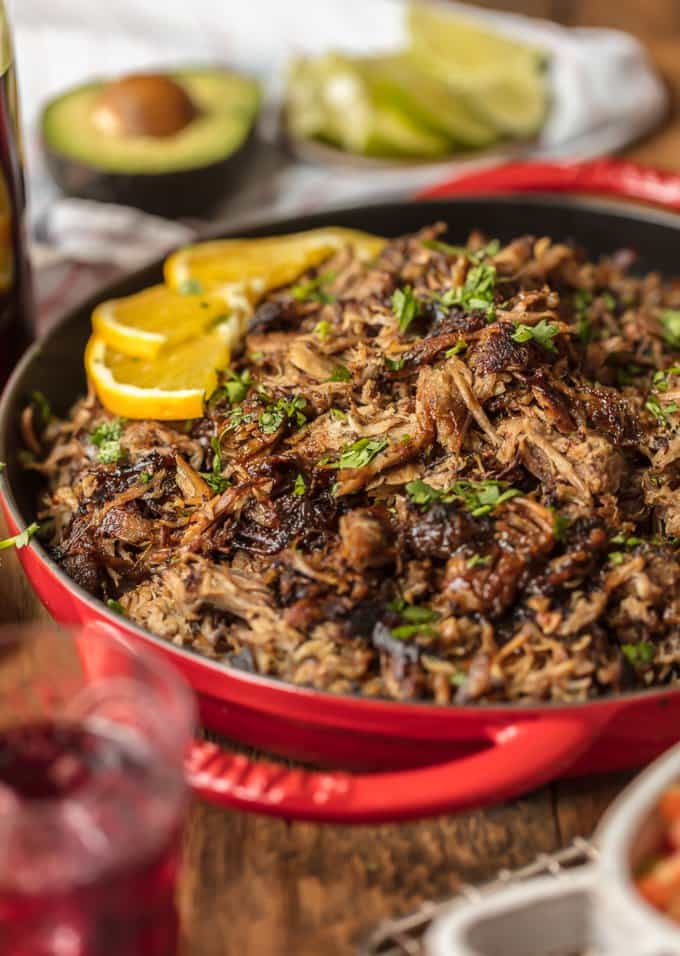 YUM! Enjoy.
Ingredients
4 pounds boneless pork butt or shoulder roast, patted dry
1 yellow onion, peeled and quartered
2 teaspoons kosher salt
¾ teaspoon freshly ground black pepper
2 teaspoons dried oregano
2 teapoons ground cumin
1 tablespoon chili powder
½ teaspoon ground cinnamon
4 cloves garlic, outer layers removed
2 bay leaves
1 (4-oz) can diced green chilies or 1 jalapeno, seeded & sliced
1½ cups store-bought sangria
2 oranges, quartered
Garnishes: Freshly squeezed lime juice & fresh cilantro or parsley
Instructions
Spray the inside of the slow-cooker with cooking spray and turn it to desired heat.
The pork only needs a thin fat-cap, so trim any thick patches of fat away.
In a small bowl, combine salt, black pepper, oregano, cumin, chili powder and cinnamon. Mix thoroughly and rub the spice mix all over the pork.
Place the pork in the slow cooker and top with onion, garlic, bay leaves, green chilies and sangria.
Squeeze the juice from the oranges over the pork and add the orange fruit quarters to the cooker.
Cover and cook on LOW for 5-7 hours or on HIGH 4-6 hours.
When meat is fork tender, transfer the pork to a cutting board. Allow the pork to rest 10 minutes, and shred it by pulling it apart with two forks.
Strain the cooking juices into a small-medium stovetop pan. Bring to a boil over HIGH heat then reduce the temperature to MEDIUM. Cook until juices are reduced and thickened, approximately 15-20 minutes, depending how much liquid you have.
While pork is resting, preheat oven to 450°F and cover two cooking sheets with foil. Spray the foil with cooking spray.
Transfer the cooked pork between the two cooking sheets, in an even layer, and drizzle the pork with ½-¾ cup cooking juices per pan of pork. Cook 10 minutes or until liquid has evaporated then BROIL to desired crispiness. Watch closely so pork doesn't burn.
When ready to serve, drizzle with additional reduced juices.
Serve as tacos, quesadillas, enchiladas or tostadas and top with your favorite taco toppings and peeled orange slices. Use your imagination.
Enjoy!

Make Ahead Tip:

If making the Pork Carnitas (up to 3 days) before serving, shred the meat, but wait to crisp the shredded pork in the oven until the day it is served. Place the shredded pork and its cooking juices in an airtight container and in the fridge until ready to sear.
Pour the juices into a medium stovetop pan to let it reduce while the pork cooks.
The Pork Carnitas freeze well. For convenience, divide the pork and juices equally in 3-4 separate Ziploc Freezer bags. Defrost, and follow instructions for crisping the pork.
7.6.4
2441

JOIN OUR MAILING LIST
TO GET COOKING!
Subscibe to recieve all the latest, greatest, and EASIEST recipes sent straight to your email inbox. If we post something yummy, you'll be the first to know.