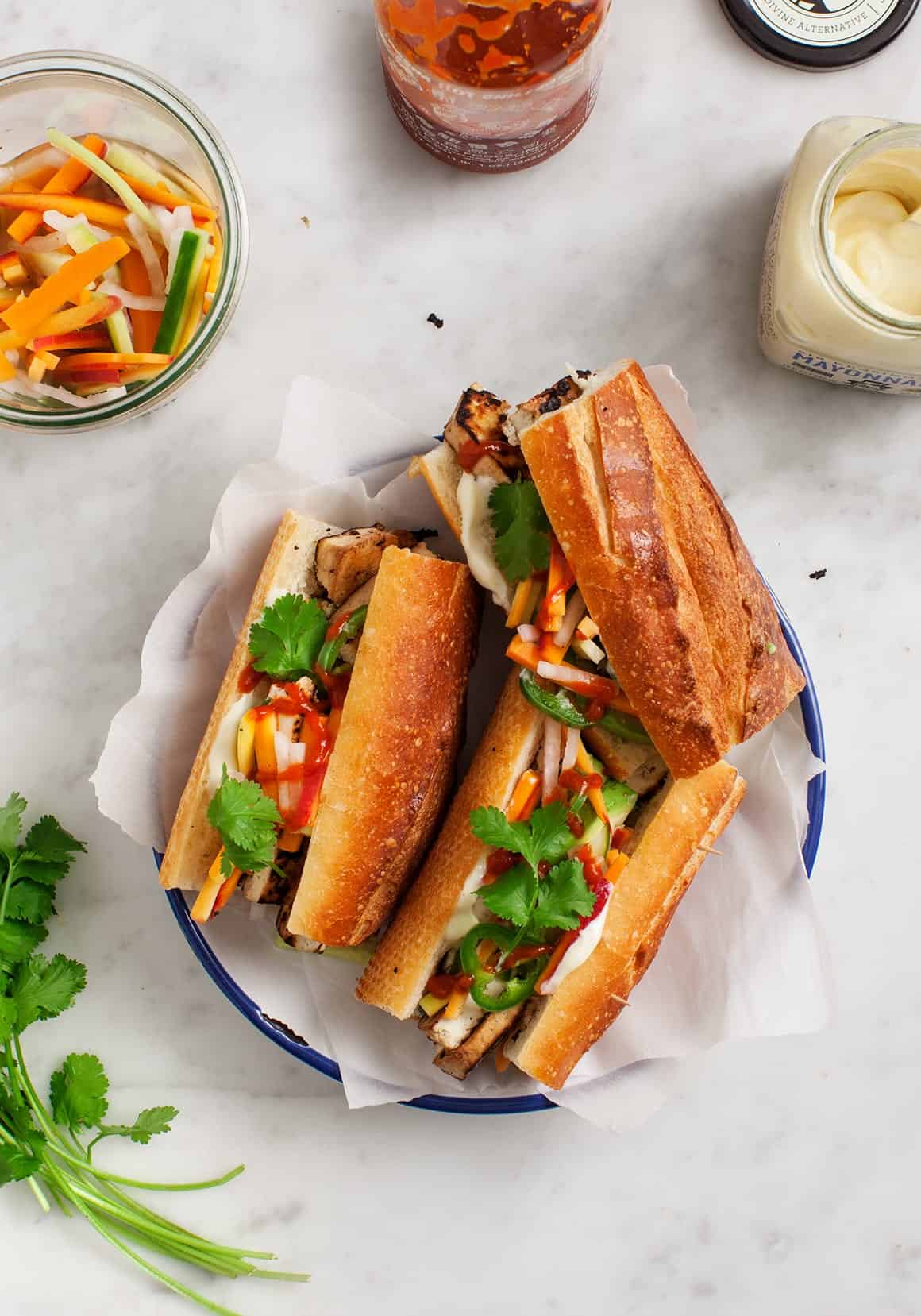 When I lived in Austin, I never had a reason to make a banh mi sandwich at home because some of my favorite banh mi places (Lulu B's and Elizabeth Street) were right down the street. But suddenly daikon radish started showing up right next to my favorite colorful carrots at the farmers market, and I knew some homemade sandwich-making was in order – the carrot and daikon were perfect for making the pickled vegetables that a good banh mi recipe requires.
Since we've moved, I'm still searching for the best banh mi in Chicago (let me know if any of you have suggestions!). Until then, I'll continue making this yummy recipe to curb my banh mi cravings at home.
Hold on, what is a banh mi, anyway?
If you're asking that question, you're in for a treat! A banh mi sandwich is a spicy, sweet, tangy, and totally crave-able Vietnamese street food. Typically, it consists of a fresh baguette filled with pickled carrots, daikon, cucumber slices, cilantro, chilis, mayo, and a protein. Traditional banh mi can be made with pork, chicken, or egg (among other protein fillings), but I use tofu in this recipe to make mine vegetarian. And, P.S. this recipe can be made vegan if you just use vegan mayo on your sandwich.

What's special about this banh mi recipe?
The night before I'm planning to make my banh mi, I prep my pickles. First, I thinly slice daikon, carrots, cucumber, and jalapeños and stuff them into a jar filled with a salty/sweet brine of white wine vinegar, rice vinegar, sugar, and salt.
The next day – when I'm ready to eat (!) – I make a quick tamari-ginger-lime marinade for the tofu and sear it on each side until golden brown. Then, I stuff it into toasted baguette with mayo (you could use vegan mayo), the pickled veggies, cilantro, and a good squeeze of sriracha. Finally, I dig in to this hearty, satisfying sandwich!

This recipe looks a little long, but if you make your pickled veggies a day ahead of time, you're halfway there. And heads up, you will have extra pickles which means that you can have another banh mi later in the week. Alternatively, store them in your fridge to make salads or these spring rolls.
Enjoy!
Seared Tofu Banh Mi
Author: Jeanine Donofrio
Recipe type: Main dish
1 (14-ounce) package extra firm tofu (see notes)
Olive oil, for the pan
Fresh baguette, sliced into sandwich sized portions
good quality mayo, or vegan mayo
A few sprigs of cilantro per sandwich
Sriracha
1 small daikon, sliced into matchsticks
2 small carrots, sliced into matchsticks
½ small cucumber, seeded & sliced into matchsticks
½ jalapeño, thinly sliced
¼ cup white wine vinegar, more as needed
¼ cup rice vinegar, more as needed
Pinches of sugar
Pinches of salt
1 tablespoon olive oil
2 tablespoons tamari
Juice of ½ lime + a little zest
1 garlic clove, minced
½ teaspoon minced ginger
Freshly ground black pepper
Make ahead: Place the daikon, carrots, cucumbers, and jalapeños in a medium jar with the white wine vinegar, rice vinegar, sugar, and salt. If the liquids don't cover the veggies, add about 2 tablespoons water and more vinegar if necessary. Let chill for at least an hour, or store in the fridge for up to a week.
When your pickles are ready, drain the tofu and slice it into ½-inch slices. Place it on a towel and gently pat dry to remove excess water.
In a small bowl, whisk together the olive oil, tamari, lime juice and zest, garlic, ginger, and pepper.
Place the tofu in a shallow pan and pour the marinade on top. Flip the tofu to fully coat it, adding more tamari if necessary. Let the tofu marinate for at least 15 minutes.
Heat a nonstick skillet to medium-high heat. Add a little oil to the pan and place the tofu pieces with enough space between each so that they're not too crowded, working in batches if necessary. Without moving the tofu slices around too much, let them cook for a few minutes per side until they're deeply golden brown and caramelized around the edges. Remove from heat and season to taste.
Assemble sandwiches with the baguette, mayo, tofu slices, pickled veggies, and cilantro, and serve with sriracha.
For seared tofu, I like to use
West Soy Extra Firm Tofu
. I find it to be a bit less watery (and easier to work with) than other brands of firm tofu.
For the pickled veggies: if you can't find daikon, just skip it. And if you're sensitive to spice, go light on the jalapeños.
Other ideas: add sautéed shiitake mushrooms or slices of avocado.
3.4.3177