This post may contain affiliate links. Please read my disclosure policy.
This classic shrimp boil recipe is incredibly easy to make with zesty seasoning and a dreamy lemon garlic brown butter sauce.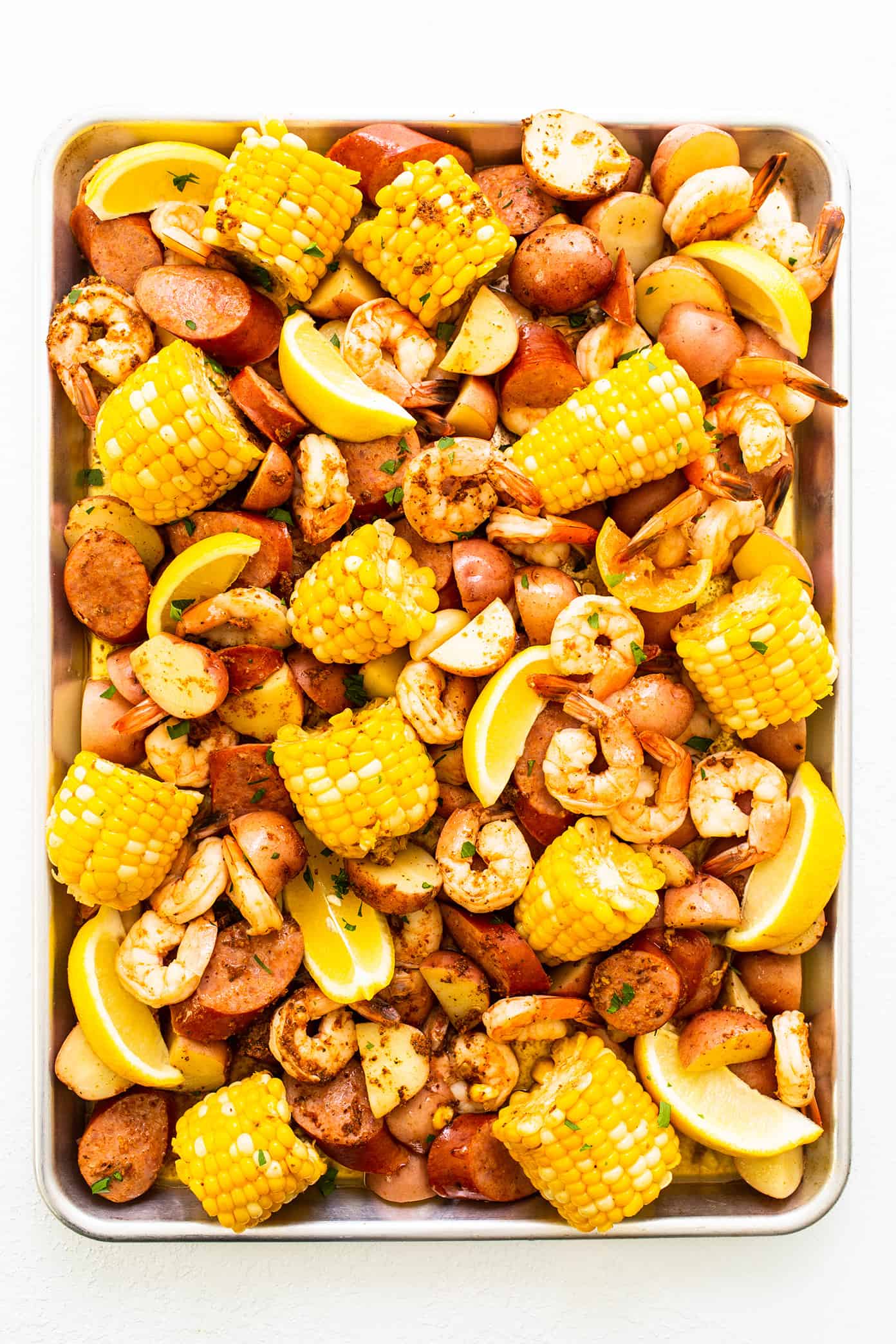 Does it get any more fun than a good old-fashioned shrimp boil?!
I have to say that this American tradition has been one of my absolute favorites that we've brought with us across the ocean to Barcelona. (Made possible in part by the cartons of Old Bay that I religiously stuff in my luggage each time we're back home in Kansas.) Growing up, I was always my grandma's eager sous-chef when she cooked up her annual shrimp boil for the entire family, keeping close watch over the boiling pot beside her as the shrimp magically went from gray to pink to "just perfect." Now, years later, it's turned out to be incredibly fun to introduce new friends (and now, even our little toddler!) to the joy of this family tradition too.
To be sure, a shrimp boil is easy enough to make on a normal weeknight and serve up on basic dinner plates with silverware. But if you feel like making things a bit more festive, I'm one who can never resist the nostalgia of a shrimp boil served atop newspaper-covered tables (no plates or silverware needed!), with bibs all around (a family tradition), and plenty of hot sauce nearby for the topping (a must for me). It's such a simple but fun way to eat and always makes things feel like a party. And hey, it makes cleanup a breeze too!
My grandma always served our family shrimp boils with classic cocktail sauce for dipping, which will always be a delicious option. But in recent years, I've become a fan of instead drizzling on a lemon garlic brown butter sauce over the boil just before serving, which is still so easy to make and tastes downright heavenly. So choose whichever option sounds best to you. (Or hey, go wild and serve both!) Feel free too to use Andouille or kielbasa or whatever variety of sausage you love best. Or if you prefer to go the pescatarian route, we've made ours before with some spicy plant-based sausage and can vouch that it worked great!
Bottom line, if you've never made a shrimp boil before, it's one of those meals that scores super high on fun and flavor while being surprisingly low on fuss and prep time. So the next time your favorite people are together, bring home a big batch of shrimp and pull out your largest pot, and let's boil some shrimp together! ♡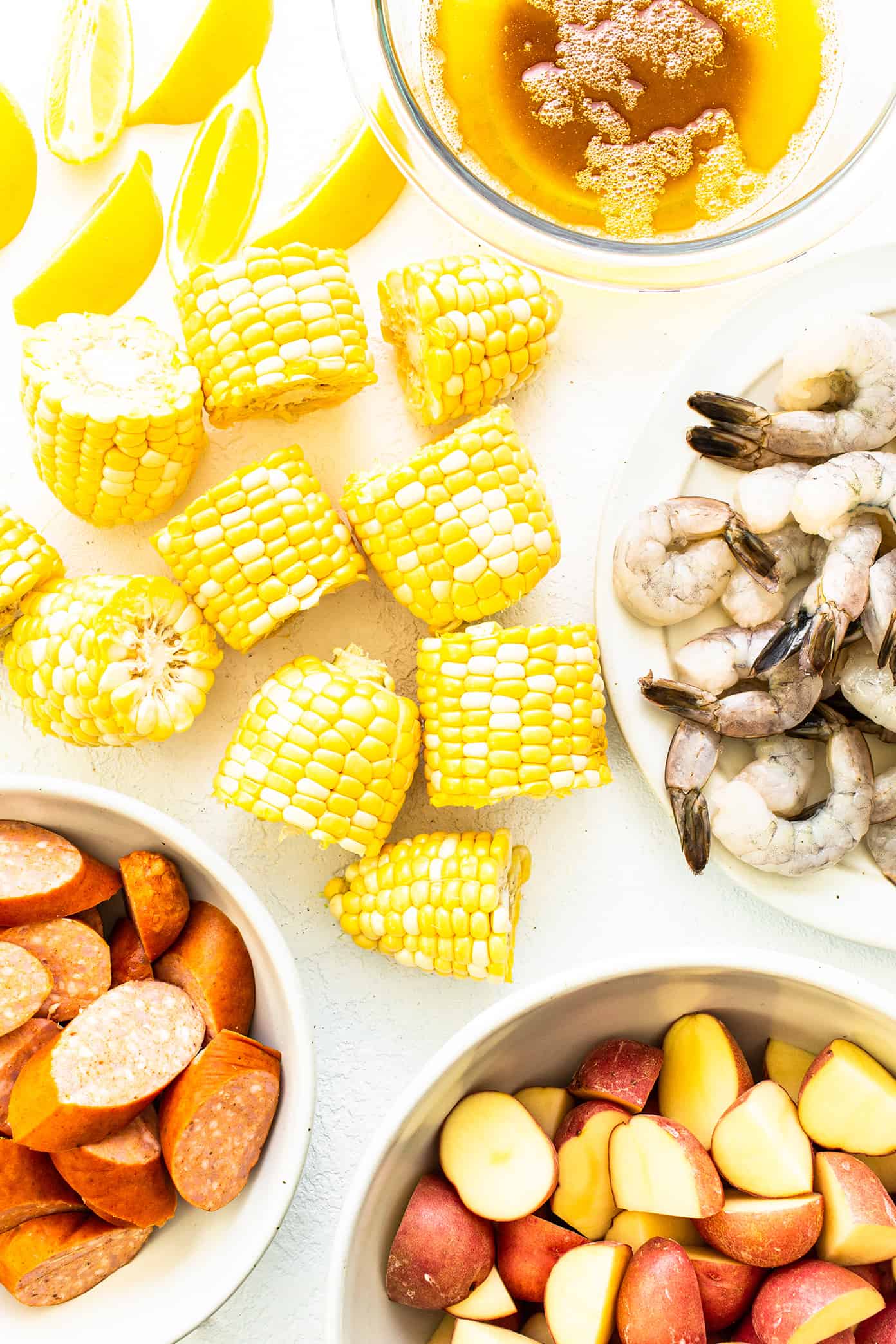 Shrimp Boil Ingredients
Before we get to the full shrimp boil recipe below, here are a few notes about the ingredients that you will need:
Shrimp: I typically use jumbo shrimp that are already peeled and deveined (tail on or off) so that they are quick and easy to eat. But feel free to use unpeeled shrimp if you prefer, whose shells will infuse even more rich shrimp flavor to the broth. If you use a smaller size of shrimp, please also note that they will need less time to cook.
Sausage: I love the kick of andouille sausage in a shrimp boil, but you can alternately use kielbasa or any other variety of sausage that you prefer. (Or if you are making this dish pescatarian, you can use a plant-based sausage or omit the sausage entirely.)
Potatoes: I recommend either red or Yukon gold potatoes, cut evenly into bite-sized pieces.
Corn: I typically use fresh ears of corn, but you can also use frozen (thawed) ears of corn if you prefer.
Old Bay seasoning: This zesty, salty, smoky, slightly spicy, celery-forward blend is the classic seasoning for a shrimp boil. Be sure to add a generous amount to the broth. I also love sprinkling an extra few shakes on top just before serving.
Garlic: We will use fresh garlic to season both the broth and the lemon garlic brown butter sauce.
Onion: I recommend adding a whole onion (quartered, no need to dice) to the broth for extra seasoning.
Lemon: We are going all-in with the fresh lemon in this recipe, adding to the broth, the lemon garlic brown butter,

and

serving each plate with extra wedges for squeezing. Its brightness pairs so well with the shrimp and Old Bay seasoning, so I say the more the merrier here!
Salted butter: Which we will slowly simmer until browned to achieve that deliciously nutty brown butter flavor.
Parsley: Finally, I recommend adding a sprinkling of finely-chopped parsley (and/or thyme) for a pop of freshness and color.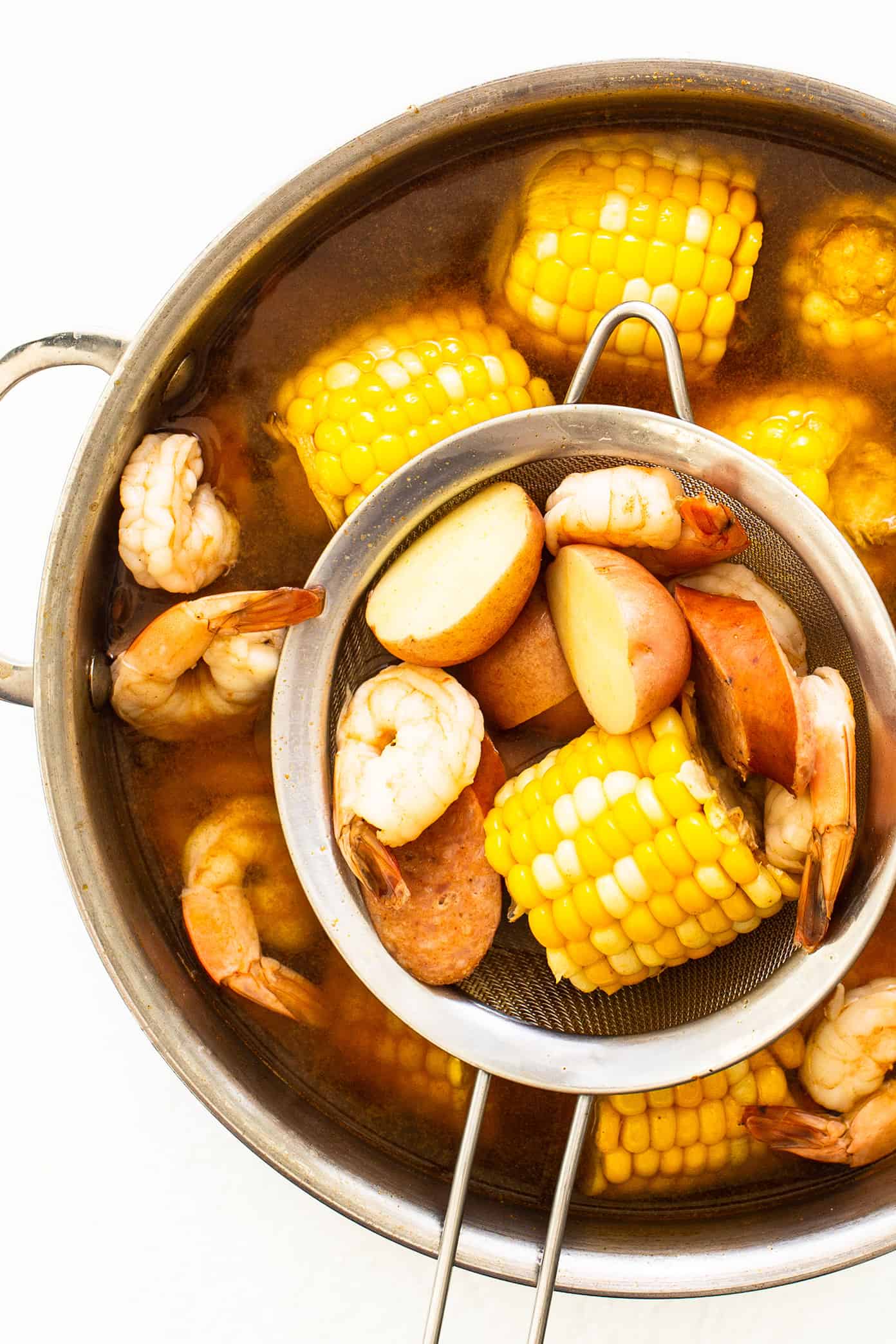 Shrimp Boil Tips
Here are a few tips to keep in mind when making a shrimp boil:
Use a large enough pot: This probably goes without saying, but you are going to be adding quite a few ingredients to the pot (in addition to 16 cups of water). So be sure to use a large pot that can accommodate the volume.
Be generous with seasonings: I know that 1/2 cup of Old Bay seasoning may sound like a lot to add to the broth, but keep in mind that — similar to salting water to cook pasta — only a small portion of the seasoning will actually be absorbed into the shrimp, corn, potatoes and sausage. So don't be shy!
Chop the ingredients evenly: Be sure to cut the potatoes and sausage, especially, into uniformly-thick pieces so that they will cook evenly.
Don't overcook the shrimp: Shrimp cooks quickly, so keep a close eye on it to be sure that it doesn't accidentally overcook and turn rubbery.
Keep an eye on the brown butter: Likewise, butter can go from nicely browned to burnt fairly quickly. So be sure to cook it at medium heat (no higher) and transfer it to a heatproof bowl as soon as it reaches a nice golden brown color.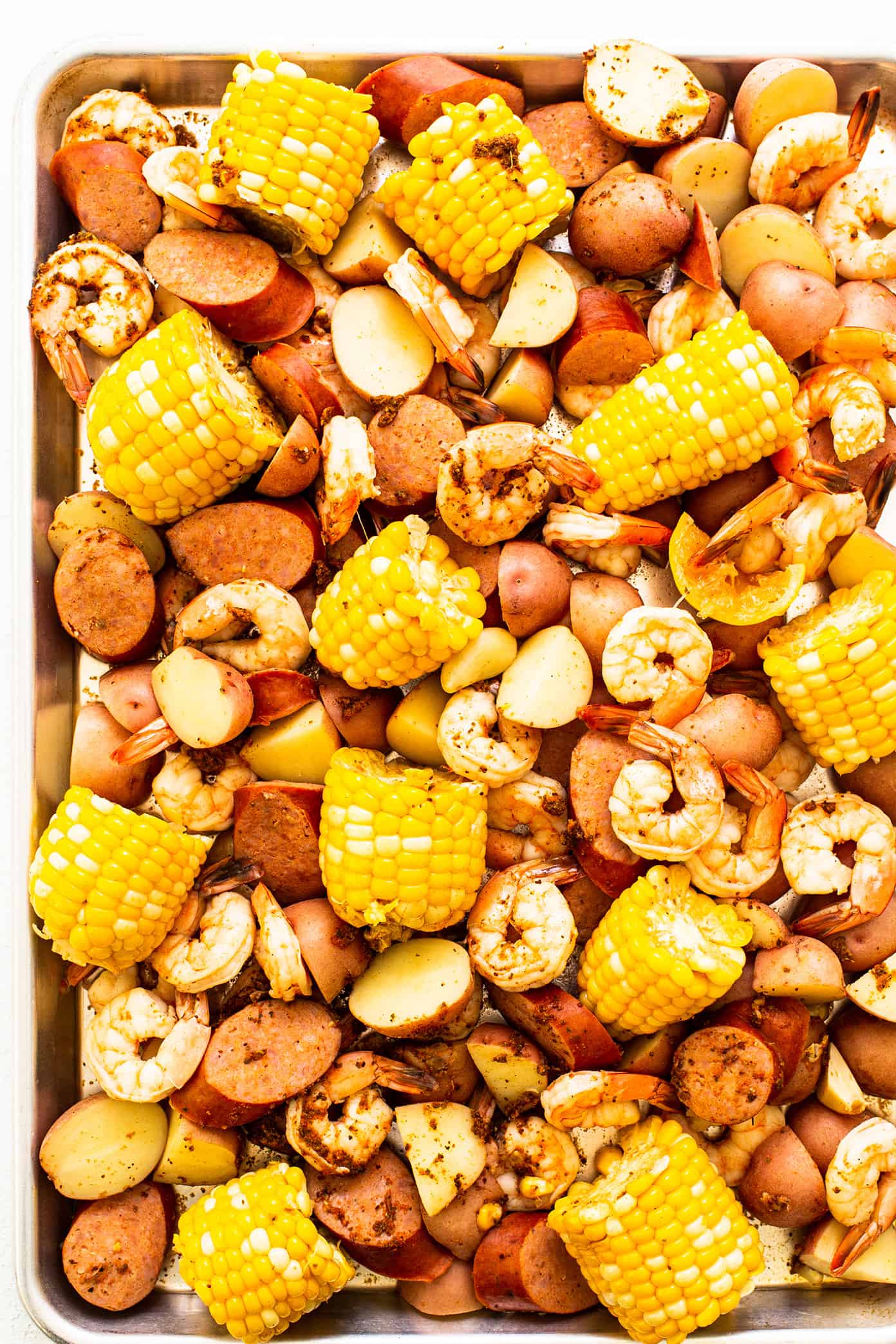 Recipe Variations
Shrimp and seafood boils have a rich history in American culture, with ingredients varying significantly between different regions, cultures, and traditions around the country. It seems that our family's shrimp boil probably most closely resembles a low-country boil or Frogmore stew, but it is definitely not authentic to any specific tradition. (If you are interested in learning more about the specifics of various traditions, I would totally encourage you to read more on the topic.) That said, seafood boils are easy to customize if you would like to tinker around with the ingredients. Here are a few other variations I've enjoyed trying over the years:
Add beer: Add your favorite beer to the broth to give it extra depth of flavor. (If you add one 12-ounce beer, you will then only need to use 6 1/2 cups of water.)
Add herbs: Simmer some chopped fresh herbs or dried herbs to the brown butter sauce, to taste.
Add heat: Add some of your favorite hot sauce to the broth and/or the brown butter sauce.
Add extra veggies: Add some of your favorite boiling-friendly veggies (such as asparagus, broccoli, green beans, mushrooms, etc) to the shrimp boil.
Add cocktail sauce: Serve the shrimp boil with a side of cocktail sauce for dipping.
Make it pescatarian: Use a plant-based sausage or omit the sausage entirely.
Make it gluten-free: This recipe is naturally gluten-free if made with GF sausage.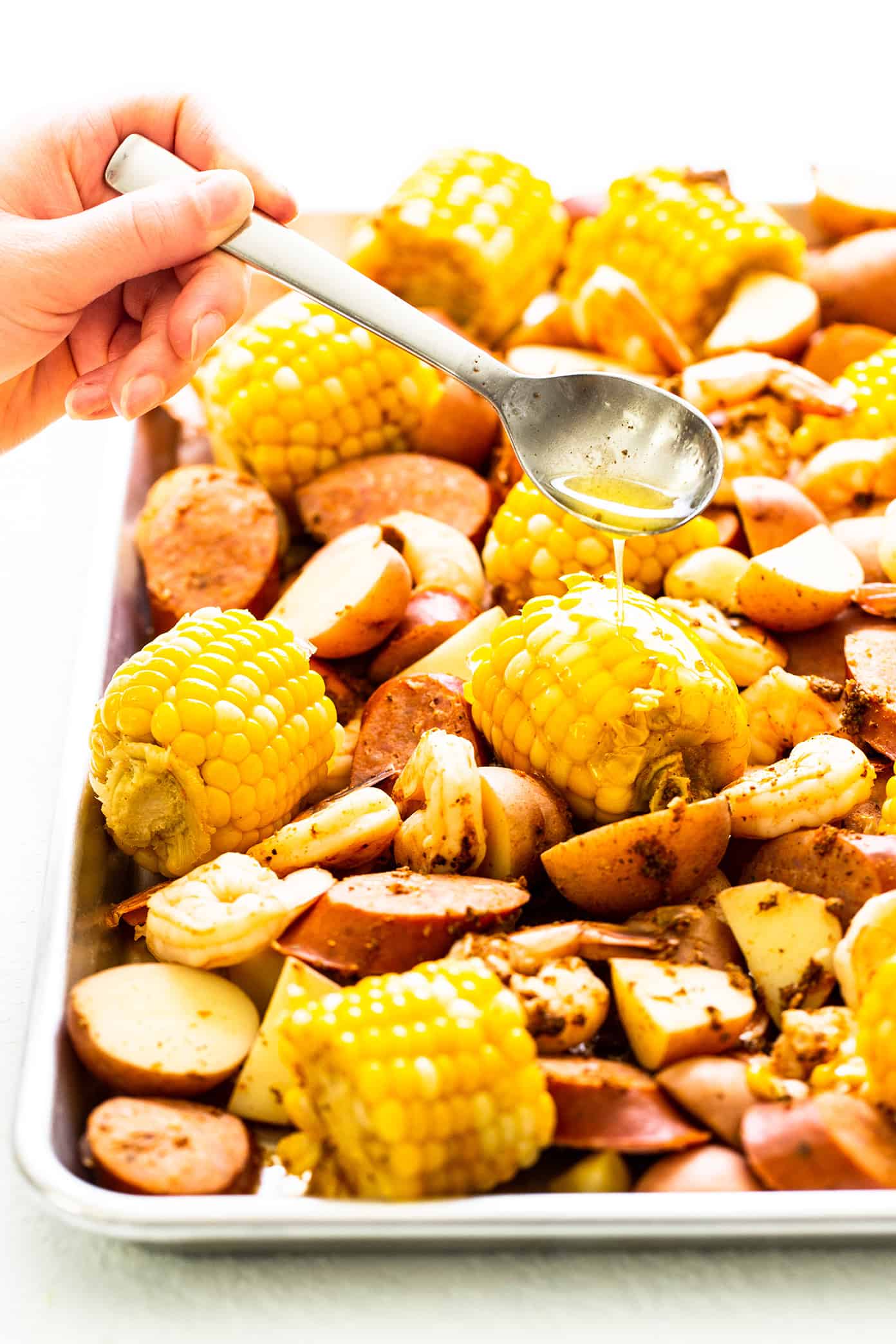 What To Serve With A Shrimp Boil
Here are a few ideas for what to serve with a shrimp boil:
Bread: I love serving my favorite cornbread or a good loaf of crusty bread to go with a shrimp boil…or both! The sweetness of the cornbread always pairs so deliciously with the savory shrimp boil. Or, of course, crusty bread is perfect for mopping up any of that extra lemon brown butter sauce too.
Salad: I would recommend either a light green salad (such as my favorite everyday salad or a fruity green salad) or a basic coleslaw.
Fruit: This time of year, I would slice up some ripe watermelon, berries or stone fruit. Or make your favorite fruit salad!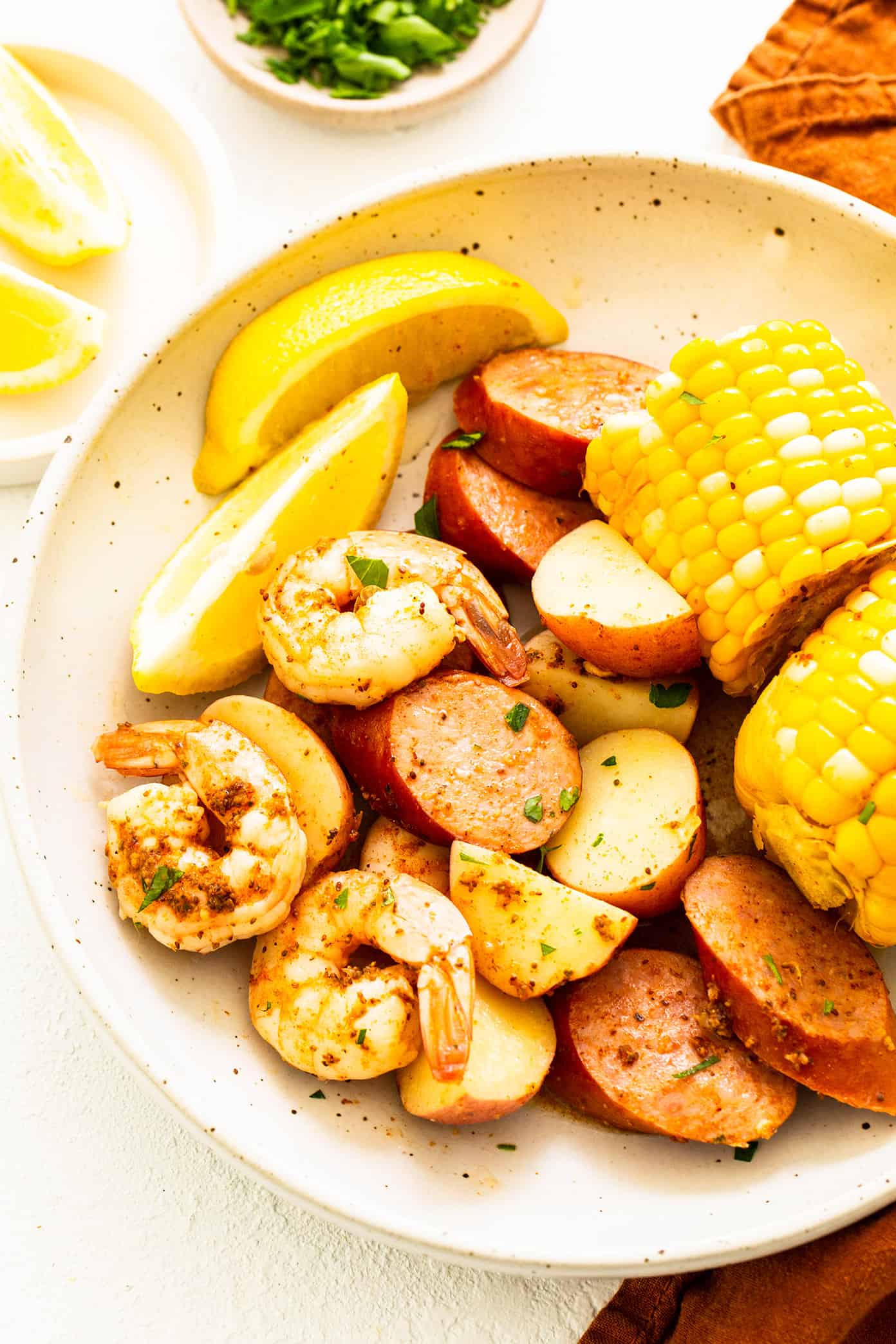 ---
Description
My favorite Shrimp Boil recipe is super easy to make with zesty seasoning and a lemon garlic brown butter sauce.
---
Broth Ingredients:
16 cups

water

1/2 cup

Old Bay seasoning

1

white onion, peeled and halved

1

head of garlic, halved horizontally

1

lemon, quartered
Lemon Garlic Brown Butter Ingredients:
1/2 cup

salted butter, cut into tablespoon-sized pieces

1

large clove garlic, lightly smashed

2 tablespoons

lemon juice
Shrimp Boil Ingredients:
1

pound small red potatoes, cut into bite-sized pieces

3

ears corn, shucked and quartered

1

(14-ounce) package andouille or kielbasa sausage, cut into bite-sized pieces

1 1/2

pounds jumbo raw shrimp, peeled and deveined

finely-chopped fresh parsley and extra lemon wedges, for serving
---
Prep the broth.

Combine the water, Old Bay, onion, garlic and lemon in a very large stockpot. Cover and bring to a boil.

Prep the brown butter.

Meanwhile, heat the butter and smashed garlic in a small sauté pan over medium heat until melted. Continue cooking the butter, stirring continuously, until it begins to foam and the solids at the bottom turn golden brown and smell toasty and nutty. Immediately transfer the brown butter to a heatproof bowl. Add the lemon juice and stir to combine. Strain out and discard the smashed garlic clove.

Boil the potatoes.

Add the potatoes to the boiling broth, cover and cook until

almost

tender, for about 10-15 minutes.

Boil the sausage and corn.

Add the sausage and corn and cook for 3 minutes. Fish out and discard the garlic, onion and lemon wedges while they cook.

Boil the shrimp.

Add the shrimp and cook for 2 minutes, or until they are pink and opaque and cooked through.

Strain.

Use a spider strainer to immediately transfer the potatoes, corn, sausage and shrimp to a large sheet pan or serving dish. Drizzle evenly with the prepared brown butter sauce and add a sprinkle of fresh parsley and extra Old Bay seasoning.

Serve.

Serve warm with extra lemon wedges, and enjoy!
---
---