Wayne and I share in the prep work for dinner most nights. Two or three times a week this involves chopping cauliflower into "tiny trees". Wayne knows the drill, and does a good job cutting the florets into pieces not much larger than a table grape. We then turn the cauliflower into a hot skillet with a bit of salt, olive oil, and whatever spices and seasoning strike our fancy that night.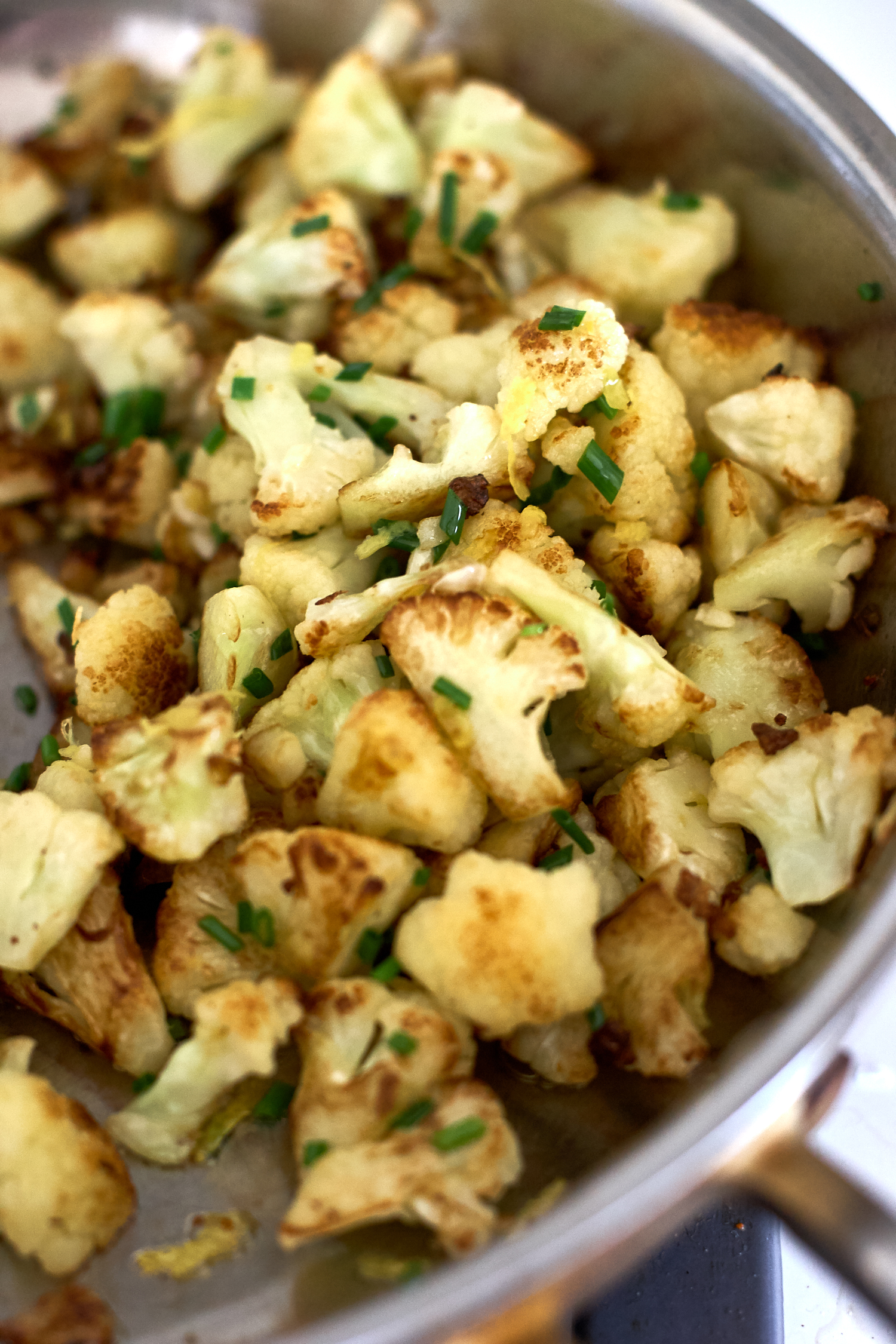 Cauliflower is endlessly adaptable, and cooking it this way is quick and delicious. After just a few minutes in the pan the cauliflower starts to brown, and then takes on a deep, nutty flavor. I'll share the version we made the other night – pan-fried cauliflower with garlic, chives, lemon, Parmesan, and flaky sea salt. This handful of ingredients is what hit the pan this time around, but I'll also list off a few other variations that make frequent appearances in case chives and lemon aren't your thing.
Simple Cauliflower Variations
Spicy: This is the easiest – olive oil, a bit of Piment d'Esplette, garlic, and lemon zest at the end. Use your favorite red pepper flakes.
Curry: I sometimes use coconut oil here in place of olive oil. Then I add a favorite Indian curry powder, and go from there. Or I'll take it in an entirely different direction and add a teaspoon (or so) of Thai red curry paste to the coconut oil.
Nutmeg: I use 1/2 olive oil and 1/2 butter, then the cauliflower, and some freshly grated nutmeg toward the end.
Serving Ideas
A couple serving ideas: It might sound a bit weird, but I like to eat this style of cauliflower over an open-faced egg salad sandwich for lunch. Or, I might build a meal off the cauliflower by throwing a bit of tofu or seitan in the pan. It's also great on top of a curry bowl, or bowl of chili.
Anyhow, people who don't typically like cauliflower seem to like it cooked this way. But be sure to seek out good, fresh cauliflower with tight florets, no discoloration. If there are leaves they should be bright and intact, not withered and funky.