Slow cooker creamy beef stroganoff made with sour cream, steak or stew meat, and no cream of soup! A healthy (er), yet rich and savory, easy crockpot version of classic beef stroganoff.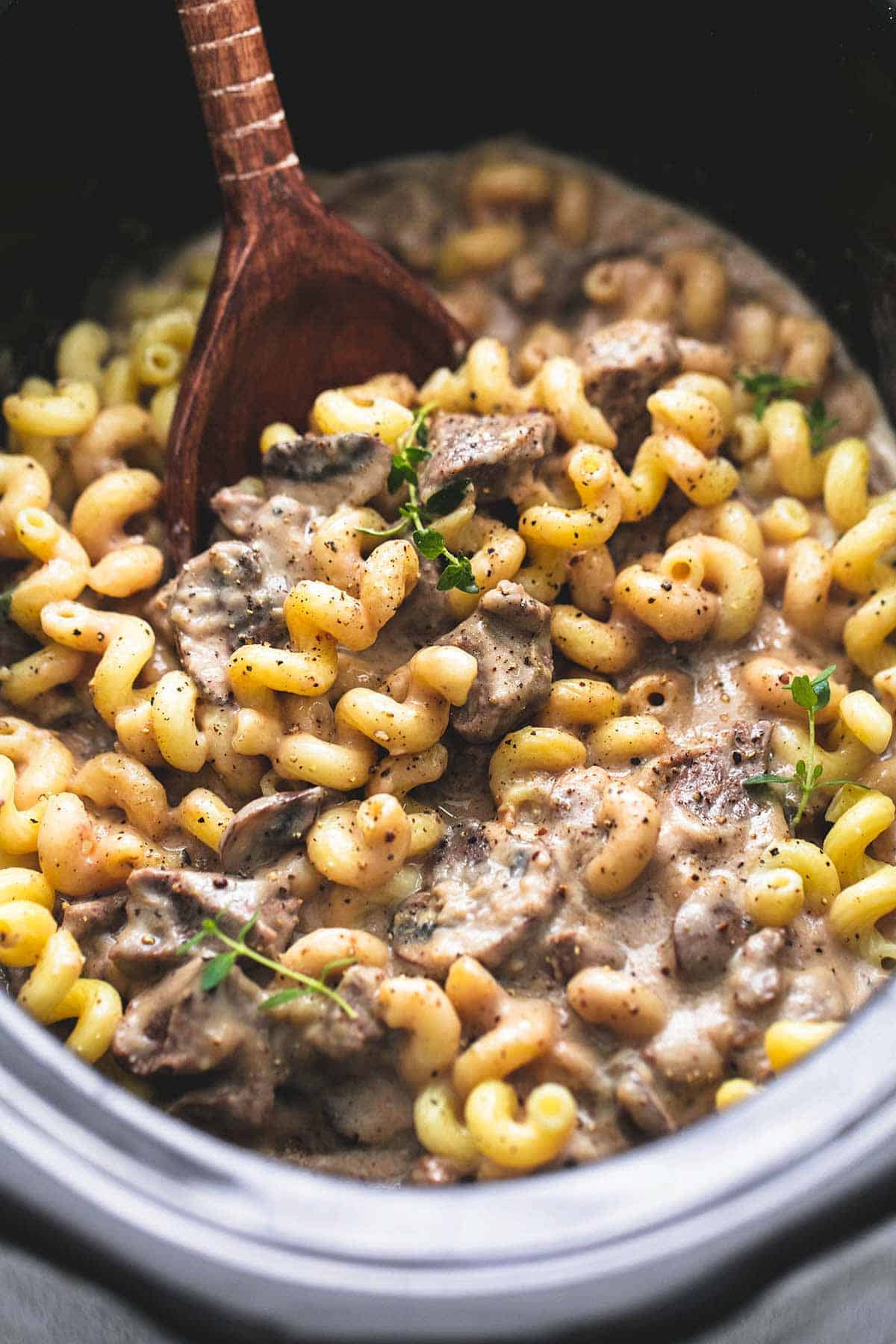 So I'm writing about beef stroganoff while sitting on a train in Italy, cruising from Verona to Venice, and it's blowing my mind a little bit. Is this real life?? I've dreamed of visiting Italy for years and years and now I'm here, nodding along to Natasha Beddingfield, planning out the last couple days of my trip with a focus on ensuring there is enough pizza and gelato in my schedule to last me until I can manage to drag my husband back here with me someday.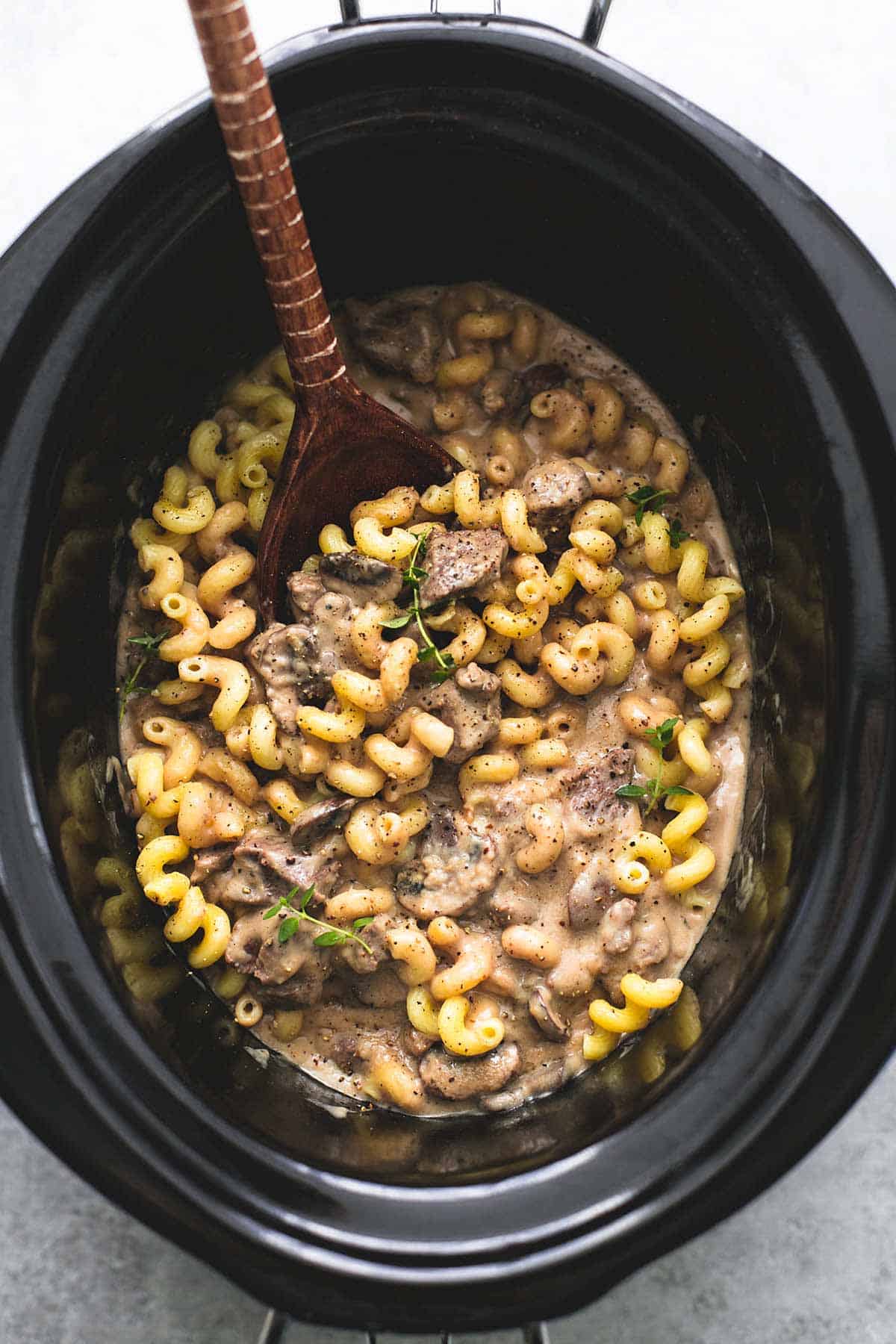 I've been here in Italy on a pasta adventure. So much more to come on that in the coming days and weeks, but let's just say I've eaten my body weight in pasta over the last few days and I'm not sure I'll ever be the same – in the best way possible. I'm also wondering how on earth I am going to return to reality. Seriously though… how?? If you have any tips on how to get yourself back into the swing of things after a trip to paradise (and two very very long flights and some serious jetlag) please spill your secrets.
I feel like this American-ish pasta dish could be the perfect way to ease myself back into home life. A belnd of Italian and American flavors in a pasta and beef dish I grew up on, only with a few tweaks to my personal taste. This beef stroganoff ditches the cream of mushroom soup and instead uses cream cheese and sour cream to get that creamy richness that is so characteristic of stroganoff. I also use spiral pasta instead of the twirly egg noodles I had in my childhood. You can absolutely still use egg noodles if that is your favorite! But don't be afraid to swap them out for another short pasta like penne or macaroni if you want.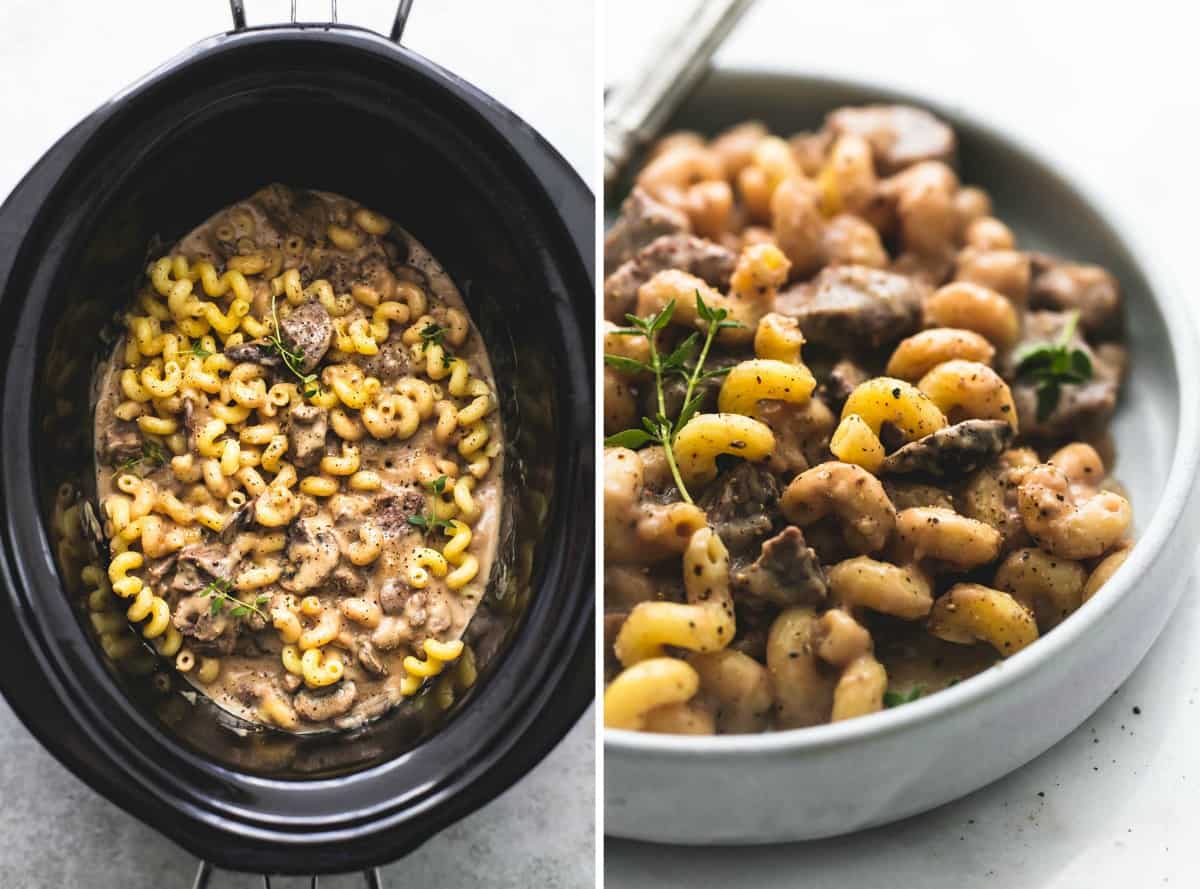 This lightened up favorite screams comfort food to me. I grew up on my mother's beef stroganoff, and this version has a lot of those same flavors but instead of being made on the stove, it's made in the crockpot to get all of those tender fall-apart-beef benefits of slow cooking all day long. And I'm just saying your home will smell heavenly after a few hours of this stuff going strong in the kitchen.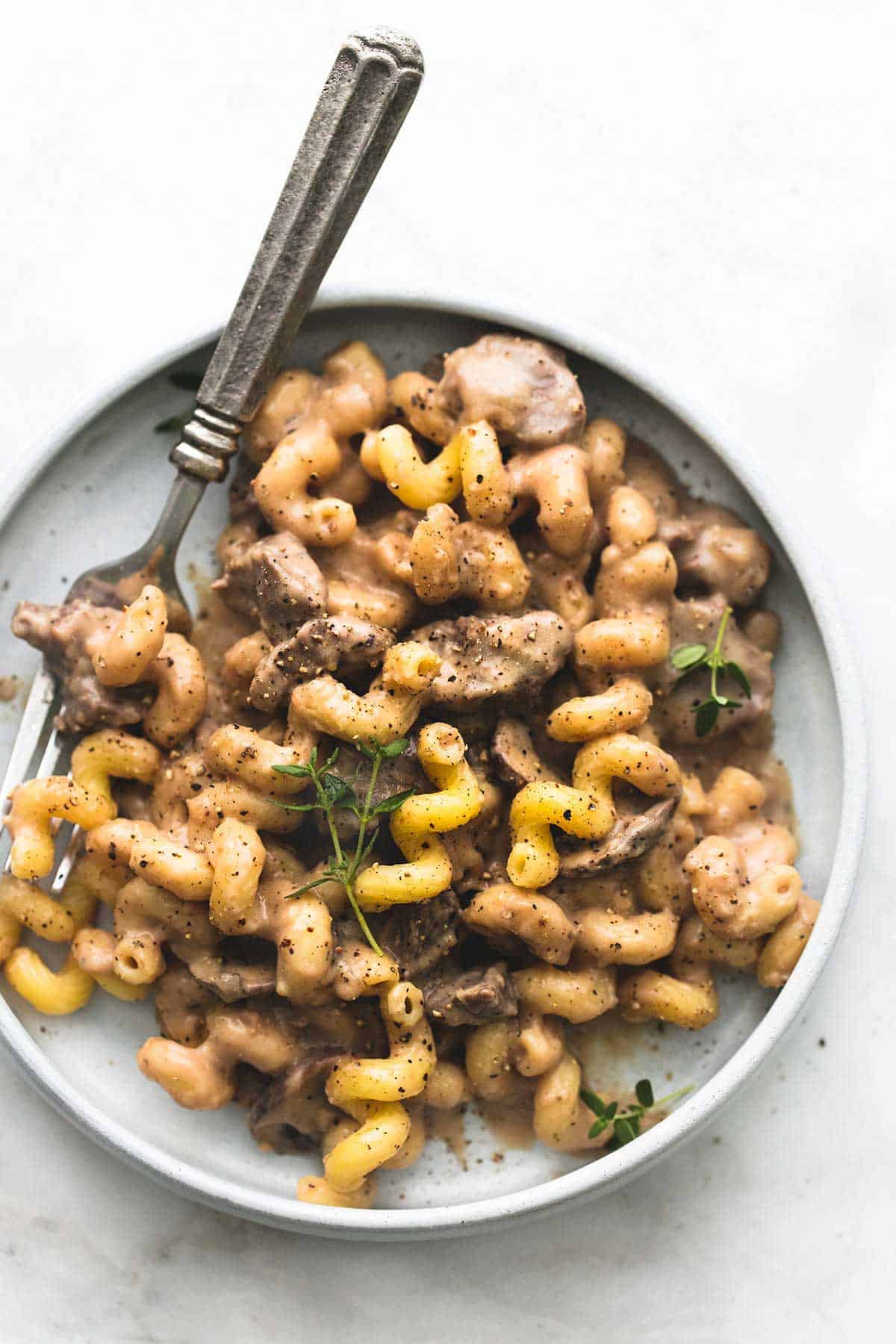 Slow Cooker Creamy Beef Stroganoff
Author: Tiffany
Recipe type: Main Dish
Cuisine: American / Italian
Serves: 4
Ingredients
1 ½ pounds stew meat
2 teaspoons Italian seasoning
salt and pepper, to taste (I used about 1 teaspoon salt and ½ teaspoon black pepper)
3 cups beef broth (I used low sodium)
1 cup chopped or sliced mushrooms (preferably fresh, not canned)
½ medium onion, diced
¼ cup Worcestershire sauce
3 teaspoons minced garlic
1 tablespoon dijon mustard
1 cup sour cream (reduced fat is okay, not fat free – it tends to get curdled)
6 ounces cream cheese, cut into 1-inch cubes, softened
12 ounces short pasta noodles, cooked according to package instructions (egg noodles are traditionally served with stroganoff but penne, macaroni, or spiral all work well)
Instructions
Lightly grease your slow cooker, then add stew meat and sprinkle Italian seasoning, and salt and pepper to taste over the top. Add mushrooms, onions, beef broth, garlic, and Dijon mustard. Cover and cook on low for 8-9 hours.
About 30 minutes before serving, add cream cheese and sour cream to slow cooker. Cook another 20-30 minutes, stirring occasionally until cream cheese and sour cream are incorporated. Taste, add salt and pepper to your personal taste if needed, and stir in noodles. Serve immediately garnished with cracked black pepper and fresh thyme if desired.
3.4.3177
Related