Featuring savory smoked sausage slices, colorful veggies, and a rich medley of herbs and spices, this Smoked Sausage and Peppers Skillet is the ultimate quick dinner everyone will love!
A Low-Carb Sausage and Peppers Skillet Recipe
Some time ago, I made myself a promise: to come up with at least a few recipes that are literally as easy as fast-food.
Because, let's face it—sometimes life is busy, overwhelming, or just plain chaotic. We've all been there! You forget to take the meat out of the fridge, you had to run an errand, or do some other task that took the whole afternoon when you thought it would take half an hour, or maybe you're just not feeling super energetic. 
At those times, when your messy bun is more like a bird's nest, the dog is chewing up the sofa, and the kids are decorating the rug with bubble gum… well, it's hard to head off to the kitchen to make meatloaf for an hour.
I feel you, busy people of the world. I feel you.
And, so I present the easiest recipe ever. And guess what? It's super tasty and healthy, as well! This keto-friendly low-carb skillet meal is so simple you can practically make it in your sleep, and it's guaranteed to please.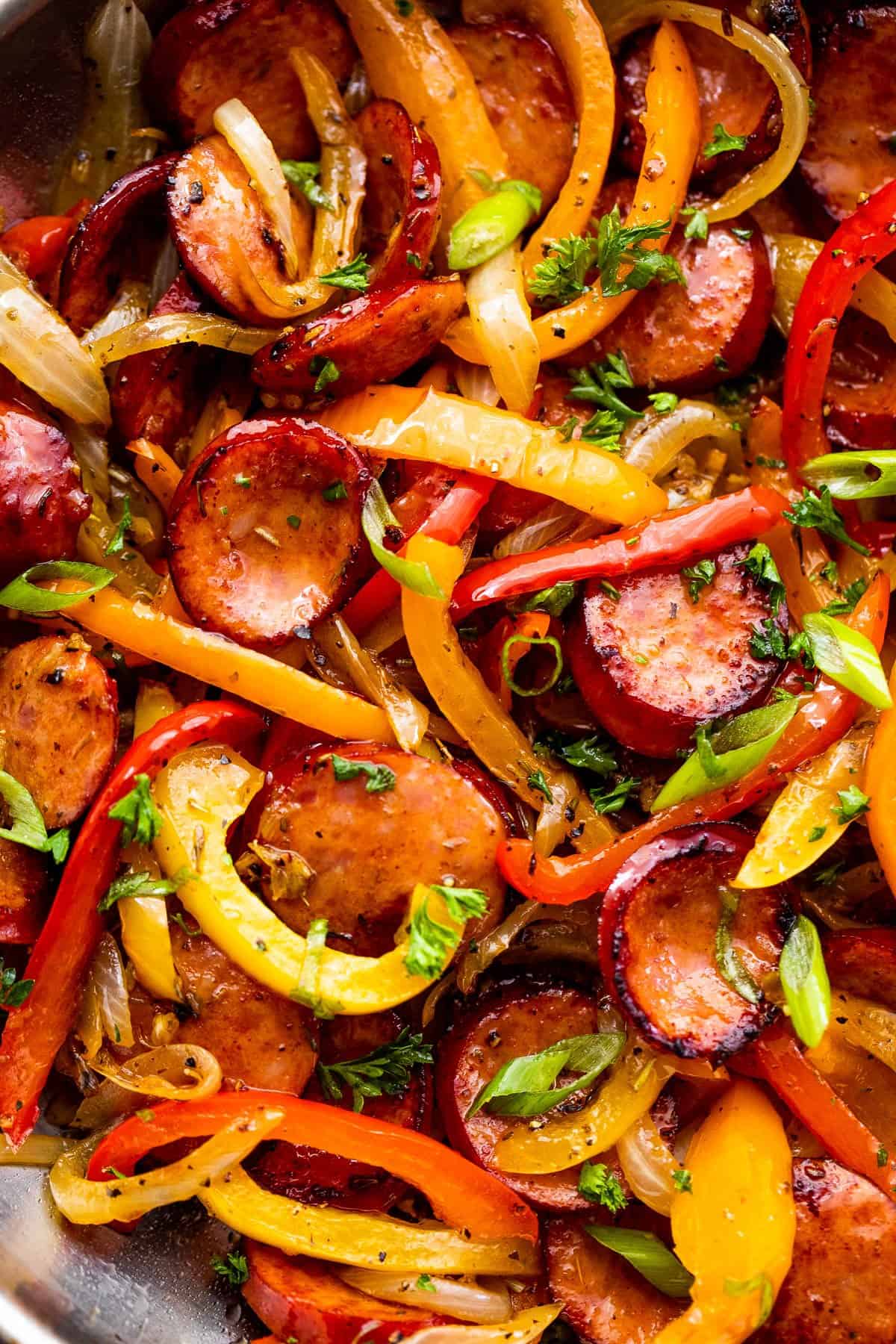 What You'll Need
Bell peppers are a big part of this delish recipe, and you can use any color that you like—I like to use a trio of colors for an extra-festive presentation.
Olive Oil: For sauteing the food, have ready two tablespoons of olive oil, divided.
Sausage: You'll need about 12 to 14 ounces, cut into thin rounds (between ⅛-inch and ¼-inch thick).
Bell Peppers: Julienne your bell peppers into thin strips. 
Italian Seasoning: This versatile seasoning blend adds so much flavor! About a teaspoon is perfect for seasoning the skillet.
Garlic: Mince up four cloves of fresh garlic. 
Salt and Pepper: To taste.
Red Pepper Flakes: Spice things up even more with a good shake of red pepper flakes. I like to use about ½ a teaspoon, but you can use less or omit it if you wish.
Garnishes: Slice up one green onion and chop a little fresh basil for garnish.
What kind of sausage should I use?
Almost any kind of link sausage would be tasty in this recipe. Standard kielbasa or bratwurst is a good choice, but Italian sausage would also be great. I like to use Andouille or chorizo because they bring a spicy flavor of their own.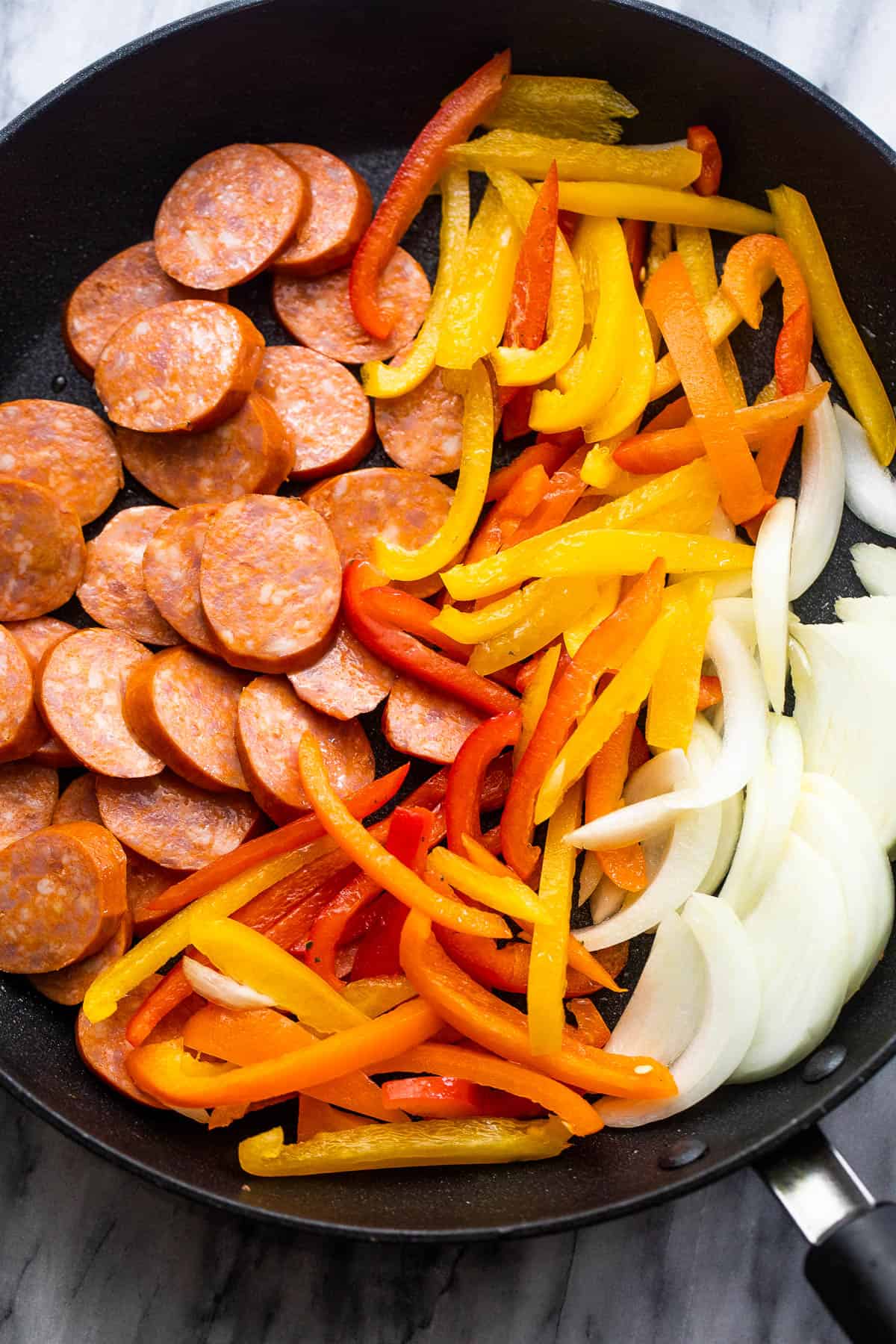 How to Make Sausage and Bell Peppers in a Skillet
The secret to this recipe is in lightly charring the veggies after the sausage has cooked. Talk about amazing!
Cook the Sausage. Heat a tablespoon of the olive oil in a large skillet, set over medium heat. Add the sliced sausages and cook them until they're nicely browned, stirring and turning occasionally. This should take about 5 to 6 minutes. Remove the cooked sausage from the skillet, and set aside.
Cook the Vegetables. Now we increase the heat to medium-high. Add the remaining olive oil to the skillet. Stir in the julienned peppers and onions, sprinkling them with the Italian seasoning. Cook for 4 to 5 minutes, or until crisp tender and a little charred. Then add the garlic, salt, and pepper; continue to cook for 1 more minute.
Finish the Dish. Return the cooked sausage back to the skillet and cook for 1 minute, or just until heated through. Taste the dish for salt and pepper and adjust if needed. Garnish with pepper flakes, green onions, and basil, if using.
Enjoy! Serve your sausage and pepper skillet as-is, or arrange it over rice or noodles.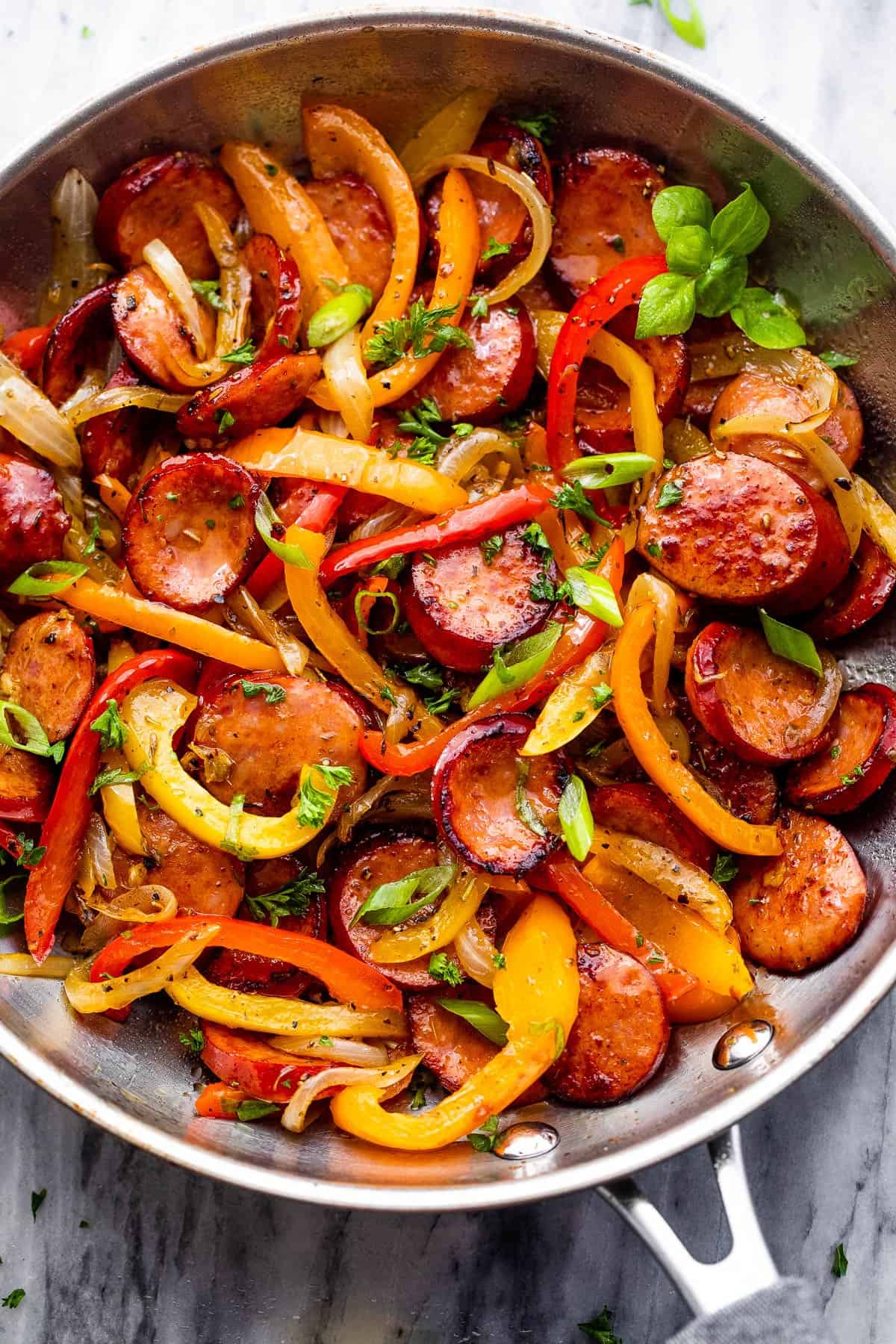 Tips for Success
This recipe is so easy that it's impossible to mess up! But I still have a few helpful ideas to share, just to make it the best it can be.
Try Grilling: As delicious as this dish is in a cast-iron skillet (or any type of skillet that you prefer), it's also great on the grill. A topper, griddle, or slotted skillet works great to get that smoky taste, while keeping the food from falling through the grates.
Add Veggies: Not a fan of peppers? No problem! This dish is fantastic with green beans, broccoli, squash, mushrooms, or any other veggie that you like.
Swap the Protein: For a change of pace, try chicken, turkey, or beef sausage instead of regular pork sausage—or use cubes of steak, chicken breast, or ham. Yum! ?
Serving Suggestions
I can honestly just eat a plate of sausage and peppers for dinner, but some sides do add a nice touch. You could go with garlic bread or a simple green salad, and that would be AAAAmazing! If you're in the mood for something a little more detailed, try one of these tasty ideas.
Broccolini: One of my all-time favorite green sides, this Easy Garlic Broccolini goes with everything, but is particularly delicious with sausage. You'll love the light, lemon-garlic flavor of this simple recipe.
Roasted Squash: Sweet Honey Roasted Butternut Squash is such a treat! And its lovely fall flavors blend perfectly with this smoky, spicy, herbed skillet dinners.
Cornbread: How about a nice crumbly piece of cornbread to round out this meal? I say YES! ? This Light Skillet Cornbread is sure to please.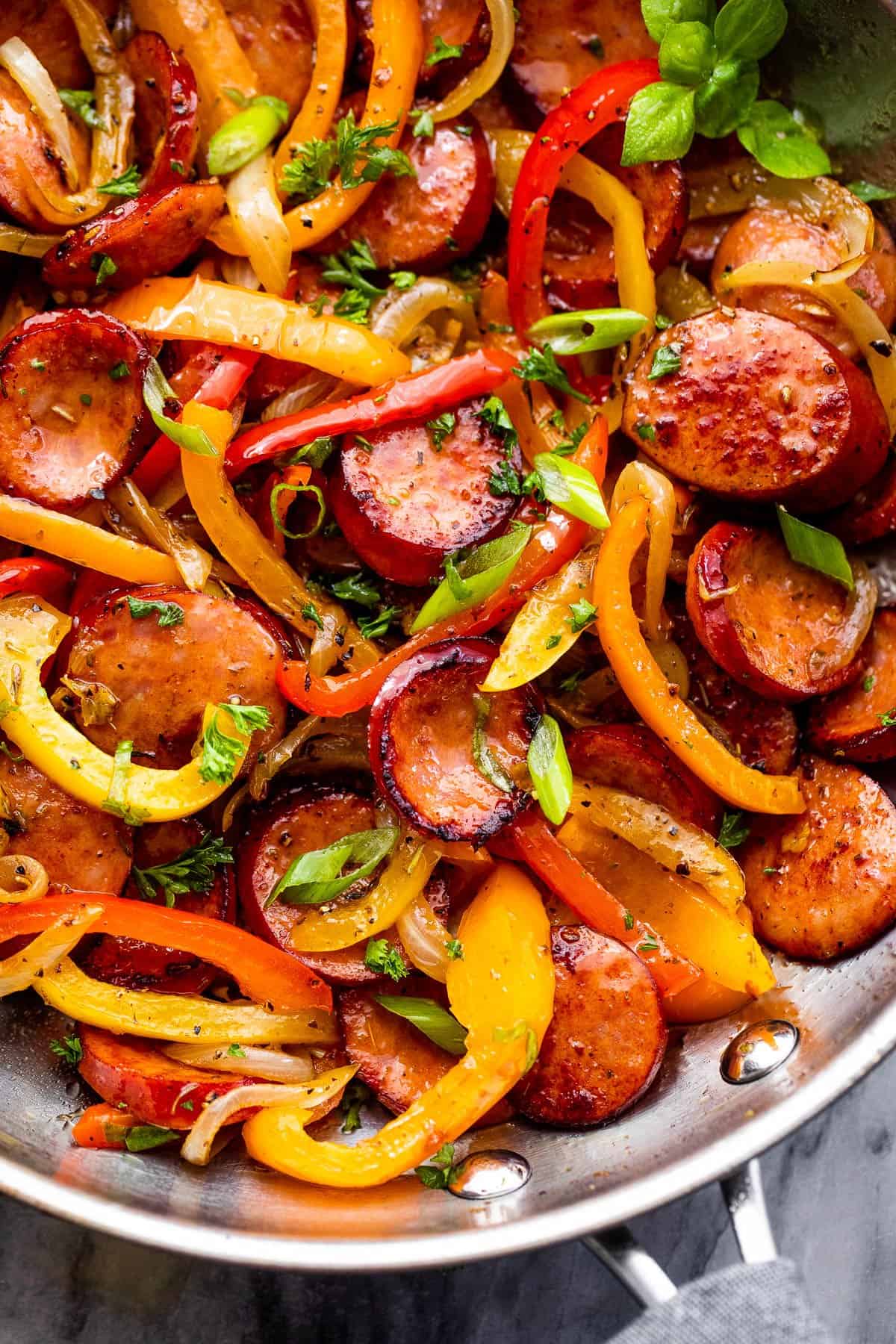 How to Store and Reheat Leftovers
To store leftover sausage and peppers, place in shallow, airtight containers and refrigerate for up to three days.
To reheat, place in a covered skillet over low heat and cook until heated through.
Can I Freeze This Recipe?
Yes, you can! Just place cooled leftovers into freezer bags, mark with the date, and freeze for up to two months.
Thaw overnight in the refrigerator before reheating.
ENJOY!
Smoked Sausage and Peppers Skillet
Full of savory sliced sausage, colorful bell peppers, onions, and spices, Smoked Sausage and Peppers Skillet is the ultimate quick dinner option that everyone will love.
Ingredients
2

tablespoons

olive oil,

divided

12 to 14

ounces

andouille sausage,

cut into thin rounds, between ⅛-inch and ¼-inch thickness

1

red bell pepper,

cut into thin strips

1

yellow bell pepper,

cut into thin strips

1

small yellow onion,

cut into thin strips

1

teaspoon

Italian seasoning

4

cloves

garlic,

minced or pressed

Salt and fresh ground pepper,

to taste

1/2

teaspoon

red pepper flakes,

optional

1

green onion,

sliced, for garnish

Fresh chopped parsley or basil,

for garnish
Instructions 
Heat 1 tablespoon olive oil in a large skillet set over medium heat.

Add sliced sausages to the heated oil and cook until browned on all sides; about 5 to 6 minutes.

Remove sausages from skillet and set them aside.

Increase heat to medium-high; return skillet to the heat and add remaining olive oil.

To the skillet add the peppers and onions; season with Italian seasoning and continue to cook for 4 to 5 minutes, or until crisp tender.

Stir in garlic, and season with salt and pepper; continue to cook for 1 more minute.

Add sausages back to the skillet; cook for 1 minute, or just until heated through.

Taste for salt and pepper; adjust accordingly.

Garnish with pepper flakes, green onions, and parsley or basil.

Serve.
Notes
You can serve as-is, or serve the sausage and peppers over rice or noodles.

NET CARBS: 6 g
WW POINTS: Use Turkey Kielbasa and reduce your points down to 6.
Nutrition Facts
Smoked Sausage and Peppers Skillet
Amount Per Serving
Calories 386
Calories from Fat 279
% Daily Value*
Fat 31g48%
Saturated Fat 9g45%
Trans Fat 1g
Polyunsaturated Fat 4g
Monounsaturated Fat 16g
Cholesterol 71mg24%
Sodium 769mg32%
Potassium 448mg13%
Carbohydrates 8g3%
Fiber 2g8%
Sugar 3g3%
Protein 18g36%
Vitamin A 1139IU23%
Vitamin C 97mg118%
Calcium 39mg4%
Iron 2mg11%
* Percent Daily Values are based on a 2000 calorie diet.
Keywords: sausage and peppers, sausage and peppers recipe
Want To Save This Recipe?
More Skillet Dinners