No rolling and no fuss, these super soft chocolate sugar cookies are easy as can be and so incredibly delicious (as in, Idare you to eat just one)! Bonus: cook them a few minutes longer if thin and crispy cookies are more your style.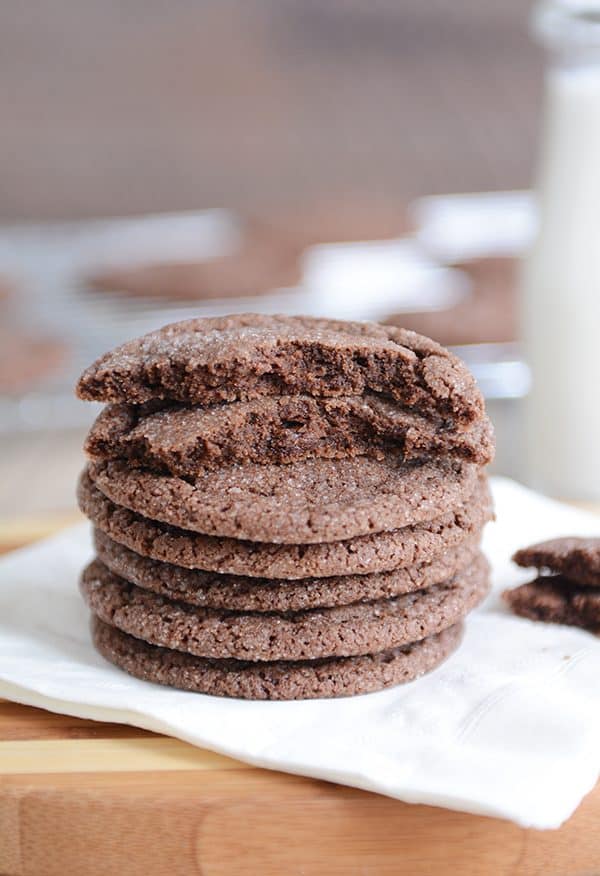 I don't know about you, but it's Thursday, this week hasn't really shaped up to be how I wanted (needed) it to be (just life), and I need some cookies.
Chocolate cookies would be appropriate and so very therapeutic right about now.
Thank goodness one of you sweet readers sent me the recipe for these super soft chocolate sugar cookies a couple weeks ago (in response to one of my newsletters), because they seriously managed to be the pick-me-up I needed this week.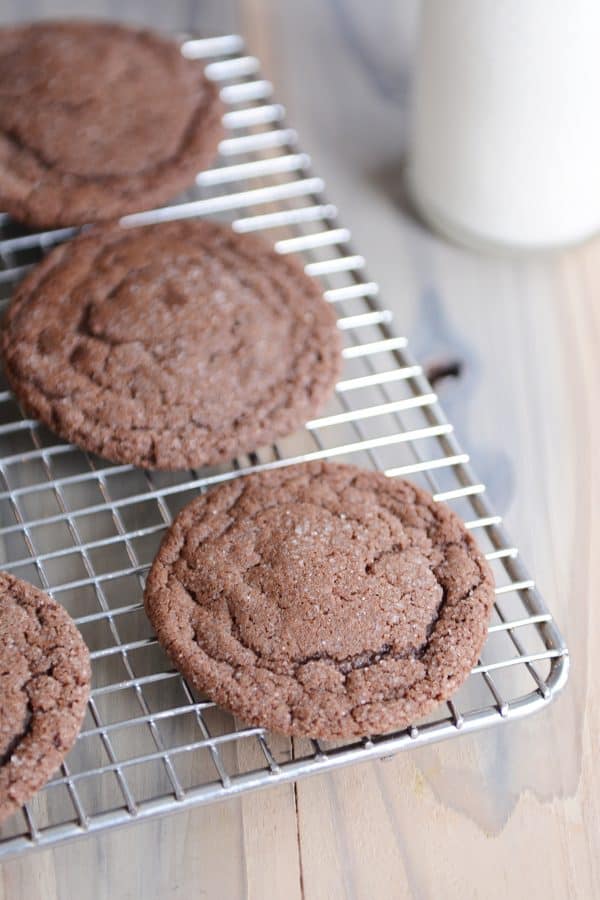 On paper, these cookies may not seem that special. A soft chocolate cookie dough rolled in sugar. Baked. Cooled (maybe?). Devoured.
There are no magic or secret ingredients. No intense, involved processes.
All you've got is a really delicious, simple, drop cookie that is ultra-chocolately and super simple to make.
That is a very, very, very wonderful thing, because these soft little chocolate sugar cookies are probably my new favorite all-chocolate cookie.
And I'm not just saying that because they altered my bad mood for the better. They are legit delicious.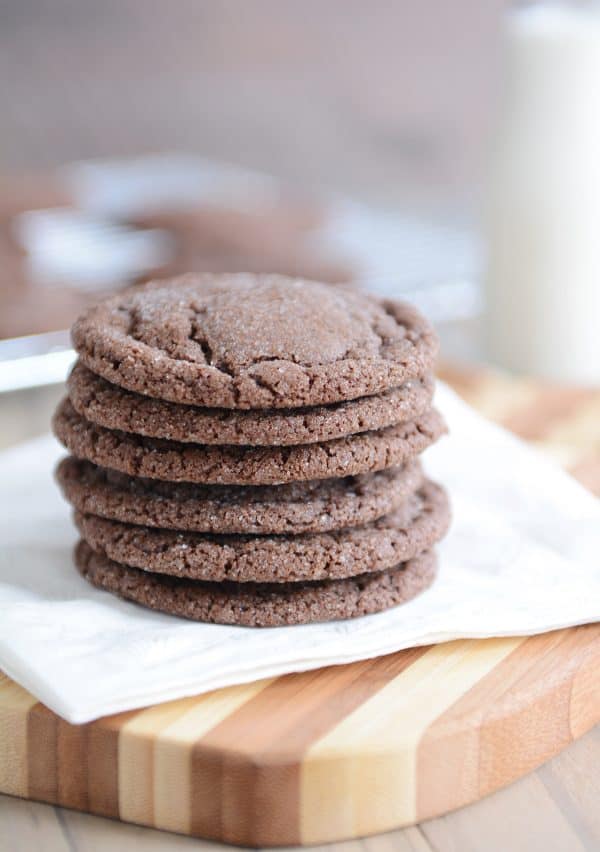 Incredibly soft, the chocolate flavor of these cookies is out of this world.
I used regular, ol' cocoa powder (Hershey's, baby), but the original recipe calls for Dutch-process. If you go that route, you're going to get an even richer, darker chocolate cookie.
Yum.
I opted for soft-bake action on these cookies, because that's generally who I am at the center of my soul. Soft cookies forever.
The cookies aren't necessarily chewy (no brown sugar), but the texture of the thin and crackly cookies is a little fudgy, a little cakey, and a lot soft and tasty.
If you are after a crispier cookie (thinking of you, thin and crispy oatmeal cookies), these already-thin cookies transition quite well to a thin and crispy version with a longer baking time (just by a few minutes).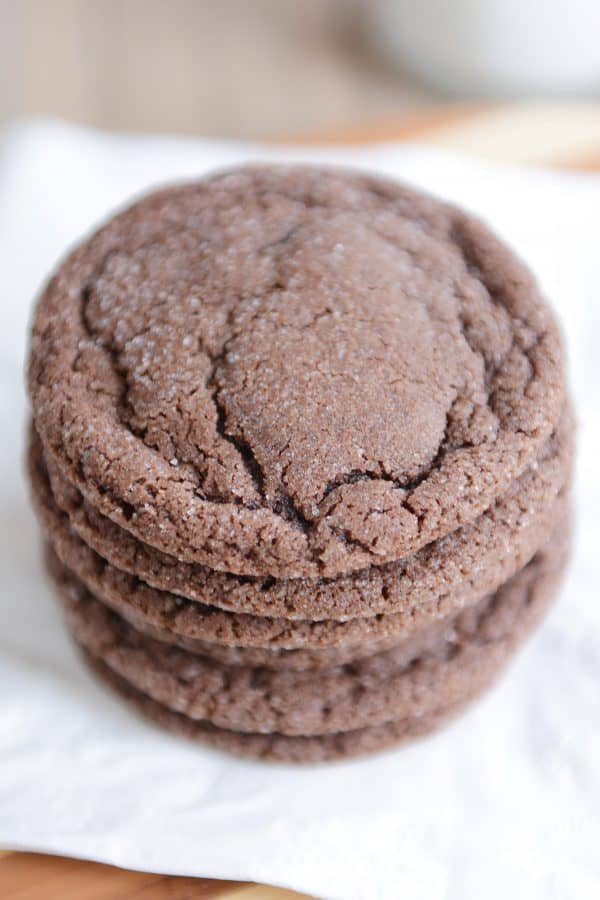 Talk about a perfect little cookie for a quick chocolate fix! Yes, I already figured out these baked cookies freeze beautifully. Dangerous knowledge when you can pull one out at a moment's notice.
Plus, they are elegant and special enough to serve and share with anyone.
I mean, if sharing decadent, perfect, chocolate sugar cookies is your thing.
You selfless thing, you.
If you are a fan of this older soft chocolate sugar cookie recipe already, never fear! There's room in this world for more than one chocolate sugar cookie.
Today's version is thinner, softer (yep), less chewy, and just overall pretty darn awesome.
I love these cookies so much. If you're week isn't really shaping up how you want it to be, I give you full permission to self-medicate with chocolate cookies. #itworks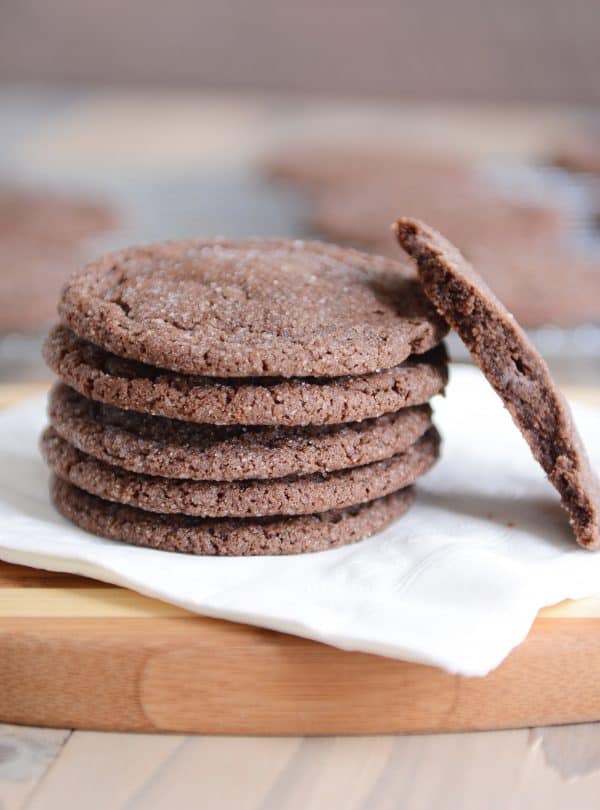 One Year Ago: Thai Coconut Milk Grilled Chicken
Two Years Ago: Turkey and Brown Rice Taco Burritos
Three Years Ago: Easy 5-Minute Thai Peanut Sauce
Four Years Ago: Overnight Raised Waffles
Five Years Ago: Soft Chocolate Sugar Cookies
Yield: about 3 dozen cookies
Super Soft Chocolate Drop Sugar Cookies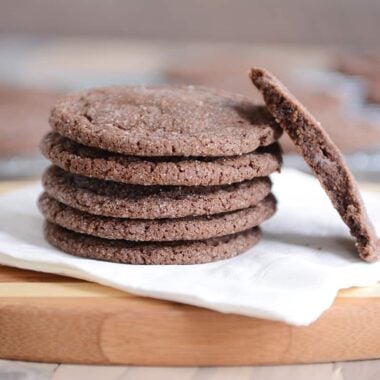 Ingredients:
2 cups (10 ounces) all-purpose flour
3/4 cup (2.25 ounces) natural, unsweetened or Dutch-process cocoa powder (see note)
1 teaspoon baking soda
1/2 teaspoon salt
2 cups (15 ounces) granulated sugar
1 1/4 cups (2 1/2 sticks, 20 tablespoons, 10 ounces) butter, softened to room temperature
2 large eggs
1 teaspoon pure vanilla extract
Granulated sugar, for rolling
Directions:
In a medium bowl, whisk together the flour, cocoa powder, baking soda and salt. Set aside.
In the bowl of a stand mixer fitted with the paddle attachment or using a handheld electric mixer, combine the granulated sugar and butter and mix until light and fluffy, 2-3 minutes.
Add the eggs and vanilla and mix until well-combined, scraping down the sides of the bowl as needed.
Add the flour/cocoa mixture and mix until combined.
Scoop the soft dough into about 2 tablespoon-sized mounds onto a parchment-lined baking sheet (I use a #40 cookie scoop) and chill for about an hour (or up to 24 hours). Alternately, you can chill the entire batch of dough without scooping, but once chilled, it is harder to scoop out portions of dough since the cookie dough is pretty stiff.
Preheat the oven to 350 degrees F. Line baking sheets with parchment paper or lightly grease with cooking spray.
Roll each scoop of chilled cookie dough in your hands to soften just slightly and form a nice round ball. Roll in granulated sugar and place 1- to 2-inches apart on a parchment-lined baking sheets.
For a soft-baked cookie, bake for 9-10 minutes (9 minutes is perfect in my oven); for a crispier cookie, bake for 12-13 minutes.
Let the cookies cool for a few minutes on the baking sheet before removing to a wire rack to cool completely. Store well-covered at room temperature or in the refrigerator for several days or freeze the baked cookies for a up to a month or so.
Notes:
Both natural, unsweetened (like the Hershey's brand) or Dutch-process cocoa works great in these cookies. The pictures in the post are cookies made with natural, unsweetened cocoa. The cookies will be darker (and richer in chocolate flavor) if using Dutch-process cocoa. 
If you find the cookies are spreading too much while baking, try increasing the oven temperature to 375 degrees. Also, if you live at high altitude, I'd suggest adding a few more tablespoons of flour to the cookie dough (just a suggestion since the cookies are already on the thin side).
All images and text ©Mel's Kitchen Cafe.

Recipe Source: adapted slightly from a recipe a reader, Sarah B., sent me telling me to make them ASAP (recipe originally from Martha Stewart)
Disclaimer: I am a participant in the Amazon Services LLC Associates Program, an affiliate advertising program designed to provide a means for me to earn fees by linking to Amazon.com and affiliated sites.
shop this postFeatured Products
(may include affiliate links)