This one-bowl sour cream banana bread recipe is amazingly popular for good reason! Super moist and fluffy, it is crazy delicious and so easy to make!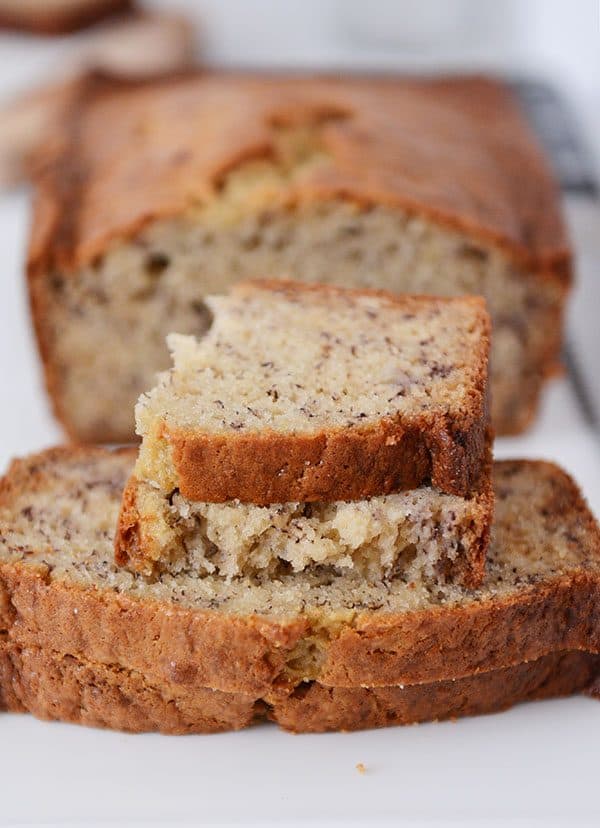 There are a lot of divisions in the world when it comes to banana bread. First and foremost, I would say, is The Great Nut Debate.
Do we dare talk about this here?
Yes, I think we should.
Do you welcome, allow, and love nuts in your banana bread? Or not?
(I'm in the solid not camp on this one, but I genuinely would love to know how you feel about the issue.)
The second big issue (and a conundrum to some) is whether you prefer your banana bread dark and speckly or if you are a fan of golden, light-colored banana bread?
I think the darker crumbed banana bread (like in today's sour cream banana bread post) is generally thought to be a bit more traditional. Those speckles are a sign of great banana bread, right?
But if you've never tried a buttery, light, golden banana bread loaf, you might be missing out (my favorite version is here).
Banana bread definitely brings out a lot of different (and strong) loyalties in people.
You wouldn't believe the impassioned comments I've received about banana bread over the years.
It has been enlightening…and sometimes downright frightening, if I'm being honest. (You feel that strongly about banana bread, huh? Wow.)
There are those that firmly believe there is no place in this world for my beloved golden-loafed banana bread.
And others that believe the dark speckly speckles are for the dogs.
I'll leave you to search your own soul and determine how you ultimately feel about banana bread and just tell you that I've found over the years, I can easily make room in my heart for both kinds (the bespeckled and the unspeckled).
NERD ALERT: As a quick aside, I've done a lot of reading and testing (I'm telling you, NERD, and proud of it) to figure out why some banana bread loaves have a light-colored crumb and other recipes produce the dark speckles like you see in these pictures.
One likely reason? Baking soda.
Banana bread recipes that have a larger amount of baking soda usually have a darker crumb. This sour cream banana bread has a full teaspoon of baking soda…and it clearly results in darker speckles.
The buttermilk banana bread I've referenced several times already with the light-colored crumb only has 1/8 teaspoon baking soda.
I'm far from a chemist (my least favorite college class in the history of ever, actually), but apparently baking soda is a pretty reactionary ingredient.
And I think it has a lot to do with how the color of the banana bread turns out.
So there. Chew on that for a while.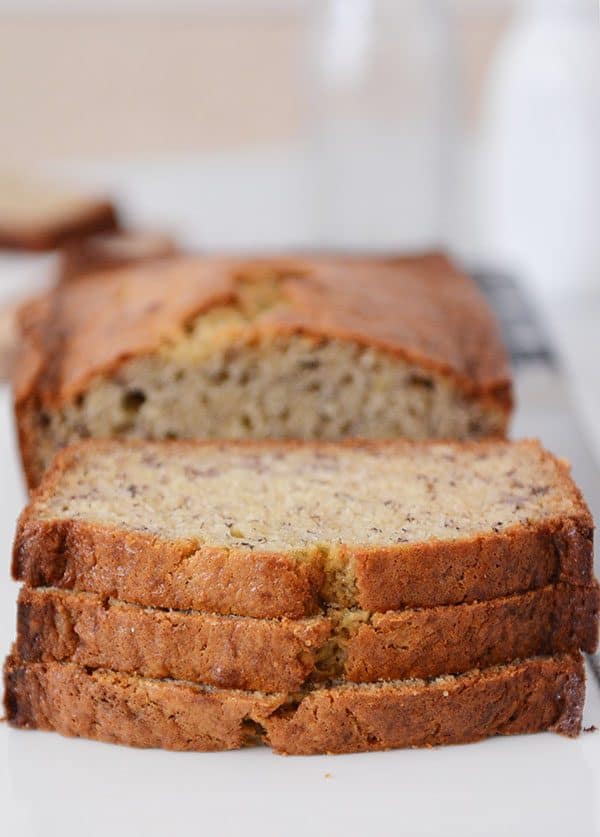 Today I'm bringing back this crowd favorite from the archives: sour cream banana bread.
I posted it so long ago (back in June 2009*) that I think it's gotten a little lonely.
For a classic, traditional, perfect banana bread recipe, you can't go wrong with this one.
If you take a quick glance through the comments, you'll easily see that many, many, many of you have fallen in love with this banana bread over the years.
No surprise!
It is so easy – one bowl! So delicious – supremely moist and tender!
It really is one of the best banana bread recipes out there.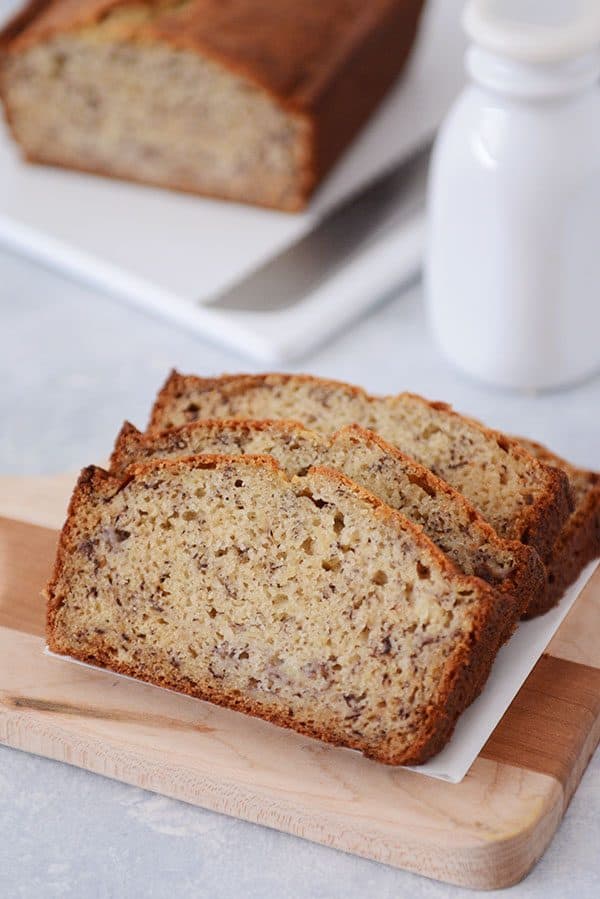 *It seems unreal that you say the year 2009 and I say "yep, I was blogging back then." Who knew I'd still be at it over 8 years later (it's been almost ten years total since I started this adventure!).
I just wanted to take a quick, sappy moment to say thanks for still being here.
Even if you weren't around all the way back in 2009 when my family was making cross-country moves from Utah to Wisconsin every couple of years, I'm so grateful you are here now.
And if you WERE around back then, let's just all have a moment of silence for how far we've come (and by we, I mean I) in regards to photography…and really all things blogging (my website back then was.a.mess).
You have no idea how amazing it is to me that you visit here, comment here, try recipes from here…and support me in this blogging endeavor. Love your guts to the moon and back. 
Yield: one loaf
Sour Cream Banana Bread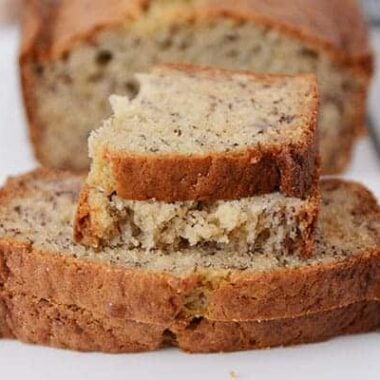 Ingredients:
1 cup (7.5 ounces) granulated sugar
1/2 cup oil (see note)
2 eggs
1 cup mashed ripe bananas (about 8 ounces), 3 ripe bananas
1/2 cup (4 ounces) sour cream
1 teaspoon vanilla
1 1/2 cup (7.5 ounces) flour (see note)
1 teaspoon baking soda
1/2 teaspoon salt
Directions:
Preheat the oven to 350 degrees F.
Grease and flour a 9X5-inch loaf pan (or several mini loaf pans).
In a large bowl, whisk together the sugar and oil. Add the eggs, bananas, sour cream and vanilla; blend well.
Add the flour, baking soda and salt; stir just until dry ingredients are moistened. Spread the batter evenly in the prepared pan.
Bake for 50-60 minutes until toothpick inserted in the center of the loaf comes out clean.
Cool for five minutes in the pan. Gently turn out onto a cooling rack and cool completely. Store covered at room temperature (the bread also freezes great).
Notes:
This banana bread recipe has been around a LONG time, and judging by your comments, I'm not alone in my love for it. Over the years, I've made little changes (don't worry, I didn't mess with the recipe above!) – I often sub applesauce for part of the oil (up to half) and sometimes use melted butter in place of the oil), use 50% whole wheat flour, decrease the sugar to 3/4 cup (especially if using very ripe bananas), and very often, I double the recipe and make two loaves because it freezes great. 
Don't pack the flour in the measuring cup. Fluff up the flour really well, scoop, and level. 
All images and text ©Mel's Kitchen Cafe.
Follow @melskitchencafe on Instagram and show me the recipes you are making from my blog using the hashtag #melskitchencafe. I love seeing all the goodness you are whipping up in your kitchens!
Recipe Source: adapted slightly from Leigh Anne at Your Homebased Mom
Recipe originally posted June 2009; updated with new pictures, recipe notes, and commentary.