This STRAWBERRY SHORTCAKE PIE is the ultimate Summer sweet treat! Layers of strawberries, cream, and pound cake make for the most delicious (EASY) strawberry pie!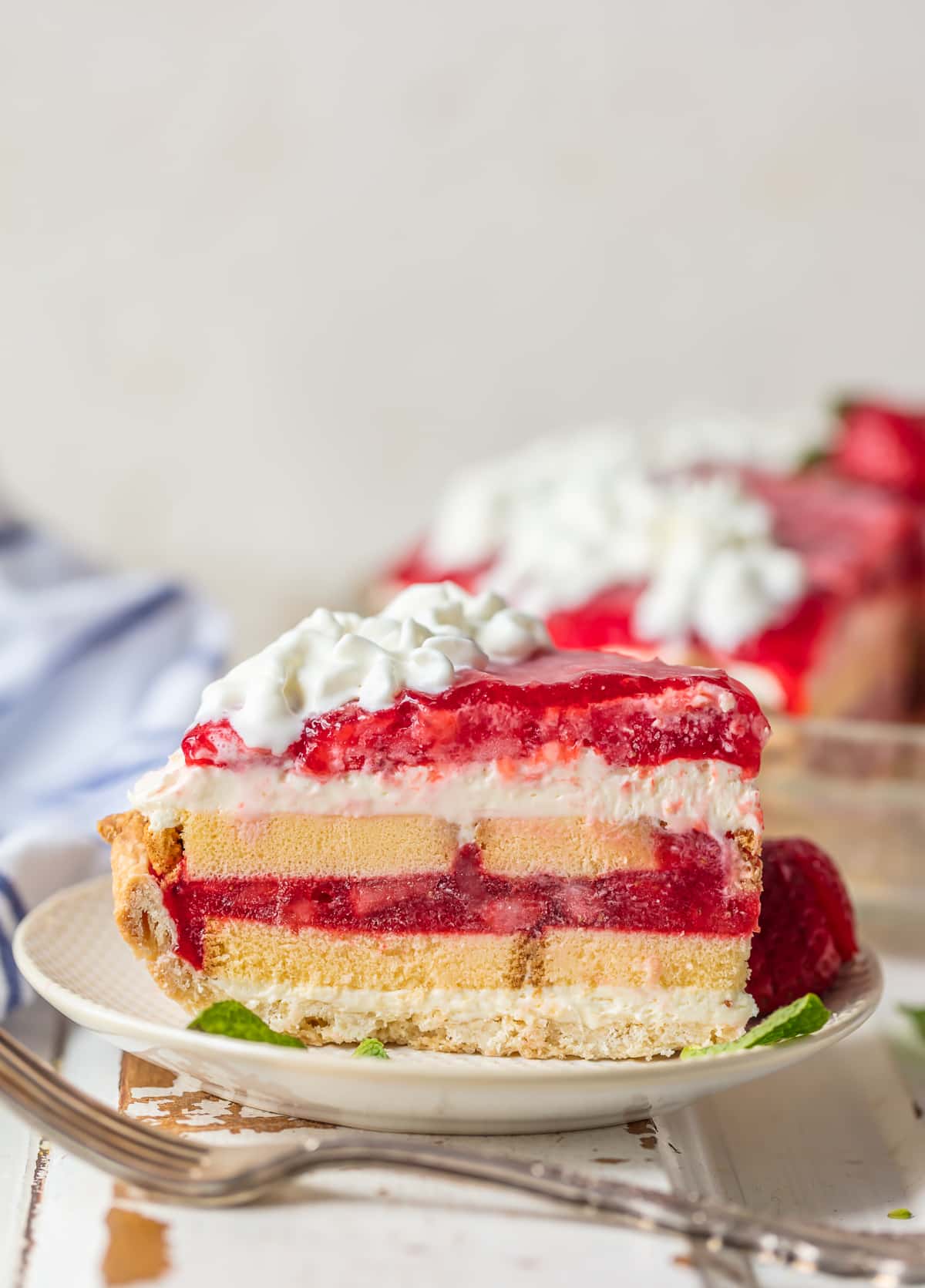 SUMMER IS HERE! Long days, cold drinks, time with friends, and strawberry desserts! My Mom has been making this Strawberry Shortcake Pie for years and I finally got the recipe so that I can share it with all of you! She came over and made it for me, and I loved it today as much as I always have. It's one of my all-time favorite desserts and I just know your family will be as obsessed as we are. I love the cold layers of strawberry, pound cake, and cream…all in a pie crust and topped with whipped cream. Beyond delicious!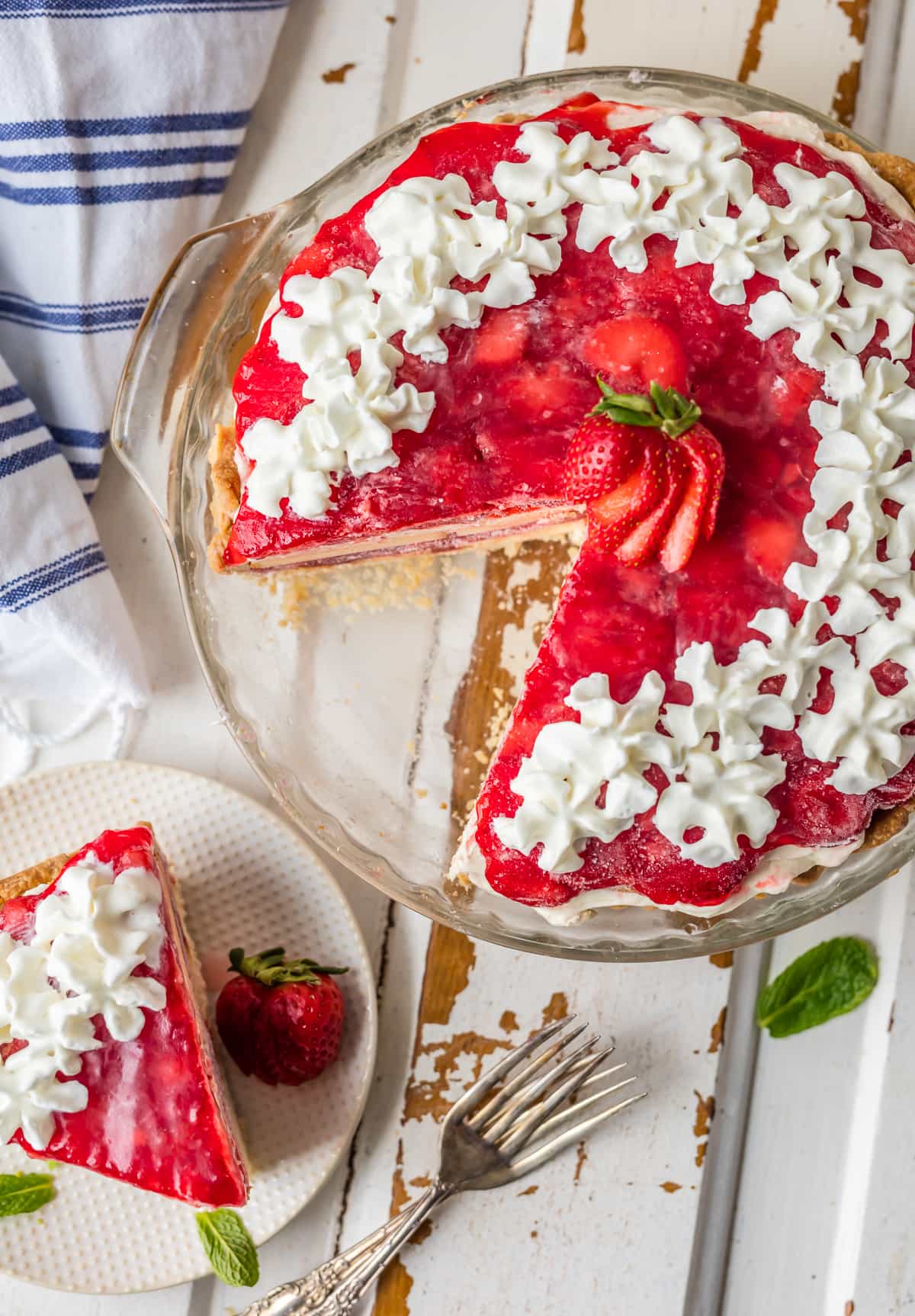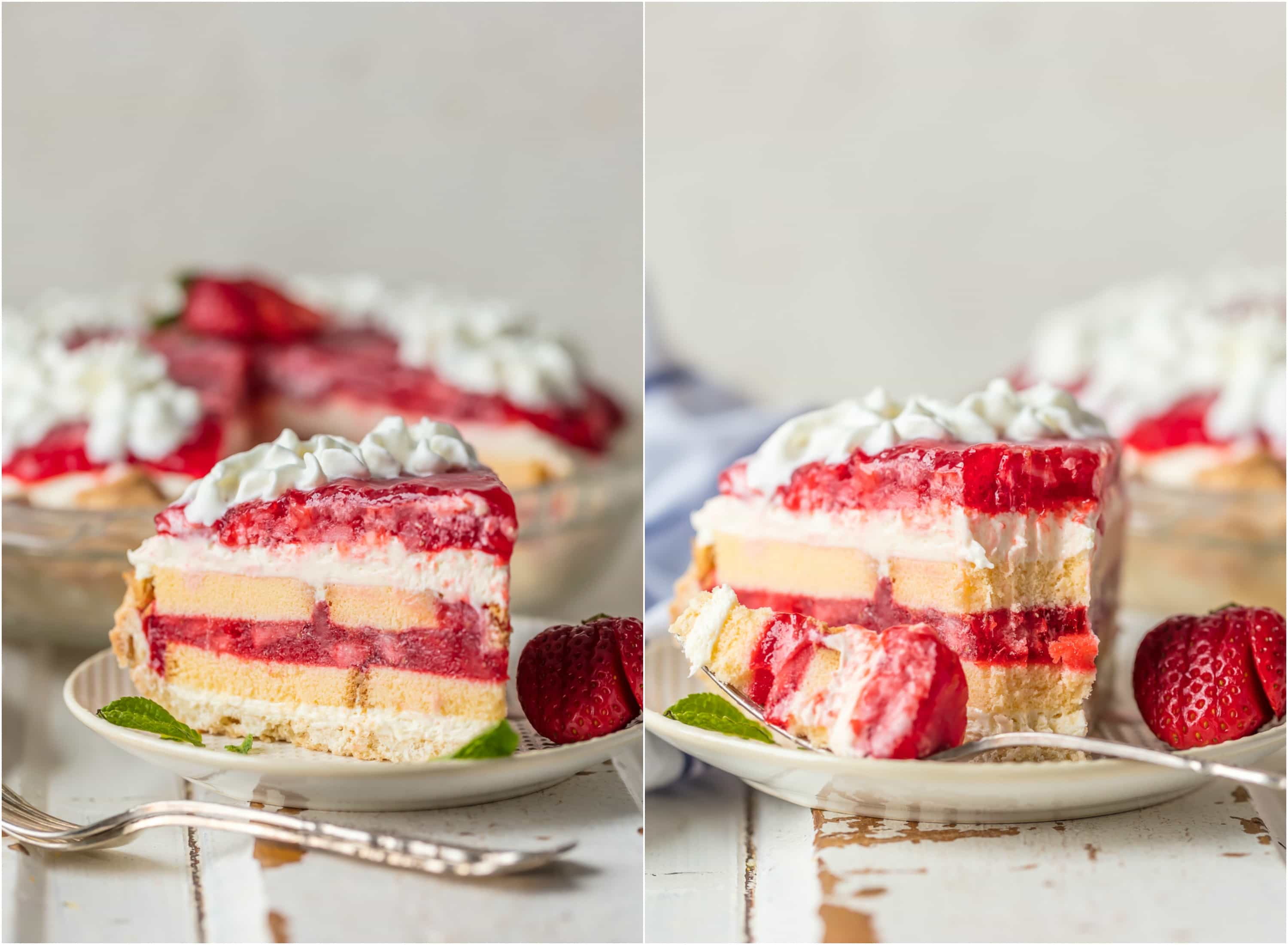 If there was ever Summer in a pie dish, this Strawberry Shortcake Pie is it. You'll want to make it for BBQs, potlucks, get together, birthdays, you name it! It can be made year round, but I feel it's just perfect for June-August. It screams Summer. If you're ready to be the hit of the party, bring this pie!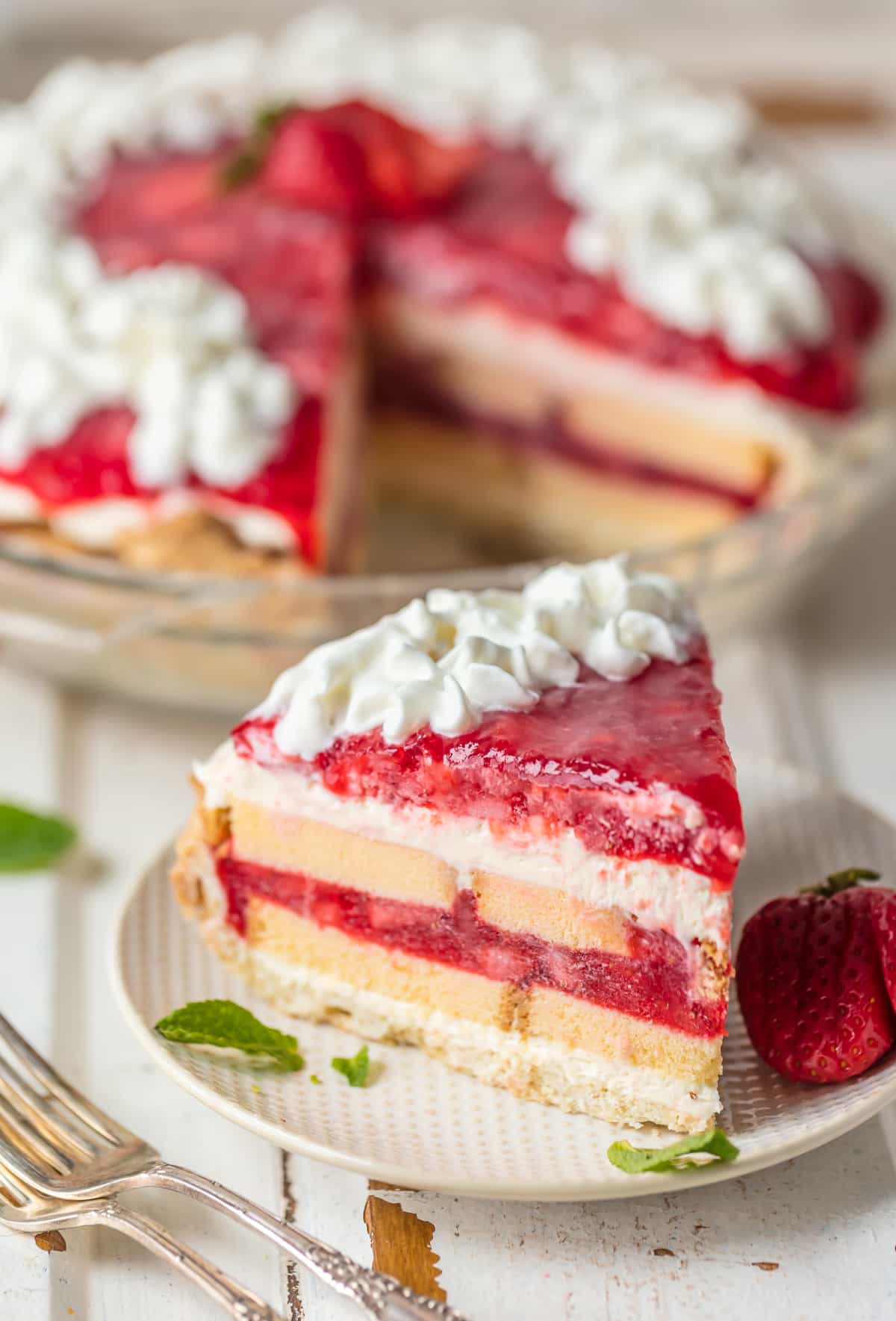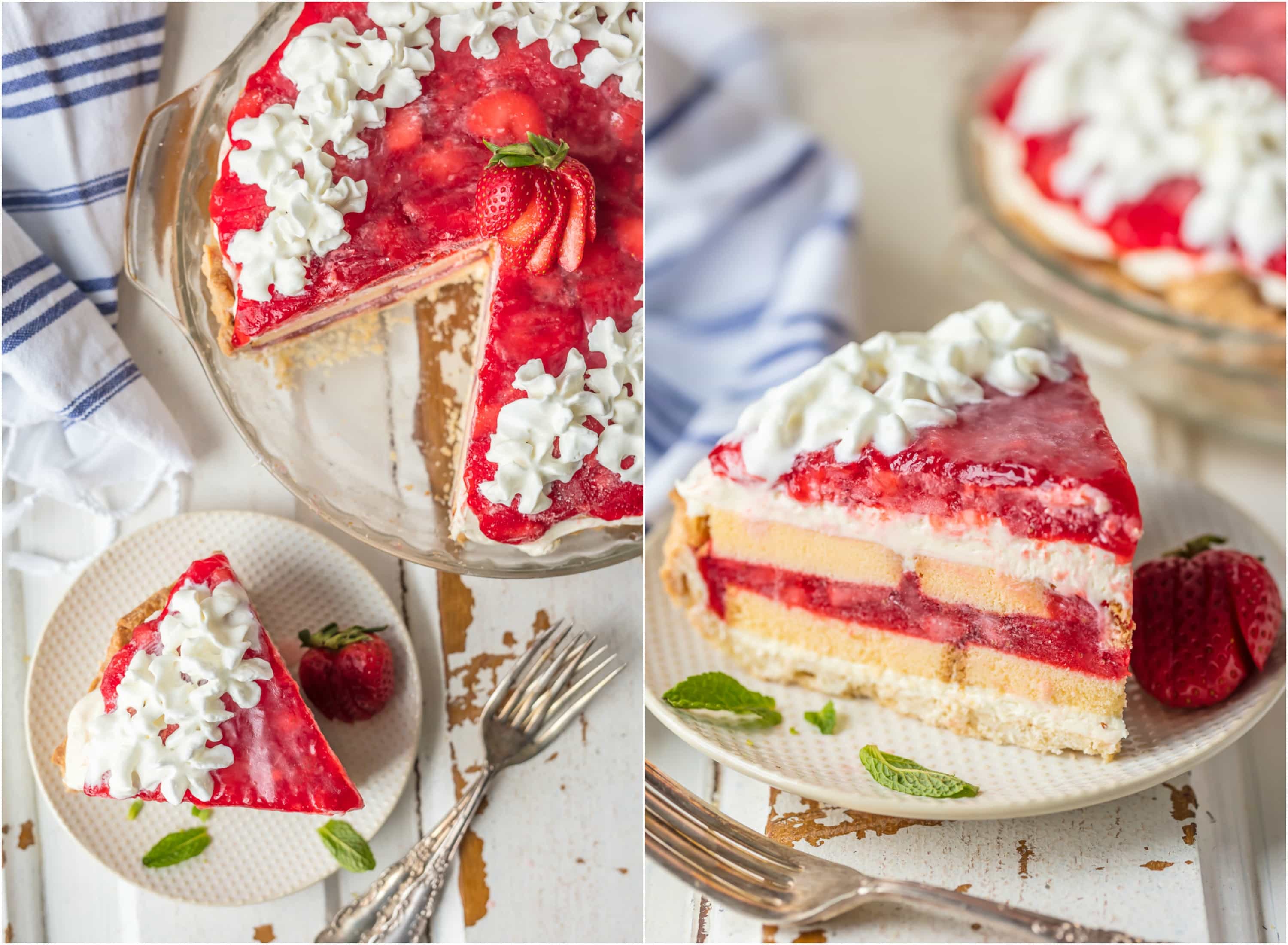 I love to keep a slice of this heaven in my freezer and pull it out for a late night snack. Can you blame me? Just utterly delicious. The flavor combo is to die for. I know you'll agree!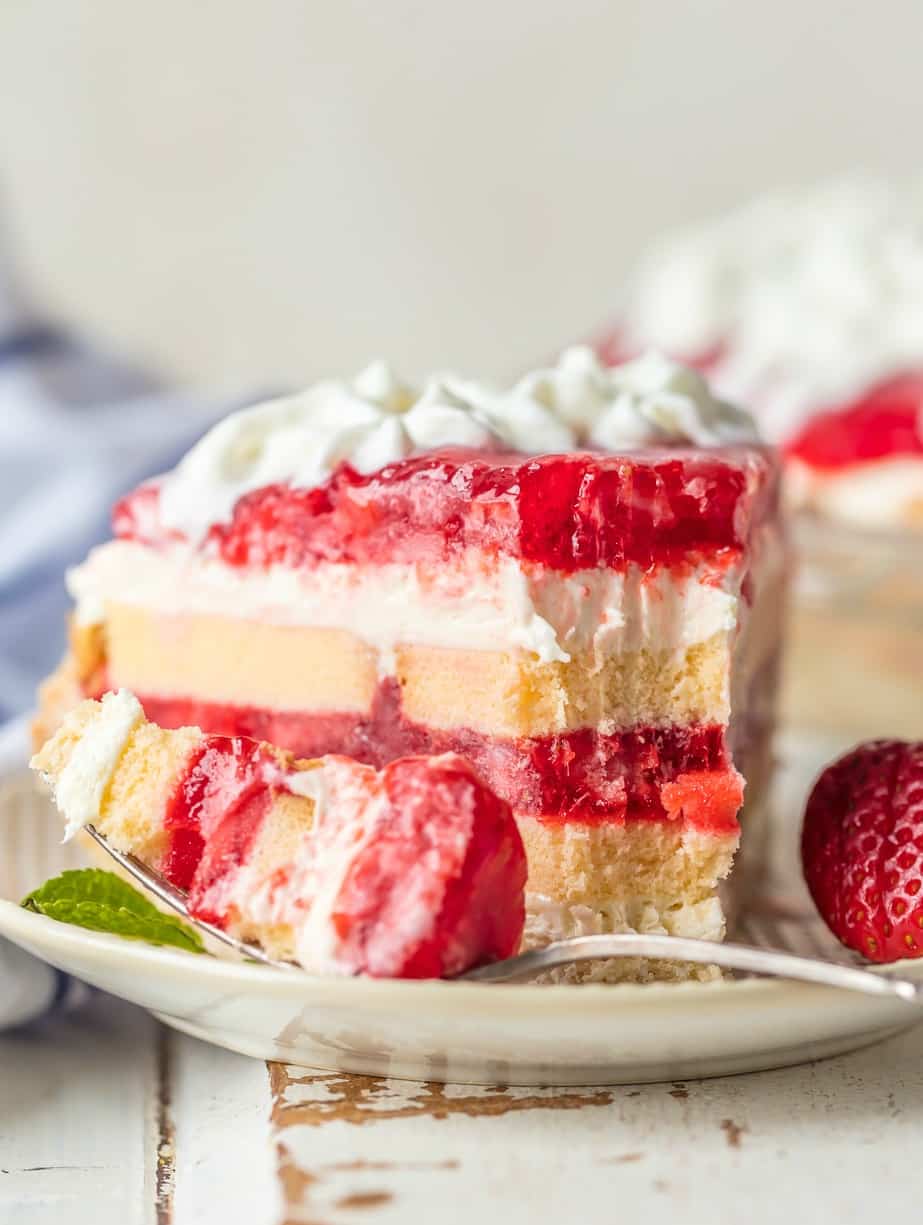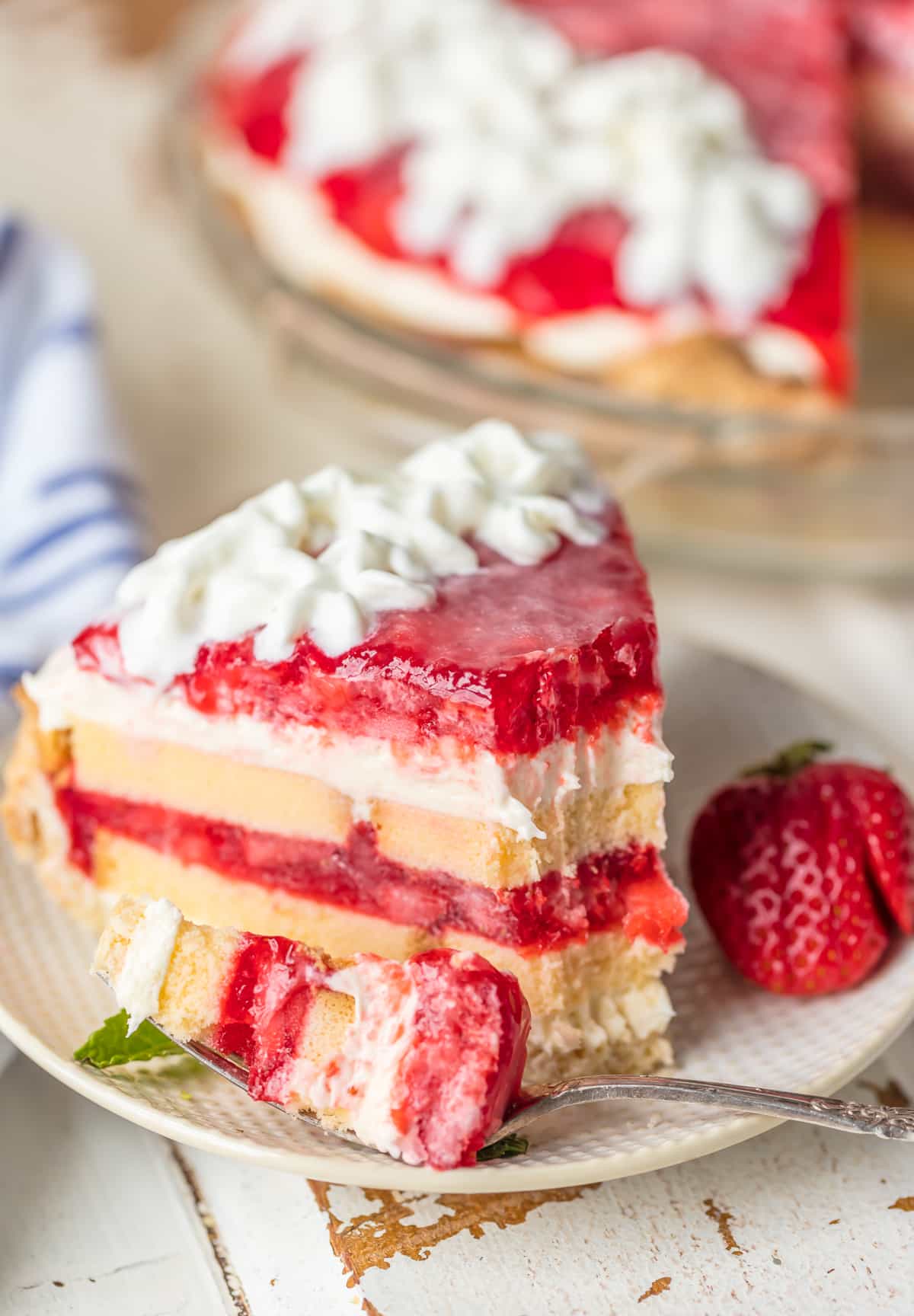 Becky Hardin | The Cookie Rookie
Yields 8
Strawberry Shortcake Pie
The Blue Owl Restaurant and Bakery, Kimmswick, MO
NOTE** This pie is delicious served fresh or frozen.
20 minPrep Time
15 minCook Time
35 minTotal Time
Ingredients
10-inch deep-dish pie crust, baked and cooled (store-bought crust is fine)
1 (16 oz) Sara Lee All-Butter Pound Cake cut into ¼-inch slices
6 oz. cream cheese, softened
1 cups confectioner's (powdered) sugar
1 cup chopped white chocolate or white chocolate melting chips, melted
¼ teaspoon almond extract
½ teaspoon vanilla extract
1 cup prepared whipped topping
2 pints fresh strawberries, washed, hulled and sliced
16 oz. tub strawberry glaze
Optional Garnishes & Decorations:
Whipped cream or whipped topping, melted chocolate, melted white chocolate, strawberries, mint leaves
Instructions
For the Cream Cheese Filling:

Place cream cheese in a mixing bowl. Beat on HIGH until light and smooth. Add powdered sugar, melted white chocolate, almond extract and vanilla extract. Beat until well combined.
Fold in 1 cup whipped topping. Set aside.

For the Strawberry Glaze:

Set aside 4 strawberries to slice and use as decoration/garnish.
Mix together the remaining sliced strawberries and strawberry glaze. Set aside.
Spread ½ cream cheese filling over the prepared pie crust.
Place cake slices over the cream cheese filling-cut the cake slices to cover the holes where needed.
Spread ½ strawberry mixture over the cream cheese filling.
Place cake slices over strawberry mixture.
Spread ½ cream cheese filling over the cake layer.
Spread ½ strawberry mixture over cream cheese filling.
Decorate the strawberry top layer with dollops of Cool Whip, drizzle with melted chocolate or white chocolate, strawberries and mint leaves.

To RECAP the LAYERS:

The Pie should be assembled like this – from the bottom up:
Crust
Cream cheese mixture
Cake slices
Strawberry mixture
Cake slices
Cream cheese mixture
Strawberry mixture
Toppings/Decorations
Enjoy!
7.6.3
2413

JOIN OUR MAILING LIST
TO GET COOKING!
Subscibe to recieve all the latest, greatest, and EASIEST recipes sent straight to your email inbox. If we post something yummy, you'll be the first to know.