Stuffed Shells with Meat and Cheese are a delicious pasta dish you can make for dinner any night. These Italian stuffed pasta shells are baked together with meat sauce and plenty of cheese to make an easy casserole. Stuffed Jumbo Shells are the perfect family dinner!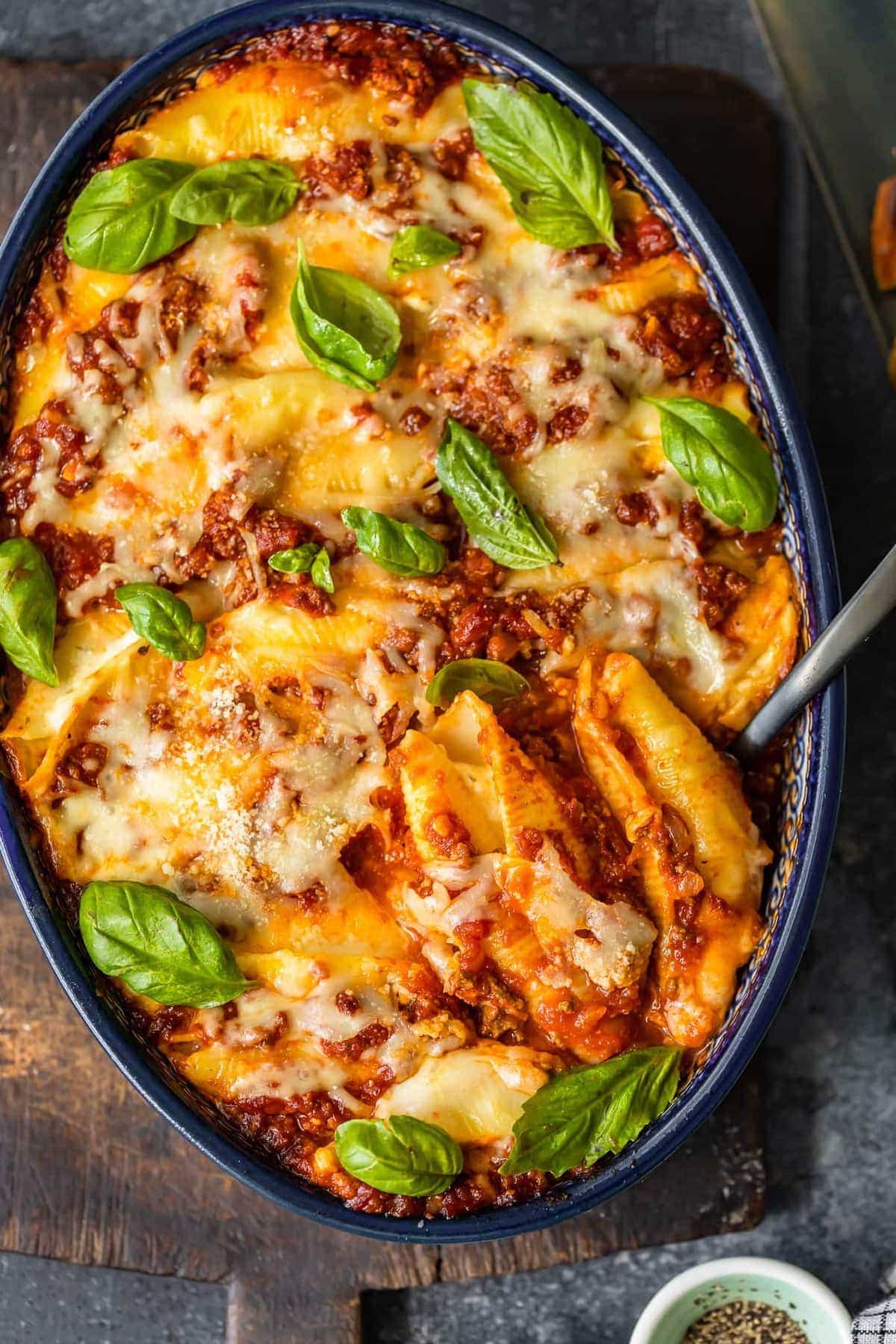 Stuffed Shells Recipe
This Italian Stuffed Shells recipe is perfect for date night, or for weeknight dinners with the family. Everyone will love these cheese stuffed pasta shells!
It's hard to go wrong with Italian food. Pasta, cheese, and sauce is just really hard to mess up! Which is why I love recipes like these stuffed shells with meat and cheese. It's easy, it's delicious, and no one can turn down jumbo pasta shells stuffed with cheese!
Since casseroles are the ultimate easy dinner, I went with a baked stuffed shells casserole. It's the easiest way to cook, serve, and save this dish (leftovers are amazing) without hassle. 
Jumbo stuffed shells with meat sauce (ground beef), baked into a dish with lots of cheese, served hot and fresh. Yum! I just love the way all of the ingredients fill up inside the shells, so every bite is a dream!
These meat and cheese stuffed pasta shells are the perfect Italian meal for any night of the week!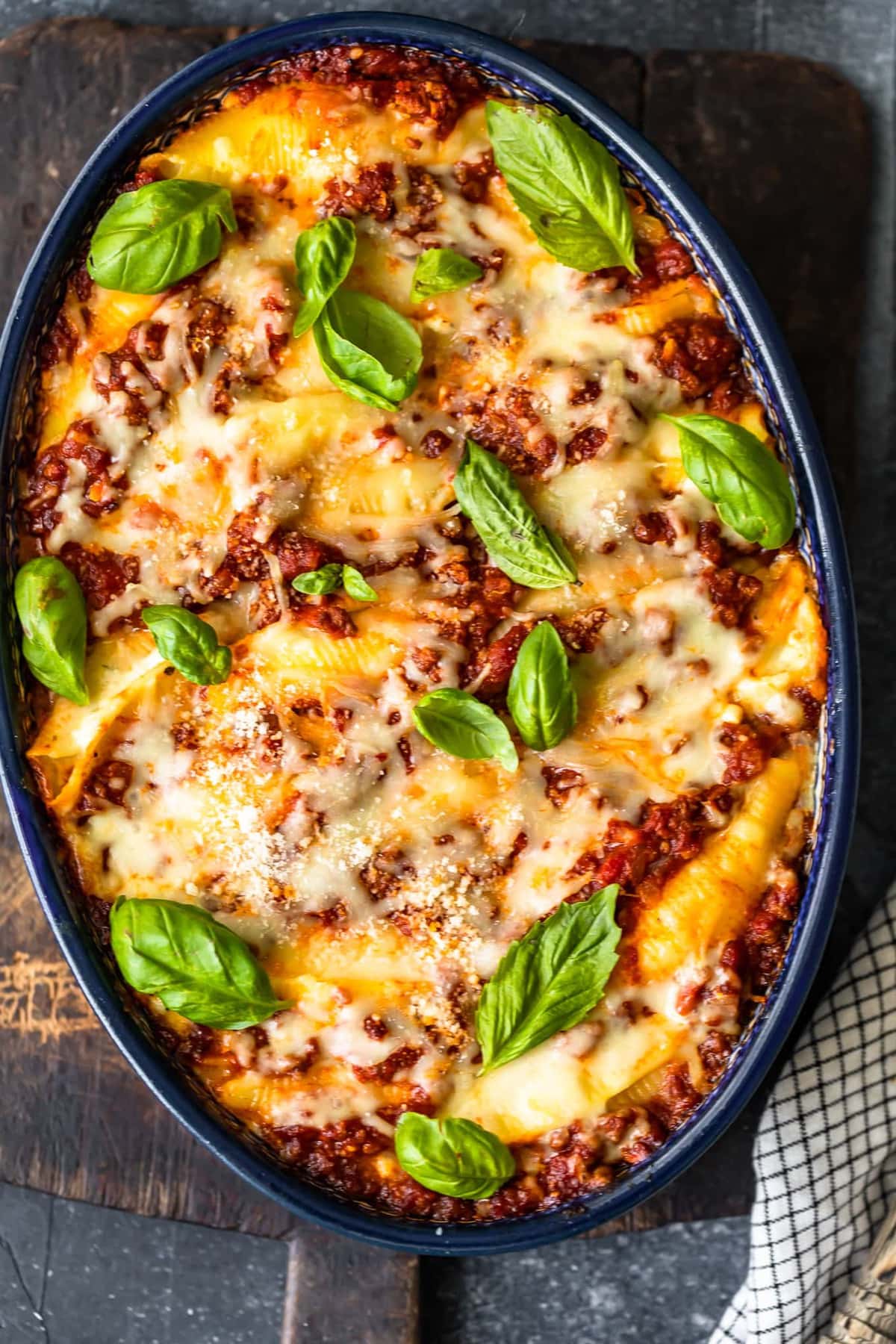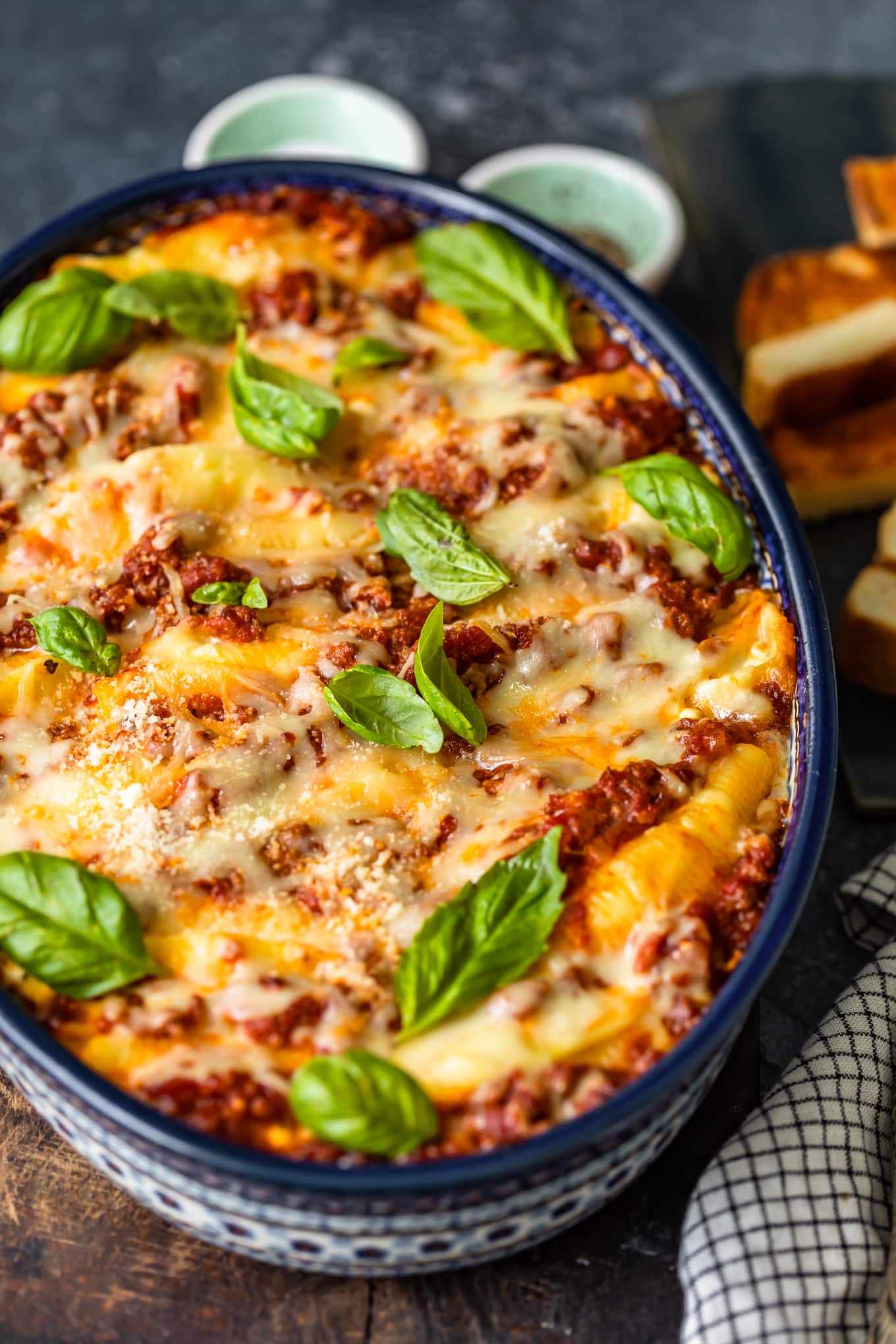 Italian Stuffed Pasta Shells
I'm a fan of ALL pasta, but stuffed pasta is just extra tasty. I love taking a bite of these jumbo stuffed shells, and getting to taste all of the cheese, meat, and sauce with every bite. It's SO good, and I can't imagine anyone turning down this dish. It's a real people pleaser!
Easy Stuffed Shells with Meat and Cheese
This easy stuffed shells recipe is just so delicious. It's filled with such simple ingredients, but it's exactly what you need for the perfect Italian dish. Three types of cheese for the ultimate cheese stuffed shells!
Ingredients:
Jumbo Pasta Shells
Ground Chuck
Garlic
Marinara Sauce
Yellow Onion
Olive Oil
Egg
Cottage Cheese
Mozzarella Cheese
Parmesan Cheese
Basil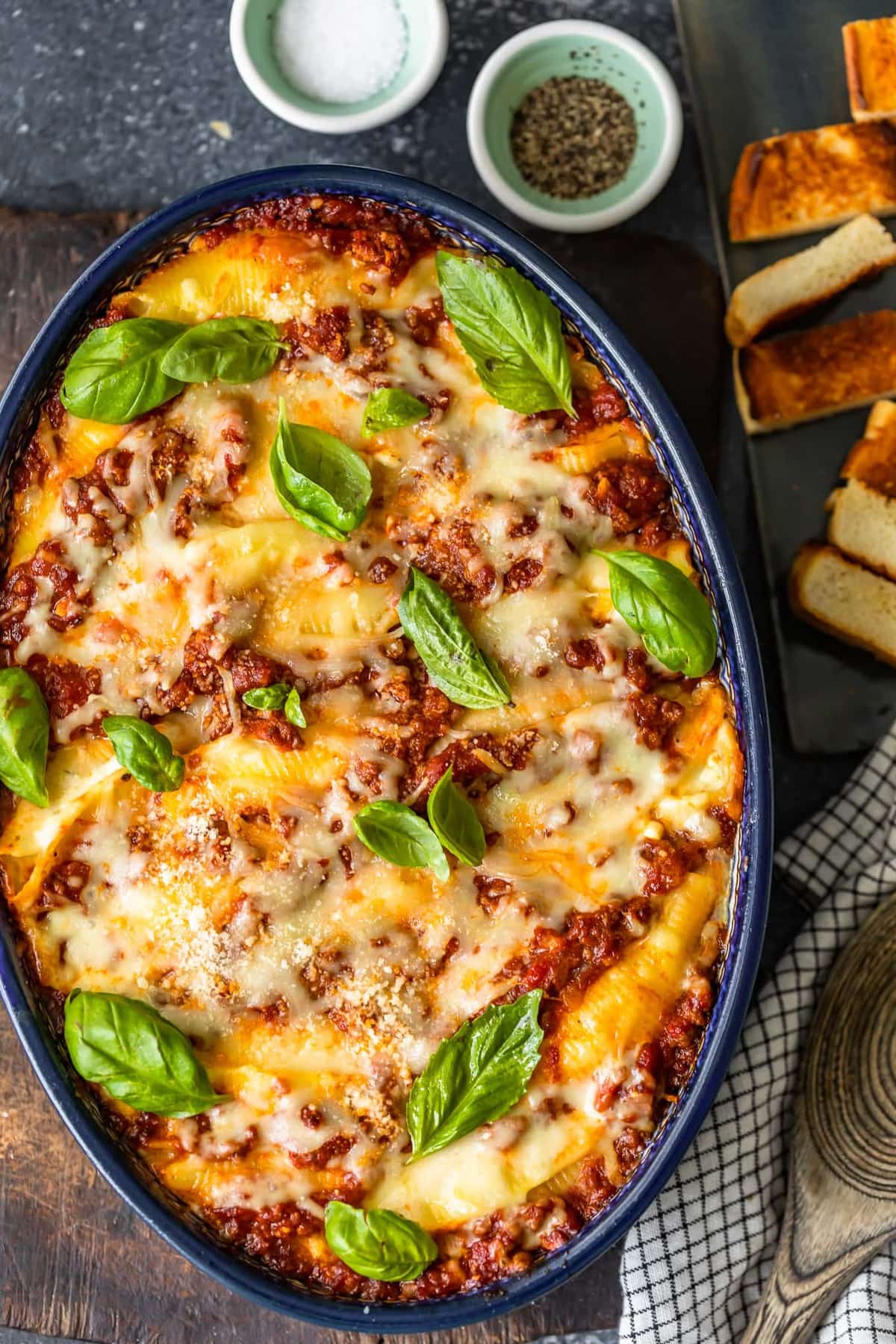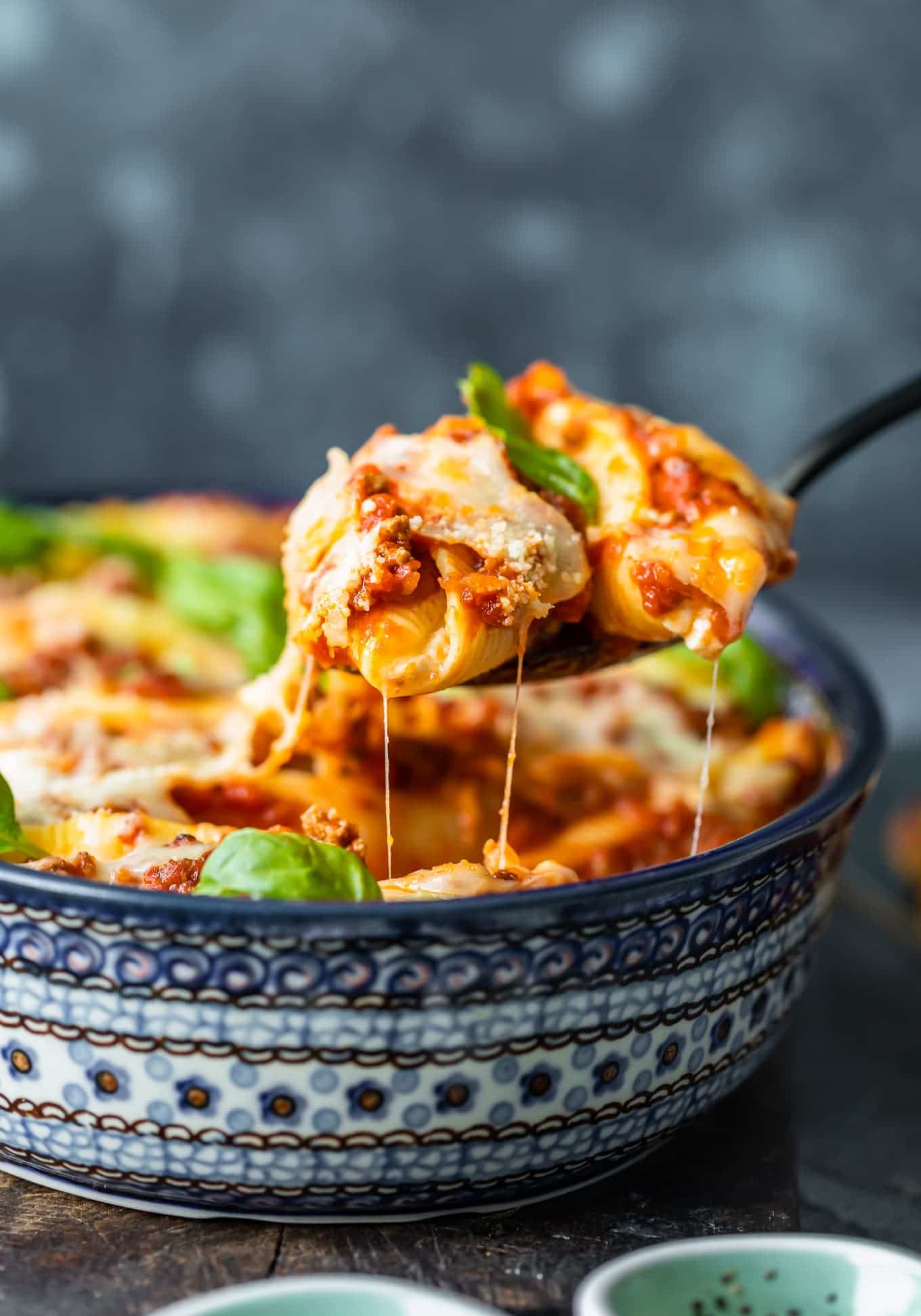 How to Make Stuffed Shells with Ground Beef
Italian stuffed shells with ground beef and cheese (three kinds) is really easy to make. Here's a quick overview of the recipe:
Start by boiling the jumbo shells.
Brown the beef and make the meat sauce.
Stuff the shells with cheese and arrange them in the baking dish with the sauce.
Cover the casserole dish and bake.
A simple process! Check the recipe card below for the detailed instructions.
How long do you cook jumbo pasta shells?
Before assembling the stuffed pasta shells to bake, you'll need to boil the jumbo pasta shells. Cook them according to the package instructions. It will typically take about 9 minutes to get them al dente. Keep an eye on them so they don't overcook. After boiling, set them upside down on a baking sheet to dry.
If you want to cook the pasta shells ahead of time, you can keep them in the refrigerator for a up to a couple of days, and then stuff them and prepare them for baking.
Can you freeze cooked stuffed shells?
Yes! This baked stuffed shells recipe is really just a casserole, so it's definitely freezer-friendly. Let the casserole dish cool, cover it, and set it in the freezer. You can also portion out the pasta in freezer-safe containers, so it's ready to reheat at a later time.
How do you reheat frozen stuffed shells?
To reheat frozen stuffed shells, let it thaw in the refrigerator first. Then you can bake according to the directions below.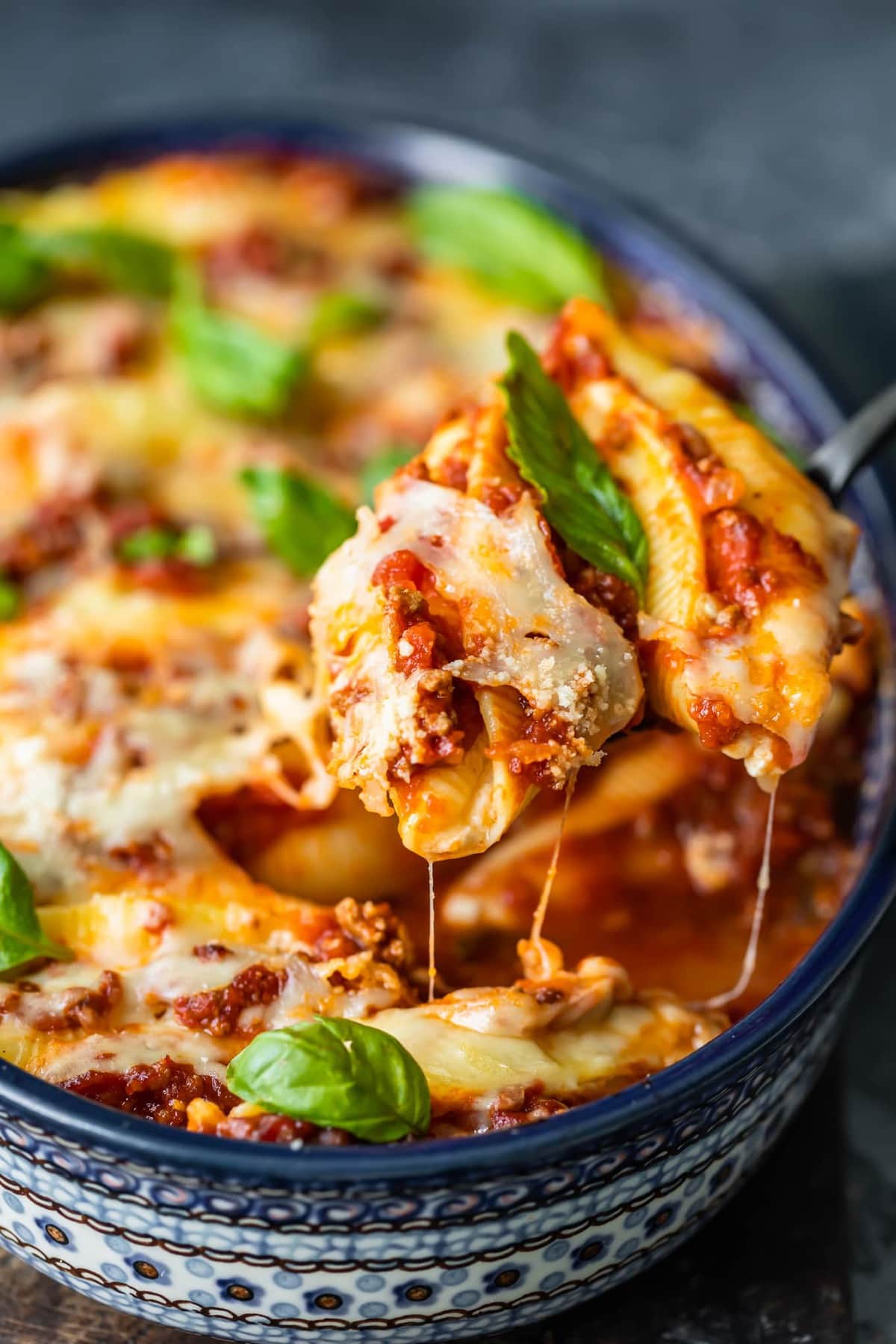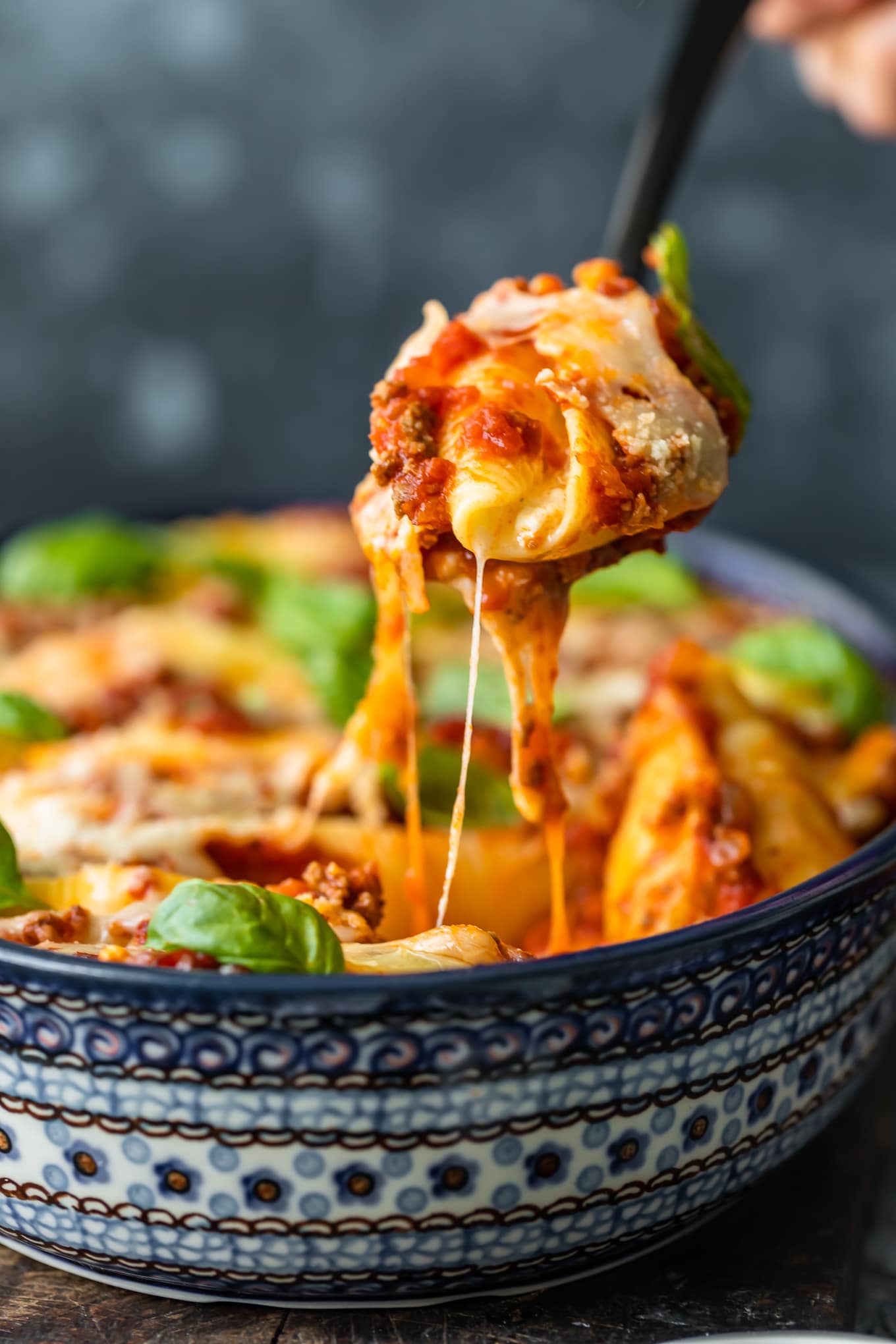 What are pasta shells called?
Pasta shells are traditionally known as "Conchiglie", but most brands will have them labeled as jumbo shells at the store. 
What do you eat with baked stuffed shells?
Just like all casseroles, these Italian Stuffed Shells with ground beef and cheese can be a meal all on their own. It's quite a hearty dish and can be pretty filling. That being said, I don't feel like it's right to serve any type of pasta without some garlic bread on the side. And you might as well throw in a nice casear salad to complete the meal (and make it feel slightly healthier). The perfect dinner!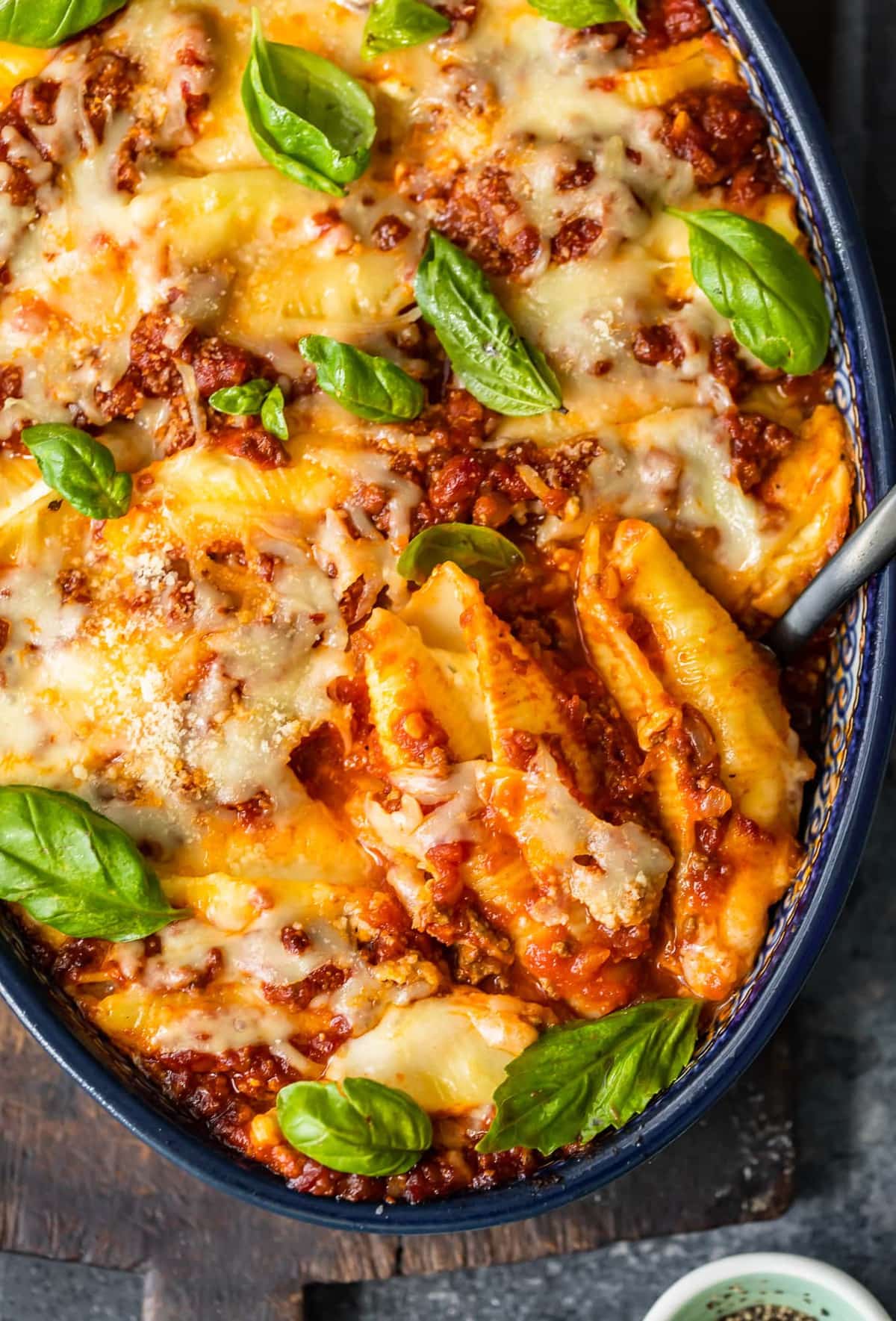 I can't wait for you to try this amazing pasta dish. It's a real crowd pleaser, and I just know you are going to love it.
See the recipe card for details on how to make Stuffed Shells with Meat and Cheese. Enjoy!
Love Italian food? Try these other easy pasta recipes: