Whip up an Italian comfort food favorite with a quick and easy recipe for Stuffed Shells with Meat, Cheese and Spinach.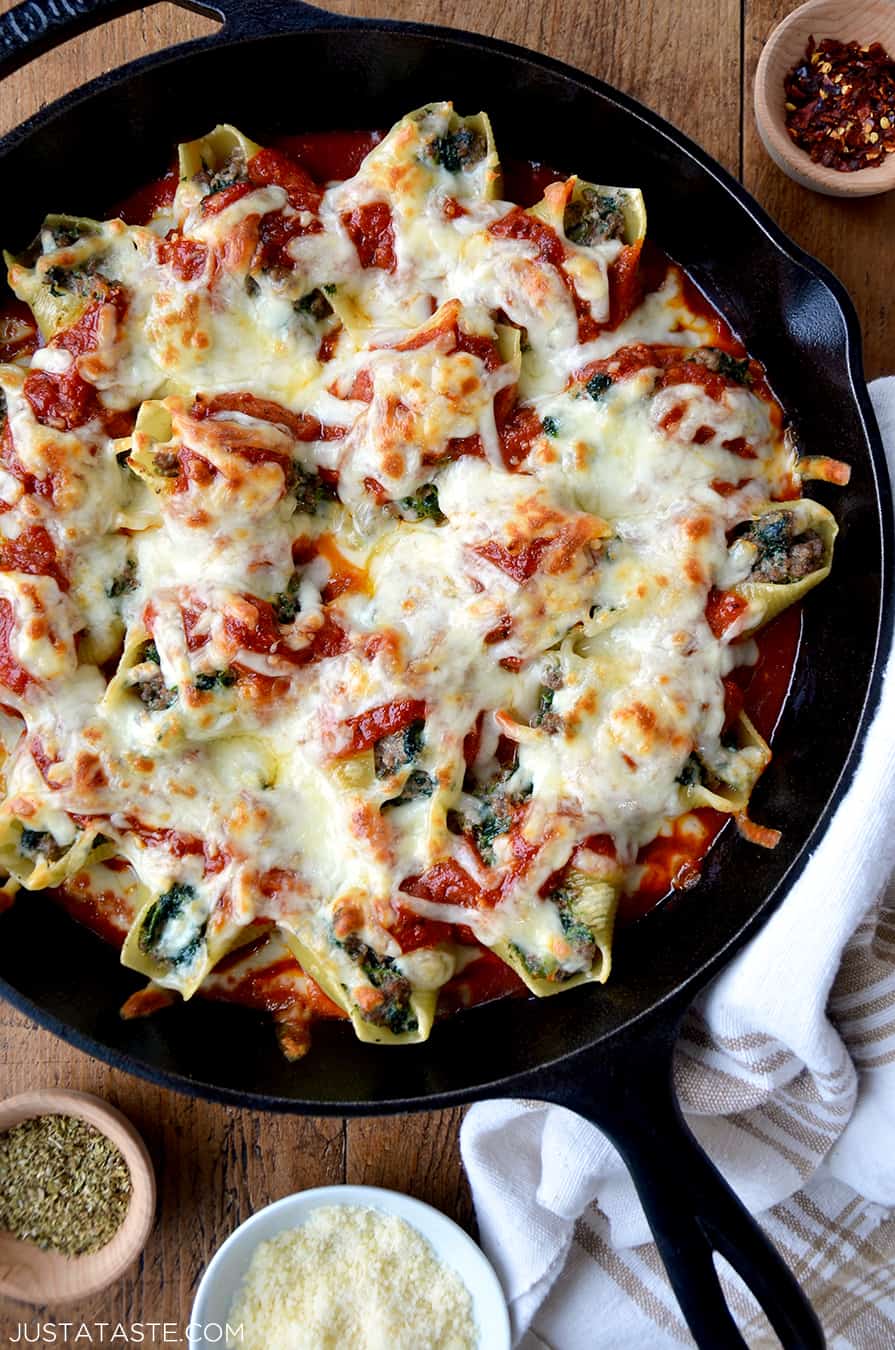 How to Make Stuffed Shells with Meat
If stuffed shells are on a restaurant menu, I will order them 10 out of 10 times. But it's taken me years to come to the conclusion that they are shockingly simple to make!
The goal is to pack as much flavor into the filling as possible, so my recipe for stuffed shells with meat stars a blend of creamy ricotta, spinach and oregano.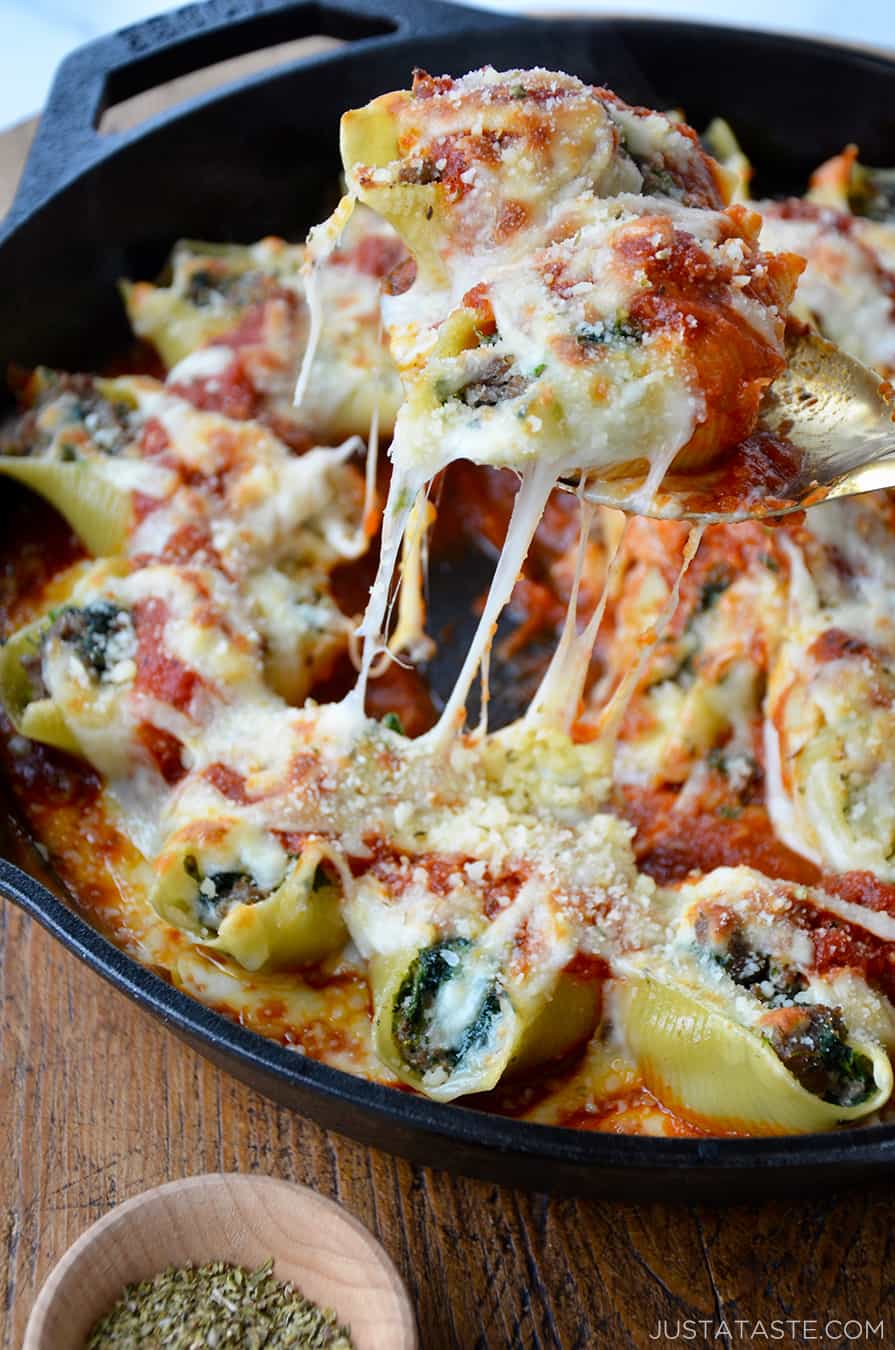 What Is an Easy Recipe for Stuffed Shells?
You know how much I love my recipe templates (hello, Mix-and-Match Fruit Crumble!). There's something so appealing to me about being able to choose our own culinary paths, and in this case, we have assorted ground meats, veggies and cheeses to choose from.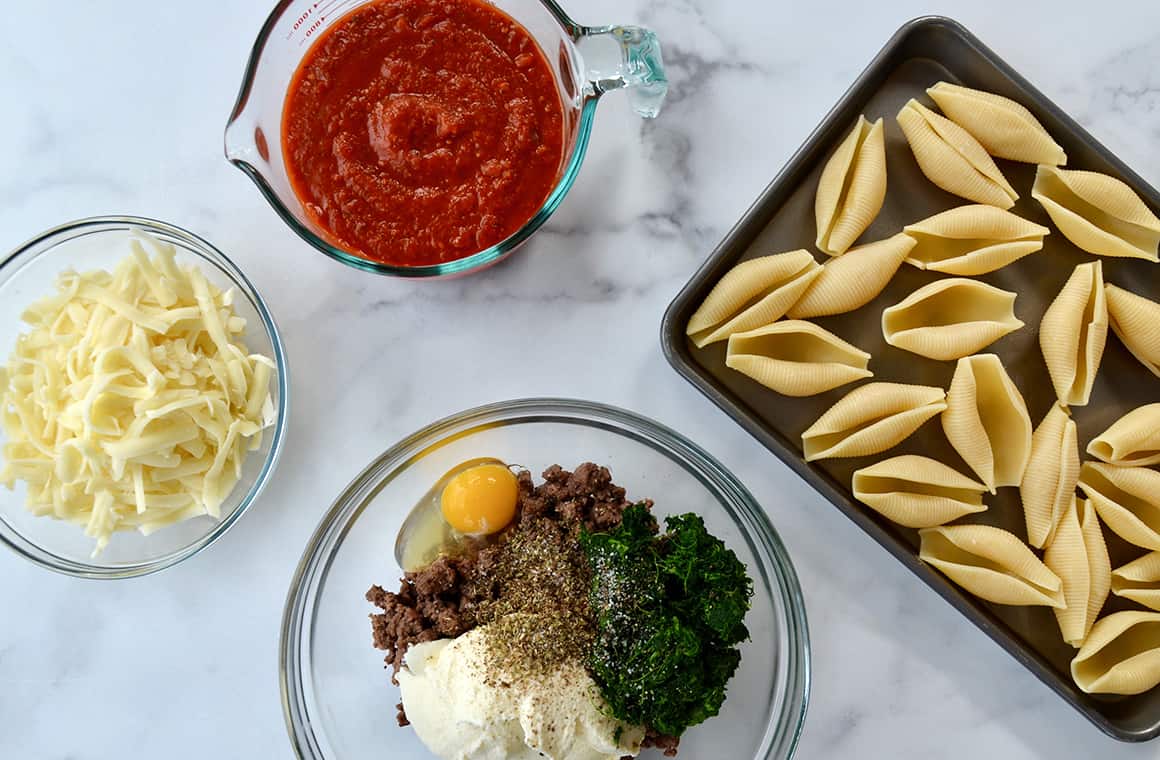 Choose from any of the ground meats below:
Italian sausage (sweet or spicy)
Ground beef
Ground chicken or turkey
Ground pork
Any combination of the above!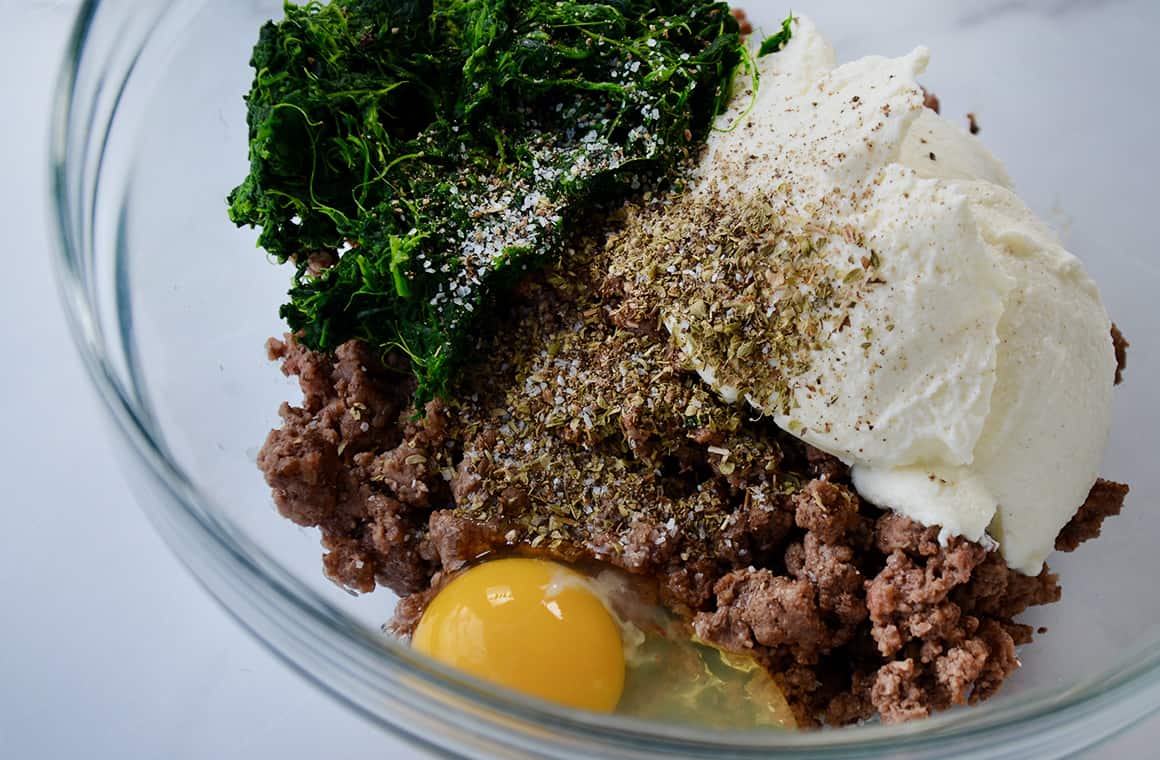 Can You Make Stuffed Shells Ahead of Time?
There are many make-ahead (and shortcut!) elements of this stuffed shells recipe, so here's how I'd tackle prepping this recipe so you can get it onto your table in a moment's notice:
Make the marinara sauce in advance, or go the store-bought route
Make the sausage/spinach mixture up to one day in advance
Stuff the shells up to one day in advance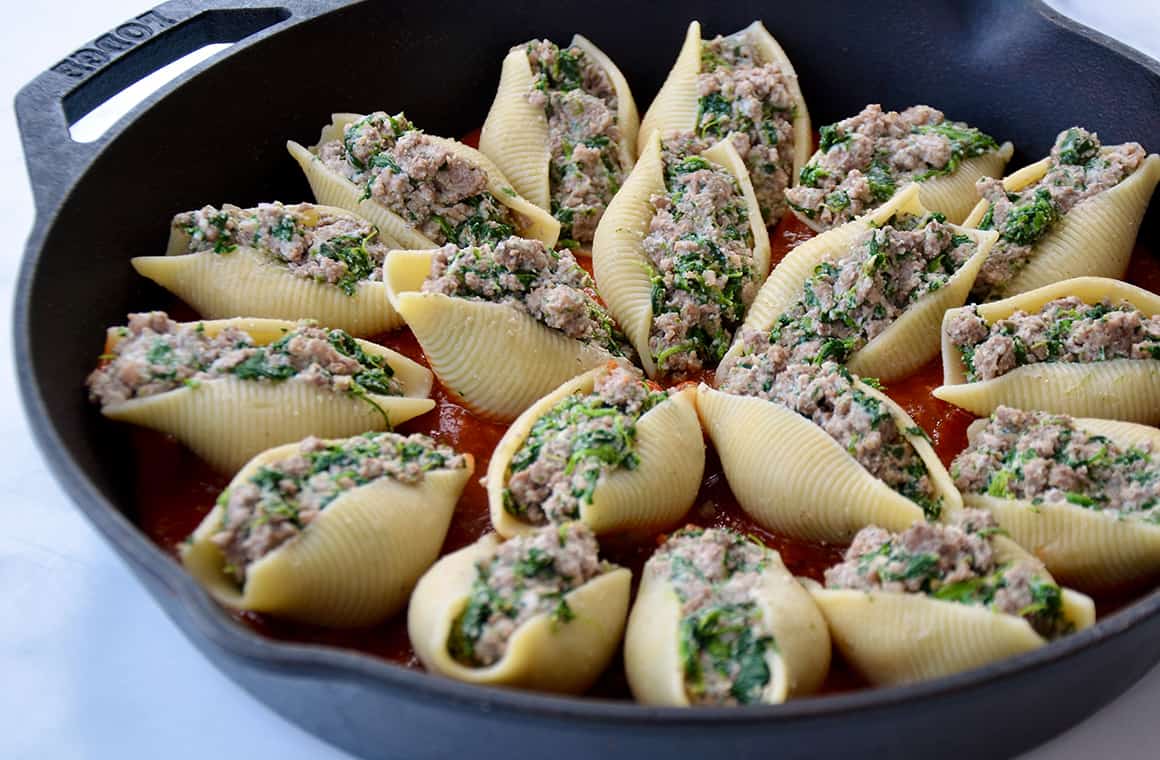 Then all that's left to do is layer the sauce, shells, more sauce, and cheese into your skillet or baking pan of choice and pop it into the oven for a family-friendly dinner with leftovers that can be reheated in minutes!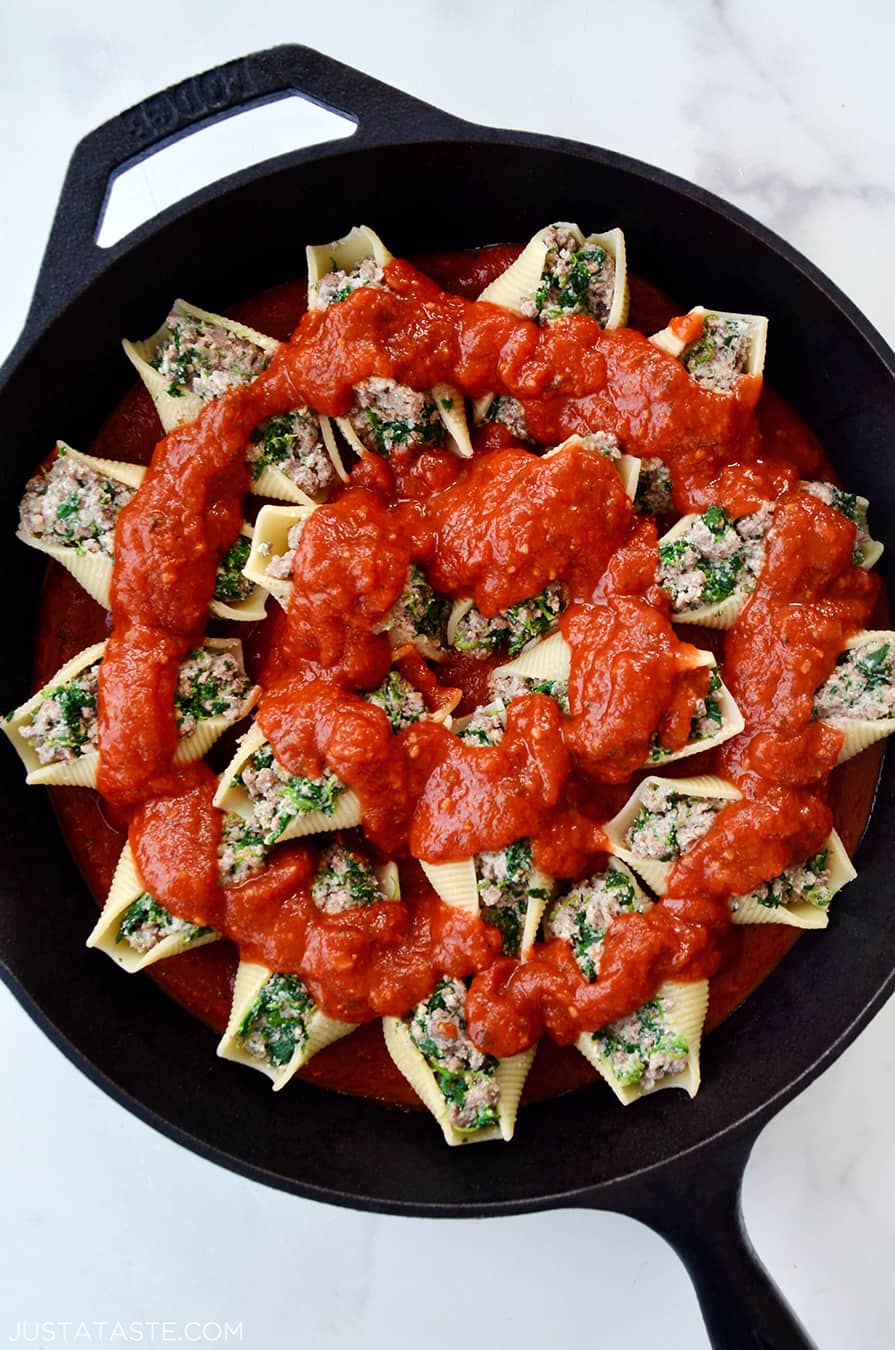 How to Reheat Stuffed Shells
The fastest and easiest way to reheat stuffed shells is to place a serving on a microwave-safe plate and cover it with a paper towel (no one enjoys cleaning tomato splatters from inside a microwave!) and microwave them on 30-second increments until they're warm and gooey again.
Finish off your shells with a grated Parm shower and day 2 leftovers are looking just as fine as their day 1 selves!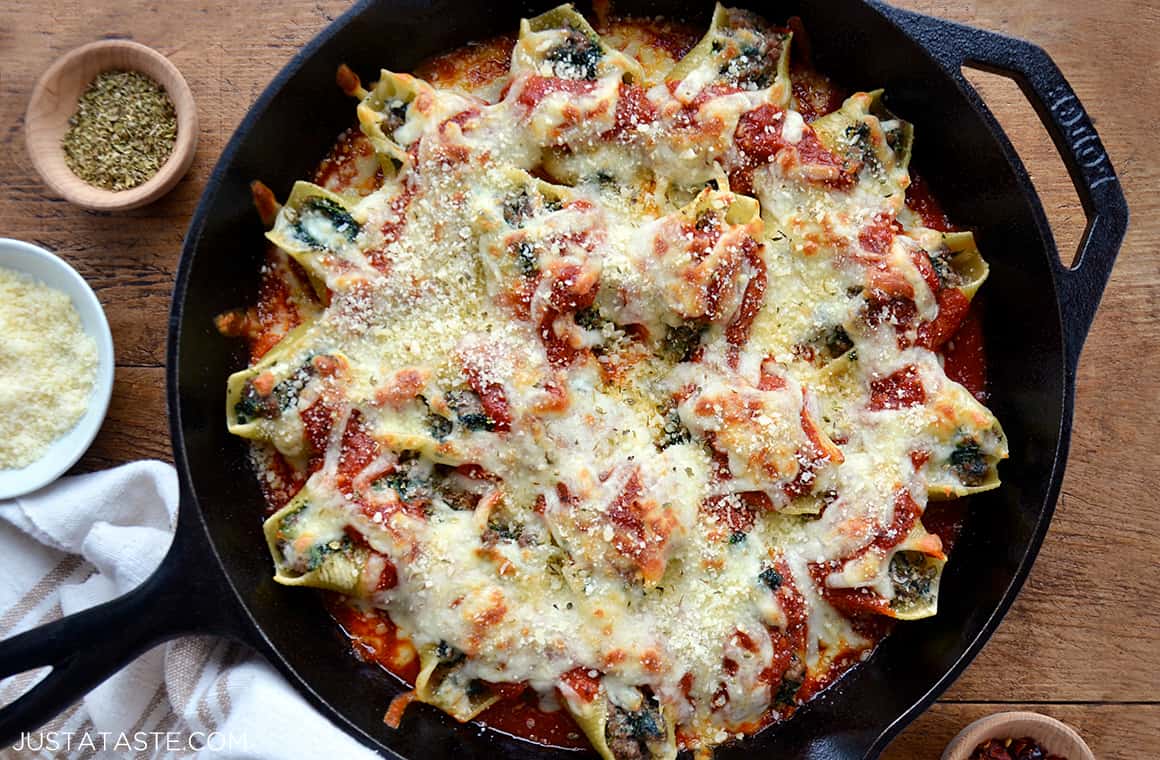 Craving more? Subscribe to Just a Taste to get new recipes and a newsletter delivered straight to your inbox! And stay in touch on Facebook, Twitter, Pinterest and Instagram for all of the latest updates.
Preheat the oven to 350°F.

Bring a large pot of salted water to a boil. Add the shells and cook until al dente, about 9 minutes. Drain the shells, rinse them with cool water, then set them aside. 

Add the ground beef to a large nonstick skillet set over medium heat and cook, breaking it apart with a spatula, until it is no longer pink. Using a slotted spoon, transfer the ground beef to a bowl and set it aside to cool completely. 

Once the ground beef has cooled, stir in the ricotta cheese, spinach, egg, oregano, ½ teaspoon salt and ¼ teaspoon pepper. 

Add half of the tomato sauce to the bottom of a 10-inch skillet or baking dish.

Divide the ground beef mixture among the shells then arrange them in a single layer in the baking dish. Top the shells with the remaining sauce then sprinkle them with the mozzarella cheese.

Bake the shells until the cheese is melted and the shells just begin to crisp, about 25 minutes.  

Top the shells with grated Parmesan cheese and fresh basil and then serve. 
Kelly's Note:
Any type of ground meat can be used in this recipe, include ground beef, chicken or turkey. If you use Italian sausage, make sure to remove the casings prior to proceeding with the recipe as directed.