This decadent Chocolate Pound Cake is rich, moist, and melt-in-your-mouth delicious! It's the best homemade cake recipe for chocolate lovers.
Make sure to try my Classic Pound Cake recipe too!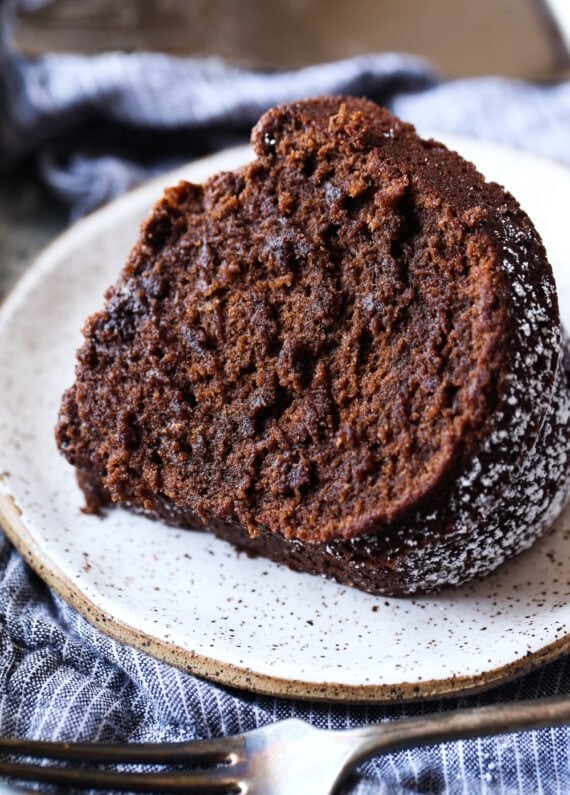 This Is My Favorite Chocolate Pound Cake Recipe!
I am obsessed with this chocolate cake! It's made with cocoa powder and coffee granules to give it the richest chocolate flavor. Every bite is a chocolatey dream come true!
This pound cake is made in a bundt pan, so it looks pretty before it's even decorated. You can leave it plain or add a fun topping like ganache or powdered sugar. If you're a chocoholic, this cake recipe is for you!
Recipe Ingredients
Instant Coffee Granules
Hot Water
Buttermilk: If you don't have buttermilk on hand, make this simple buttermilk substitute!
Butter: Bring your butter to room temperature.
Sugar
Eggs
Vanilla Extract
Kosher Salt
Baking Powder
Cocoa Powder: Use unsweetened cocoa powder for this recipe.
All Purpose Flour
Powdered Sugar – if you want to dust the top!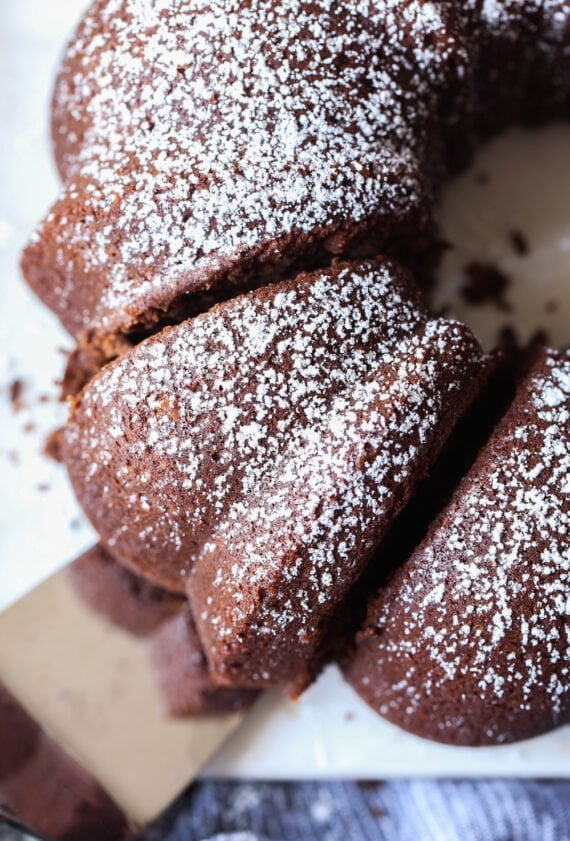 How to Make Chocolate Pound Cake
Prepare for Baking: Preheat the oven to 325°F. Generously coat a 10 – 12 cup bundt pan with baking spray and set it aside.
Dissolve Coffee Granules: In a medium bowl, dissolve the coffee granules into the hot water. When dissolved, stir in the buttermilk. Set aside.
Cream Butter & Sugar: In the bowl of your stand mixer fitted with the paddle attachment, mix the butter and sugar together on medium speed for 5 minutes until light and fluffy.
Add Eggs: Add in the eggs one at a time, mixing until combined and scraping the sides of the bowl as necessary. Add in the vanilla, salt, baking powder, and cocoa powder and mix until combined and smooth.
Combine Buttermilk Mixture & Flour: Turn the mixer to low and add in the flour and the buttermilk mixture in alternating additions, beginning and ending with the flour. Mix until just combined, scraping the sides of the bowl to ensure the mixture is evenly combined.
Bake: Pour the batter into the prepared pan. Bake for 60 – 70 minutes, or until a toothpick inserted into the center comes out clean.
Let Cool: Allow the cake to cool in the pan for 20 minutes, and then loosen the cake from the sides of the pan using a butter knife. Invert the cake onto a wire rack or lake plate to cool completely.
Garnish: Once cooled, dust your cake with powdered sugar if desired & serve!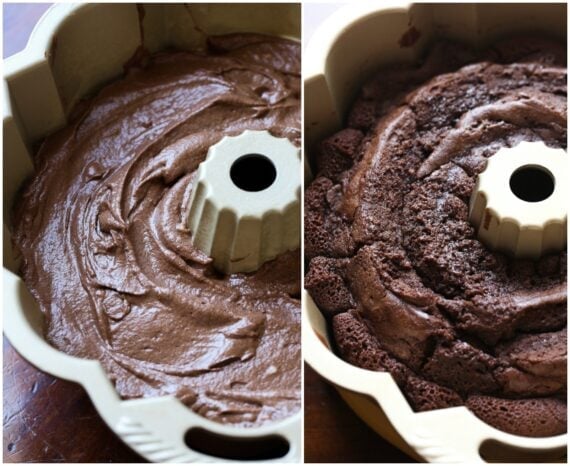 How to know when your pound cake is done baking:
When your pound cake is done baking, the surface of the cake will appear firm. The best way to tell if it's done is by inserting a toothpick into the center of the cake between the outer and inner edge of the bundt pan.
If the toothpick is covered in wet batter, let the cake continue baking. When you notice a few small crumbs come out with the toothpick, your pound cake is perfect! Be careful not to overbake it or it won't be moist and tender.
Tips for the Best Chocolate Pound Cake
Don't Omit the Coffee: Coffee plays an important role in this recipe – it intensifies how chocolaty the cake will be! If you don't have instant coffee granules, just use 1/4 cup of hot coffee instead. (Reduce the buttermilk by 1/4 cup to keep the amount of liquid in this recipe the same.)
Scrape the Mixing Bowl As Needed: To ensure your ingredients combine correctly, scrape the sides of your mixing bowl whenever necessary.
Save Some Leftovers: Believe it or not, this pound cake tastes even better the day after you make it. Save a few servings and see for yourself!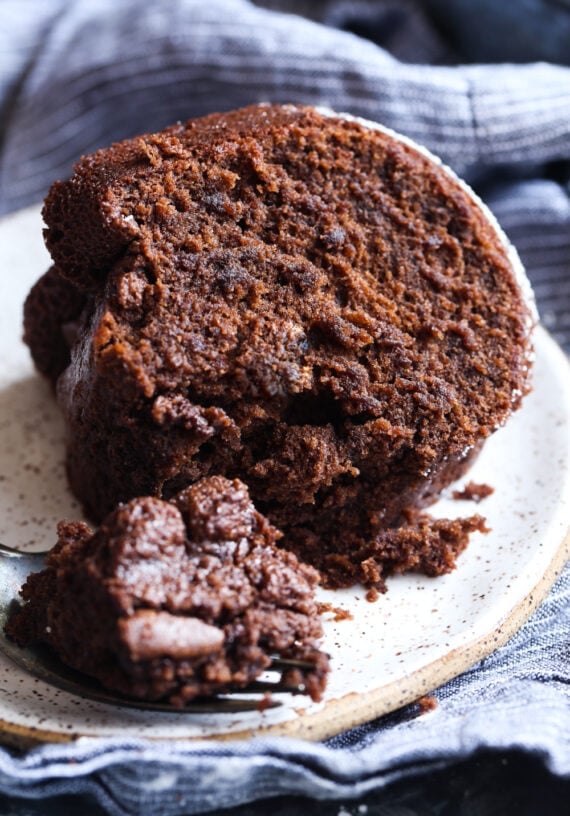 Serving Suggestions
Top with Chocolate Ganache: Make your pound cake even more heavenly by topping it with my Pourable Chocolate Ganache!
Serve with Ice Cream: Serve your chocolate pound cake with a scoop of creamy vanilla ice cream for the ultimate summer dessert.
Frosting: Try using my Creamy Chocolate Frosting recipe!
Add Chocolate Chips: If you want your cake to be even chocolatier, go ahead and add some chocolate chips into the batter.
Serve with Fruit: I love serving this cake with some fresh strawberries or raspberries!
How to Store Homemade Pound Cake
Store leftover pound cake in an airtight container or resealable bag at room temperature. It will stay fresh for about three days. If you want to store it for longer, transfer it to the fridge after day 3 and enjoy it within a week.
Looking Foe More Pound Cake Recipes? Try These: