This homemade beef and noodles recipe will be most welcome on chilly nights. Tender beef and flavor packed egg noodles make a hearty and comforting dinner idea!
Make sure to try my super popular Chicken and Noodles Recipe as well!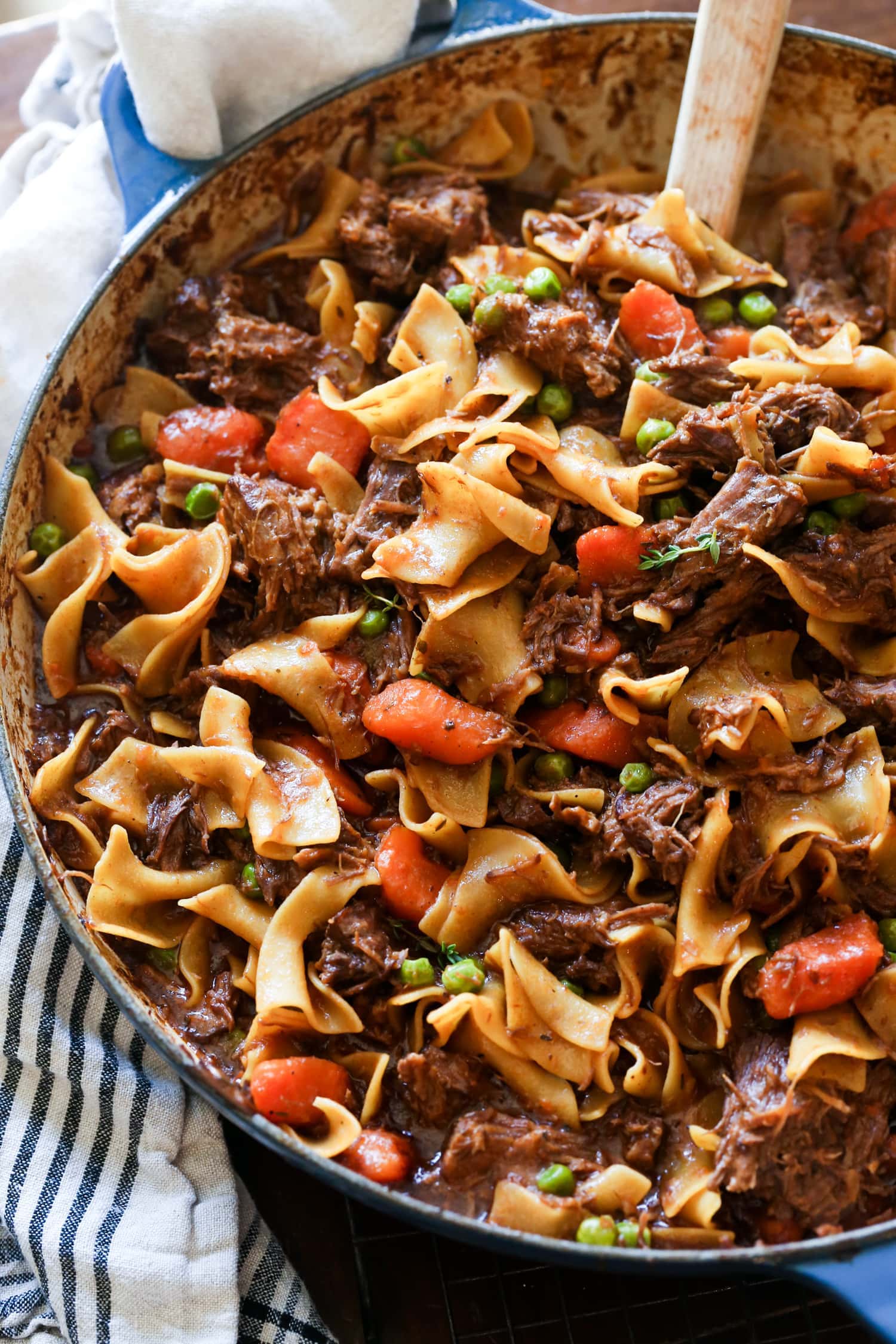 Old Fashioned Beef And Noodles
My Beef and Noodles recipe is pure comfort food. Hearty, and flavor-packed, this dish will feed a crowd, but is easily cut in half to feed a smaller family too! It's a great alternative to beef stew, when you want that warm and cozy dish, but like to switch things up. Plus, this is very versatile and can me adapted in many ways to suit you personal taste!
Why this Recipe Works
This recipe works for a number of reasons. Let me explain:
As long as you cook the meat long enough to be fork tender you won't be disappointed! 
There is the perfect amount of liquid in this dish for the noodles to absorb, which adds so much flavor to the noodles as opposed to boiling them in water. 
As you boil the noodles in the broth with the meat, the starches from the noodles helps to thicken up the sauce/gravy. No need to add corn starch or create a slurry!
Beef and Noodles Ingredients:
The full ingredient list with amounts can be found in the recipe card at the bottom of the post!
Kosher salt and fresh ground pepper
Chuck roast. I try and trim my chuck roast of all the excess fat I can without going too crazy. The marbled fat adds tenderness and flavor, but any large chunks of fat should to be trimmed.
Olive oil
Large diced carrots. Make sure not to dice them too small, so they don't mush up as they cook!
Diced onion 
Minced garlic
Tomato paste
Beef stock or beef broth
Water
Fresh thyme. You can also used dried thyme if that's what you have on-hand. 
Dried Bay leaves
Frozen peas
Egg noodles